Journal Archive 8/21 - 8/31 2013
Scroll down to read the latest post
Wednesday August 21 Silverton, Oregon
A Travel Day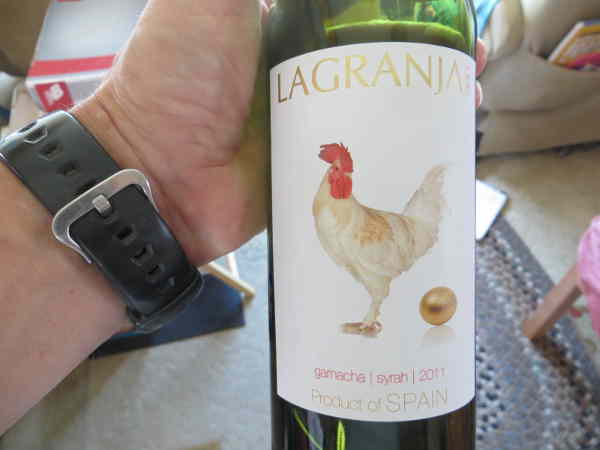 Yesterday's post started with a photo of two awesome chicks, so why not start today's Daily Journal with a another chick photo. The difference is that this one is not one I would take home. Wine is very subjective, and this one I would subject to its being left on the store shelf. Almost decent, but compared to what I enjoy in the evening, sorry, but try again. Linda did like it, but that was only to look at the label. Smart Linda. Smart Bob for marrying Linda.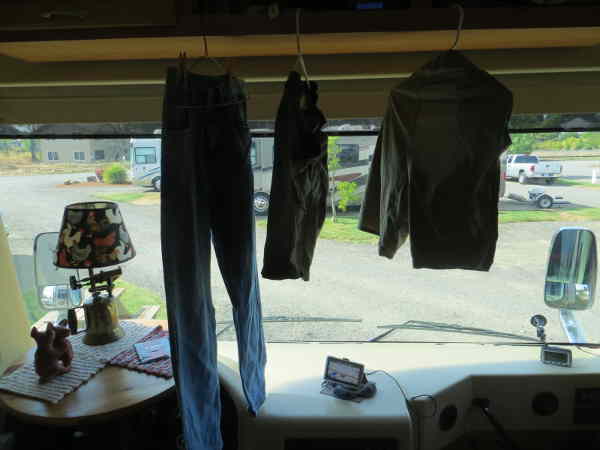 Interesting question: What to wear to a 50th high school reunion? That's a mighty important question, but for me the answer is easy. Blue jeans. I don't own a pair of long pants other than jeans, and I'll be darned if I'll get something I never wear just for a high school reunion. After seeing Linda in what she is going to wear I know everyone will be wondering how someone like Bob managed to marry someone as awesome as Linda. If they only knew. But then Linda would likely do me in if I told what the reason was. Bob, who's lips are sealed.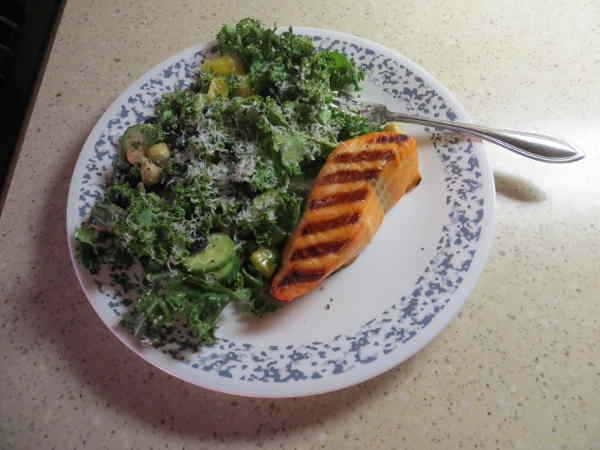 What a fabulous meal we had tonight. Kale salad by Linda. Perfect grilled salmon by Bob. Lip smacking by both of us. Youth often look upon old people as fuddy duddy's. If they only knew, they would be in awe of us old people.
As W. Somerset Maugham so aptly put it: Old age has its pleasures, which, though different, are not less than the pleasures of youth. Or put another way, why wish to be young again when there are so many things to enjoy in the here and now.
---
Thursday August 22 Portland, Oregon
Another Travel Day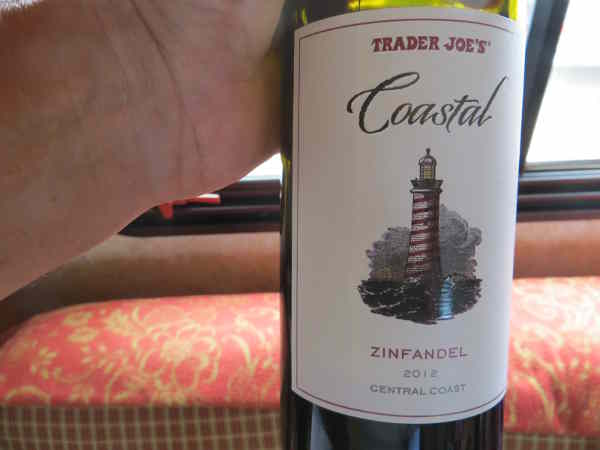 Another day, another wine label. What can I say, I've been searching for a nice inexpensive wine in order to have a small glass in the evening while we sit outside together. Linda has her gin and tonic, and she will gladly make me one, which I enjoy, but since a glass of red wine in the evening is a health drink, I will partake of 4 to 7 ounces of red wine. For now this is my number 1. I guess I could say the only thing I know about wines is which ones I like and which ones I don't like.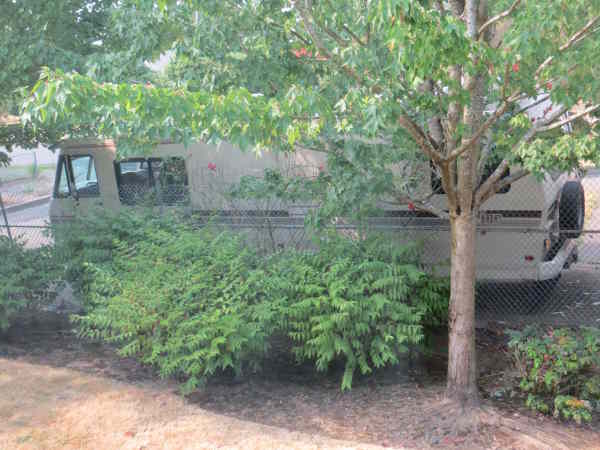 We decided to move up to Portland because we have a 6am flight and it is a long, curvy, hilly drive from Silverton to Oregon City where we get on the Interstate. And making that drive at 4am just isn't something I want to do. The location may be different, but the view is almost the same.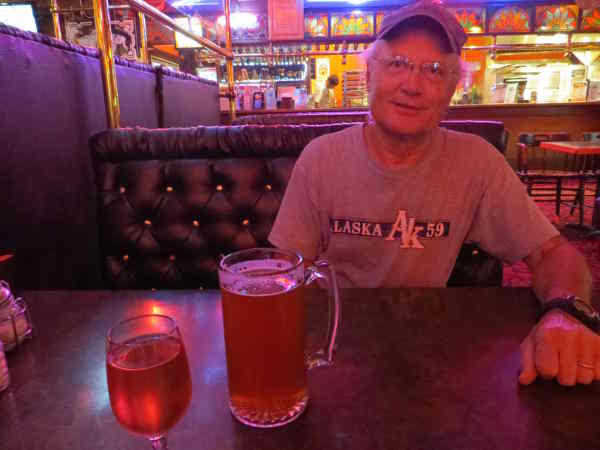 Shades of England. We don't eat out very often, but with tonight being the start of this year's "vacation" we decided a treat was in order. I was teased that I just wanted to make sure I looked like all the other bald, fat old men at the reunion. Who knows maybe she's right. Now she's got me wondering if I'll be the only bald, fat old man there.
As you might guess, we both dug in and when the feasting was over only two pieces of pizza remained, which will be breakfast in the morning. And then we shall board the silver bird and fly into the rising sun where old friends and new adventures await. How did we ever get to be so lucky?
---
Friday August 23 Grand Rapids, Michigan
And Another Travel Day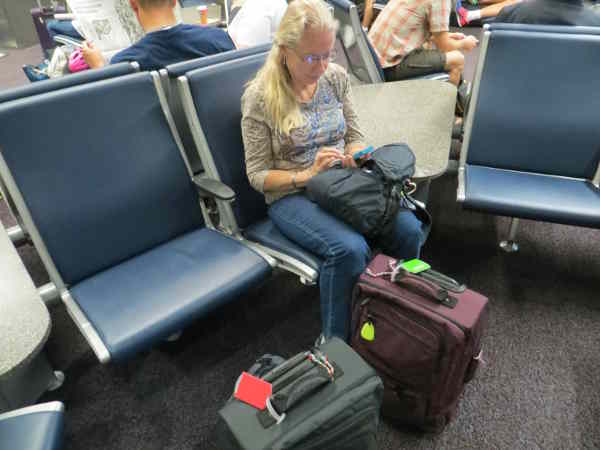 Up at 3:35 this morning to head to the airport, with a final destination of Grand Rapids. Cold leftover pizza for breakfast, one of my favorites. Linda opted for a boiled egg, one of her favorites. We had built in extra time in case something went wrong, or we had to wait longer for the parking shuttle bus, or we got lost driving to the airport parking, or there was a accident on the freeway that snarled traffic, or the security lines were slow, or anything else that might go wrong. What happened was everything went perfectly, even to the parking shuttle bus stopping for us as we were getting out of the Explorer. It works that way sometimes. Of course had we not allowed extra time everything we feared that might have gone wrong would have gone wrong.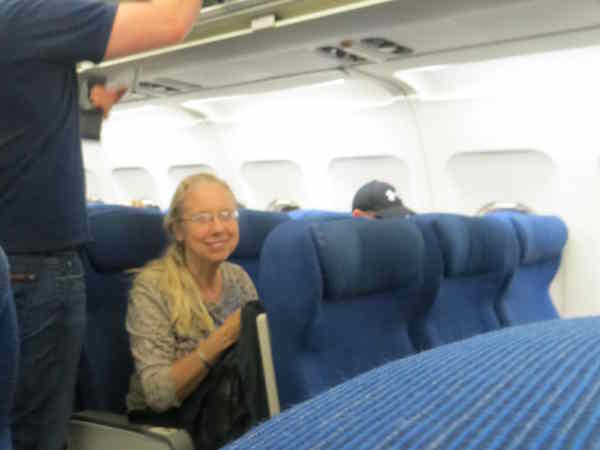 The smile is because even though the plane was overbooked, Linda was able to change her assigned center seat to an aisle seat before we boarded on the leg to Chicago. I stayed in my assigned center seat a few rows ahead of her. Then on the Chicago to Grand Rapids leg where she had been assigned a window seat, she was able to talk the person next to her into switching seats so she could have an aisle seat once again. The fact I was the person sitting next to her who had the aisle seat might have made for the easy switch, especially since I always prefer a window seat. Nice Bob.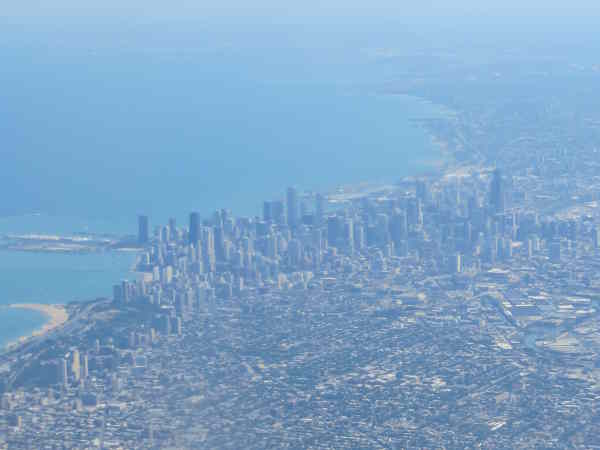 Just to prove that we really are flying back East, a hazy view of downtown Chicago.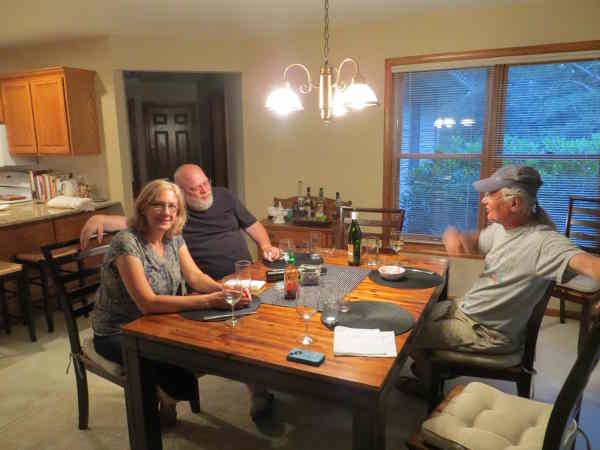 "The best of all possible worlds." Even if that is not the case, this is the next best thing. We will be spending the next several days with our friends, John and Judy, before going on to my high school reunion. As we have learned over the past seven plus years, there are friends and then there are full timing friends. You know that old saying about how the full timer may come off the road, but they will always have the full timers attitude. Special people are just that, very special.
---
Saturday August 24 Grand Rapids, Michigan
A Great Day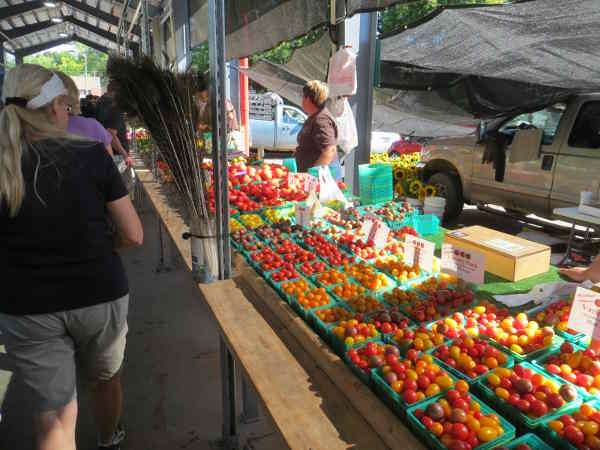 Daylight come and we want not to get up. Maybe that wasn't exactly our feeling this morning, but three hours time difference does make one a little less enthusiastic about bounding out of bed too early. Once up all was normal. Today called for a visit to a Farmers Market, and did Linda ever enjoy this booth with its mile of tomatoes.
There were fantastic looking vegetables galore at the market, but even so there is a limit to just how much one can buy. For tonight we are looking forward to grilled roasted corn on the cob.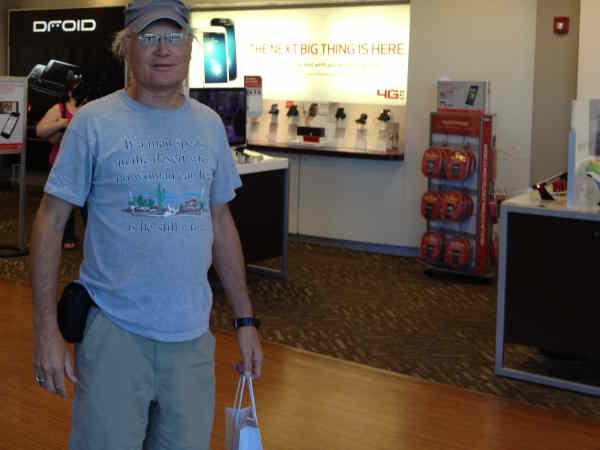 My Droid X died yesterday. I have joined the iPhone generation. I love it. It isn't easy but I can be taught. Linda is smiling because she can now tell me what to do when it comes to learning to use the phone and I have to do what she says if I want it to do what I want. (You think that sentence is hard to read, just think how hard it was for me to write it that way.)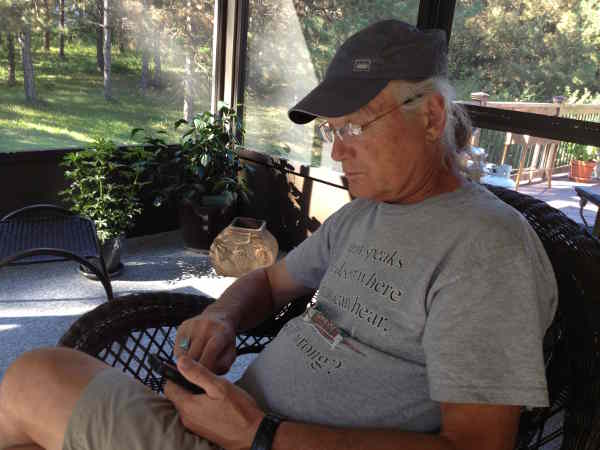 Photo by Linda of an old dog learning new tricks. As George Bernard Shaw put it: We don't stop playing because we grow old; we grow old because we stop playing.
---
Sunday August 25 Grand Rapids, Michigan
A Sunny Day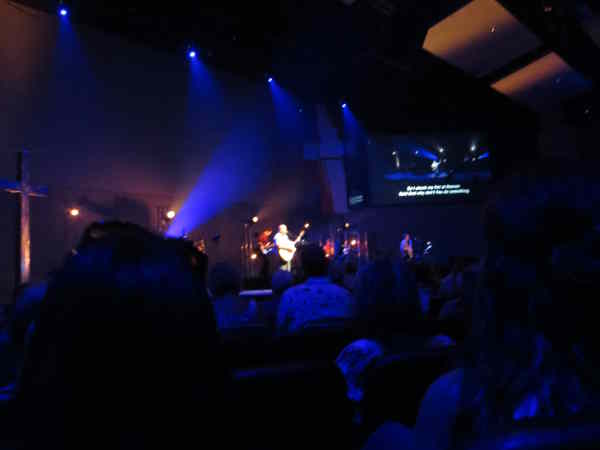 Sunday morning found us attending church with John and Judy. A mega church out in the country. Once the service stated it was readily apparent why most of the seats were filled, the music was wonderful, the audio-visual production was top notch and the message relevant to our lives. For those that might be interested, it was Cornerstone Church in Caledonia Township near Grand Rapids.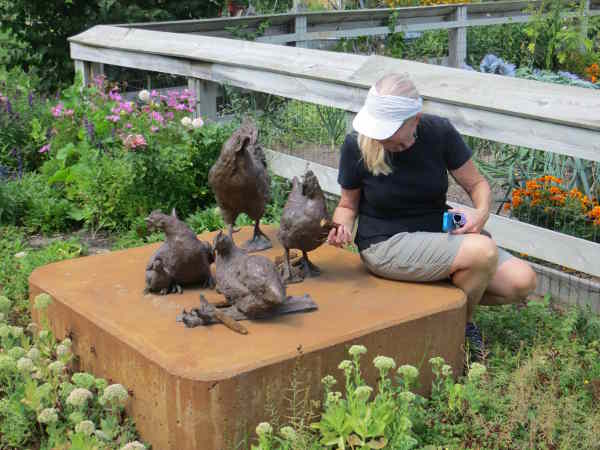 In the afternoon we visited the Meijer Sculpture Gardens, and as you can see, Linda didn't have any trouble identifying her favorite sculpture. It was titled "Charmin' Charlie; Three Hens and a Chick." Looks like it should be renamed to be "Charmin' Charlie; Three Hens and Two Chicks." Linda sure does love her chickens, no matter what form they are in. Speaking of which, we had grilled chicken for dinner, but I'm fairly certain it was none of these.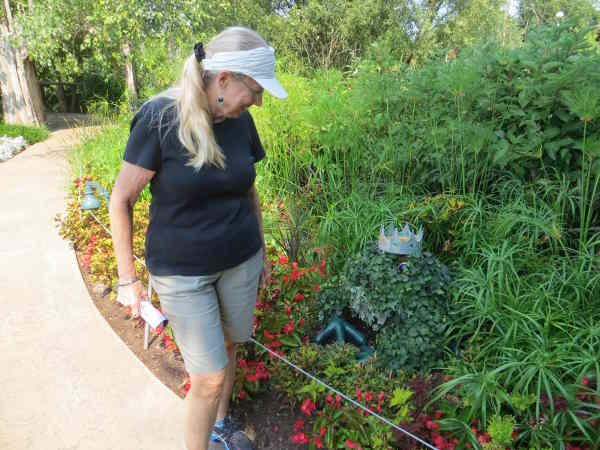 Linda got a good laugh from this bit of whimsy along one of the many paths winding through the gardens. I never could figure out exactly what it was supposed to be, but we were in the children's garden area and it obvious the little girl in Linda was out big time. Her years might be a rather high number, but as Linda says, a matronly woman she will never be, that's for old people.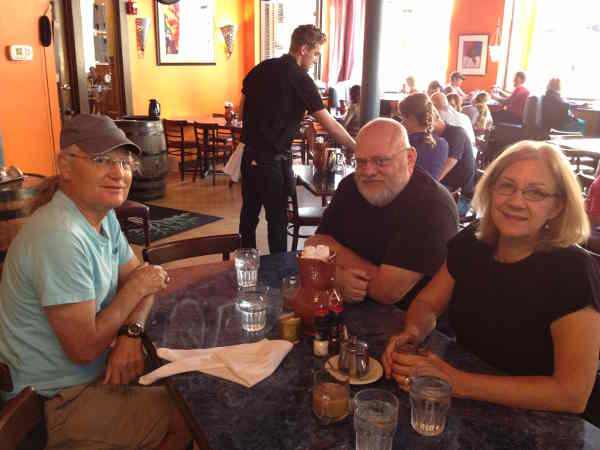 Photo by Linda of our lunch. The problem was I couldn't find it in the file. Then I discovered why. It was taken on her iPhone. It's a little thing called the time the photo is taken. The iPhone has the time right. Bob on the other hand didn't remember to change the time on his camera. At least it has now been done. I hope this doesn't get Linda to thinking I might be heading towards becoming the male equivalent of matronly. A Smarter, but Worried Bob.
Lunch, how could I not write about. A restored grand old building in downtown Grand Rapids (think things like original pressed tin ceiling for example). I was drooling over both the food and the building. Food, a quesidilla with Manchego cheese, that cheese of Spain we so so love. Talk about how to impress visiting friends. John and Judy should be appointed the official goodwill ambassadors for Grand Rapids.
Yes, it is as big as it appears. Designed by Leonard DaVinci, it was never cast in bronze. French troops used his clay model for target practice in the late 1400's. It has been recreated here. More than you wanted to know, but to see is to be impressed. Besides, if I post the photo I have to write something about it. Living Life Large. And in more ways than one.
---
Monday August 26 Grand Rapids, Michigan
A Kick Back Day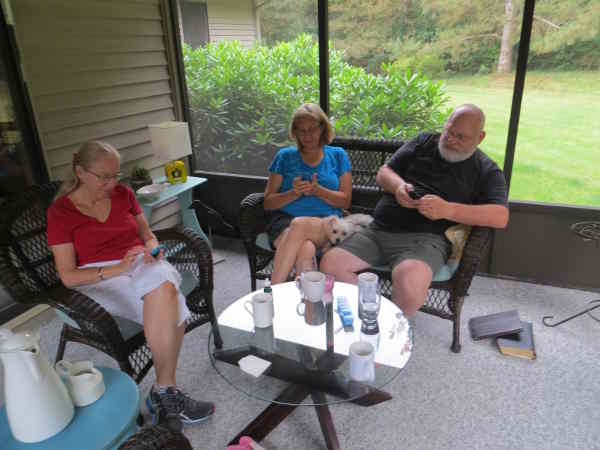 Doesn't everyone check their email while they have that morning cup of coffee? As a little boy, and a bigger boy for that matter, I remember my dad would sit at the table, coffee cup in one hand and cigarette in the other. The idea of checking email with your morning coffee sounds a whole lot better when put in that perspective.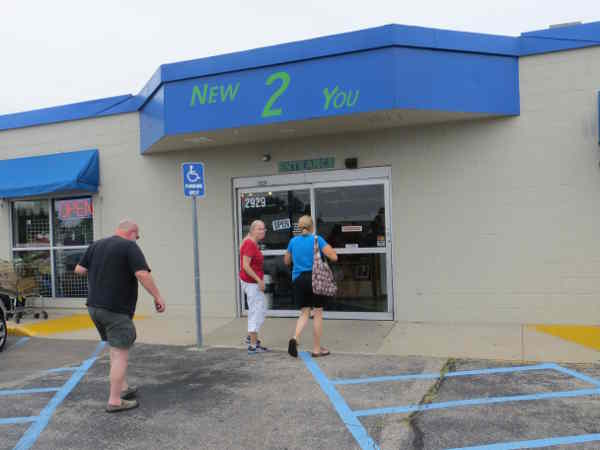 Time for a little shopping. The great thing about shopping when you are traveling with one small carry-on bag is that it limits what you can buy. Now I am not saying Linda was prevented from buying anything, rather I am just making an observation. Whew, almost got myself into trouble with that one. Quick Thinking Bob.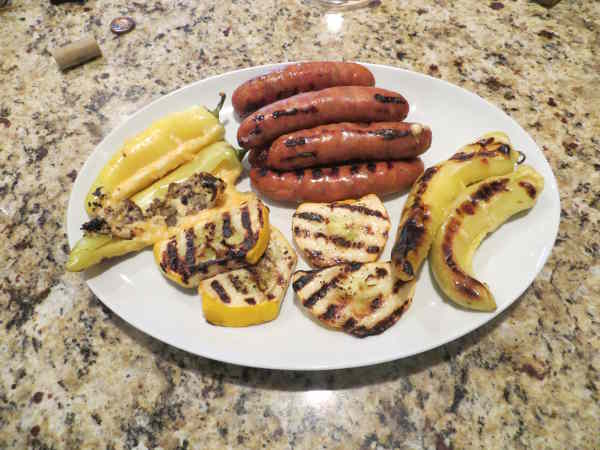 What can I say, we sure have been eating good! And isn't that what Life is all about, savoring every moment. After all, Life is not a dress rehearsal. Don't be afraid to laugh, love and retire early.
---
Tuesday August 27 Grand Rapids, Michigan
An Out And About Day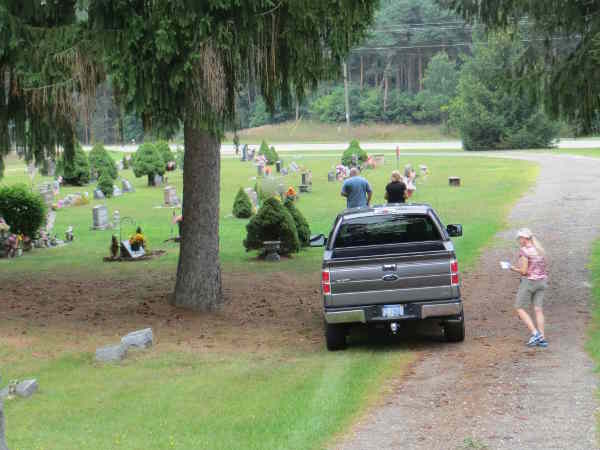 Not something that everyone does, that's for sure. John and Judy were good sports, and helped search for grave markers with us. Something tells me that it will probably be until the next time we are around before they will doing this again, if then. What can I say, we have a very unusual hobby.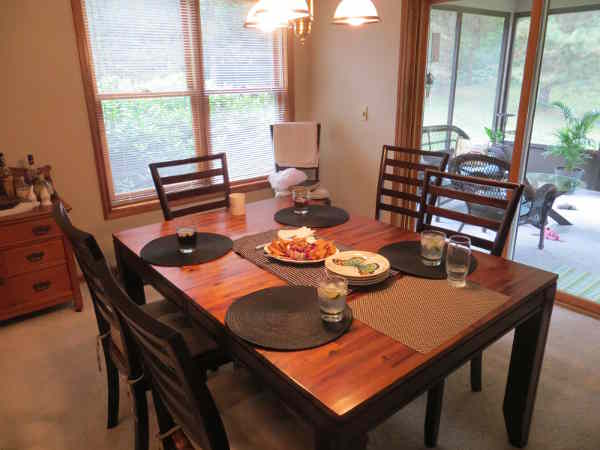 By the end of the day we had taken 250 photos between us, only two of which were of any use in writing the Daily Journal. Yet in a way they are both perfect. This one sums up just how a day should end. How did we ever get to be so lucky?
---
Wednesday August 28 Grand Rapids, Michigan
A History Day
Today was a day of going back in history. I'll bet Linda was surprised to see this old boy riding his high wheeler down the street she was on. In your dreams would I ride something like this, I could barely reach the pedals the wheel is so big.
I wasn't the only one who got to act like a little kid for a few moments. But then neither was Linda the only one to ride the Carousel, as John, Judy and I also hopped aboard.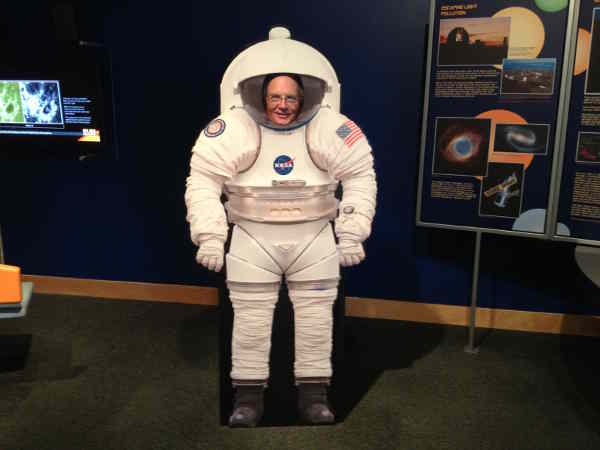 I was surprised Linda didn't get excited when she rounded a corner and saw an actual astronot in full space suit.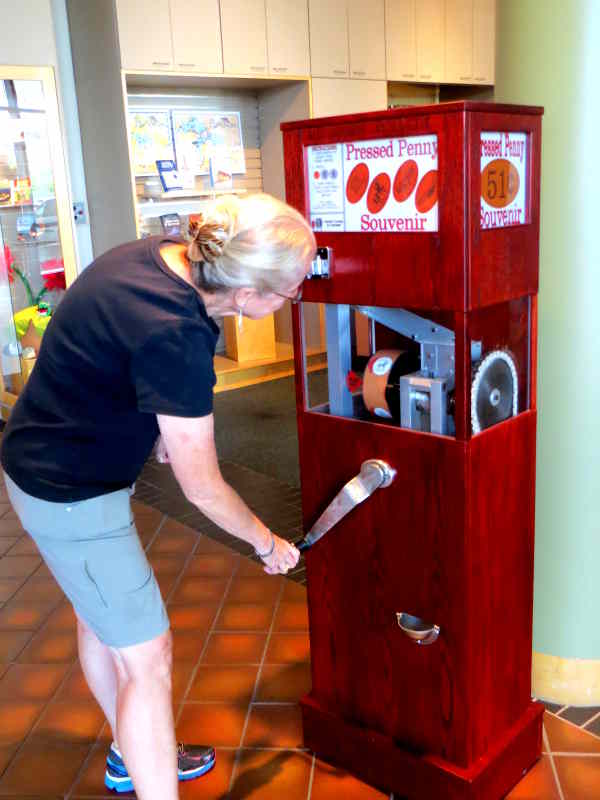 We walked into the museum gift shop and what catches Linda's eye but the penny smasher. What can I say, my wife loves penny smashers. And most likely because of a smashed penny deprived childhood, the poor dear. If you get to Grand Rapids, The Public Museum of Grand Rapids is a most interesting place, and it's just across the street from the Gerald R. Ford Presidential Museum. (Which we enjoyed during our previous visit to Grand Rapids.)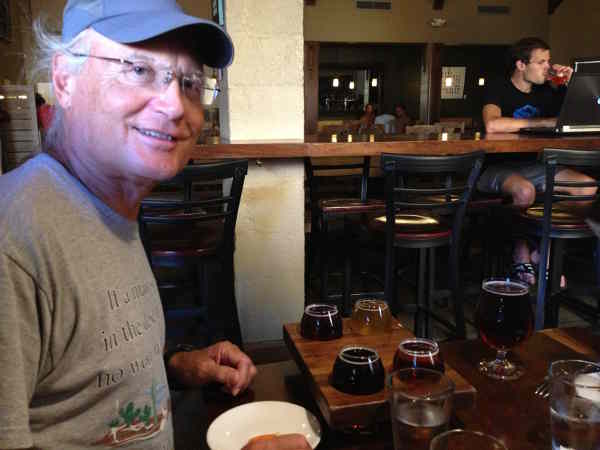 There are not too many people who can say they enjoyed dinner last night in the chapel of a former funeral home. There was one problem, I couldn't decide which beer to have, but they had a solution, which was a four beer sampler. By the time all the glasses were empty that was enough, which was okay as we are flying to Ohio tomorrow morning.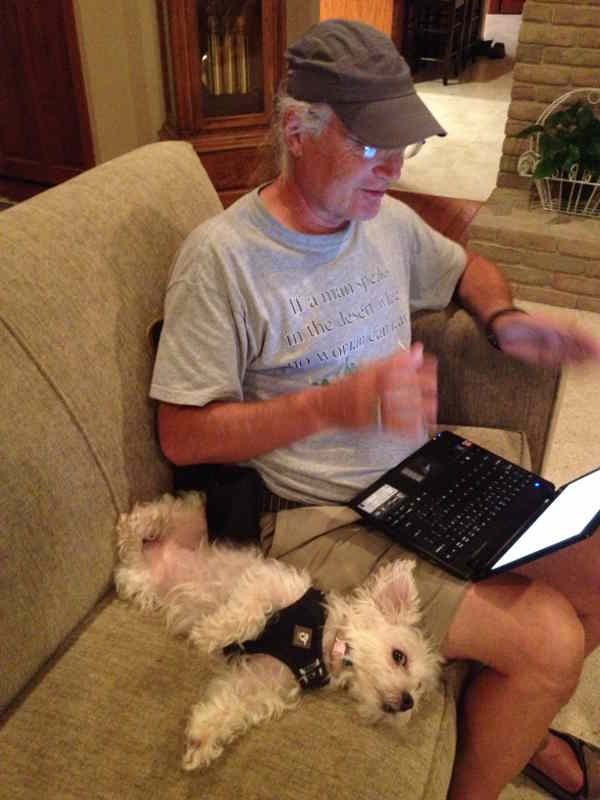 While John, Judy, Linda and I worked out some of the details of our planned month long trip to Europe next fall, Mollie dog got in her last Cuddles.
"A true friend freely, advises justly, assists readily, adventures boldly, takes all patiently, defends courageously, and continues a friend unchangeably." William Penn. Nothing more needs be said of visit with John and Judy.
---
Thursday August 29 Austintown, Ohio
A Travel Day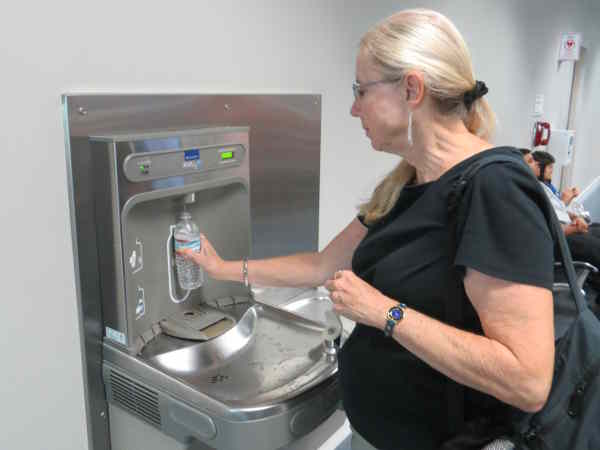 Travel day, Grand Rapids to my old stomping grounds where I spent my growing up years. Linda wasn't around then, but then neither were the water bottle fill stations above the water coolers in the airports. A lot has changed since then, that's for sure.
I wish I could say that I was doing something important regarding our day's travel plans, but I wasn't. In the old days I would have had a book in my hands, now it is an electronic pacifier. Each does the same thing, just in different ways. I wonder how much time I have wasted in the past 50 years? Better not go any further with that thought or Linda might tell me what she thinks it is. Smart Bob.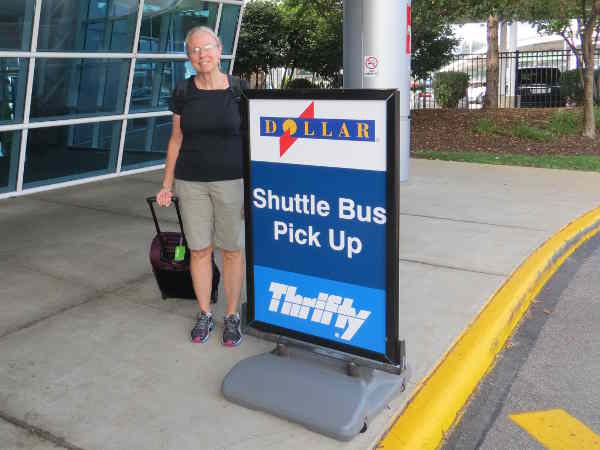 Linda once worked for Thrifty, and has fond memories of that time.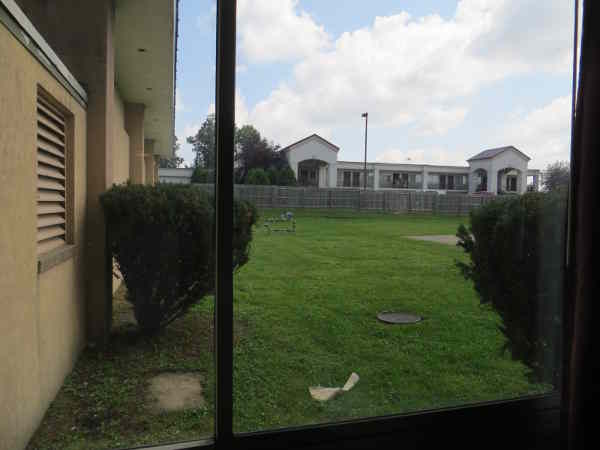 When we were looking for a motel to stay in, Linda had announced she found one that was way less expensive than most in in the area. This is the view out our window. Silent Bob. (Actually the room isn't bad, just a little wo9rn, but since we literally are only using it to sleep in, being on the go all the time while here, it really was a very good deal.)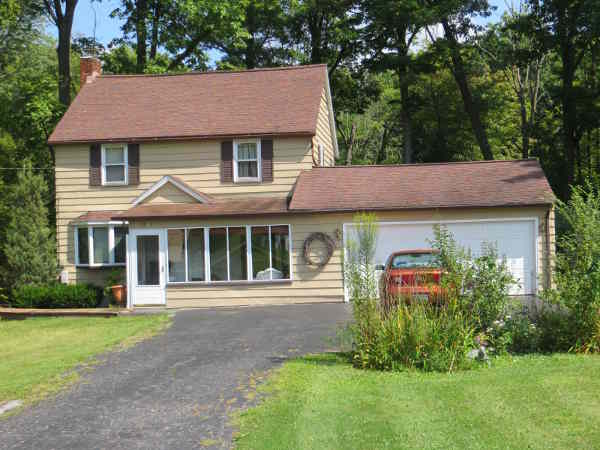 The house I grew up in. Take off the front porch and the garage, make the right lower part of the house itself a garage, put a huge oak tree in front of the little peaked entrance and that was it. My bedroom was so small, I had a single bed in it and the door still hit the bed when it opened, but at least I no longer had to sleep with my brother.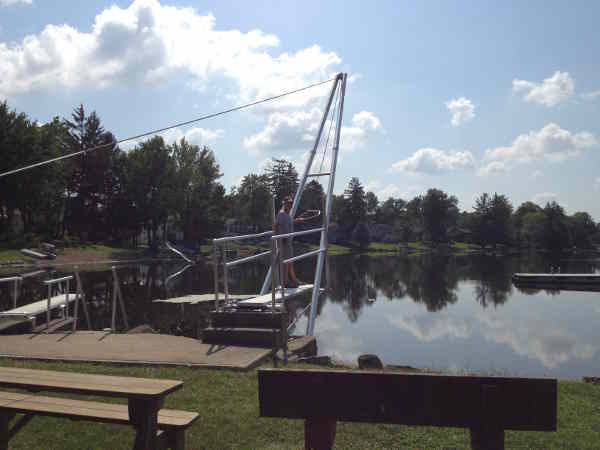 Why the size of my bedroom really didn't matter. I spent most summer days in the lake, either swimming or fishing. It's changed some in fifty years, but the memories it brought back were priceless.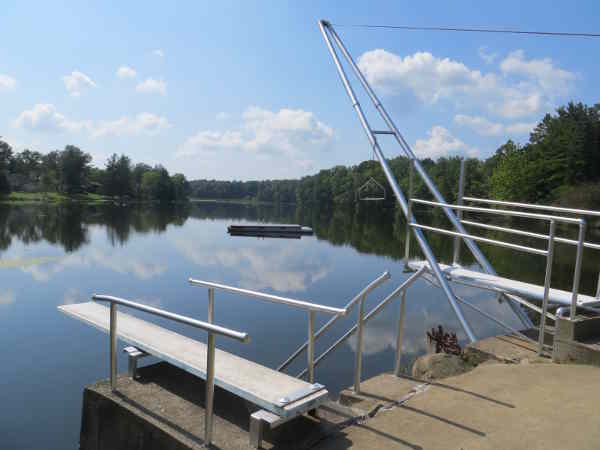 I'll just let the picture say it all.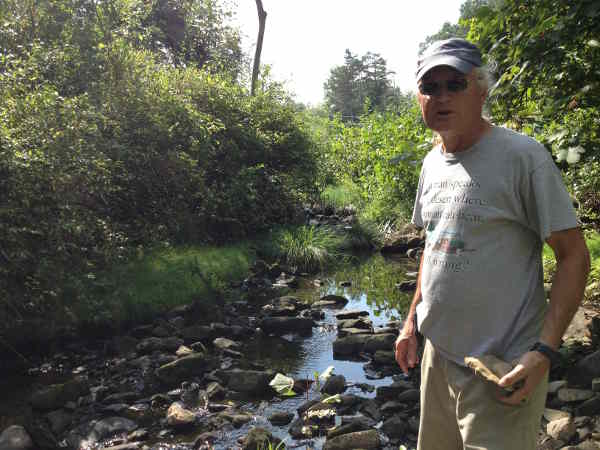 Linda wanted to take a rock back to Retama to go with ones we have collected over the years. I knew exactly where to take her. When I was in high school they put a pipeline through here and destroyed a real nice fossil bed. As I expected, no fossils, but there sure were the type of rocks she likes, and in abundance.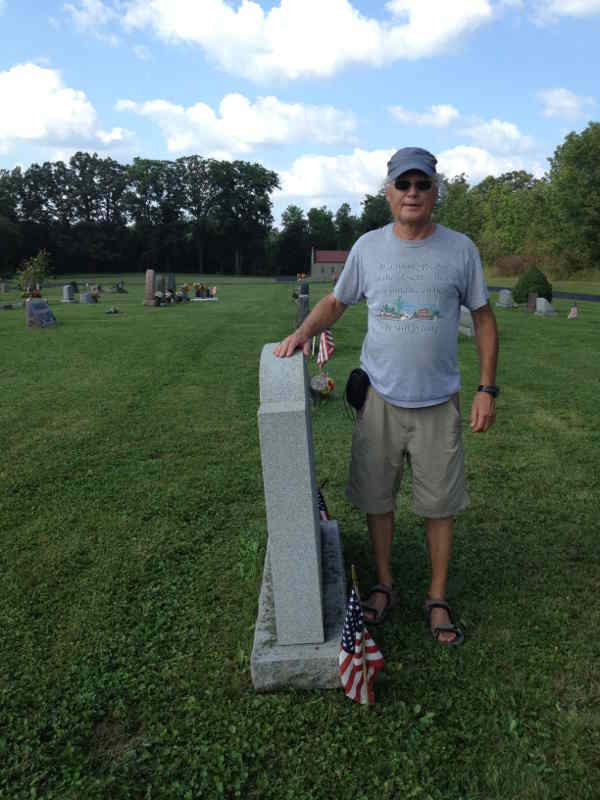 Between 1795 and 1805 a number of the branches of my family tree moved to this county in Ohio. We visited a number of cemeteries to see the graves of my ancestors, but this one is closest to me. There were four in my family and this marker is for Dad, mom, and my brother, Jim. Connections, they are what make us who we are.
---
Saturday August 31 Silverton, Oregon
A Travel Day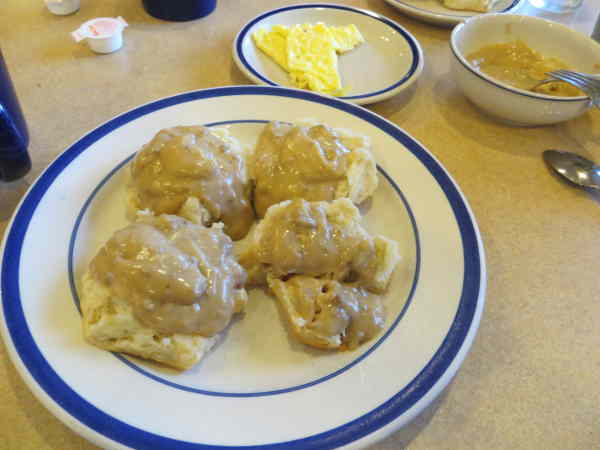 Saying goodbye to the state where we both spent the first several decades of life, I had to partake of a memory for breakfast, Bob Evans sausage gravy and biscuits. I fondly remember the big chunks of sausage in this gravy. That's not the case any more, in fact I could hardly tell there was any sausage in the gravy other than the flavor, and that could be artificial for all I know. What I do know is that I will not ever be wasting my money on this again and it is highly unlikely we will ever be eating at a Bob Evans Restaurant again.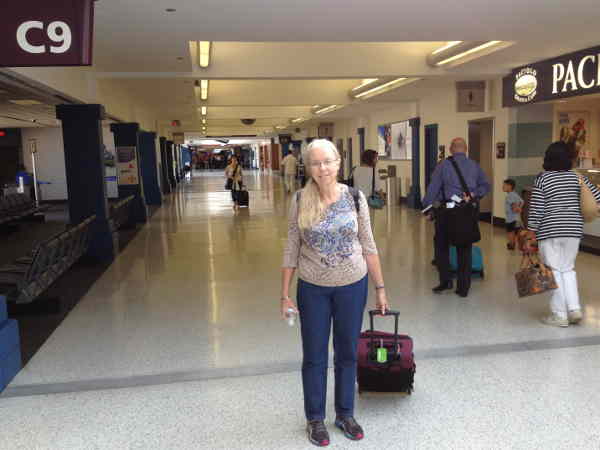 See Linda pulling her bag down this Cleveland Airport concourse. See Bob nowhere in the picture. See Bob not tripping Linda. Careful Bob.
Approaching Portland we could see some fires burning in the mass of green below even if it look blue in this photo.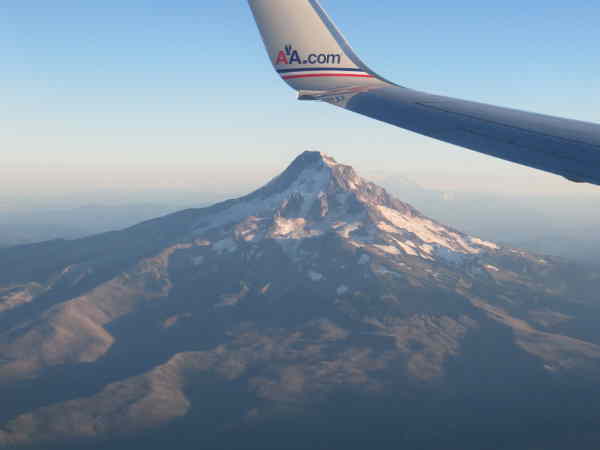 It's a mountain out the window. There is another mountain that looks very similar in the distance. Mt. Hood? I don't know and it was bugging me. Then it hit me, why did it matter whether I knew what it was or not. Did it make me a better person if I did? And if I didn't did it make me any less of a person? Or did it mean I was just the same as virtually everyone else on the plane. All my life I have been driven to win, but for what? All my life I have been trying to live up to that "most likely to succeed" label that was hung on me in our senior year in high school. After the reunion I realized that everyone there had succeeded, each in their own way. Be true to your own self, be happy with what you have, and live Life each and every moment.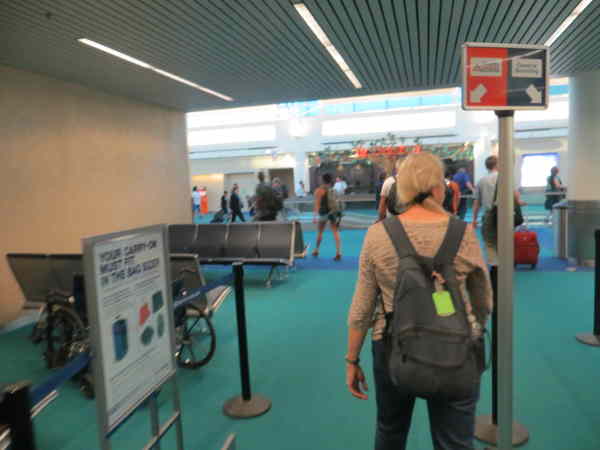 Portland Airport. Note that Linda is not even pulling her bag. Taking to heart what it means to be the husband she deserves, I was pulling both bags, staying well behind her. Happy Linda. Happy Bob.
Remember: Life is not a dress rehearsal. Don't be afraid to laugh, love and retire early. Especially if you made a few mistakes early in life like most of have.
---
---