Journal Archive 9/1 - 9/10 2013
Scroll down to read the latest post
Sunday September 1 Silverton, Oregon
A Bar-B-Cue Day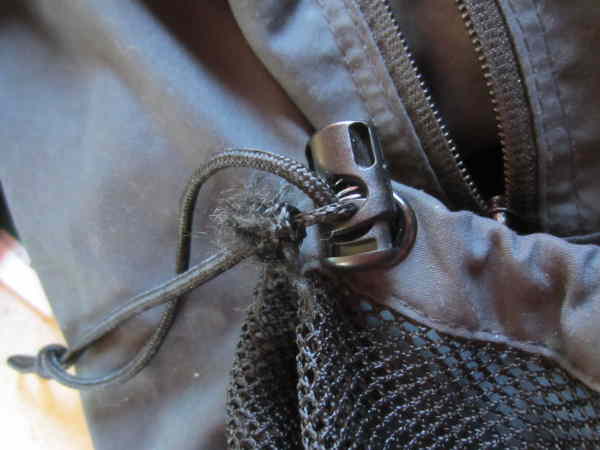 With Linda, I never know what is going to show up when I download her photos. So just what is this photo all about? It took me a few moments, then I realized it was a photo of the cord fraying on her day pack, the purpose of which is known only to she to whom I married. Lucky Bob?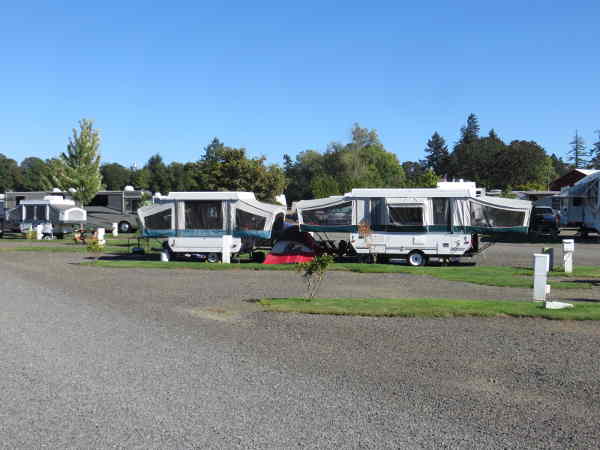 It being Labor Day weekend, the weekenders were out in full force for their last of the summer camping trip. I wonder if this setup could be called three for the price of one?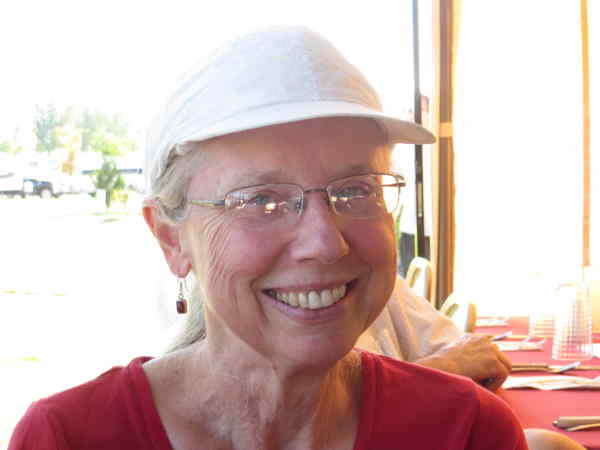 Just what is it that has brought this huge smile to Linda's face? Full of questions today, aren't I.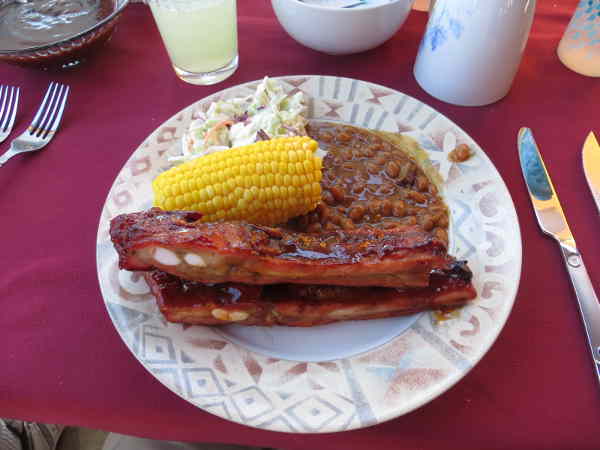 What's Labor Day weekend without a Bar-B-Cue?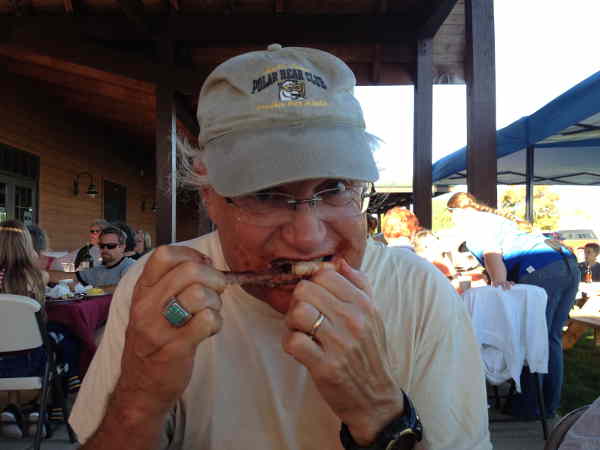 Linda barely had to use her napkin during the meal. I plowed right in an ate that pig just like a pig.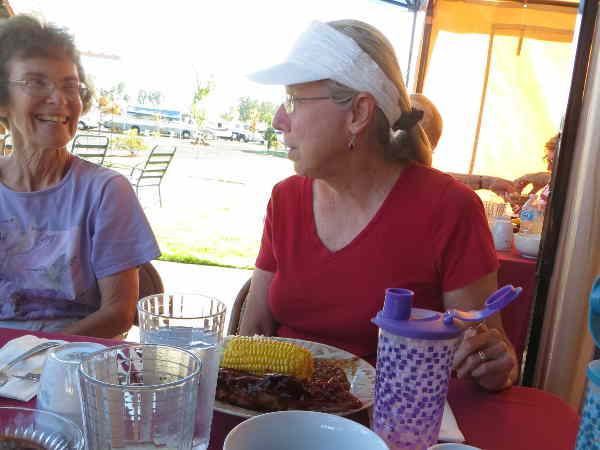 As you can see, Linda did her best to not be associated with the pig slopping at the trough across from her.
There was even a group singing folk songs. It brought back memories of holiday's past. Old memories, new experiences, isn't that what Life is all about?
---
Monday September 2 Silverton, Oregon
Labor Day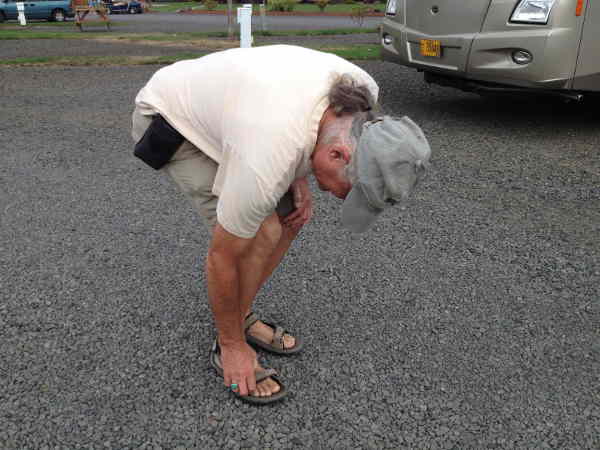 Darn. On our morning walk I got a rock in my shoe that just would come out. I finally had to admit defeat, stop and take it out. As you can see, someone made sure they took a picture of this incident. I guess all's fair in love and shoe removal.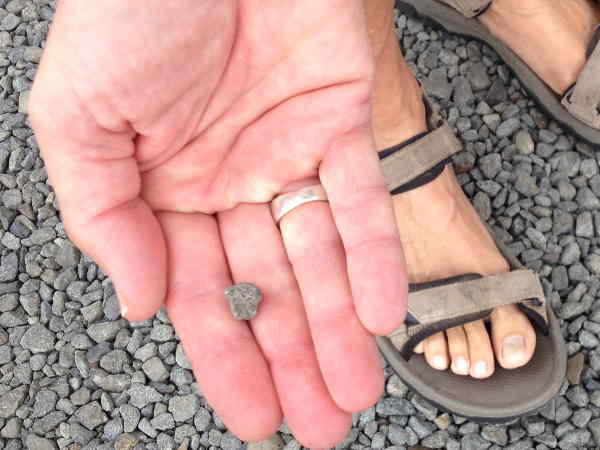 No dust speck here, this is a real rock. Vindicated Bob.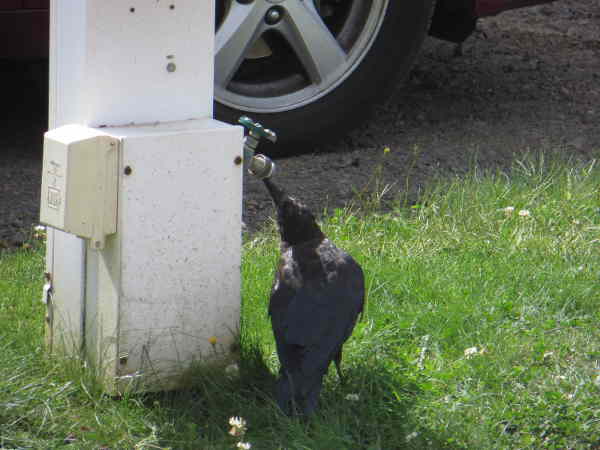 One of the reasons why sanitizing the water spigot before hooking up is a good idea.
We don't stay here just because we really like Silver Spur RV Park. As you can see, Silverton is a wonderful town.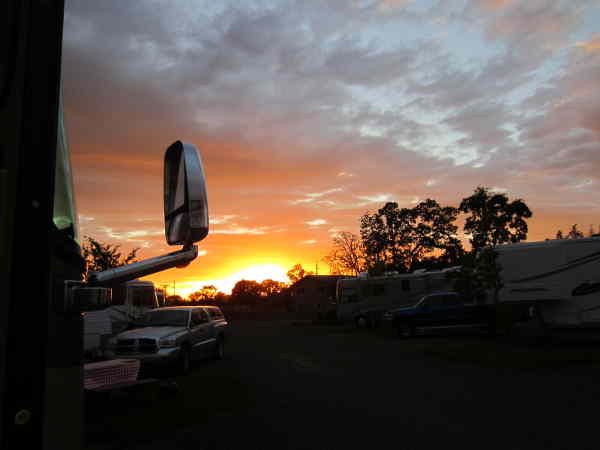 The sun sets on a another camping season for most people. For us it means the RV parks won't be nearly as full and if we find ourselves in a tourist area, it won't be crowded. How did we ever manage to be so lucky?
Life is not a dress rehearsal. Don't be afraid to laugh, love and retire early.
---
Tuesday September 3 Centralia, Washington
Travel Day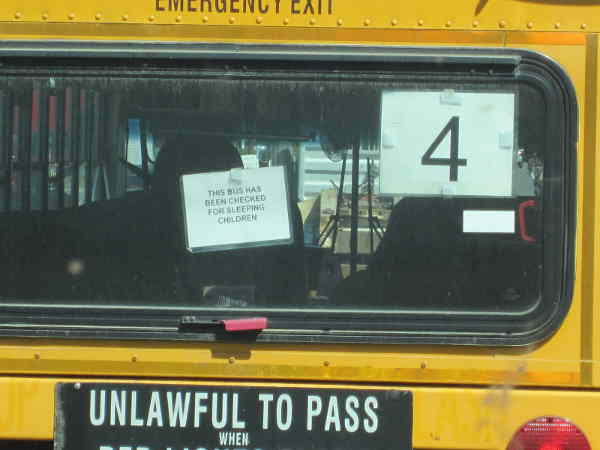 Linda got a kick out of this sign. We agreed times have changed. Back in the day when we rode the bus to school there was no way you would ever have fallen asleep even if you had wanted to I suspect kids today are either texting, listening to music or playing a video game instead of actually talking and physically interacting with one another.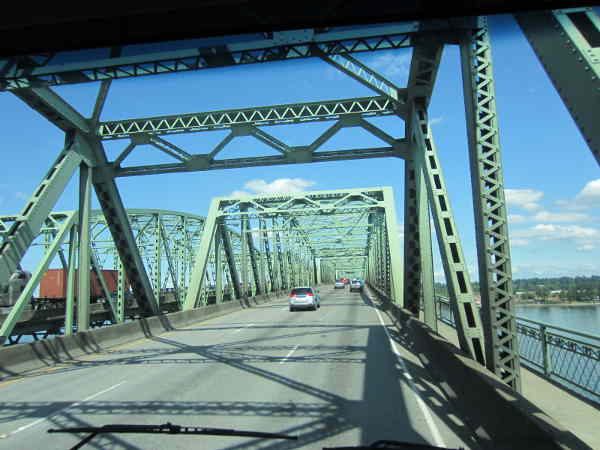 Our route today had us driving on I-5 through Portland, across the wide Columbia, and then up to Centralia, Washington where we will have some more work done on the coach including an alignment and new shocks. We had originally planned on having this done at Henderson's in Grants Pass, but due to our earlier breakdown, we missed our appointment and they were booked up for more than a week once the repair was finished. So now we are on our way to Brazel's to have it done.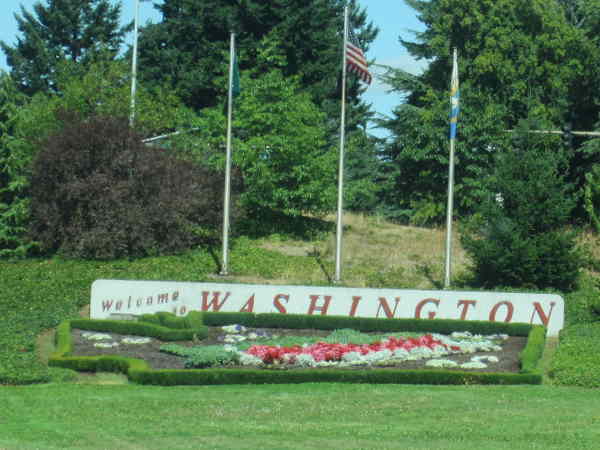 Linda is so good at taking a photo of the welcome sign every time we cross a state line. Once again she had camera ready and eyes peeled. I love how she always gives out a little sound of triumph after she takes the picture. It's always accompanied by a huge smile on her face and it's one of the things that makes Linda, Linda. Lucky Bob.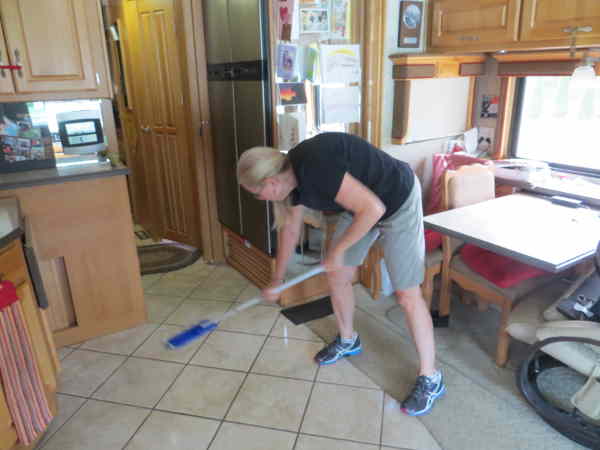 In another week the floor is going to be replaced. I was told that it was dirty so it needed to be cleaned. I wonder if she will go into the coach every evening when they are replacing the floor and clean what remains. Maybe I shouldn't take this any further, and so I shall say no more. Smart Bob.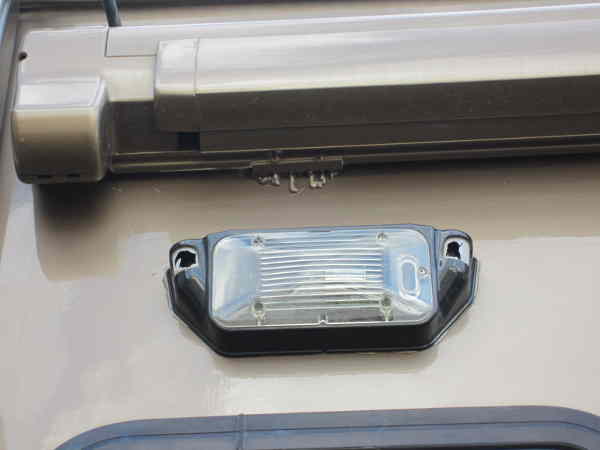 If it not one thing, it is another. Looks like another China made piece of junk. I wasn't the only one who bought one of these at Quartzsite in January of 2012, I wonder how they are holding up the others in IRV2 Monaco group that bought one? At least the blue lights strips on the steps still work. What's that they say about RV's? If it isn't broke just wait a while.
---
Wednesday September 4 Centralia, Washington
A Shocking Day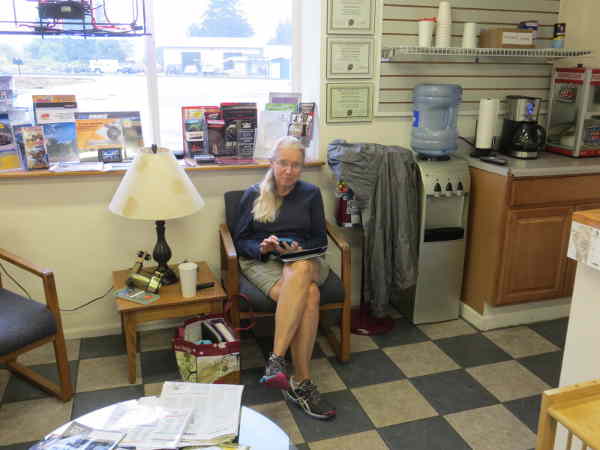 Linda doing her best imitation of a fulltime RVer patiently sitting in a repair facility waiting room while her RV is being worked on. Long ago she learned that the magazines in such waiting rooms can be a gold mine of information leading to new and interesting places to travel, or providing hints to make our day to day living easier.
Naturally she takes photos of those articles that will help us the most. What can I say and why should I be surprised this was on her camera.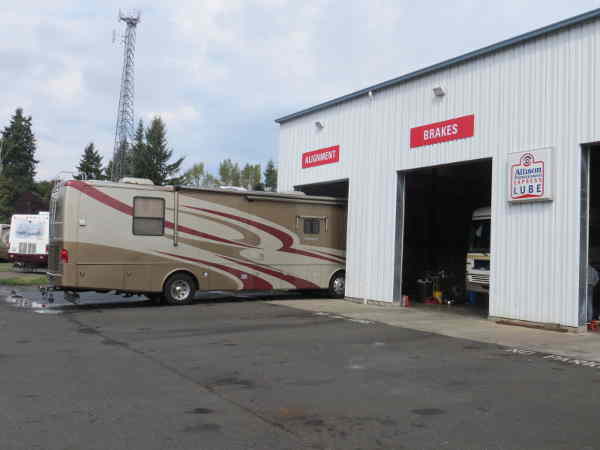 The coach has been aligned, the new shocks installed, but now we have decided to have a Safe-T-Plus installed which should make it even easier to drive as it helps keep the front going in a straight line. We hadn't planned on installing one, but since we are here and trust Brazel's to install it right, we decided to have it done.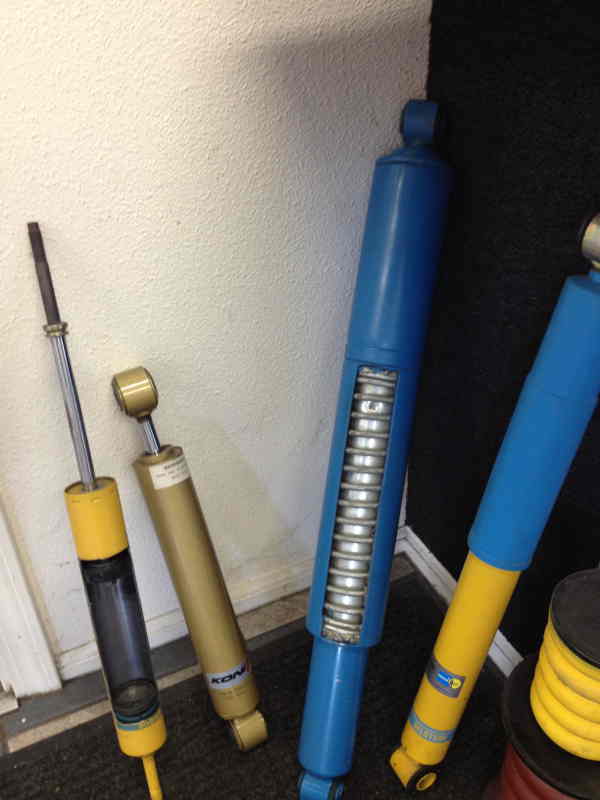 The little gold one is a Koni shock like we had installed. Given how expensive they are compared to to normal OEM shocks, the color may be fitting. The largest one with the cutout is the Safe-T-Plus.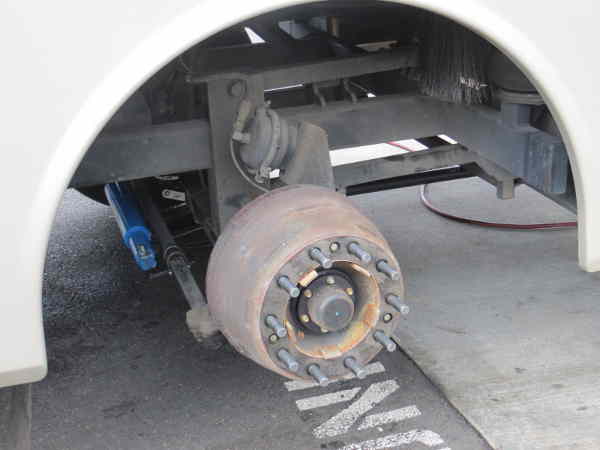 The Safe-T-Plus installed. They still have a little bit to finish up in the morning and then we should be out of here.
---
Thursday September 5 Centralia, Washington
A Bad Day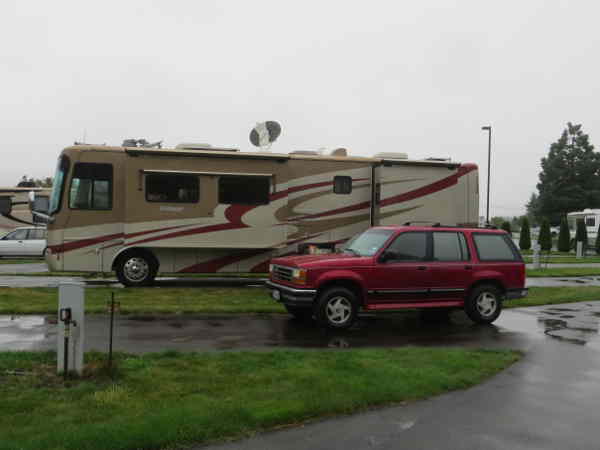 A rainy morning greeted us, we were hoping to be able to drive over to the coast today and spend a few days on the Washington coast before our appointment in Junction City to have the remodeling done.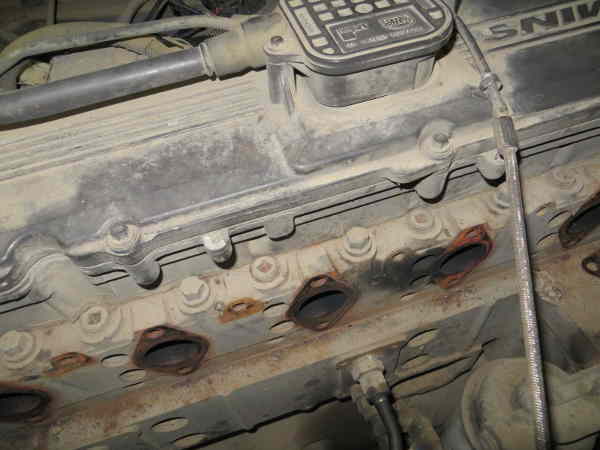 Not good, not good at all, but not nearly as bad as it might have been. Today they discovered a leak in the exhaust header. The bad news is that it will have to be either machined or replaced. The exhaust header is actually two separate headers, but the good news is that our extended warranty will cover the repair.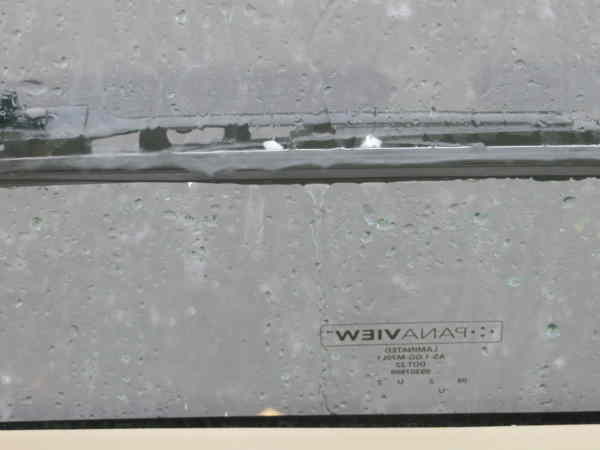 At least we could stay in the coach tonight, and hopefully the repair can be done tomorrow. We are only hooked up to power, but that is all we need. Actually we don't even need that, but having a 50 amp hookup makes it easier. Then, just before 5 o'clock our power went out. We looked outside and everyone in the shop was standing out by the doors. The power was out in the area. Soon the shop was closed and everyone had left. That was when the sky opened up and besides a torrential rain storm, there was hail as well.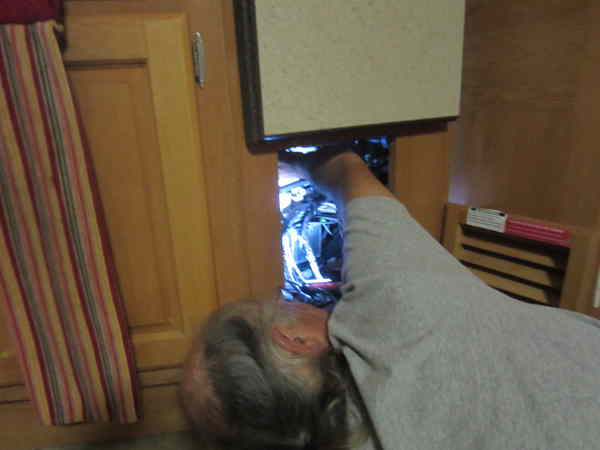 Our bad day wasn't over yet. Because of the weather and a car parked on the curb side of the coach, we had kept the curb slide in. When Linda was doing the dishes she put water in the small side of the sink due to Red's aquarium being in the large side. When she emptied the water, she let out a shriek and the next thing I know she she grabbing towels to wipe water up off the floor.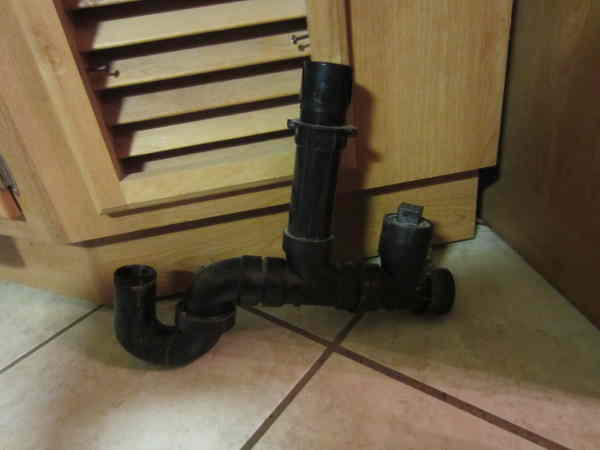 It turned out the drain pipe from the sink that is fastened to the slideout and is supposed to move with the slideout when it goes in and out had broken right at the cleanout fitting. It was being held by a small piece of the pipe that it worked as a hinge, closing the opening when the slide was out and opening up when the slide was in. The great thing was that we had finally discovered the source of the sewer odor every time we would start driving. Now we will have to fix this.
To sum up the day: Today gave new meaning to the term - when it rains it pours.
---
Friday September 6 Centralia, Washington
A Better Day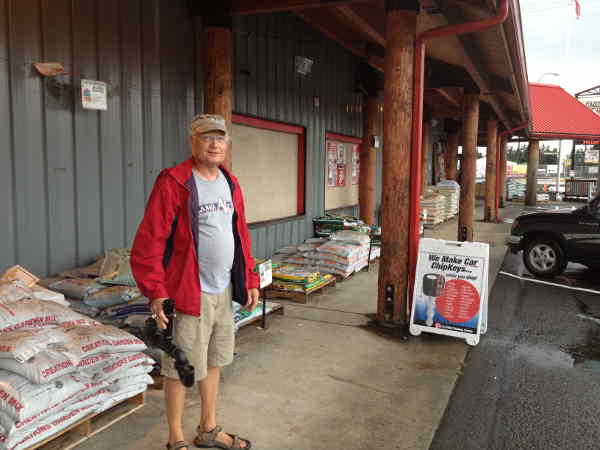 This morning found us at the local Ace Hardware store looking for the easiest way to fix the broken pipe. I really didn't want to have to buy new fittings and fix it that way, then it hit me, there should be a Fernco fitting that would slip over the larger diameter of the fitting and the smaller diameter of the pipe. They are made of rubber which would absorb the movement that caused the pipe to break in the first place, and the hose clamps on each side would prevent it leaking. Sure enough, there was a fitting that would fit the two different sizes. Maybe it was going to be a lucky today.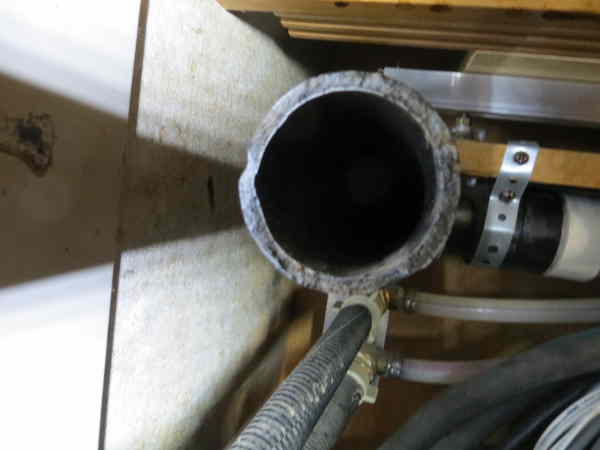 The light gray area at 9 o'clock was all that was holding the pipe together.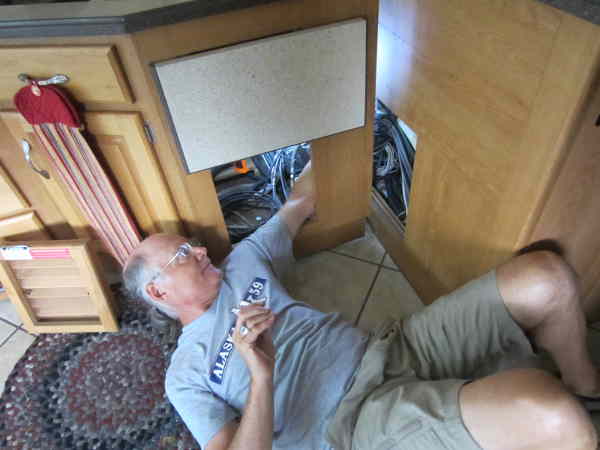 The fix was one thing, being able to actually work on the fix was another thing. I wasn't about to stick my head and upper body in through that opening, and eventually I discovered a way to reach back into it and tighten the clamps. I think Linda was more excited than I was that it fixed, especially knowing there would be no more sewer odor during our future travels.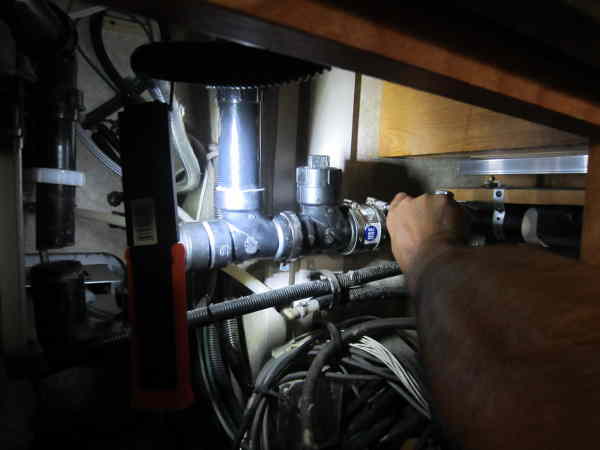 The final tightening of the fitting. I shudder to think what it would have been like had I replaced the fittings and pipe. Think before you leap was never more appropriate.
---
Saturday September 7 Centralia, Washington
A Shopping Day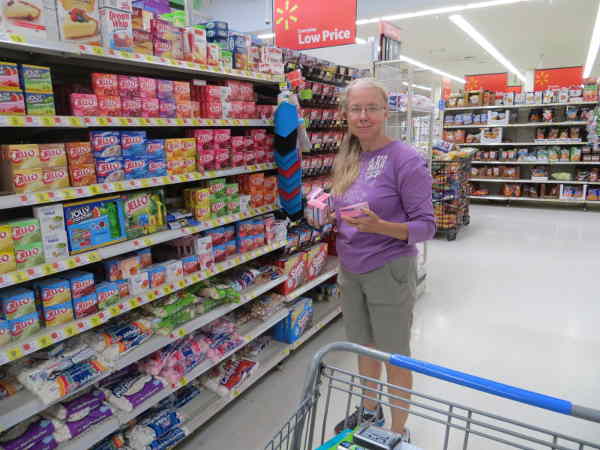 Shopping day today, the first stop being Walmart.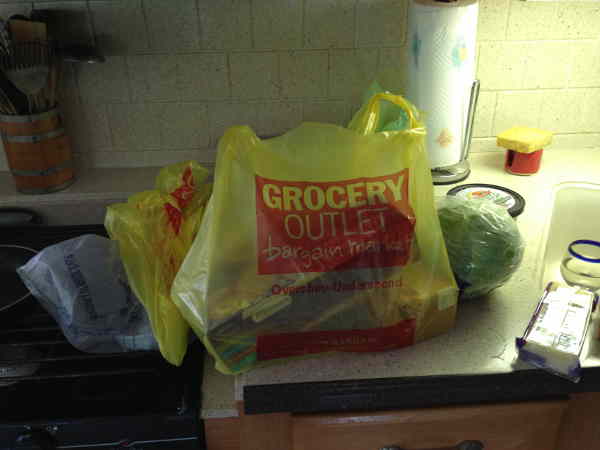 We ended our shopping at Grocery Outlet, which has even better prices than Walmart. Then there was a stop at a laundromat, followed by some time spent walking around downtown Centralia. As you can guess, the repairs on the coach aren't finished and we are spending the weekend at repair shop. All in all, we have done a good a job of making lemonade out of what has happened the past few days.
---
Sunday September 8 Centralia, Washington
A Rest Day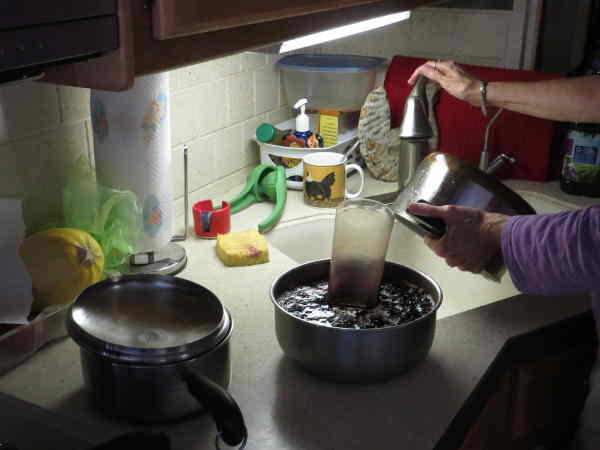 It may be a day of rest, and we did do a good deal of resting, but there was also the making of blackberry jam from the blackberries in the freezer. Linda put them in the bowl, then it was my job to crush them exactly as she wanted. We've done this together many, many times over the years, and right away I learned to do everything exactly as she said to do it, or life wasn't going to be good for me for a long time. Behaving Bob.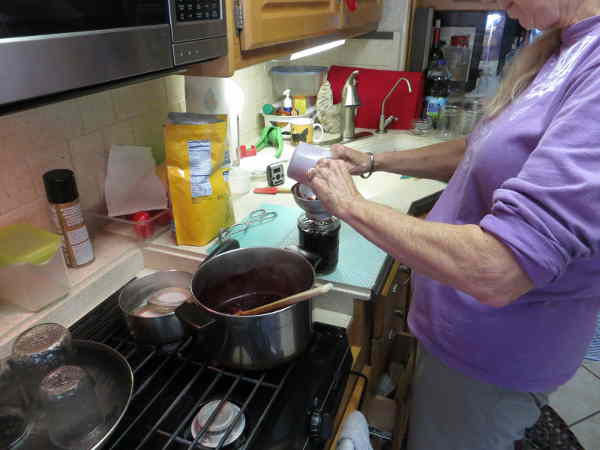 The jam cooked down and going into the jars. My job was to stir the blackberries as they came to a boil. There is a right way to stir and many wrong ways to stir. Believe me, I know how to stir the right way and that is the only way I stir. Learned Bob.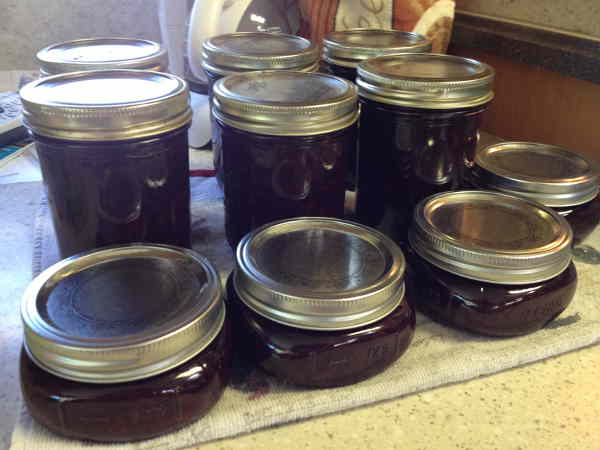 Note how each of the lids has been carefully tighten on each jar. How each jar has been aligned perfectly and even though you can't see it, each jar has sealed just as it should. I can only lay claim to the first of those, Linda is responsible for the fact the jam making was perfect as always. And while she herself may not be perfectly perfect, she is darn close. Lucky Bob.
---
Monday September 9 Centralia, Washington
A Waiting Day
All we did today was to wait for a part to come in. Some days are like that.
---
Tuesday September 10 Centralia, Washington
Another Waiting Day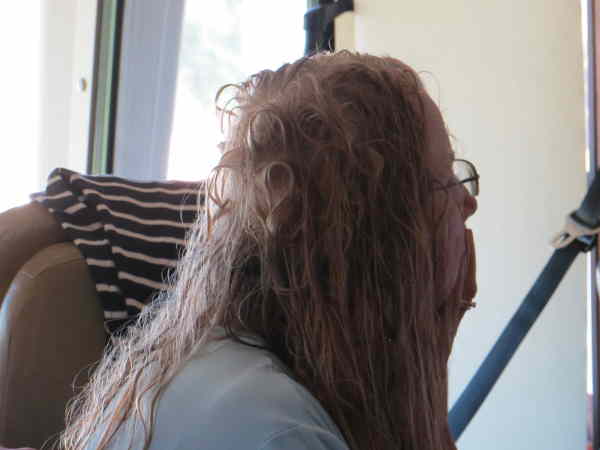 A photo of the family poodle, and another day of waiting on that last part. It will absolutely positively be here tomorrow. Still, it doesn't really matter where you are when it raining off and on day after day. Life is good.
---
---