Journal Archive 9/21 - 9/30 2013
Scroll down to read the latest post
Saturday September 21 Junction City, Oregon
Rainy Day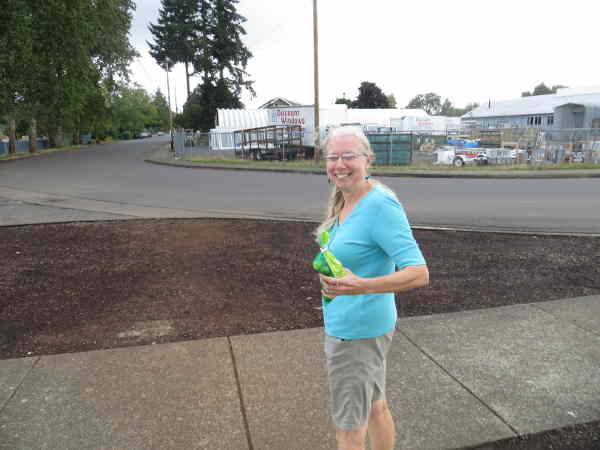 We are still staying in the motel as they did not get the bed back in or the toilet installed. Of course the fact there is still some to do on the floors had more to to with that than running out of time to install the the bed and toilet. Things always take longer than expected, but as we watched the progress during the week we could see that this was going to happen so it came as no big surprise.
Our plans for the day were to do some additional sightseeing in the area, but first Linda wanted to make sure she was prepared for this evening's happy hour. That meant a trip up to the Safeway, and since our purchases are on the small side, we have taken to walking the few blocks rather than driving. It was a gray overcast morning when we left, but on the way back it began to drizzle and by the time we were back at the motel it had become a gentle rain.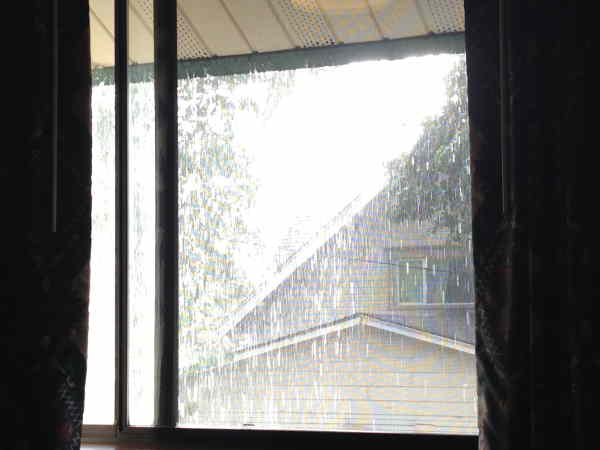 The gentle rain didn't last long,mainly because it soon turned into a major storm event, something that continued all day long. Torrential rains and lashing winds kept us in the motel room, but at least we were dry and comfortable. We were given lemons today so we made the best lemonade we could. Or made I should say we bought limes today so Linda could make her usual great gin and tonics. Besides that, we had absolutely nothing else we really needed to do.
---
Sunday September 22 Junction City, Oregon
Another Rainy Day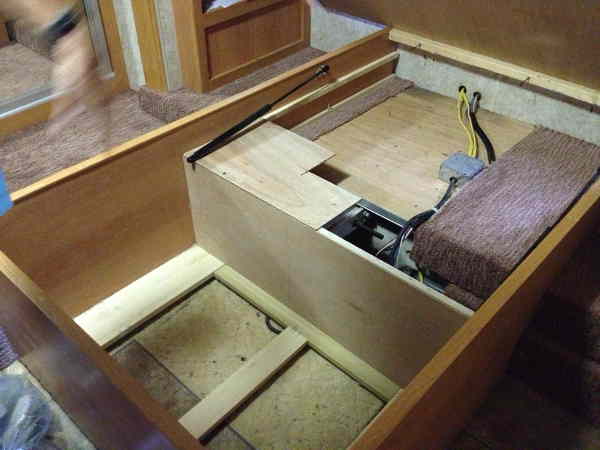 Sunday and there was no sun, only more rain, just not as intense as it was yesterday. In the late afternoon we'd had enough of the rain and decided to take a look at the coach. I had asked Linda if she wanted to walk over to the coach since was only a block and a half, and really wasn't raining all that hard. I got the "if looks could kill" look, so I drove.
I'll post a few photos to show what the coach looked like after five days of work. The bed was in place, but not fastened in, and neither were the interior panels installed. At least Linda got her first real look at the carpet and she really like it.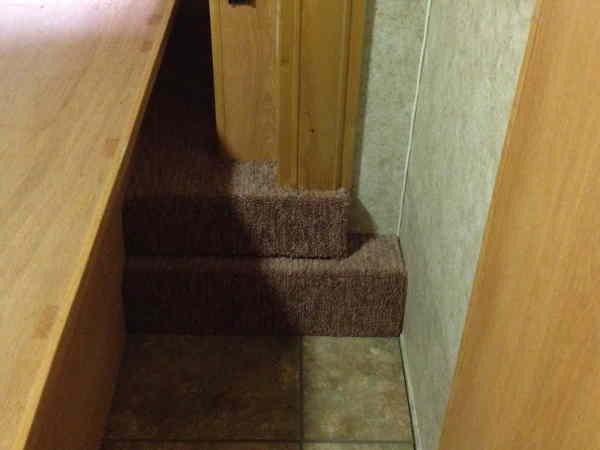 We won't really be seeing this detail after we are are back in it, but it does look nice.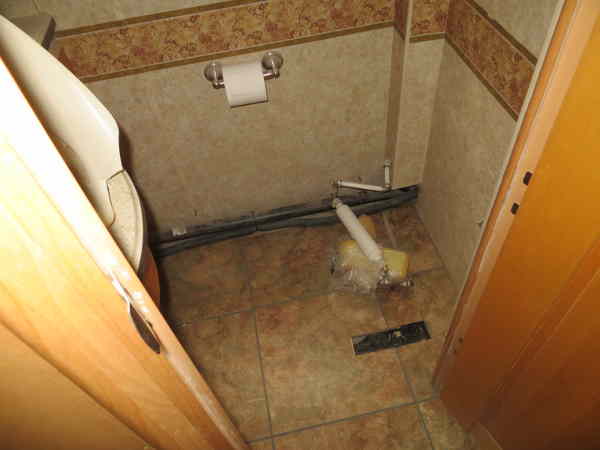 The bathroom still had some trim pieces missing, but Linda was excited at how all the colors of the floor tile went with the colors on the walls. I joked that it wouldn't matter, because she would probably be covering the floor with a rug anyway. As I learned, that was exactly what she was planning to do and she most definitely didn't think it was funny. Something to do with a certain member of the family when they did something in there, further details of which she proceeded to describe but which I aim to leave out of this day's writing. Inaccurate Bob.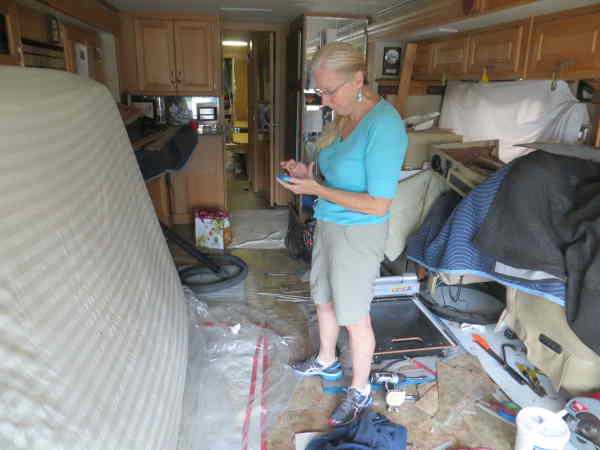 Yes the front of the coach is still a mess, but it is a mess that will eventually result in a much nicer looking and improved coach. Something that doesn't need improvement is my beautiful wife, and looking at this photo I was struck with just how special she is. Turquoise earrings, turquoise top, turquoise iPhone, and turquoise on her shoes. That didn't just happen by accident. Me, I just grab whatever is on top of the shirt pile and put it on and I am good to go. It's likely been a forever trait, with Adam snatching up the first leaf he saw while Eve walked the whole Garden looking for the perfect one.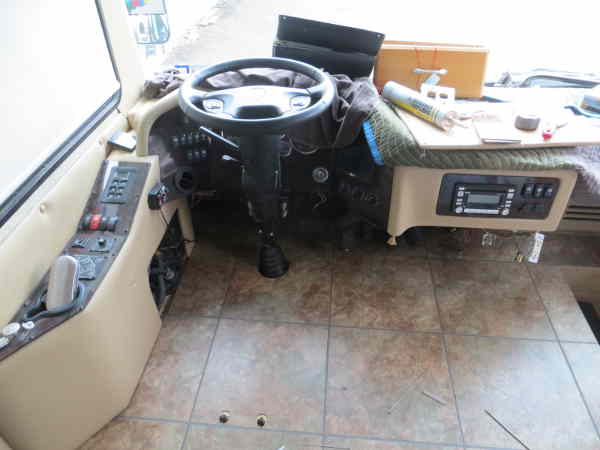 The dash area is really looking nice. I still can't believe how well the floor tile goes with the colors in the coach.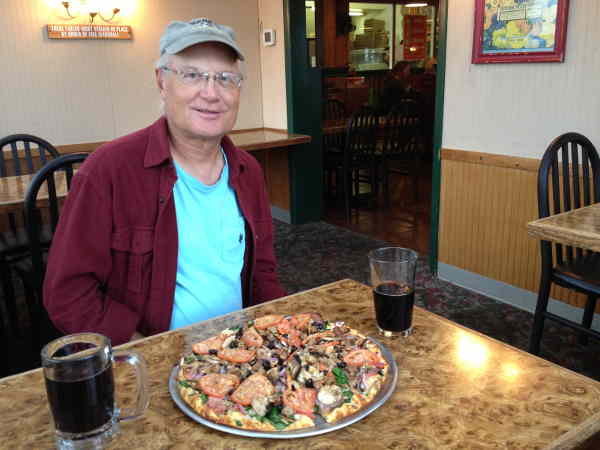 Pizza and a glass of dark ale. The perfect end to the day.
---
Monday September 23 Junction City, Oregon
Sixth Remodel Day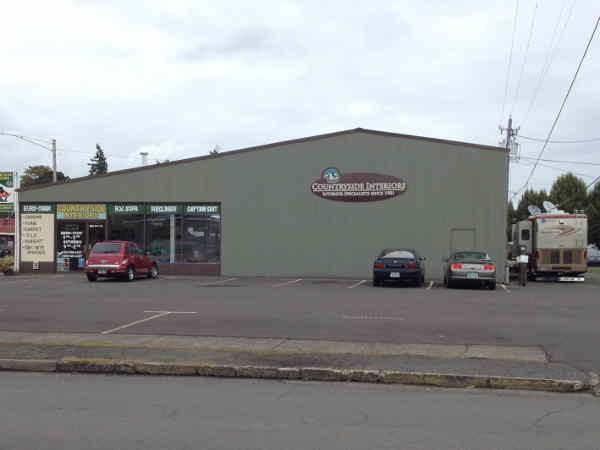 Monday morning and the rain had stopped. We had thought maybe they would finish up today, but now they were saying it would be tomorrow. One thing we don't want to do is to make them rush and have them make mistakes.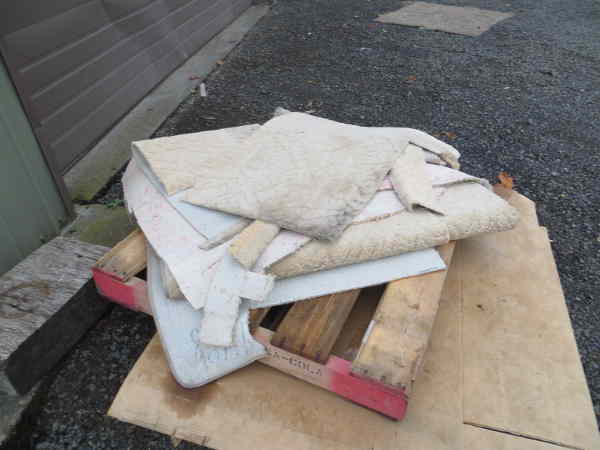 Linda doesn't miss the old carpet at all.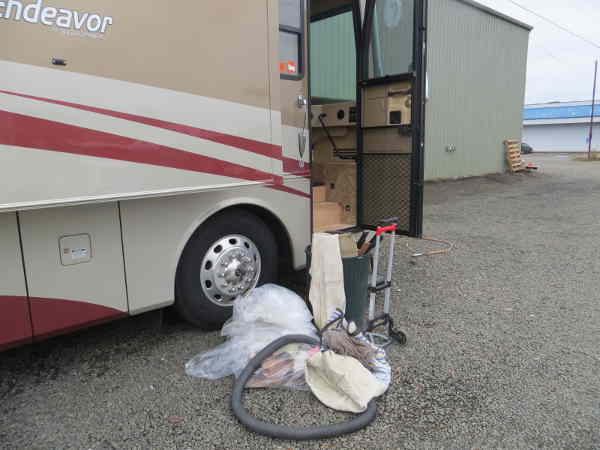 This definitely looks like progress.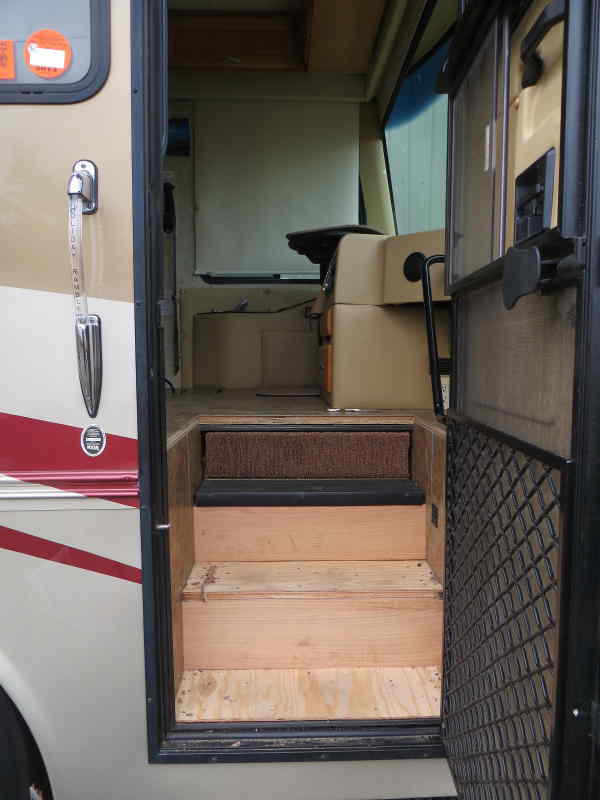 The end is in sight, but there is still more to do. The new wood for the entrance steps has been installed.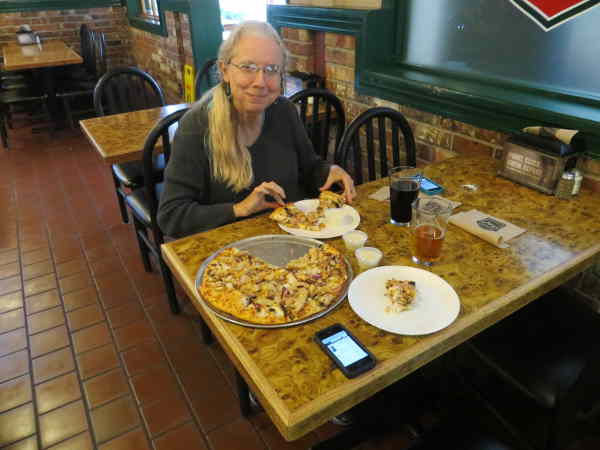 Another night, another pizza.
Yes, we were staying in the coach tonight. It is very good to be back home. The carpet still needs to be installed on the slideout, the love seat brought in, the front steps covered and the trim pieces installed along some of the walls, but we can see that tomorrow will indeed be the last day.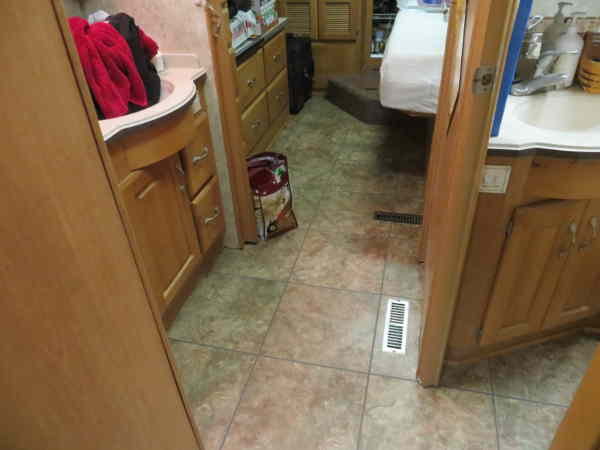 The bath area and the bedroom.
The area over the top of the engine. What a major improvement over the old lighter colored carpet.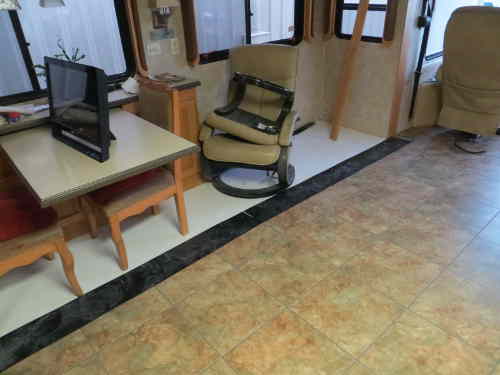 This should look a lot different tomorrow after the carpet and love seat are installed.
---
Tuesday September 24 Junction City, Oregon
Seventh Remodel Day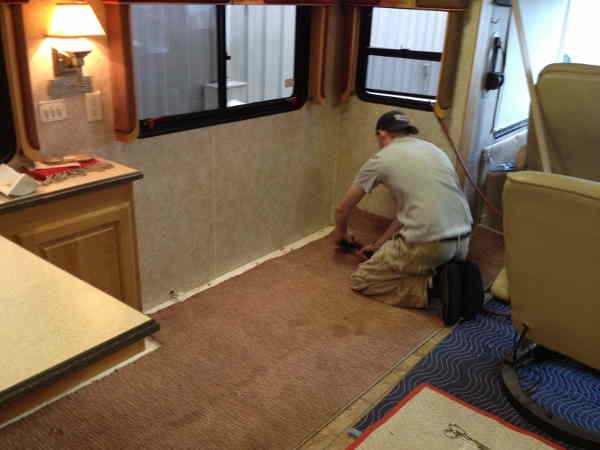 The beginning of the end. The carpet is going into the slide.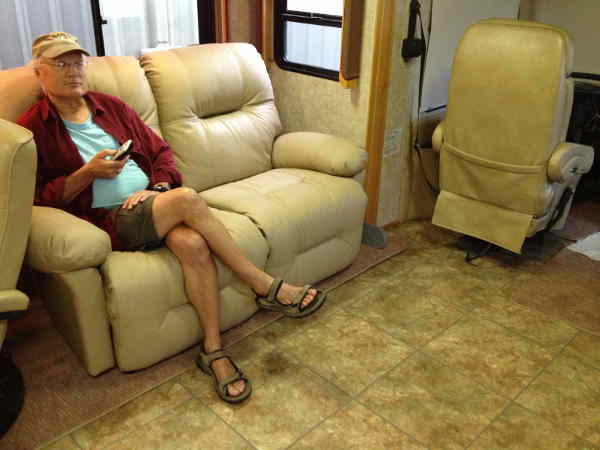 Relaxing in the evening. Everything is finished, but they didn't get done until so late that we are staying beside their building hooked up to their electric for the night. We only have to drive a few blocks down the street for our next appointment tomorrow, so this works out much better than driving over to the RV park in Harrisburg, then returning in the morning.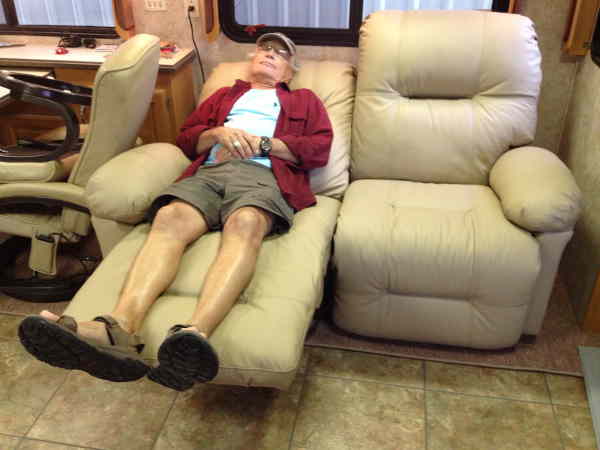 Between the two of us we gave the love seat a good workout. I don't have a photo, but the huge smile on Linda's face as she did the same thing told the story. Happy Linda. Happy Bob.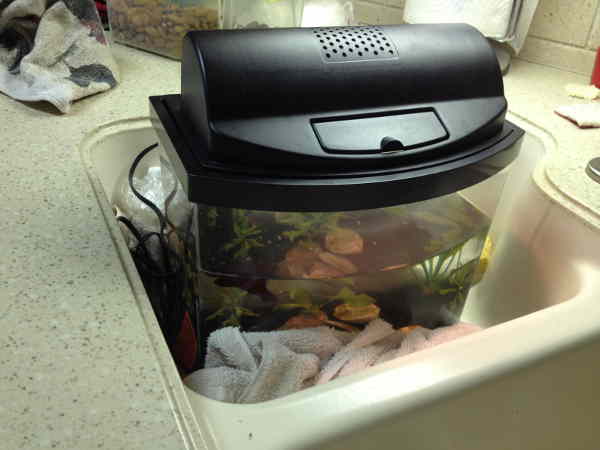 Linda and I weren't the only happy ones in the coach tonight. Something tells me Red is going to be very happy to get his normal life back just as Linda and I are.
---
Wednesday September 25 Junction City, Oregon
Electronics Day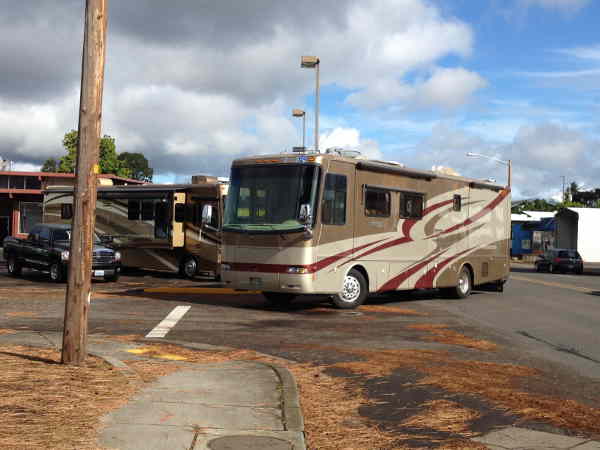 All that work the past week and a half and you can't even tell anything was done looking at this photo. And today is going to be more of the same.
Parked in the lot at Innovative Solutions, and if you think it looks like it is going to rain you are absolutely correct. At least all the work being in the rain is inside the coach.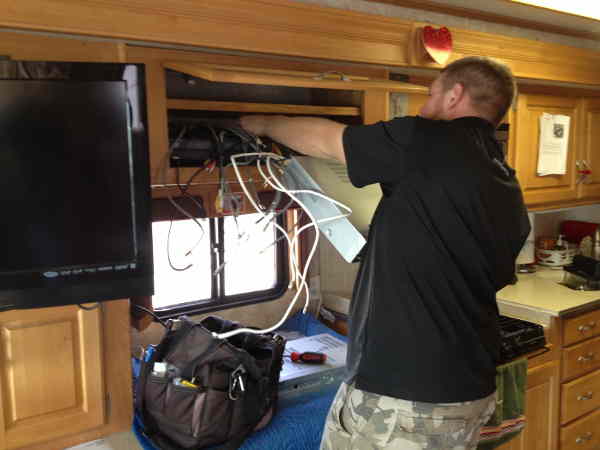 Out with the old. Being removed is the DirecTV receiver, the multi button selector box, the dvd/vcr player and the original RCA vcr/home theater unit.
A pile of outdated electronics and a jumble of wires.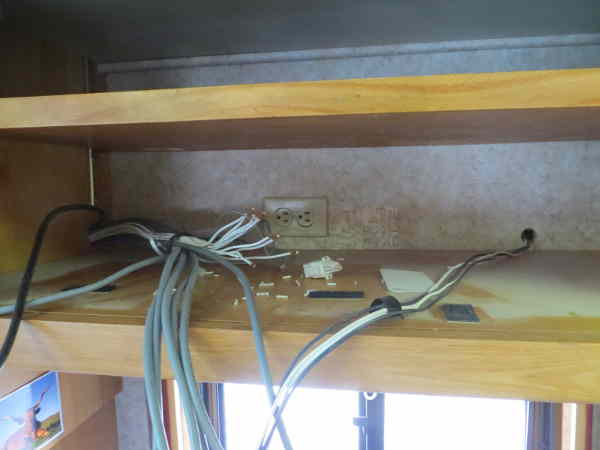 This neat bundle of wires is much better than the twisted jumble from before. They were so crammed in the cabinet the electronics were being pushed forward from the pressure. Linda's comment was that there was a lot dust that needed to cleaned up before the new electronics went in. Obviously men and women think differently. I said nothing. Wise Bob.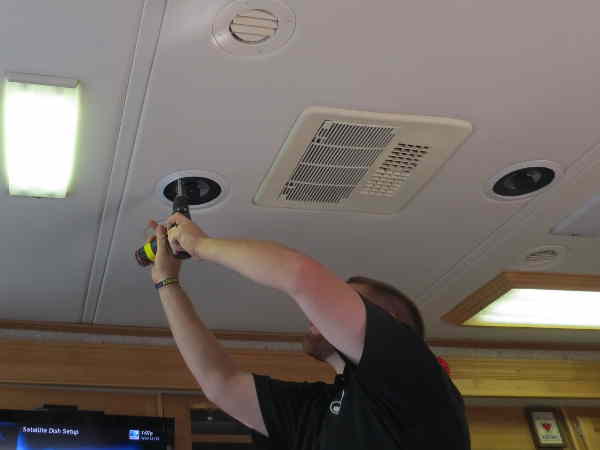 The new overhead speakers being installed. Can you believe it, those were all the photos I took. Not one of the speakers in the corners of the slide, nor one of the new electronics. Guess I was so happy to be able to hear the TV and music that I just sort of zoned out.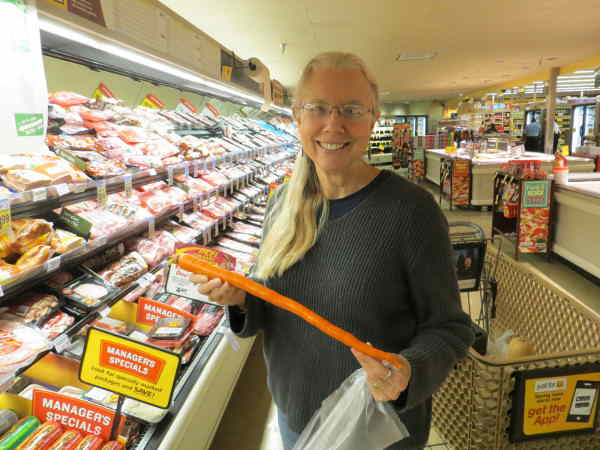 Linda was very proud of this carrot. I will say no more.
---
Thursday September 26 Harrisburg, Oregon
Tire Day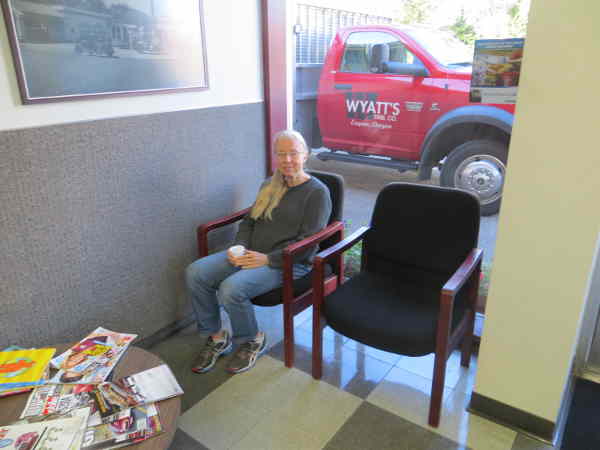 Getting new tires on the coach today at Wyatt's Tire in Eugene with the FMCA Michelin Advantage program. Linda enjoyed sitting in their lobby for a while but later retired to the coach to read, one of the advantages of taking your home with you. I walked around the area of Eugene we were at, doing my thing of looking at interesting buildings.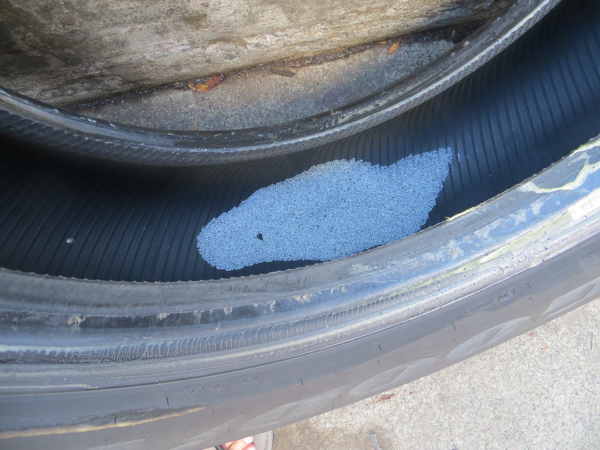 The balancing beads in the tire we had balanced at that worthless tire shop in Onalaska, Texas.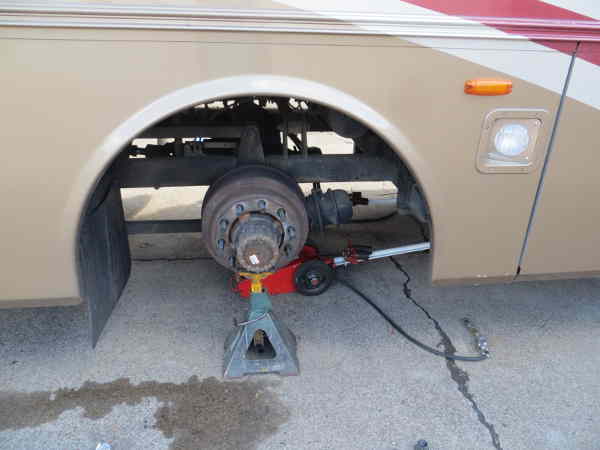 The rear tires are off. In all it took a little over three hours for them to replace all six tires.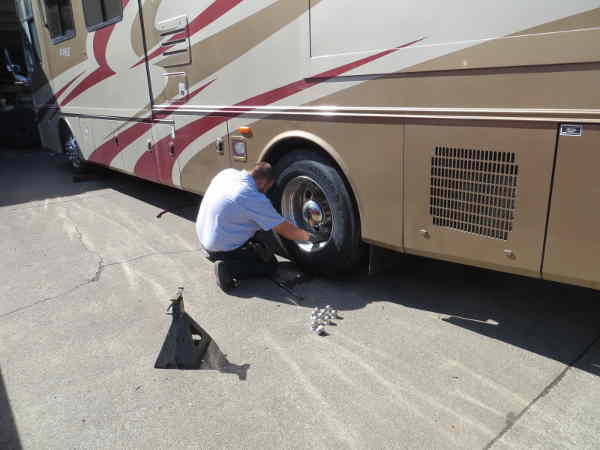 One thing they did that I really liked was to replace the flexible stem extensions on the rear inside duals with a solid stem that fits in a rigid rubber sleeve that locks in one of the openings in the outside wheel. Just wish I had taken a photo of it.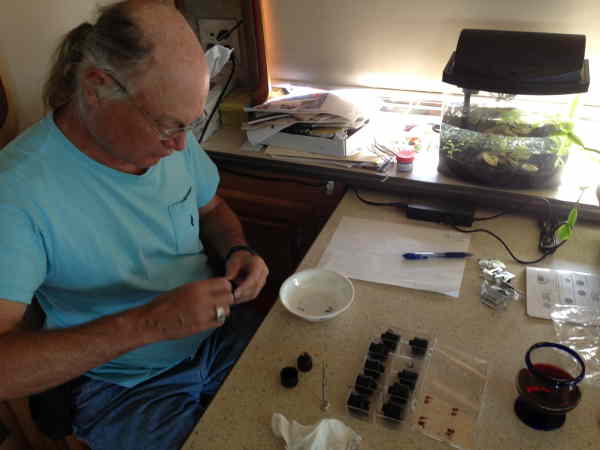 We have been getting a low battery signal on an ever increasing number of the Tire Pressure Monitor sending units, and having received the new batteries via Amazon Prime, it was the perfect time to change out all the batteries.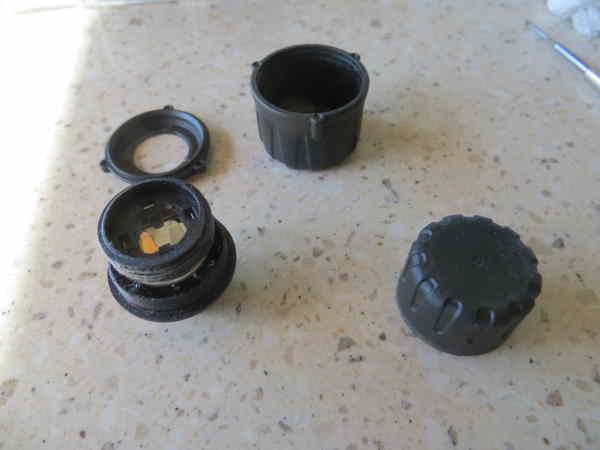 Not much to them. Just remove three screws to take off the security cap and unscrew the cover.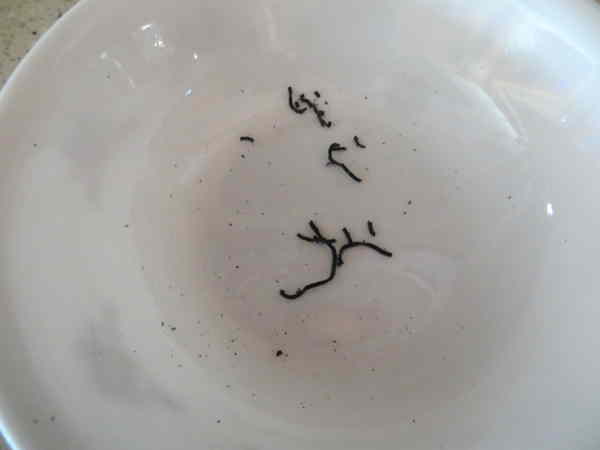 The instructions said to save the rubber o-ring gasket and reuse it. This is all that remains of the gaskets from all six monitors. Another great example of Chinese manufacturing, assembly and quality control.
We were originally going to drive over to the coast this weekend, but the forecast is for rain every day, so we have decided to just stay at Harrisburg until the start of the week. Hopefully the weather on the coast will clear as forecast and we can have some nice days when we are there.
---
Friday September 27 Harrisburg, Oregon
Cleaning Day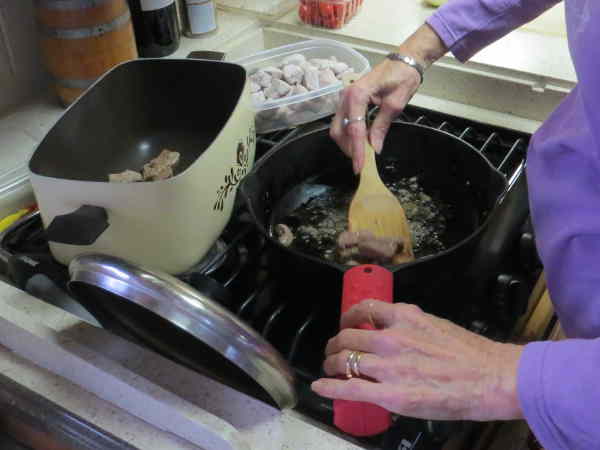 After almost two weeks of not having our normal life, Linda decided that we should use today to do some cooking and cleaning. First up was making beef burgundy our way. I sliced the meat into the proper sized cubes which were coated with flour before Linda browned them. Everything thing goes into the crock pot, including that bottle of wine with the pig on it that I couldn't drink. The one we had been saving for when we needed wine for cooking. Then the dish cooked all day while Linda put me to work doing other tasks.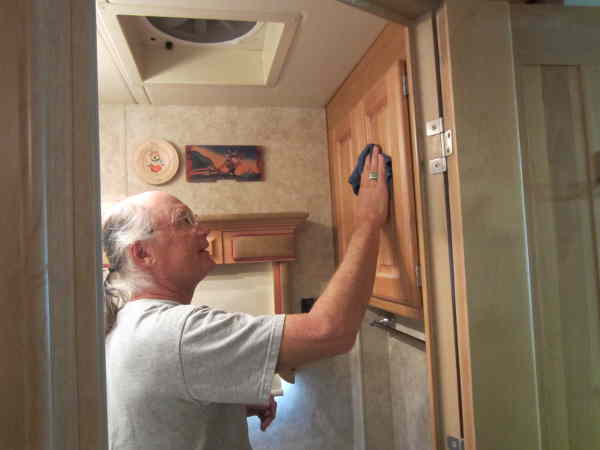 The interior remodel had resulted in a film of dust on every surface in the coach. I was going to say a thin film of dust, but it was definitely more than a light coating in many places. Linda had wiped down all the surfaces we normally use as soon as they were finished with the remodel, but today it was time to tackle all those other surfaces. I was amazed at how much dirt can off the cabinets, as it seemed every horizontal or near horizontal surface was covered with dust. We were constantly washing out our cleaning rags but in the end the coach shined.
When we were finished Linda was really happy with the fact everything was clean and fresh looking. When she asked me if I didn't agree that it looked a lot better now that it was clean, I certainly agreed with her, it really did look much better. All that work was more than worth it to see how happy she was.
That lousy drinking wine must have been good cooking wine because the beef burgundy was wonderful. We have no clue if this is actually how beef burgundy is supposed to taste, but we do know it is many times better than the beef burgundy we had in France a few years ago. We have had very, very few meals we didn't care for in Europe, but that was definitely one of them. Think of dumping a full salt shaker on a plate of partially under cooked and partially over cooked food and then eating it. Which should give you an idea of why we didn't like it. On the other hand, the dish we make is very simple, yet wonderful. Life is great.
---
Saturday September 28 Harrisburg, Oregon
Fixit Day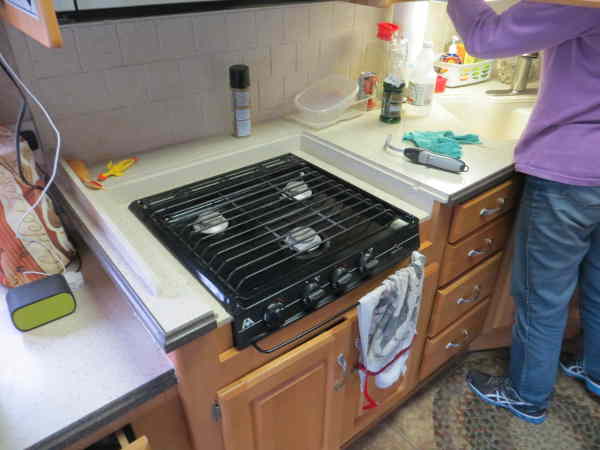 Linda was still into cleaning this morning, it being the cooktop's turn to be throughly cleaned. She keeps it so clean I have to wonder if she doesn't sometimes clean it just because she like cleaning it. I do know that when I spill something while cooking it is definitely going to be pointed out to me. Maybe I should spill things more often just to give her a chance to clean it. No, I'd never do that, would I? Chuckling Bob.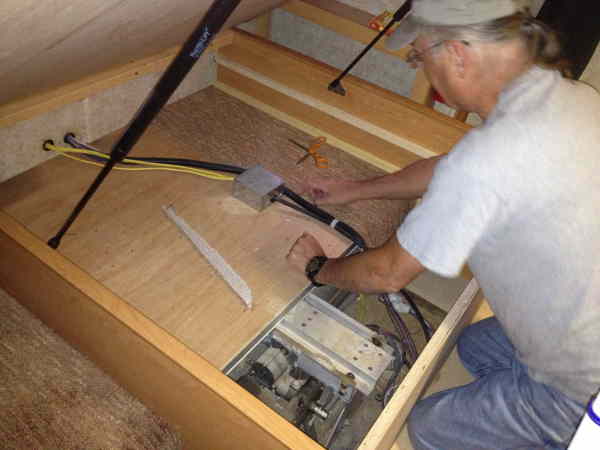 When we had checked on the remodel progress last weekend I had noticed it looked like the carpet under the bed was covering some of the wiring. I'd forgotten to mention to Ryan, so today I took the board off the base of the bed to check. It hadn't been trimmed, but it was a very easy job to cut it back. It probably wouldn't have mattered, but since I knew it was there I needed to fix it. All the carpet under the bed was never going to be seen anyway, so it must just have been a piece that wide laying around that Ryan used.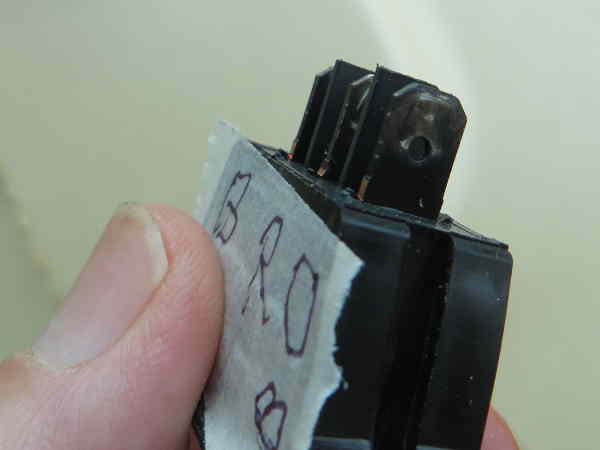 The next project was continuing the "repair" of the water pump, the problem being poor electrical connections, which meant cleaning all the contacts on the switches. You can see how corroded they were as the spades were supposed to be metallic in color, not black. You will notice I was careful to mark each spade with the color of wire that came off it so everything would work when the wires were reconnected. Don't want history repeating itself.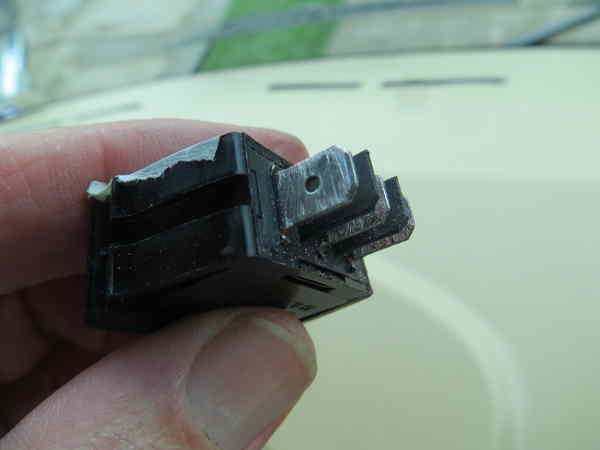 Much better, and the pump was working just fine. We also replaced several pilot lights that had burned out, including the 120 volt water heater switch with the integral pilot light, the switch is 12 volts but it controls the electric for the water heater, and the pilot light has burned out twice now. I should also mention that we cleaned up the contacts on all the other 12 volt switches in the coach, and also gave them a very light coating of dielectric grease. Hopefully they will all be fine for another 8 years. If not, we do have a number of new ones we can replace them with.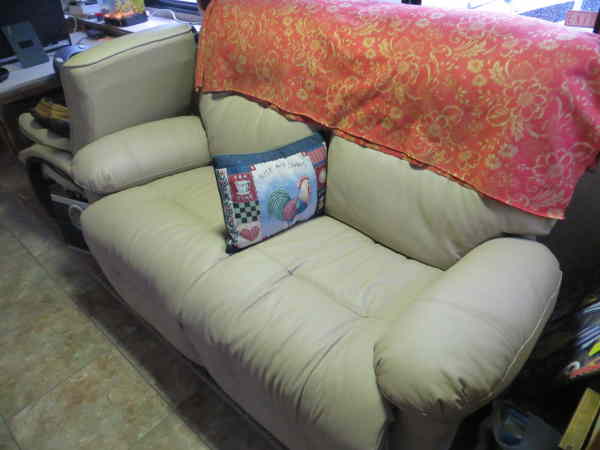 As you can see, Linda has personalized her side of the love seat. How did I ever get to be so lucky as to find her, and on a blind date at that.
---
Sunday September 29 Harrisburg, Oregon
Theater Day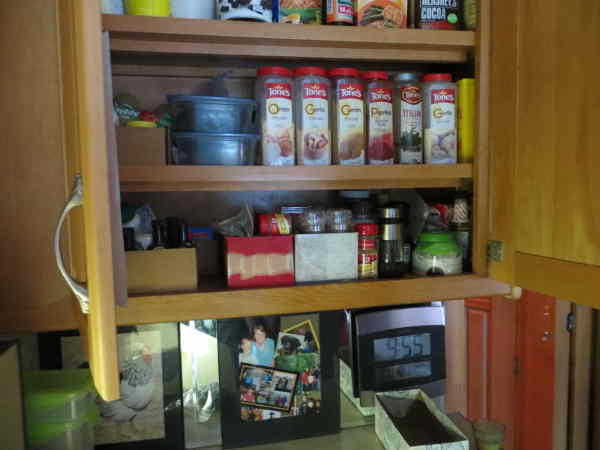 Another morning, another cleaning task for Linda. This morning she tackled the front pantry. It wasn't dirty, but she thought is was disorganized. I prefer to think of it as being organized so the ingredients I use the most are in the handiest places. From the way she congratulated herself after she was finished I think I am going to have to rethink my position on its organization. Smart Bob.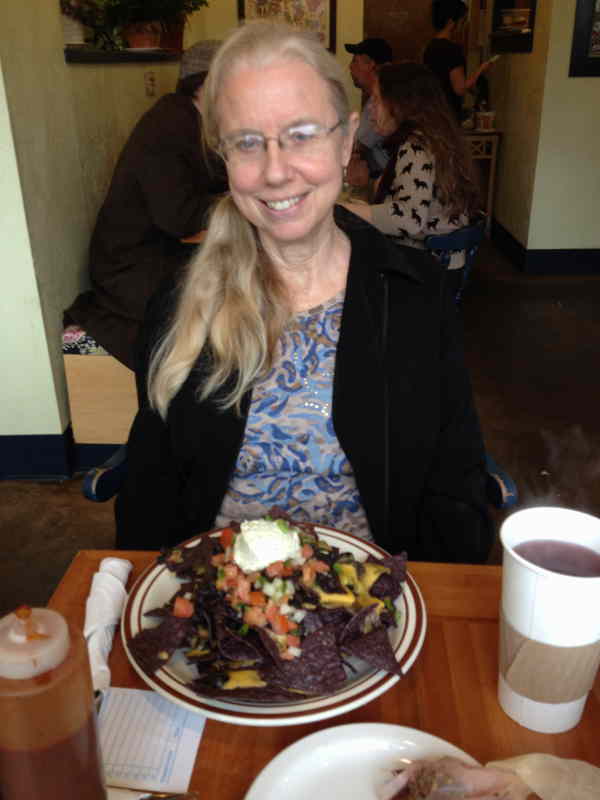 It had rained yesterday, and it was really raining today, so we drove down to Eugene. Friday I had been looking on the web for theater productions in town and not only found one, but also secured front row seats for the Sunday matinee performance. Once Linda found out what I had done, plans were quickly made to eat at Morning Glory Café, a vegetarian/vegan restaurant near the theater.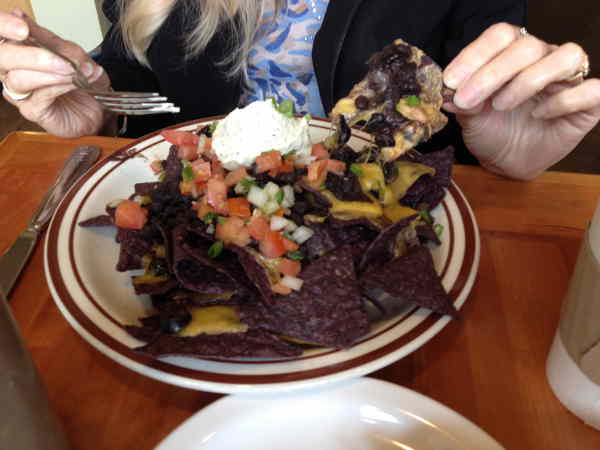 It was a great place, though it was very small with tables right next to each other. We got there shortly after one o'clock and only had a short wait for a table. Looking around we could see many of those eating had ordered a blue corn nacho plate so that was what we had. It was a very good choice indeed as it was just spicy enough with that first burst of heat that didn't linger. The fact that Linda cleaned her plate off says how good it was, though I think the crowded nature of the place and the miserable weather we had walked through to get here also played a big role. Then it was out into another cloudburst to go to the theater.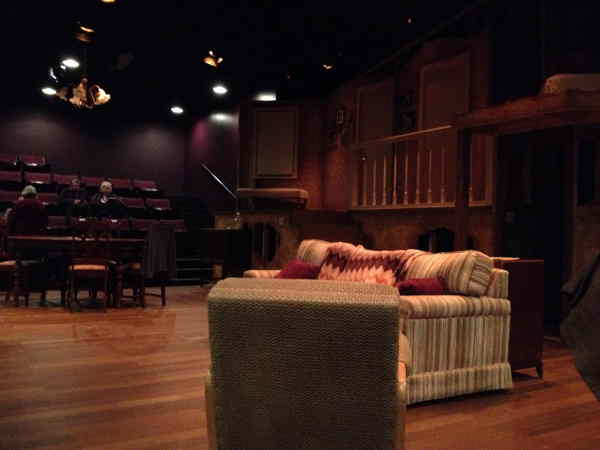 We were a little wet by the time we got to the lobby even with the umbrella, but then so was everyone else who was straggling in the door. Our seats turned out to be great as did the play, even though the play had two intermissions and was almost three and half hours from when it started until it was over. I think the fact it has been made into a motion picture that will released later this year attests to how well it was written. It was another of those Sara N. Dippity moments and made us glad we had postponed going over to the coast.
---
Monday September 30 Harrisburg, Oregon
A Rainy Day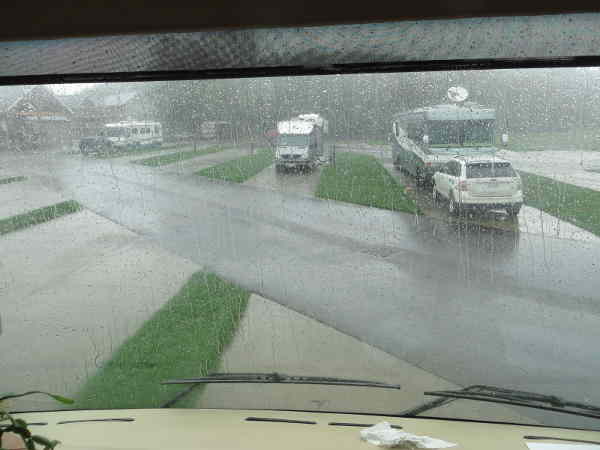 With the forecast calling for more rain over the next few days we decided that staying put in Harrisburg would be the best choice. True to the forecast it poured all day long, and at times it was even coming down harder than it did yesterday. One thing the last few days have proven is that we didn't have any leaks in the coach. I do believe that's called looking on the bright side of things.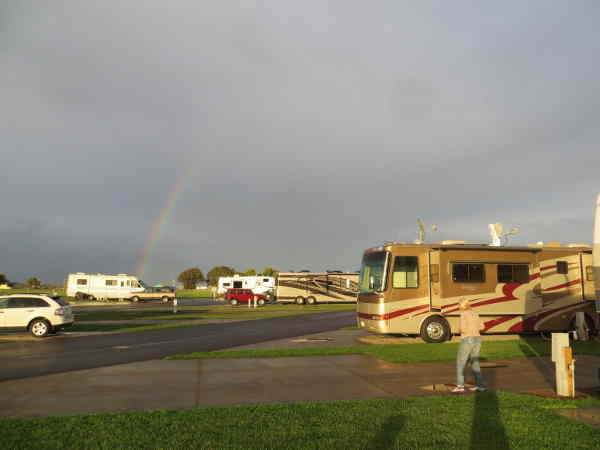 In the early evening it stopped raining briefly and the sun came out. That meant all hands on deck throughout the park to take pictures of the likely rainbow. As you may be able to see, one did appear, though it wasn't very impressive.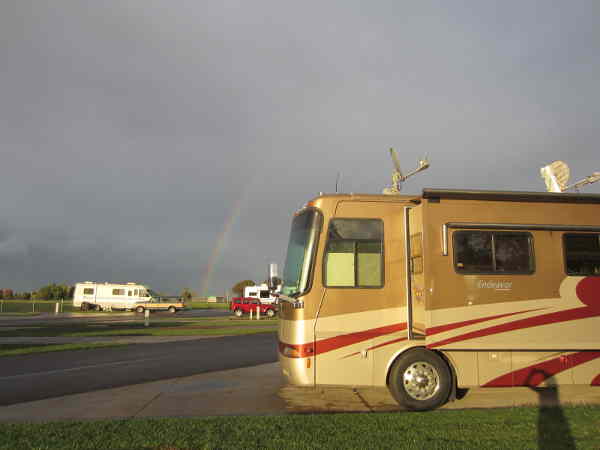 The best thing about it was the fact we got to be outside after being cooped up in the coach all day. Unfortunately all good things must come to an end and it wasn't long before the rain began to fall again. Still, all in all, Life is awesome.
---
---