Journal Archive 10/11 - 10/20 2013
Scroll down to read the latest post
Friday October 11 Burns, Oregon
A Travel Day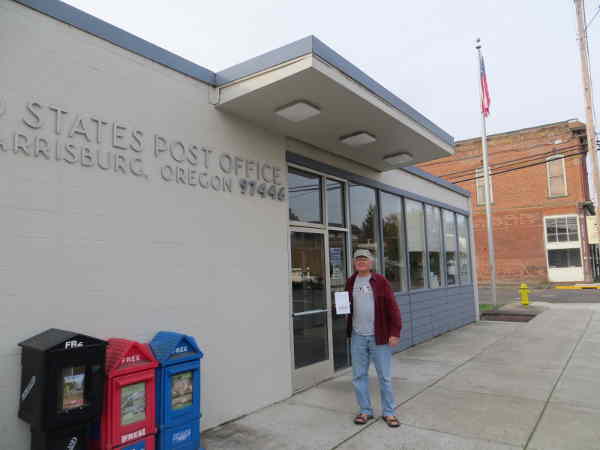 My hearing aid was at the Post Office this morning and that meant we could begin our journey to the south and warmer weather. There was on little bump on the road, or maybe I should say a major bump. As you leave Harrisburg on Diamond Hill Drive there is a major speed bump. It is a 25 mph street and that was what I was driving.
I was so happy to be on the road that I wasn't paying attention to the road and Linda's, "There's a speed bump," came to late. Why they have a speed bump that should be taken at 5 mph on a 25 mph street I don't know, but they do. It was only after we reached our final destination and Linda opened the closet to discover that a fourth of the hangers had been dumped, that I fully comprehend the error of my way. Never before had a hanger come of the rod in the coach. Hopefully never again will a hanger come off the rod.
The drive up Hwy 58 was awesome, especially with the trees starting to put on their display of fall colors. We were in the no hurry no worry travel mode, with an intended destination of Burns up on the high desert. This is actually the long way to get to southern Nevada, but we had fond memories of being in this area before, and wanted to spend some time in Burns, so why not now.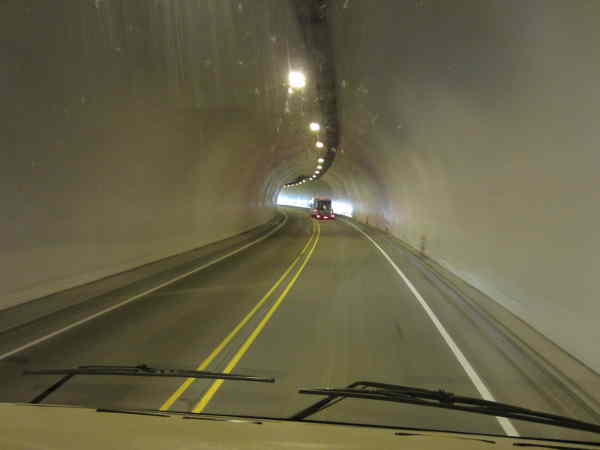 Yes, there was a tunnel, and a curved on at that. No problem, maybe I've had enough practice lately that I've gotten used to them. Happy Bob.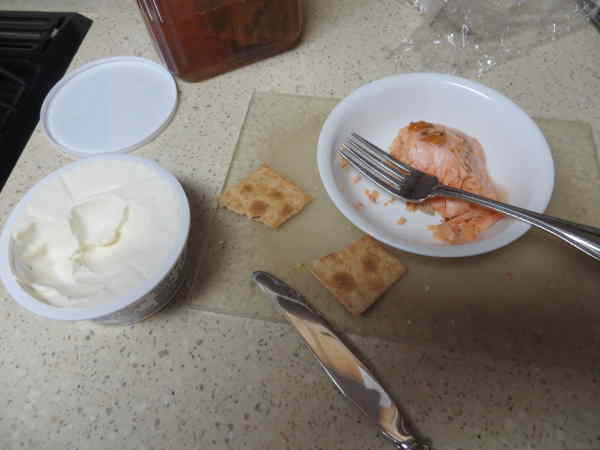 Linda came up with a great way of eating our leftover salmon. Take a cracker, add a layer of cream cheese, sprinkle on some dill weed, them top with a small chuck of salmon. Took us a few times to get the proportions right, but when we did was it was wonderful. The result was now we have no leftover salmon to make it again and we are heading inland. Oh well, there is always Safeway.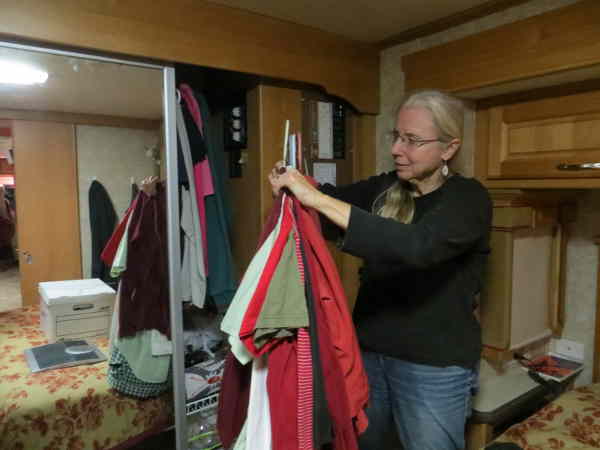 Remember how I started the day by flying over the speed bump. Well here is proof that those hangers really did fly off the rod. There is a first for everything. I'm just glad it has taken me eight years to have this first. And I definitely do not plan to ever have a second. Life is very good indeed.
---
Saturday October 12 Burns, Oregon
A Lazy Day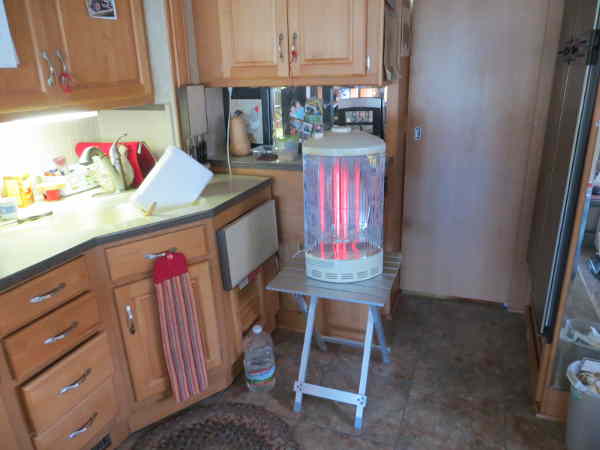 We are in the high desert and it is cold at night, down to 28° last night. Since we have a 50 amp hookup we used the electric heater to keep the front room warm, closing off the door to the front because we like it cold when we sleep. Linda was concerned the heater might cause problems with the new tile, so we came up with a way of keeping it off the floor. Pretty ingenious if I do say so. Smart Linda.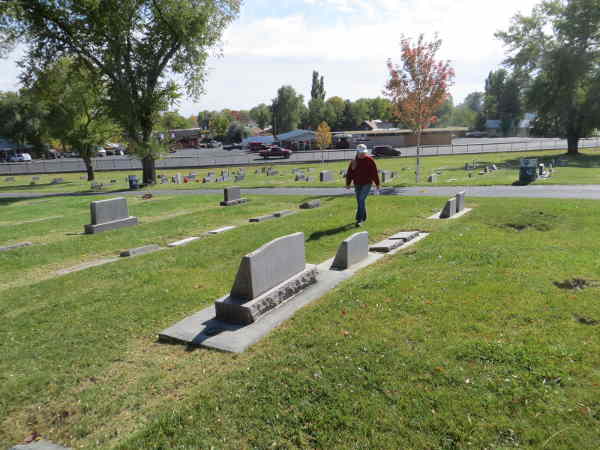 We had a good time doing some sightseeing in the Burns area, plus we got to pursue our cemetery marker hobby. Some days we do great and some days we don't do so well. Nineteen requests for photos, but after doing a lot of walking we had only found one of them. It gives us a great way to get some exercise, but we feel bad for the people who's requests we could not fulfill.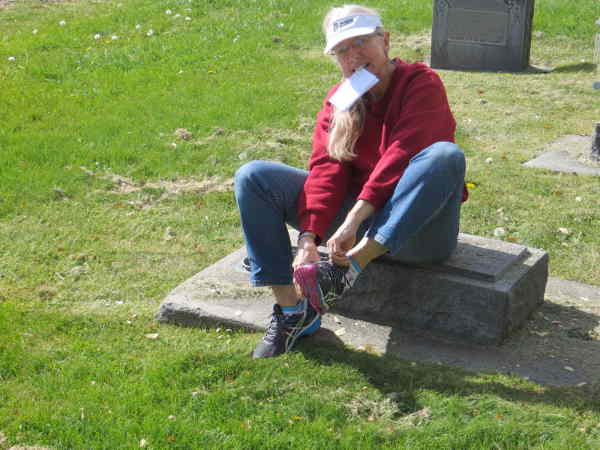 Do you see any rocks anywhere? Neither do I. Maybe she just decided to rest and rub her foot. Okay, so that is out. So just what was it that lodged in her shoe? I sure wasn't going to ask and get my head bit off. It will just have to remain a mystery. Smart Bob.
Just yesterday I was commenting about salmon and saying there is always Safeway, so look what happened today. We were at Safeway and they had just marked down this package of Salmon because of the sell by date. Linda snapped it up like a shark going after a wounded fish. It also didn't sit around long once we brought it home, as it became tonight's evening meal with enough left over for more of Linda's salmon appetizers. Happy Bob.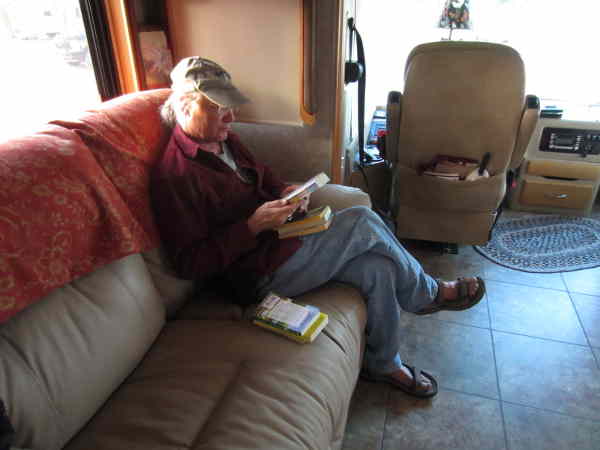 It was trade-in day today. We took a bag of books down to the office and brought back less than a bag, but more than enough to keep me in reading for a while. It's one thing to pick the books out, it's an entirely different thing to decide what order in which to read them. It was tough job, but I sucked it up and after much pondering had them sorted out. Actually I couldn't decide and ended up simply grouping them as to what genre they were. Exhausted Bob.
Wherever I pick up a book to read I am always reminded of Ambrose Bierce's observation about a book he was reading: "The covers of this book are too far apart." I hope that is not the case with any of these. I have some by authors I enjoy reading and some by authors I've never read. Some westerns, what can I say, I enjoy reading them, a mystery, which I read on rare occasions but the cover blurb on this one sounded great, and the inevitable romances that serve me as my going to bed, put me to sleep with a smile while the grizzly roars nearby, sleeping aid.
---
Sunday October 13 Winnemucca, Nevada
A Crazy Day
It's exactly what it looks like, a photo of our Notcold. I believe my words when I opened the door to get out the eggs for breakfast were "Oh No," as I noticed the light was out and then quickly shut the door. It looked like a repeat of the same problem we had before, as the temperature last night fell to 26°. Hoping that warmer weather would bring it back to life such as what happened on on east coast trip several years ago, we packed up and began the four hour drive to Winnemucca when the high was supposed to be in the 50's. Is that optimism or what.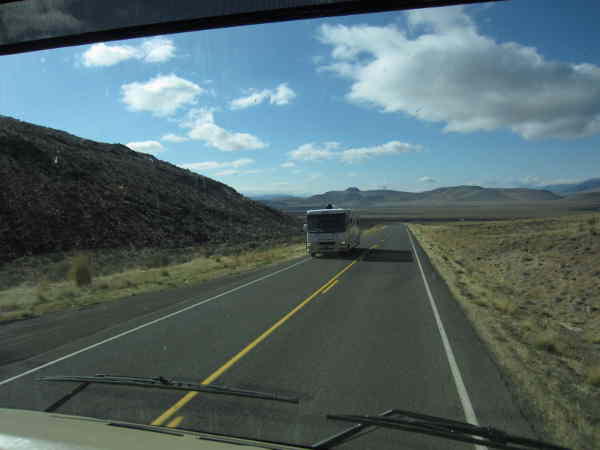 The first section of the drive was from Burns to US 95, and is approximately 90 miles. They call US 50 across Nevada the loneliest road in America. All I can say is during those 90 miles on Hwy 78 we never saw another vehicle going in our direction and the the only on-coming traffic was a pickup truck and this RV.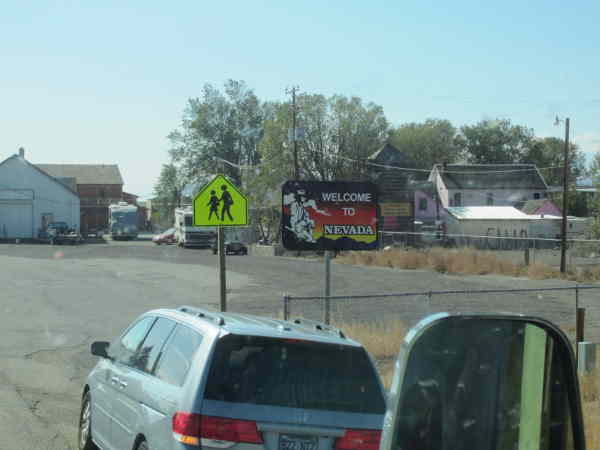 The Nevada state line. We have been in Oregon for a long time, much longer than we planned on, but now we were definitely heading towards warmer weather.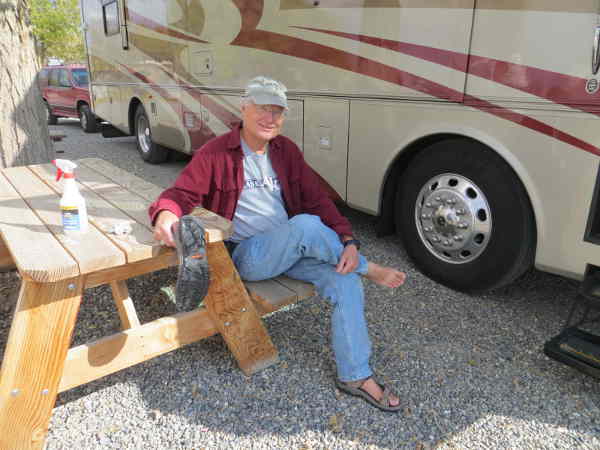 Our day was not just a notcold Norcold, or a lonely drive, no there were also laughs as we listened to a book on tape as we drove along. At the Flying J in Winnemucca I filled the coach with diesel and managed to step in someone else's diesel spill, tracking it on the outside steps and two of the three inside steps. Linda wanted to make sure I was a trackless wonder and proceeded to wash off the soles of my Tevas. Unfortunately the Norcold was still a not cold and it was time to put on my thinking cap and get out a few tools.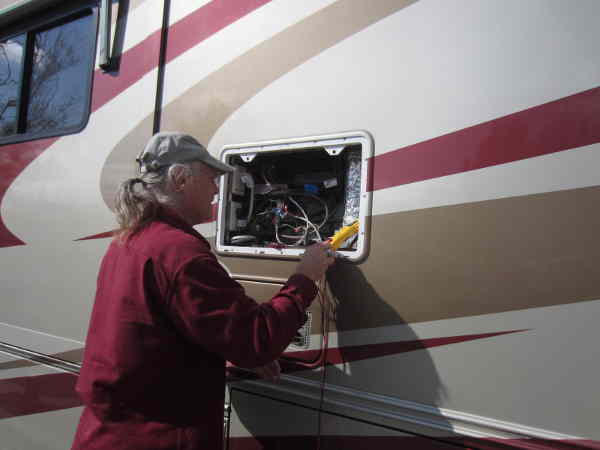 The only thing I had checked this morning was that the little red light on the safety cutoff had not come on. It hadn't, so it was on to plan B. First was to disconnect the 12 volt power to the refrigerator and reconnect it after determining that there really was power on the outlet side of the safety cutoff. No change in the Notcold, so it was on to the next step.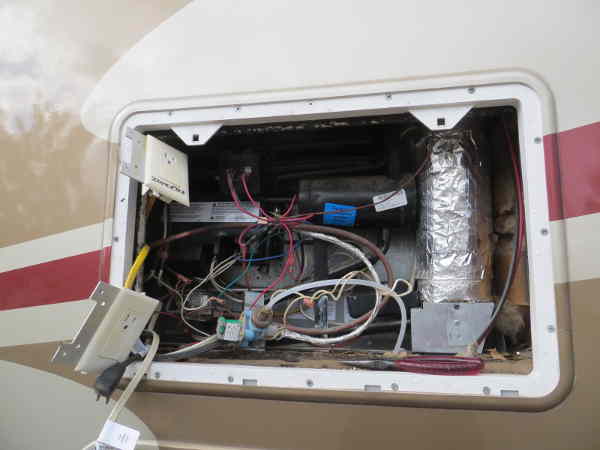 It looks worse that it really is. Remembering what happened the last time we had our Notcold due to cold weather, I needed to take off the cover of the control module, which is what you see here. The ice maker solenoid and the 120 outlets for the ice maker and the eclectic heaters for the refrigerator have been taken off to take the screws holding the cover, and then the cover of the module was moved enough to get a view of the control panel board.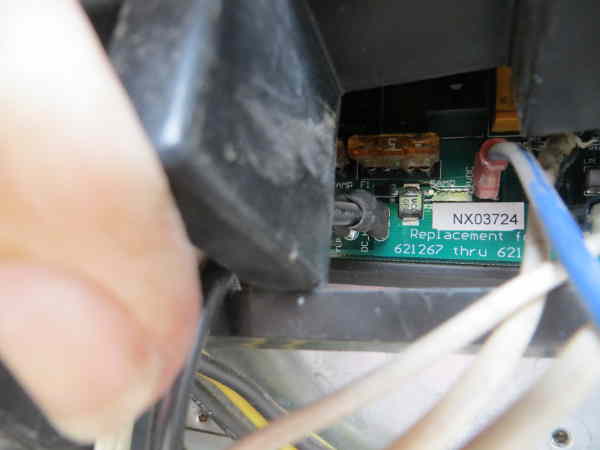 The problem was exactly what I thought, the 5 amp fuse was blown. This was the same thing that happened before when the temperatures fell below 28°. Obviously there is something that causes this to happen, but knowing that a certain temperature causes the fuse to blow means that it is easy to prevent. All I have to do is disconnect the 12 volt power to the module on nights those temperatures are forecast.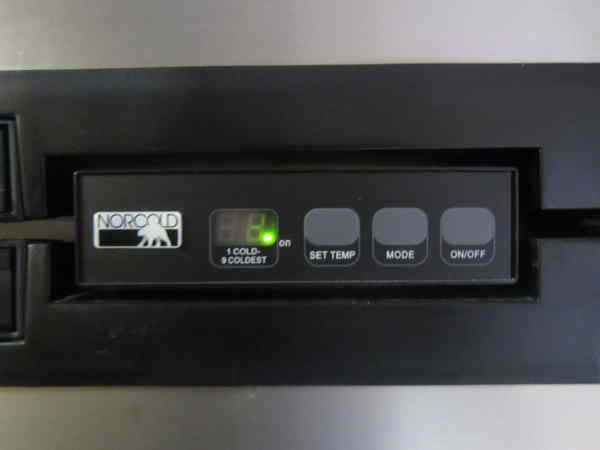 Just to prove the Notcold was now a Iscold. And yes, we are disconnecting the 12 volt power tonight as the low is supposed to be 28°, so better safe than having to replace the fuse again in the morning.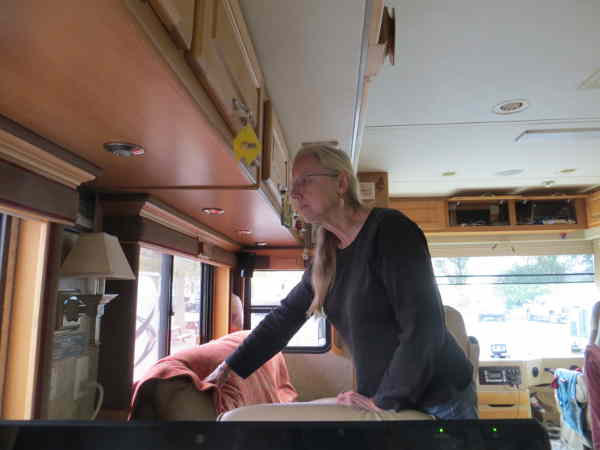 Not all is repairing, sometimes it is watching the neighbors hookup. Linda was definitely harmed by living so far out in the country when she was growing up that there were no neighbors she be able to watch. Over the years she has more than made up for that childhood deprivation, and she is still doing it.
I'll end the day with a bit of wisdom. I read something once about how there were very few problems that could not be solved by the use of explosives. Luckily a solution to our problem today was found before the use of explosives became necessary. It just goes to prove that oftentimes we imagine problems to be far bigger than they actually are.
---
Monday October 14 Beatty, Nevada
A Different Day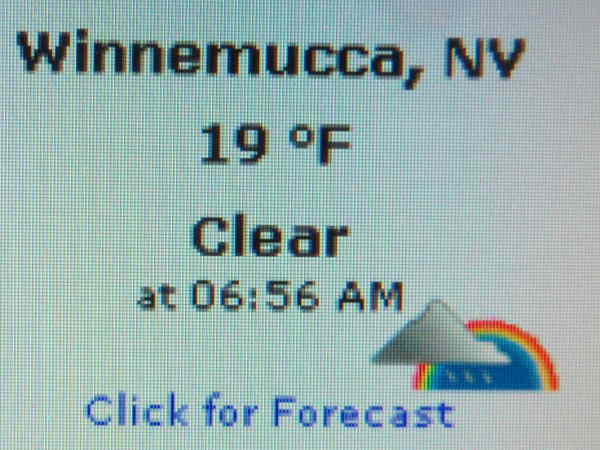 When this is the temperature where we are, it is way past time to be further south and that was where we were heading today. Interestingly enough, we have no bay heater and only used the portable heater to heat the front part of the coach last night. Still we had no water lines freeze and the wet bay thermometer registered 42° when Linda got up this morning.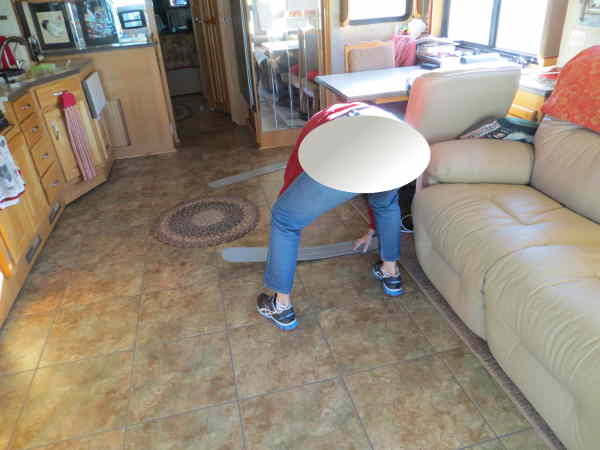 Our goal was to leave as early as we could, and it was just a few minutes past eight when Linda did her best, placing the protective strips and bringing in the slides. We had originally hoped that we could keep to our less than 200 miles a day schedule, but after the temperatures of this morning we decided to make it a long day and make sure we were in warmer weather tonight.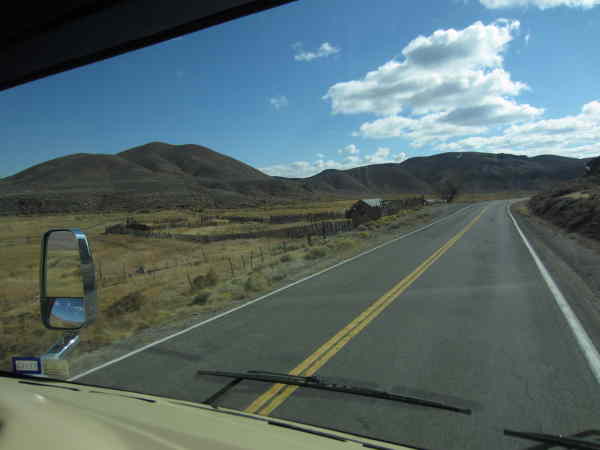 It was another day of roads where there were long stretches of nothing, but whenever there was something Linda did her best to take a photo of it.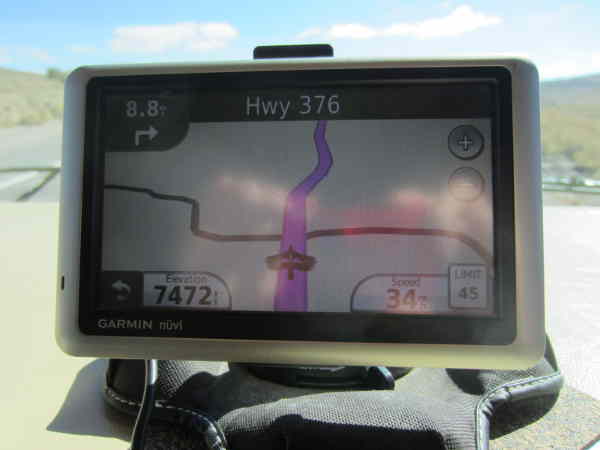 As the GPS indicates, it wasn't always a high speed open road drive, sometimes it was a low speed drive that was slower than the speed limit. The other thing was the altitude. We love our 400 horsepower Cummins that propels us up steep grades at the steady 60 mph I like to drive, even at these altitudes. I know the GPS says we are going 35 in a 45 zone, but that's because Linda makes sure I descend slower than whatever the speed limit is and I have learned that what she commands in these situations is what I do. Smart Bob.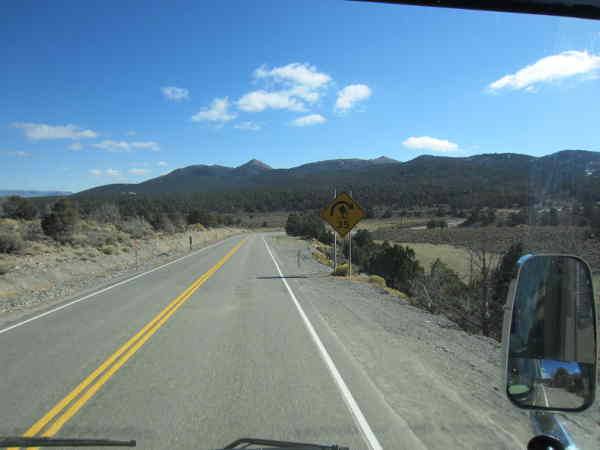 Rest assured I went around the upcoming curve at a speed lower than 35 mph.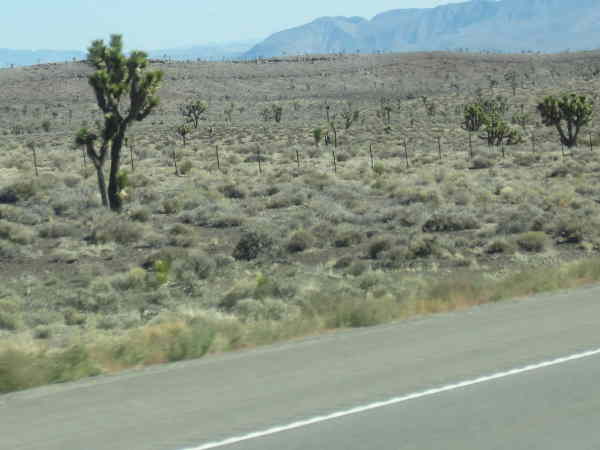 Joshua Trees. We were getting close to our goal of warmer weather.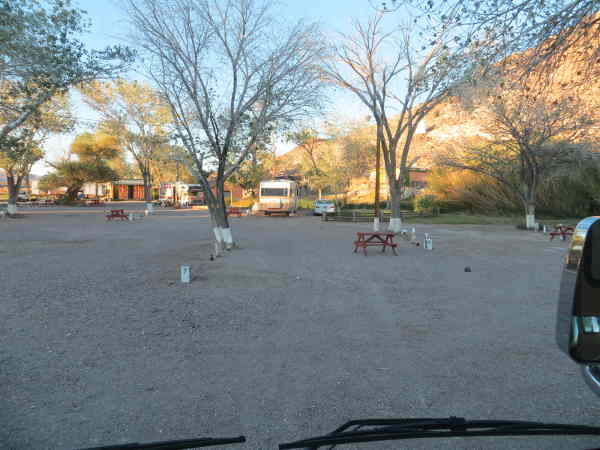 352 miles today brought us to our home for the next few days. Soaking in the hot springs is going to be so relaxing. The fact the forecasted low is 46° is also a big plus. Soaking and relaxing, visiting nearby Rhyolite which is a ghost town, then visiting the local cemetery in Beatty means tomorrow is going to be a fun day. If the hot baths turn out to be beneficial for Linda we will likely stay another day. What we wanted was warmer weather and we are here. It may not be be tropical, but sure beats lows in the teens.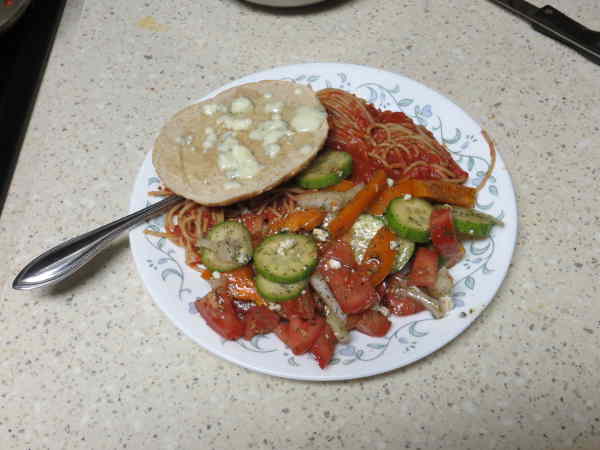 It has been a while since I posted a food photo. Every one who fulltimes post food photos. Linda fixed dinner tonight and it was awesome, and not only because I didn't have to do the cooking. What can I say, Life is Awesome.
---
Tuesday October 15 Beatty, Nevada
A Fun Day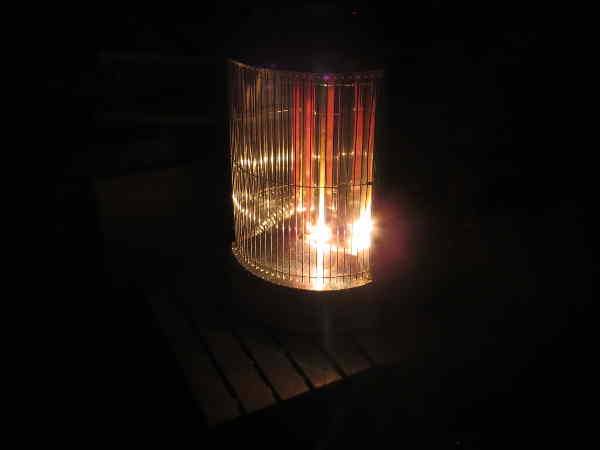 We have an old friend that is about to say goodbye. We've had this heater since the first time we volunteered at Petrified Forest, and it has served us well. Now it is in its death throes and as soon as we get to Pahrump we will have to buy a replacement. Unfortunately they no longer make this model, so we will have to get something else. At a later date we may buy replacement heating tubes for it, which they still sell, but the immediate problem is to have a dependable heater when we head down to Mexico next week.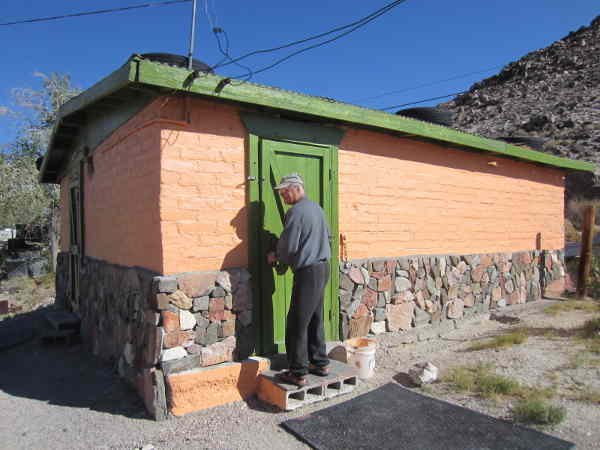 When you are staying at a hot spring, you have to soak, and that was what we did this morning (and again this afternoon). The rooms are private here and different rooms have different temperatures. We took the key to door 2 so we could enjoy the 104° plus water temperature.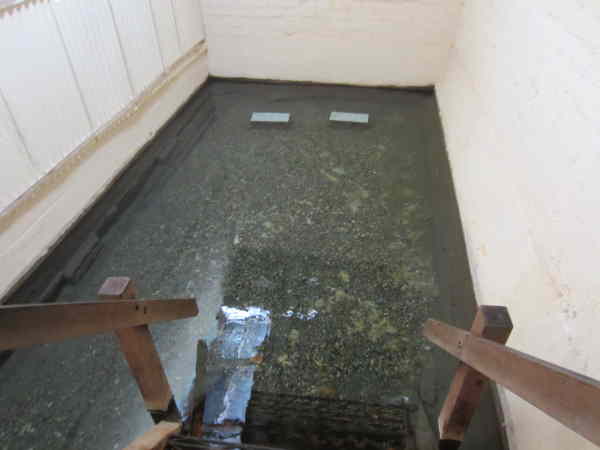 It looks inviting and it was. Note the high tech seating, painted concrete blocks. Personally I liked sitting on the gravel floor better as the water then came to the base of my neck.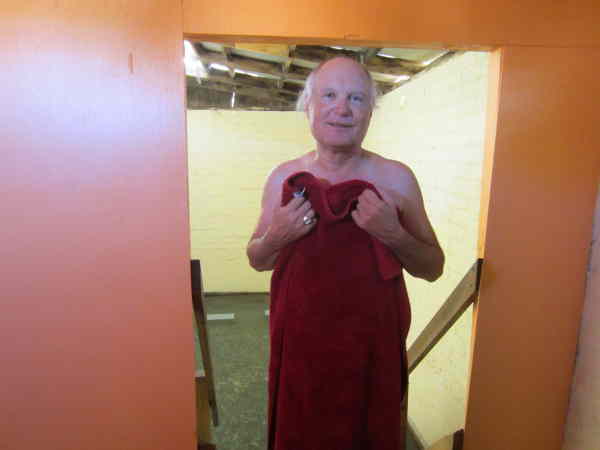 When I exited the pool Linda remarked that I had turned red, and she grabbed the camera. Looking at this photo I can see she was right. I am definitely red.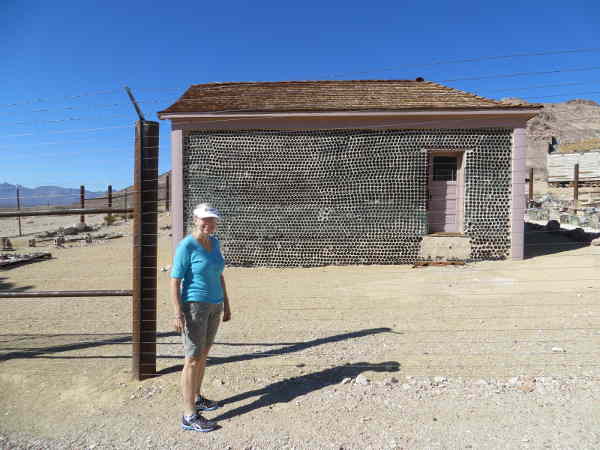 Refreshed, we headed off to the nearby ghost town of Rhyolite where one of the attractions is this bottle house. I thought it looked cool, Linda wondered what the inside walls looked like. Later we learned they had been plastered. Linda was disappointed, she was thinking the necks would show inside.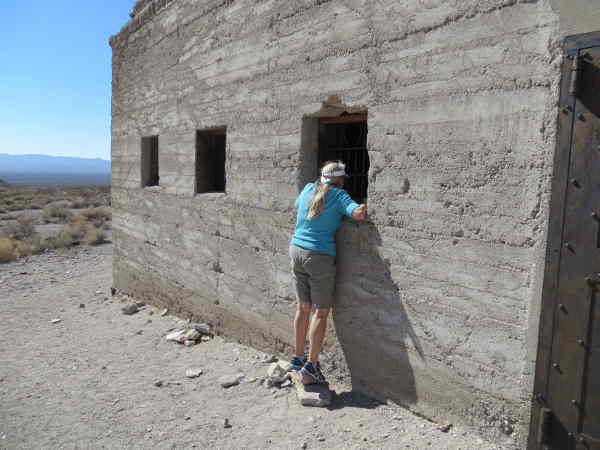 The great thing about ghost towns is getting to explore the ruins. They say curiosity killed the cat, so what did it do for Linda? Here she is checking out what the inside of the old jail looked like. If there was something to explore or peek inside she did it. There are also a dozen or more photos of rusty tin cans she took that I will spare you from seeing.
One thing I enjoyed was how she kept finding different ways that the cans had been opened, especially the ones that had what she thought had evaporated milk in them. This one resembled a smiley face.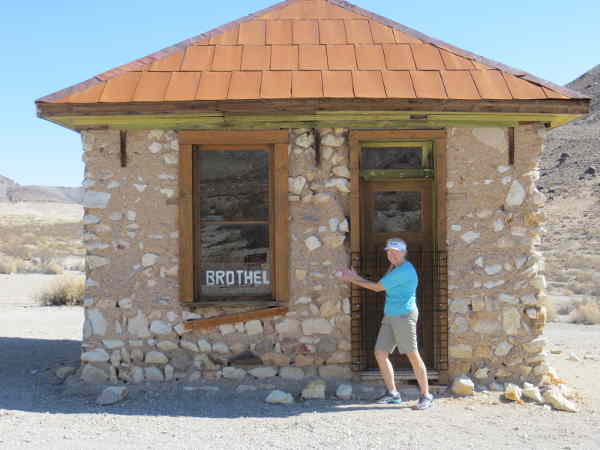 I thought this was a ghost town, but it looked like one of the establishments was still open for business.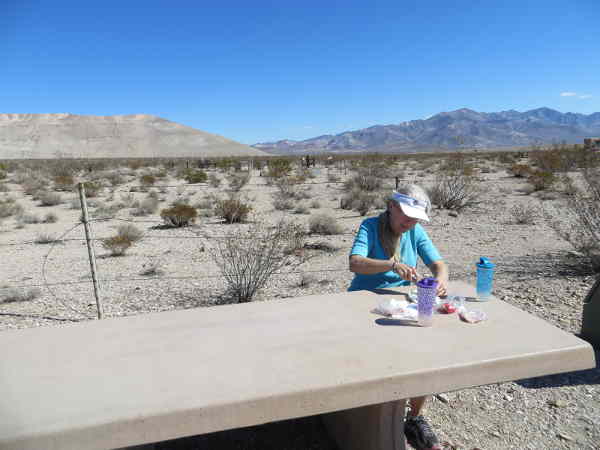 One of the highlights of the day was getting to eat lunch at the Rhyolite Cemetery, and they even had a picnic table. Later, in the afternoon, we were searching for a marker in the Beatty Cemetery when the grave digger, that's how he described himself, came by and showed us the location of the marker we were looking for. He really knew his cemetery. Is that personal service or what. You never know what is going to happen when you are wandering around an old cemetery.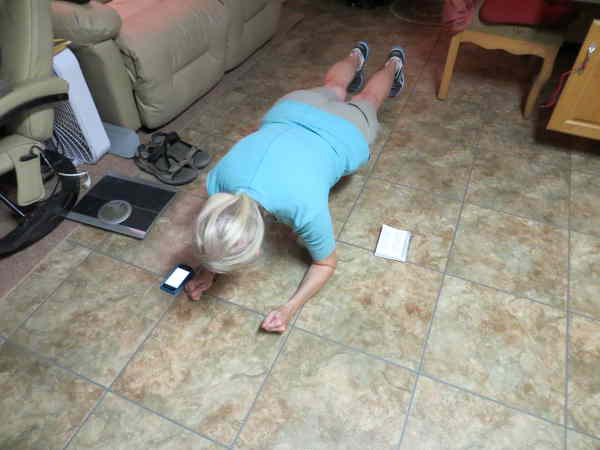 What in the world is Linda doing? She is strengthening her stomach and thigh muscles. The Internet is full of information. Up on forearms and toes. Hold that pose for an increasing time night after night and the results are a buff woman. Time will tell. Time will tell.
I'll leave you today with something that is attributed to Angelina Jolie. All women have a different sense of sexuality, or sense of fun, or sense of what's sexy, cool or tough. I like Linda's sense, even if it is a little uncommon.
---
Wednesday October 16 Pahrump, Nevada
Travel Day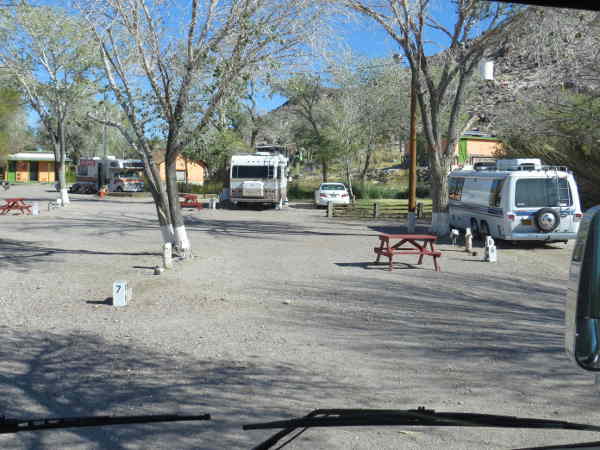 There is nothing like a morning soak to get your day off on the right track. It was in the 30's, the steam was rising in the room, water was condensing on the sheet metal roof and falling back in the pool of water, it was a neat experience. We will be sorry to say good-bye to Bailey's Hot Spring, but it is time to move on. We have soaked in mineral baths a few times over the years, but have never enjoyed it as much as we have here. Maybe it is an age thing? Or maybe we are just more open to new experiences. Whatever it is, we will be looking for RV parks at mineral baths in the future. And all because Ron and Terry of Hitchitch stopped here a week ago and then we realized it was on our route. The main Hitchitch website proudly says: "We connect people sharing their RV lifestyle", which is exactly what it did in this case. Thanks guys!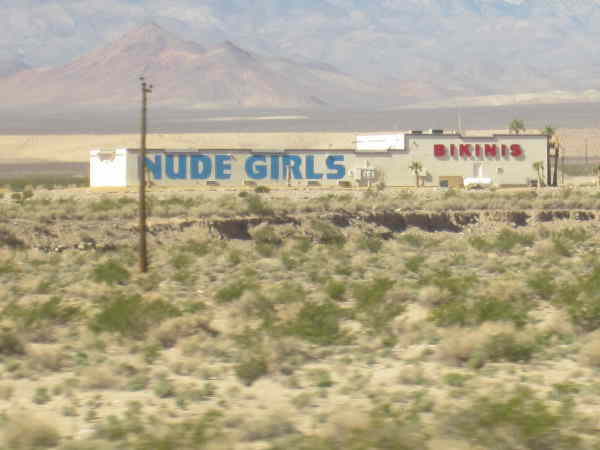 I never know what I will find when I download Linda's photo's. Driving through Nevada you never know what you will see out in the middle of the desert. I discovered this place is not on Linda's approved list, even though I pointed out that it says Bikinis. Linda replied by asking what words were in large letters.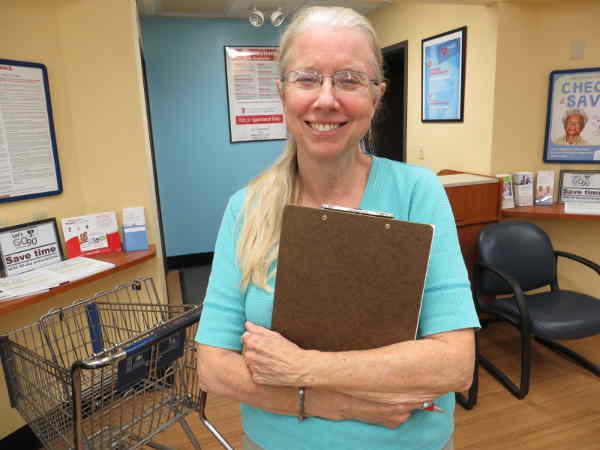 We have stayed at the Escapees park in Pahrump several times before, and Linda was hoping we would be somewhat close to the outdoor clothesline. She was also hoping we could get our flu shots while here. As you can tell from the major smile and the clipboard holding the requisite forms, we were getting our flu shots. Happy Linda.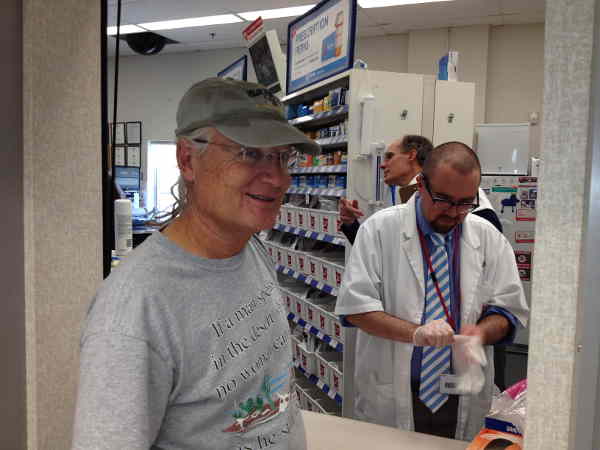 Shots aren't my thing. I had far to many during my sickly childhood years. I'll call this my grin and bear it look. It really wasn't all that bad, just a light prick, but it still triggered painful memories. Healthy Bob.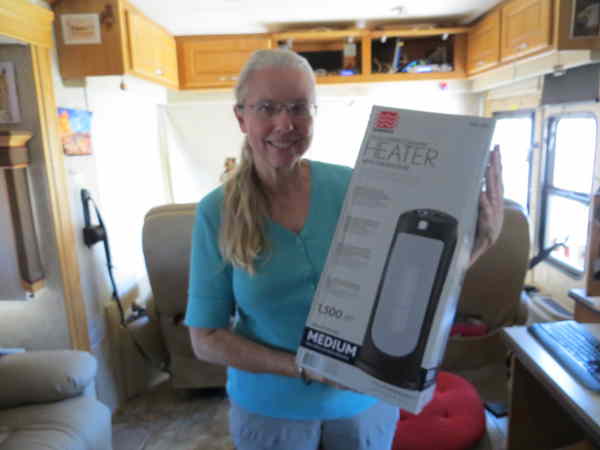 This was the reason we had been able to stop and get our flu shots, Linda was on a mission to buy a heater. She had done her due diligence on the Internet to find the one she wanted to get. The choice was limited, first by the number of stores since Walmart and Home Depot were the only stores of consequence she could find in Pahrump. Second she wanted a certain size and type of heater.
She really wanted something smaller than our current heater, but it still had to put out a reasonable amount of heat. Then there was the type, quartz, ceramic, or what else. In the end it came down to small and cheap, and what she ended up buying was this ceramic heater at Home Depot for $29, the cheapest one they had.
But wait, there is more to the story. Isn't there always? When we got to Home Depot she couldn't find the one she had seen on the their website even though it said they had five in inventory at this store. I asked her who made it, and that was the wrong thing to ask. She couldn't exactly remember and told me what she thought of me asking her that question. I ended up browsing in the electrical department while she started searching on her iPhone, and not to say the wrong thing again, I'll just leave out the details of the conversation that led to that happening.
Eventually I wandered back to where she was still busily trying to find the heater on the Home Depot website. I innocently asked if she had searched for "tower heaters" since that's what she had told me yesterday that she had found it under. I was trying to helpful, but for some reason it wasn't received in the vein it was given. When it was discovered the heater really was under tower heaters in the website, and there were five on hand in the store. So they should have been with the other heaters. Not only couldn't we find them, in fact there wasn't even a price tag with an empty space behind. It was as if they didn't exist. Linda was most definitely not a happy camper. An enraged grizzly would be more like it.
Luckily we discovered they did have them, it was just that they were about 15 feet up in the air on the top shelf with the rest of the excess inventory, and there really was no price tag for them. Tracking down a sales associate, a ladder was procured and one of those heaters was presented to Linda who now had a look of triumph and vindication. Being of sound mind and with a desire to remain of sound body I said nothing.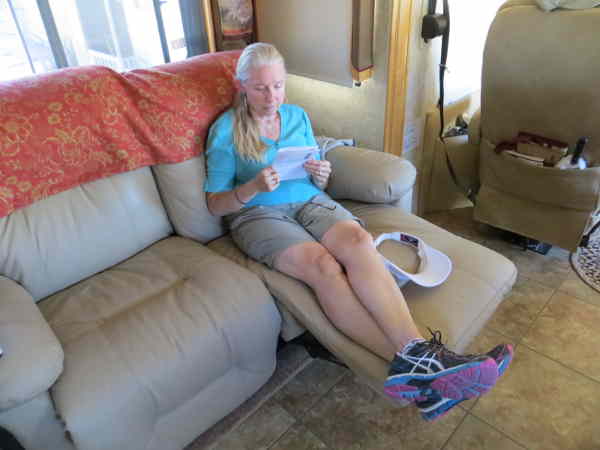 Linda reading the instruction manual for the heater. It was hers and she was going to make sure it worked. It got its first test during the night, a report will be posted tomorrow. I think I made have already said too much about what took place today.
---
Thursday October 17 Pahrump, Nevada
Shopping Day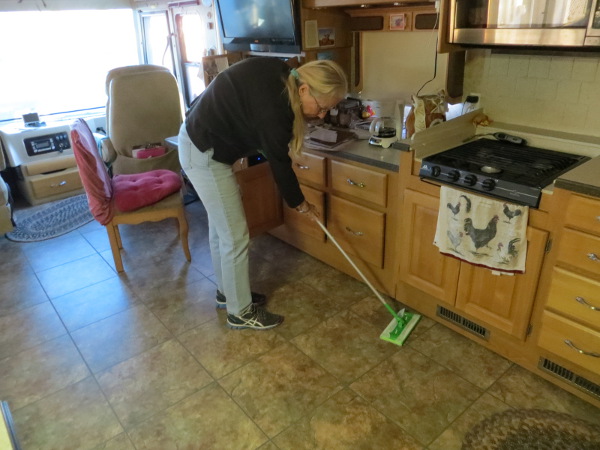 Linda seems to have taken to her new floor like a Swiffer to a dirty surface. The carpet may have been dirty but we really didn't notice it. If the new floor is dirty Linda wants it clean. I confess the only way I can tell it is dirty is when I am in my bare feet an step on a little rock or something else hard that we have tracked in. Insensitive Bob.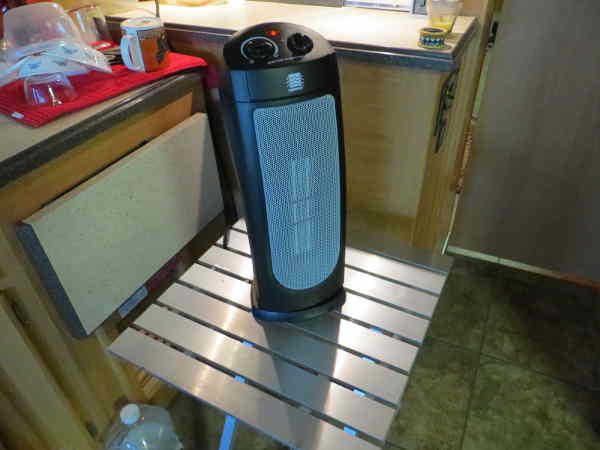 Heater report. It was somewhat cold in the front of the coach when I came out this morning. I turned the heater up and while it warmed up to a degree, there was still somewhat cold. Linda got up and turned it up again. I could see disappointment written on her face about how it was working. Linda discovered she had left the window beside where she sits at her computer wide open all night. Linda closed the window. The front of the coach was soon too hot. Linda is very pleased with the heater. Bob hopes Linda remembers to close the window tonight.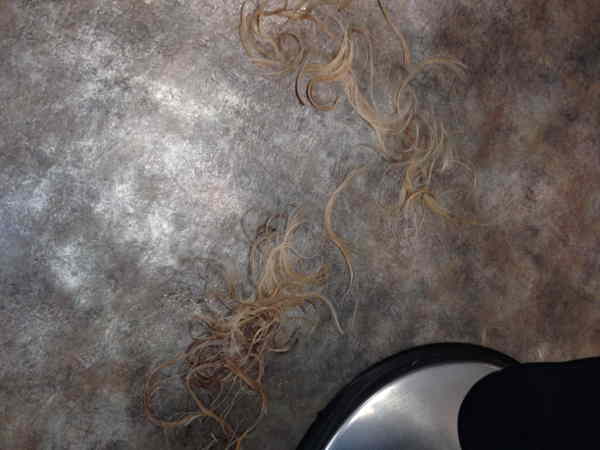 We had a full day of shopping today, leaving at nine o'clock and not getting back till 2;30 without stopping for lunch. There was a break for the shopping when Linda got her hair cut. Yes, she had those long, blond locks whacked off. Okay, maybe they were just shortened, but she does look different.
Remembering where the car is parked isn't one of Linda's strong points. I was standing by the car about 100 feet away when she called me after leaving the hair salon. So what if it was just SuperCuts, she made it special just with her presence. Had to prevent getting into the doghouse after the not remembering where the car is parked comment. Smart Bob.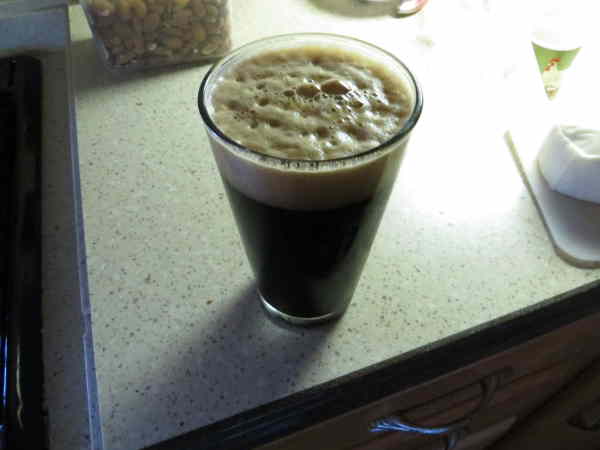 One of our many stops was at the local Goodwill store so I could buy a few used paperback books to read while we were down in Mexico. I also found a cool beer glass, which meant I just had to try it out. It worked great. The best part was the writing on it: "Nevada Brewed. Bob says Pound This!" Now I have a personalized beer glass. Lucky Bob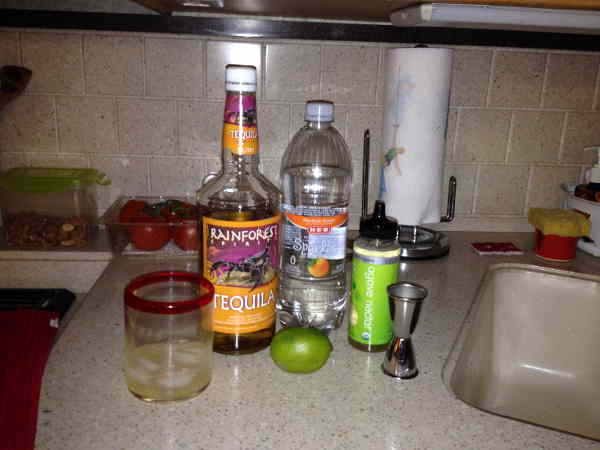 It has been a couple of years since we were last in Mexico. Down there our beverage of choice is a margarita. Linda has decided she needs practice so she can nail them when we arrive (my job is to make killer guacamole, beans and grilled seafood). Her first attempt tonight was really good, but then there is always tomorrow night and the next several nights. She has a number of different recipes to try. Tonight she started with a recipe, but it ended up being modified and in a good way. I suspect it will be a few nights before she settles on "the one", then when we get to Mexico and the tequila and limes are different, it will be modification time again. Life is very good indeed.
---
Friday October 18 Pahrump, Nevada
Just A Day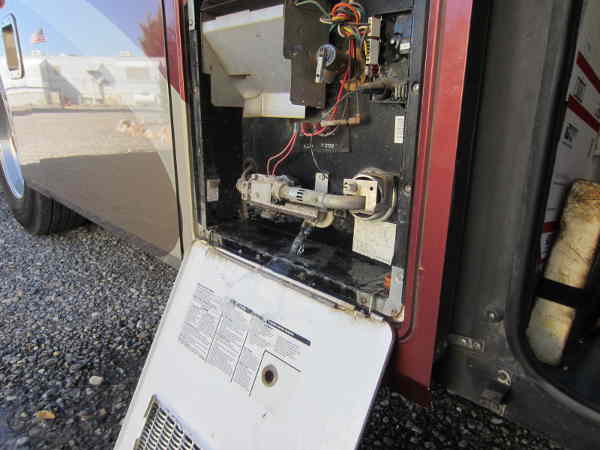 Water heater clean out day today. I was pleased with how little crud was flushed out. Glad we are doing this once a year. It has also meant the faucets in the coach have not plugged up at all this year. Not a bad result for less than 30 minutes work once every 12 months.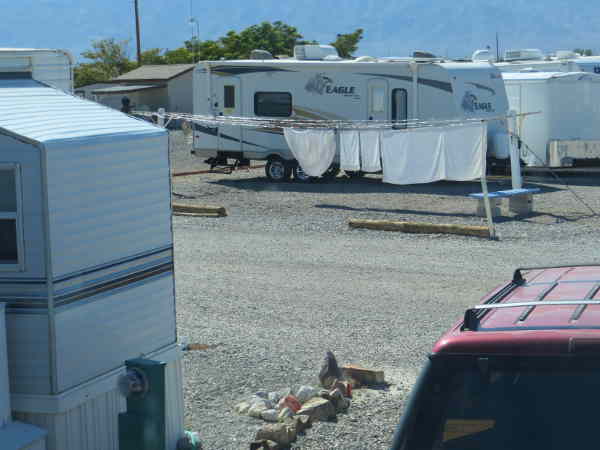 I had previously mentioned that when we arrived at the park, Linda hoped we would get a site near the outdoor clothesline. Here is the proof we did. That is our sheets hanging on the clothesline as viewed out the front window over top of the Explorer. Happy Linda.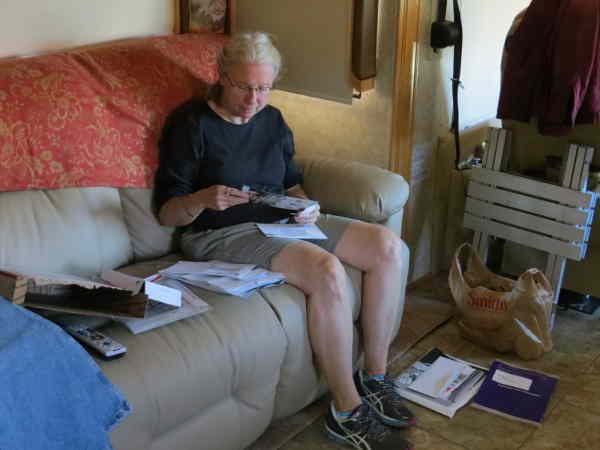 Mail day today. It has been about a month since we last had our mail forwarded so Linda was a happy girl opening envelopes, etc. It sounds like it was a happy Linda day and it was as she also got to go shopping by herself which means she brought home a few special things. Happy Bob.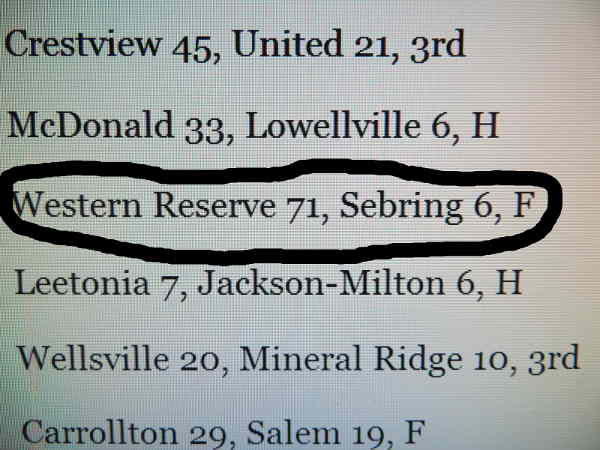 The local Friday night high school football scores for teams where I grew up. Western Reserve was where I went to school. I played on the football team and during those four years we won a total of four games, two of them in my senior year. One of the many losses we suffered was a 70-6 defeat at the hands of Sebring. Fast forward 50 years. Over the past five years Western Reserve has often been ranked in the top 10 schools in the state in their division and they make the state payoff's every year now. This year they are the number one team in the state in their division. When I saw this score I had to smile. It has taken 50 years but payback sure does feel good. It has been said that "Success is the sweetest revenge", and Western reserve is certainly successful. Smiling Bob.
---
Saturday October 19 Pahrump, Nevada
A Pair-A-Dice Day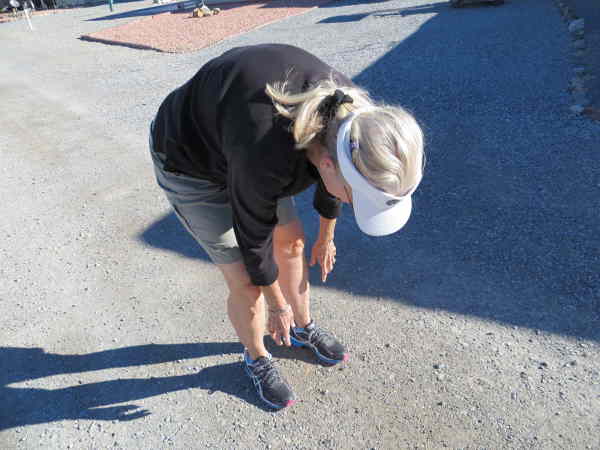 No, the woman that married me is not doing toe touches. She cheated this morning during our walk. When that tiny microscopic grain of sand got in her shoe did she stop and take it out. No. She asked to lean against me, then had me hold her steady while she removed the nearly unseeable bit of material from her foot.
Fortunately I caught on to what this nefarious female was doing, which was to prevent me from taking a photo of her with foot raised. As soon as she was stable I pulled out my trusty camera and caught her before she could straighten up from her particle removal. Yes indeed, you've got to be quick to pull a fast one on Bob.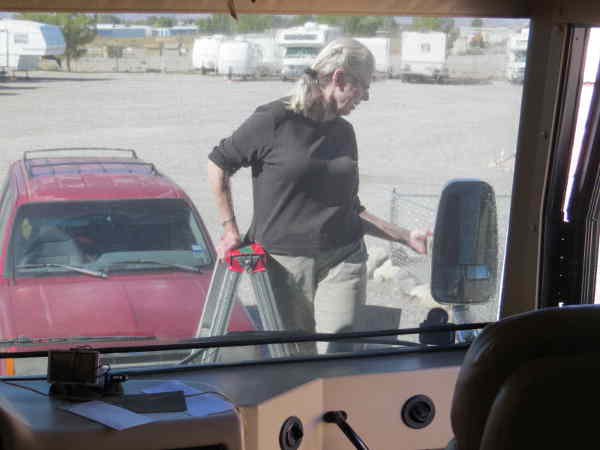 Tom Sawyer Bob at his finest. She really did do a great job of washing the front window of the coach.
The most important part of this photo is the blow torch lamp. Today was the day to add an outlet to the center console so we could plug the lamp in on my side instead of on Linda's side. Of course I had to wait until Linda was finished with the washing of the front of the coach. Okay, confession time. She persuaded me to wash a section of the front of the coach, but only because I actually am such a nice guy. There was no coercion on her part. Really there wasn't. Or at least I think there wasn't.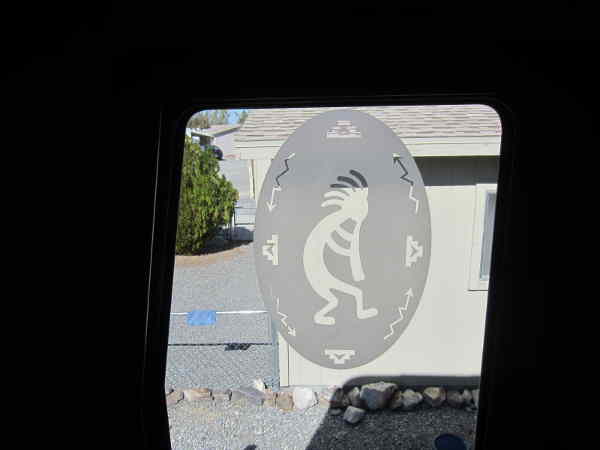 Among the things we did today, and there were quite a few things we did today to get ready to spend the next six weeks in Mexico, was to put a new Kokopelli on the door of the coach. Somehow or other besides talking me into putting the Kokopelli on, the woman I am married to managed to con me into taking the screen off the door and washing the frame that held it. Devious Linda.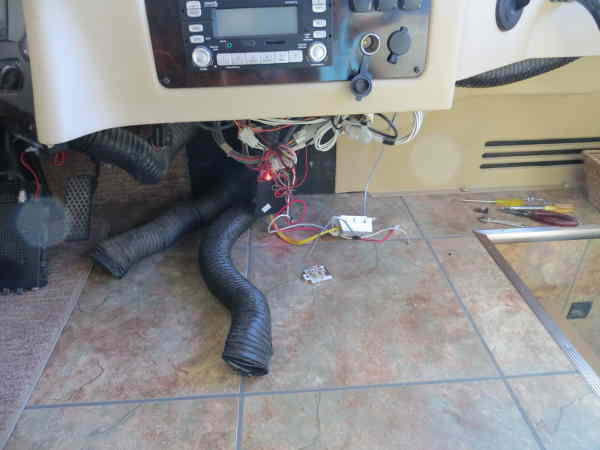 The big project for the day was to add a electrical outlet to my side of the central console. The only outlet was on Linda's side and by adding one to my side, it would make it easy to plug in the blow torch lamp. We began by removing the center console.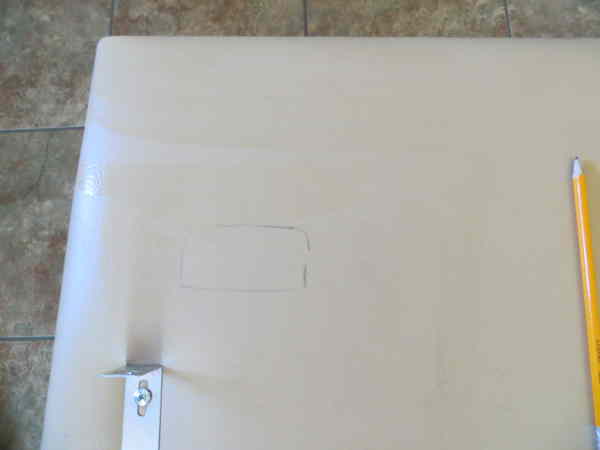 Next Linda marked out exactly where the additional outlet was to go on my side of the console.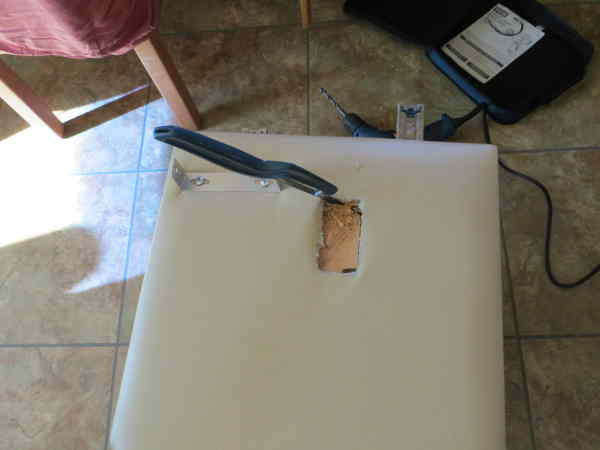 When it came time to cut out the hole where the outlet was to go problems arose. I only had a hacksaw blade to cut the hole. Drilling a hole in the corners, I was able to saw out the opening.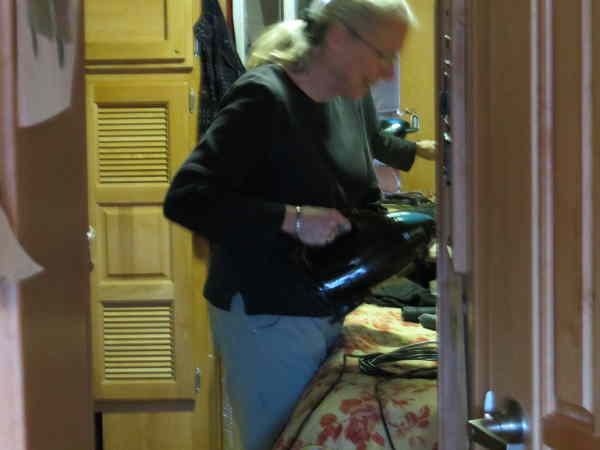 While I struggled to hold the console and cut the opening, Linda went back to the bedroom and put together our vacuum so she could clean up the debris from what I was doing. Linda knew what the the most important thing we were doing was. The coach needed to be clean, the heck with whether the hole was cut right or not.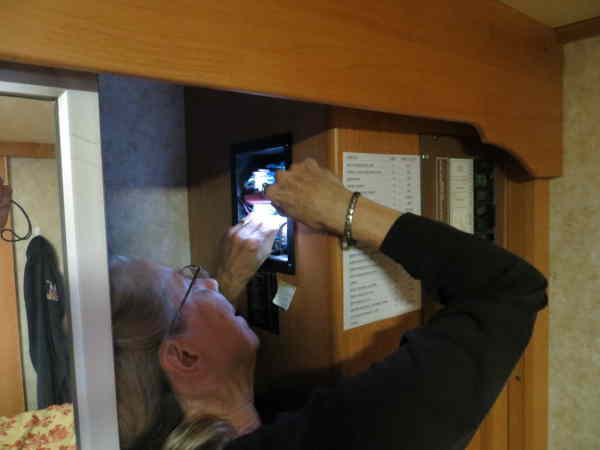 In the end the new outlet worked perfectly. The problem was that now the dash radio doesn't work. What can I say? How about quoting Teddy Roosevelt.
"It is not the critic who counts; not the man who points out how the strong man stumbles, or where the doer of deeds could have done them better. The credit belongs to the man who is actually in the arena, whose face is marred by dust and sweat and blood; who strives valiantly; who errs, who comes short again and again, because there is no effort without error and shortcoming; but who does actually strive to do the deeds; who knows great enthusiasms, the great devotions; who spends himself in a worthy cause; who at the best knows in the end the triumph of high achievement, and who at the worst, if he fails, at least fails while daring greatly, so that his place shall never be with those cold and timid souls who neither know victory nor defeat."
---
Sunday October 20 Pahrump, Nevada
A Very Lazy Day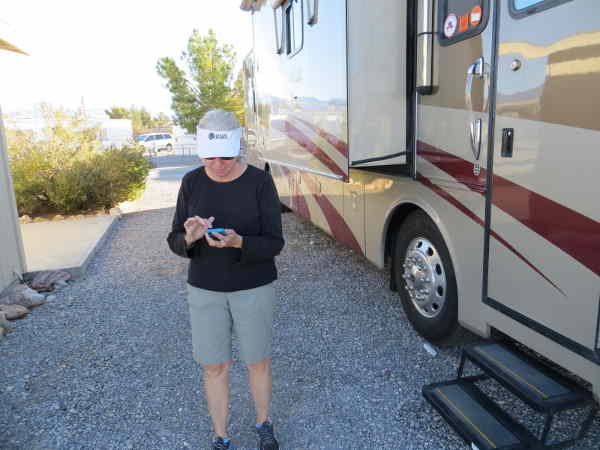 It was been a while so here a photo of Linda setting her walking app before we started this morning. Three times around the outside of the park was within 80 seconds of being 40 minute. Then we went shopping for a few things we wanted for our time in Mexico. After that it was a day of doing nothing.
In the afternoon we read and snacked, and that was it for the day. Not every day do we need to do something. Sometimes we just take it easy and today was one of those days.
---
---