Journal Archive 10/21 - 10/31 2013
Scroll down to read the latest post
Monday October 21 Gila Bend, Arizona
A Travel Day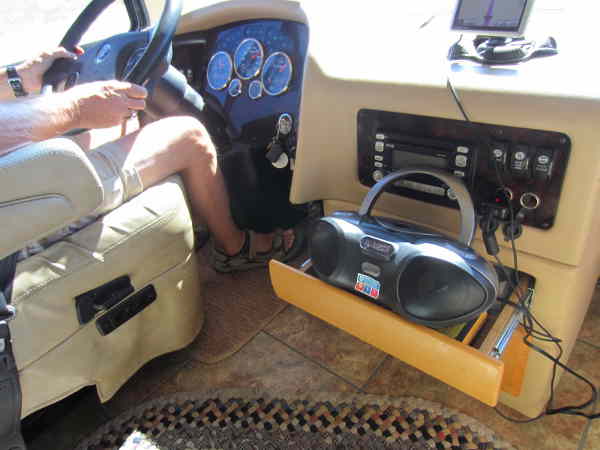 We replaced the non-working dash radio/cd player with a $29 boombox using our plug-in inverter to provide power. It worked like a charm, letting us listen to the last two cd's of the audiobook we have been playing the past few days, then beginning another. As Linda said when we arrived at Gila Bend a little after four o'clock this afternoon, "It really makes the day go much faster." How true, how true.
We passed thru a small section of California today on our way from Pahrump to Gila Bend. Linda tries so hard to always get a photo every time we cross a state line that I just have to post this picture. Good Job Linda. Love You Babe.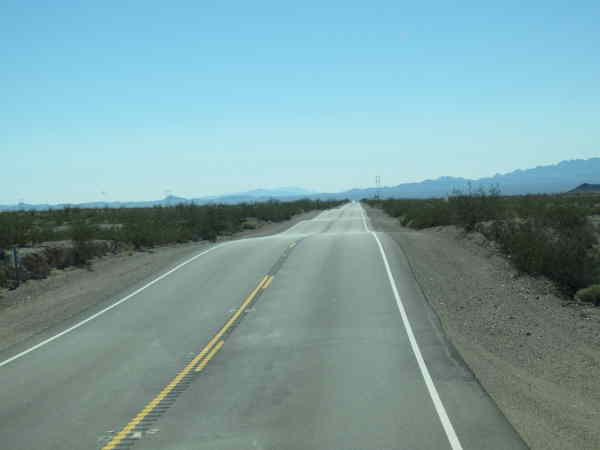 One thing about traveling on US 95 in California, there are going to be dips. Lots of dips.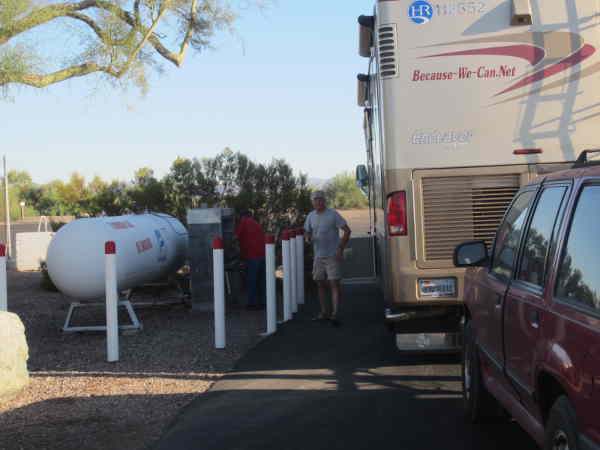 Holt's in Gila Bend. It's been our stopping spot during all our years of fulltiming. Fuel, propane and a very inexpensive RV park, a good stopping place before heading off to Mexico. We plan to be here for two nights, then it is off to Puerto Penasco for six weeks. We have missed being there, but in a few days that will taken care of.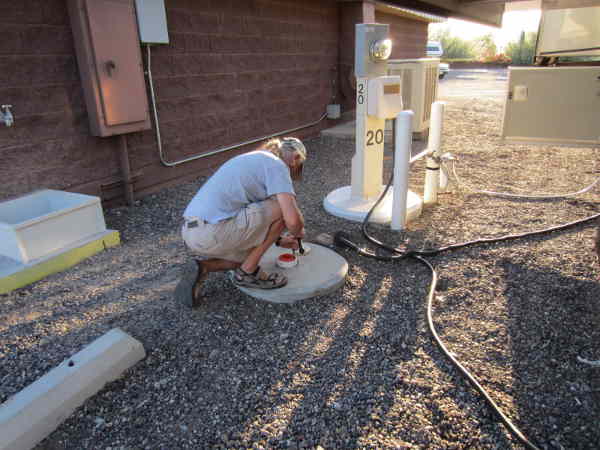 So we pull into our site, level and get set up except for one thing, the sewer hookup. That's when I discover there is an adapter for some special sewer hookup screwed into the sewer, and it is so jammed in that it won't come out. And believe me I tried everything to get it out. The way I made lemonade was to take a screwdriver and punch through the plastic, knocking the center out of the adapter. Then I used a foam gasket and the Sanicon fitting to seal off the opening.
I realize I could have knocked out the outer ring of the adapter, but that would have meant the next person to use this site wouldn't have the fun of trying to figure out how to use it. Now they can use a foam ring or go beyond what I did and knock out the outer ring. After all, challenges when pulling into a RV park is half the fun of traveling. Okay, okay, so I plan to take the outer ring out tomorrow, but is fun thinking of that someone else might face what I did.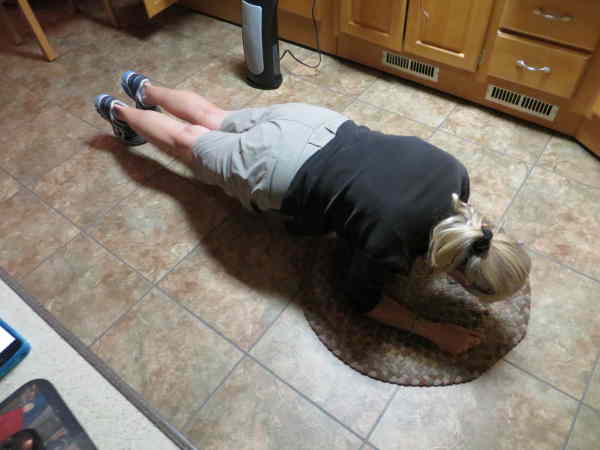 Forty five seconds tonight. She told me before she started she wasn't going to be able to hold it that long. In the end she did. Linda is awesome. I may have to start calling her iron woman if she keeps this up.
---
Tuesday October 22 Gila Bend, Arizona
A Get Ready Day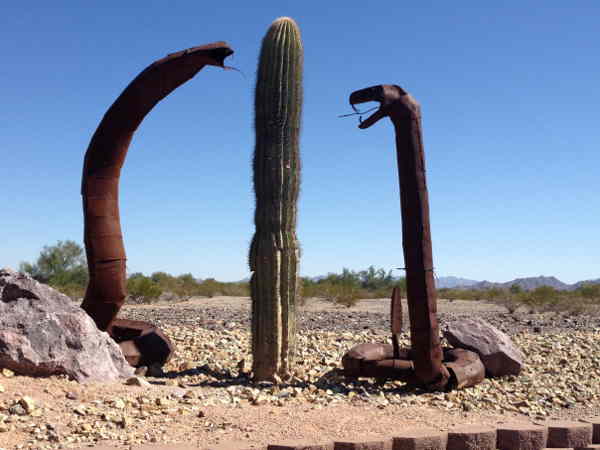 Once again, downloading the photos from Linda's camera provided a surprise. Not often am I wordless, but this is close. Now I know what it was I saw in her those many years ago when we first met, just don't ask me to explain what it was.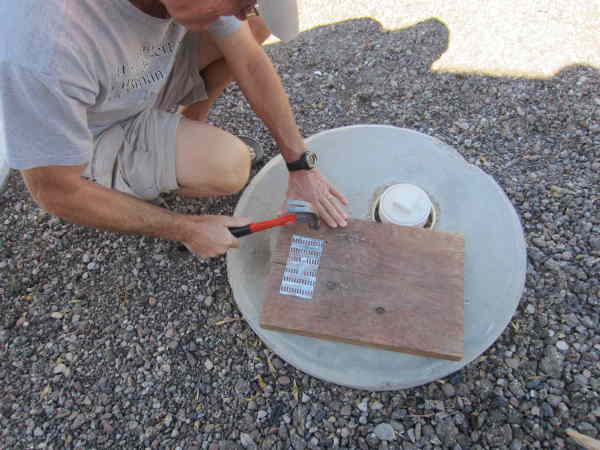 Today was a fix it and move it day as we got ready to head off into Mexico tomorrow. Repaired the cracked board I use under one of the jacks, then moved around a number of things in the coach getting ready to cross the border into Mexico. I also cut out the last of that fitting in the sewer connection so the next person in this site doesn't have the problem I faced.
Linda is definitely excited about going to Puerto Peñasco, and she already has our first evening planned out. Margarita's on the patio at the RV park, followed by a light dinner at the restaurant. No cooking tomorrow for us. Then the next morning it will be buying shrimp from the drive-thru vendor, followed later by a trip to the local produce market, a stop at Super Ley and the place up the street that sells the made to order tortilla's. I left out the morning and evening walks on the beach and the happy hour, but that's what Life is all about. Excited Linda.
I'll leave you with this. There are many people who ask why in the world we would want to go into Mexico. As Walter Bagehot wrote: "The greatest pleasure in life is doing what people say you cannot do." Life is too short to pay attention to those who dwell on the negative.
---
Wednesday October 23 Puerto Penasco, Sonora, Mexico
A Fun Day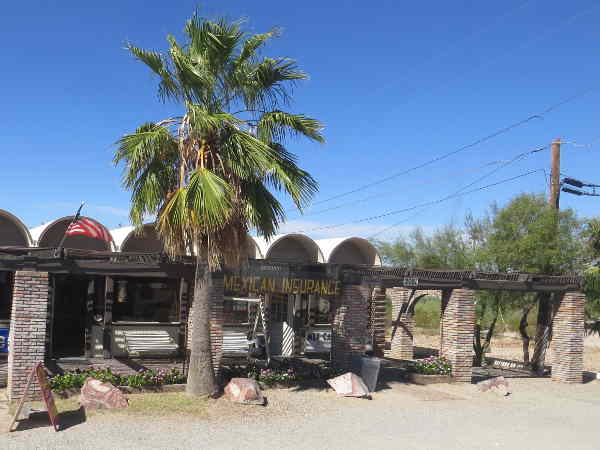 Our first stop of the day. Because we are staying in Mexico for six weeks, the rates on a six month policy made the best buy. Linda didn't think much of their service. To allude to what she said, but using different language, if the building caught on fire it would take them 10 minutes to work up enough energy to get out.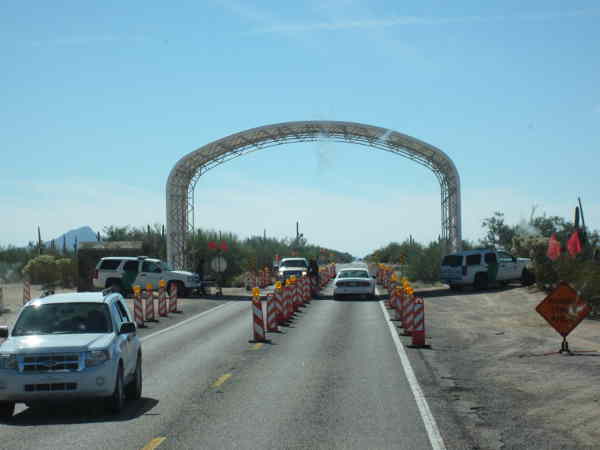 One of two Border Patrol check points on the drive south, southbound traffic didn't have to stop, but with this one, which was at the north edge of Organ Pipe Cactus National Monument, you really have to slow down as the lanes are so narrow.
Linda likes to take photos of the cactus along the road, but I'll share just one of the nine she took.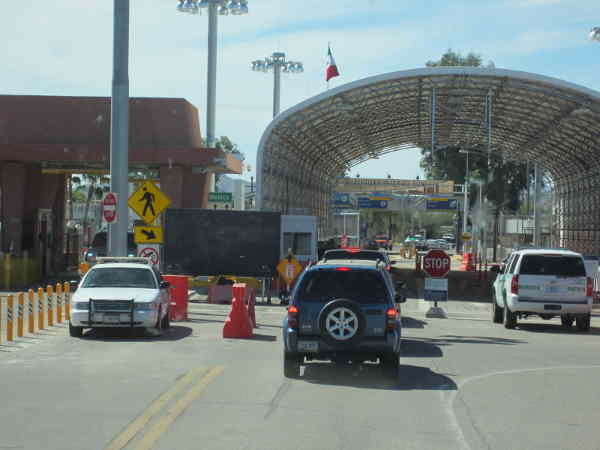 Passport check on the U.S. side of the border. They also ask if you have any firearms and if you are taking more that $10,000 out of the country.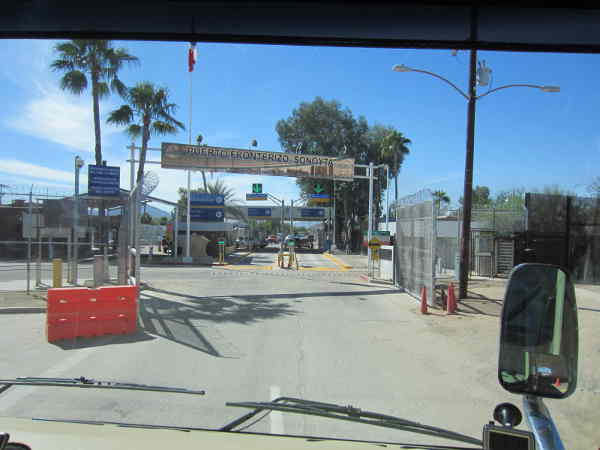 The Mexican border. We didn't even have to stop as we were waved through with a smile.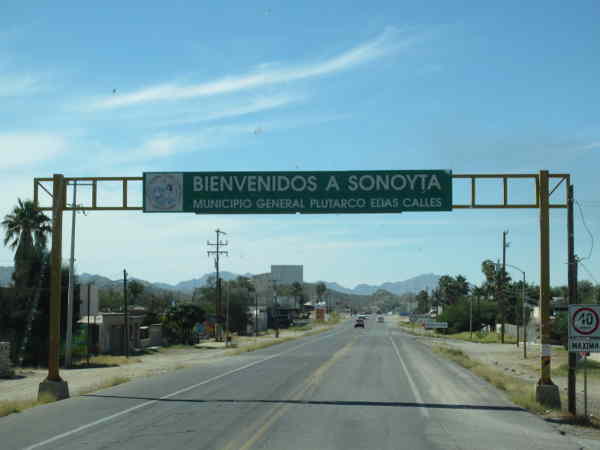 Big sign, little sign. The little sign is the speed limit, 40 km/hour, which is 25 mph and is common in urban areas. Often the road was so rough we wouldn't have wanted to drive faster in the coach anyway.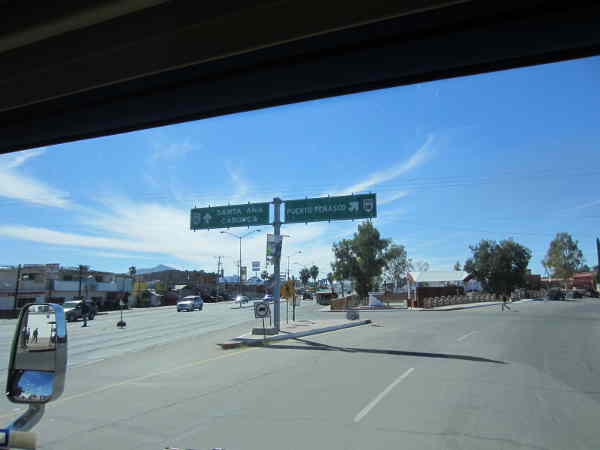 The route to Puerto Penasco is very well signed. Here is a section with two lanes in our direction. A short distance further it changes to a very congested area with one very narrow lane in each direction with parked cars and pedestrians, but that is the worst area of the entire drive, and it isn't a very long section.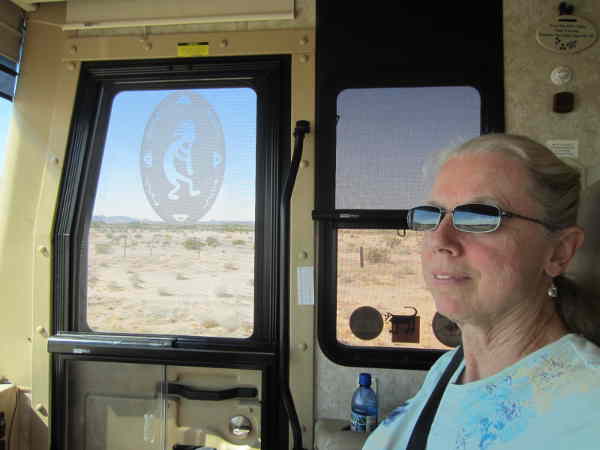 As we traveled the speed limit would change, usually 90 kph, but at times 70, 40 or something else. Each time a speed limit sign came up, Linda would call out the speed in mph. I finally had to ask how she always knew the speed in mph. Note the piece of paper taped to the wall beside her.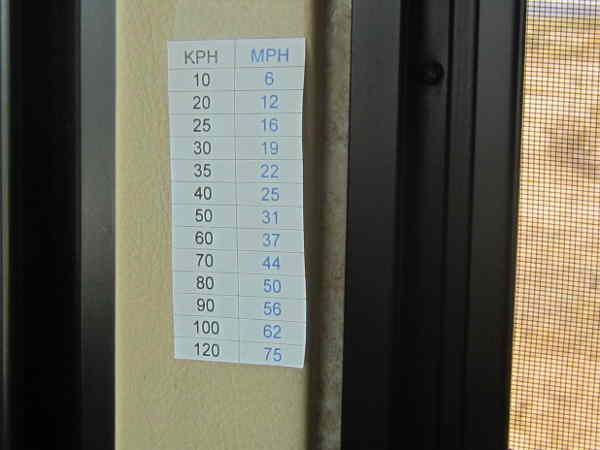 Smart woman. Lucky Bob.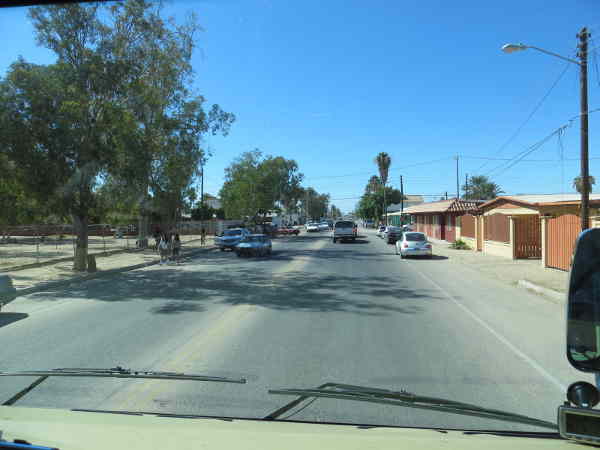 Heading toward the RV park in Puerto Penasco.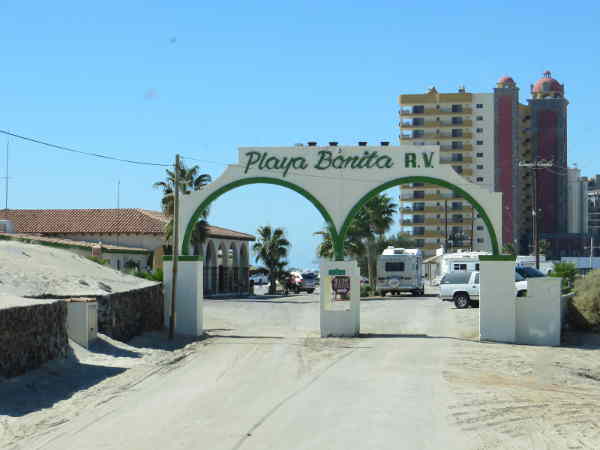 Playa Bonita RV Park, our home for the next six weeks.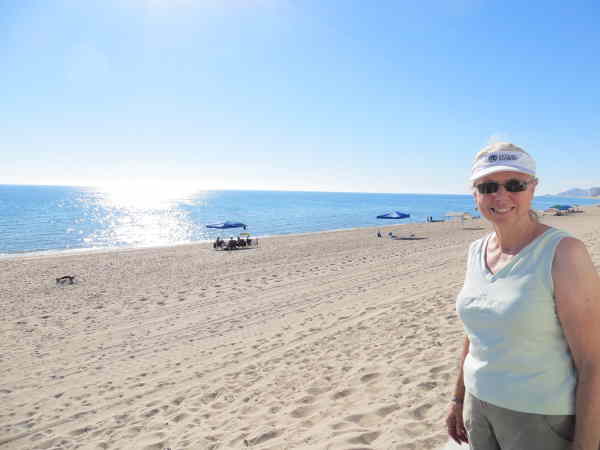 It was high tide, so no long walk on the beach today.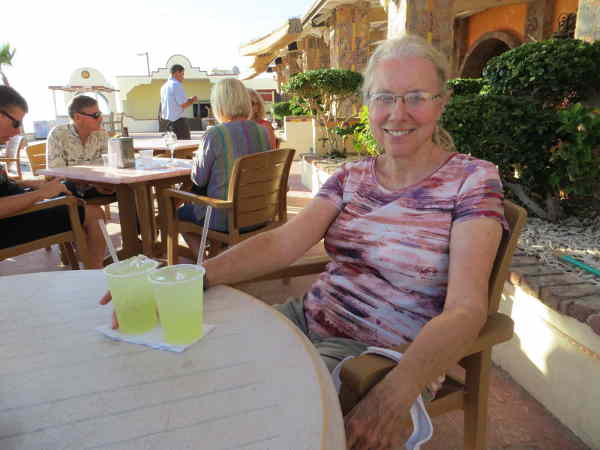 Linda knows the water is just fine, it's just that we don't come here to drink the water.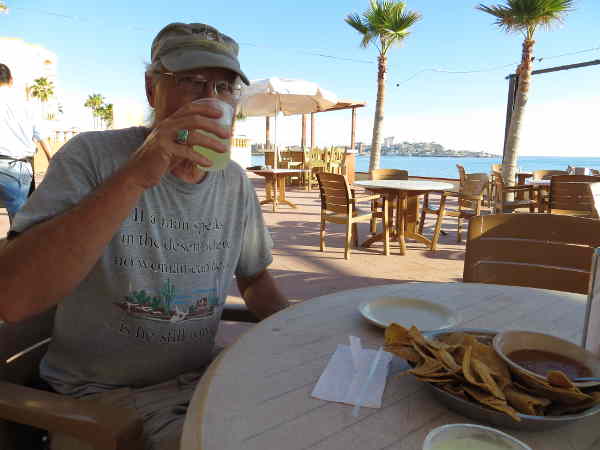 I couldn't let Linda have all the fun.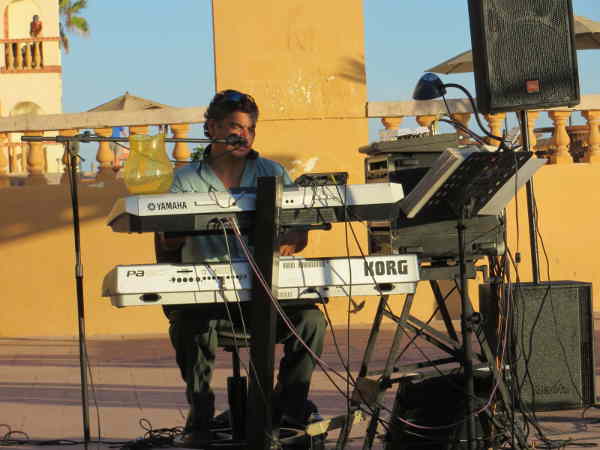 It looks more impressive than it was, but is was still very nice.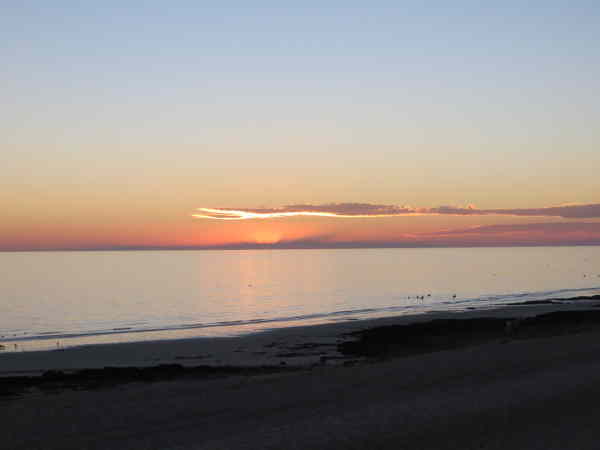 Just had to post a sunset photo, best to do it our first day here and get it out of the way.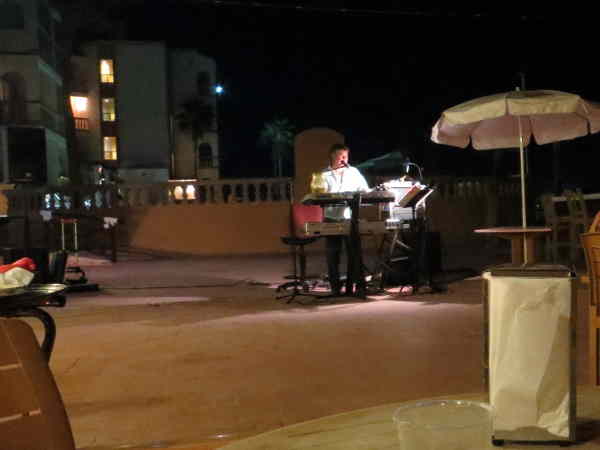 We ended the night dancing under the stars. Life is Good. Life is very, very Good.
---
Thursday October 24 Puerto Penasco, Sonora, Mexico
The Next Day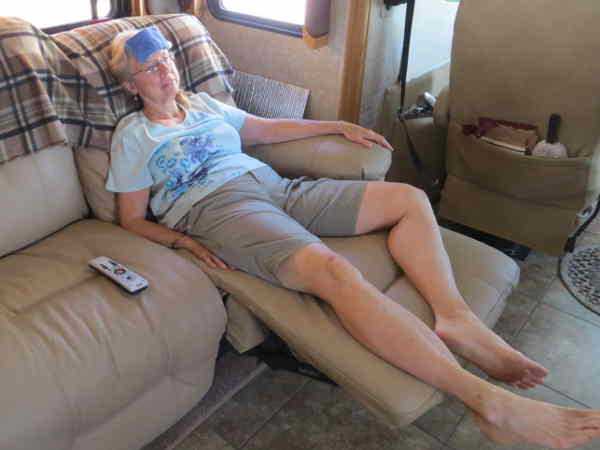 Last night's party girl was today's partied out girl. I couldn't be sure but I thought at times I could hear her muttering, only one margarita, only one margarita.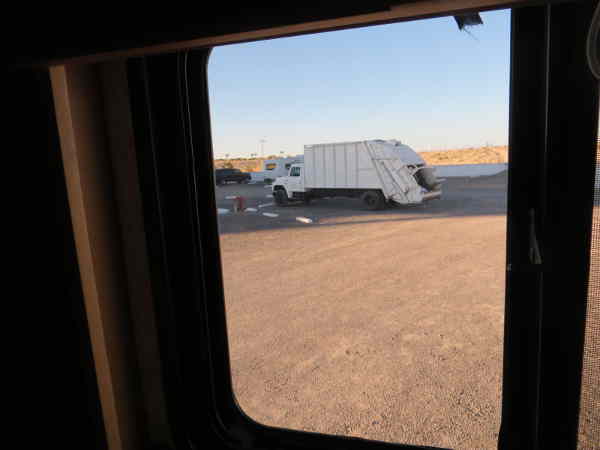 As you can see, having a site away from the zoo down by the beach does have its advantages. For one there are not RV's parked slideout to slideout all around. There also isn't a chance the garbage containers will be filled to overflowing. What's that old saying about being careful of what you wish for, because what you get may not be what you thought it would be. Actually it is not a problem at all as the wind always blows off the water, it is parked down wind from us, and it is normally parked in the maintenance area.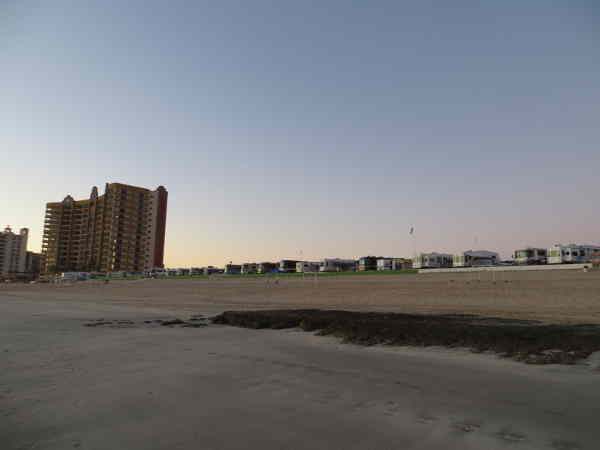 A view of one end of the RV park from down on the beach.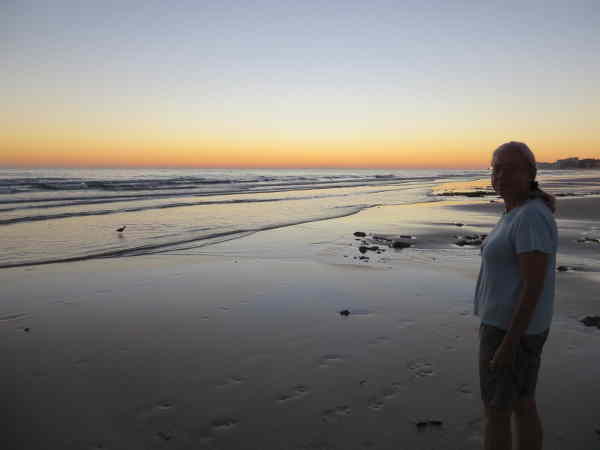 By sundown Linda was feeling better, or it seemed so as she asked if I wanted to go for a walk. We ended up down on the beach and just to make it perfect, we brought back a small shell. And no, I didn't suggest we go up to the lounge area so we could have a margarita. Very smart Bob.
---
Friday October 25 Puerto Penasco, Sonora, Mexico
Interesting Day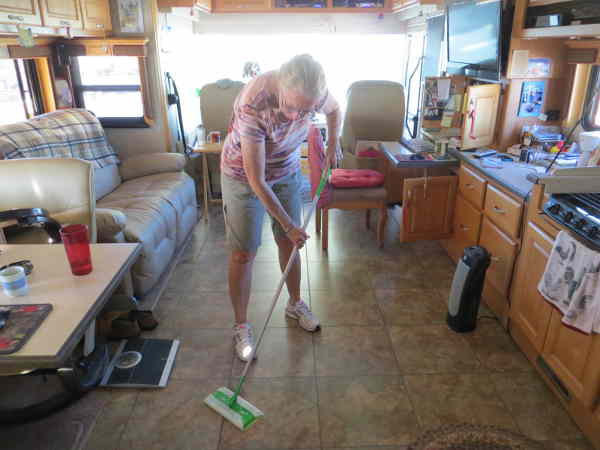 Linda was back to her usual self this morning, something I knew for certain when she pointed out as only she can, that I didn't move my feet out of the way. Happy Bob.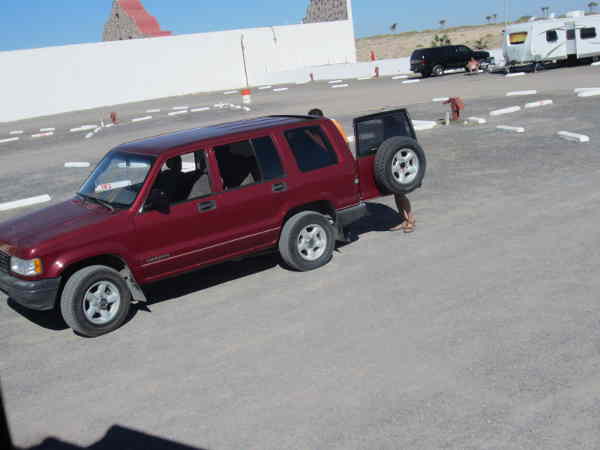 I was ready for the shrimp man this morning because Linda was ready for shrimp tonight. Happy Linda.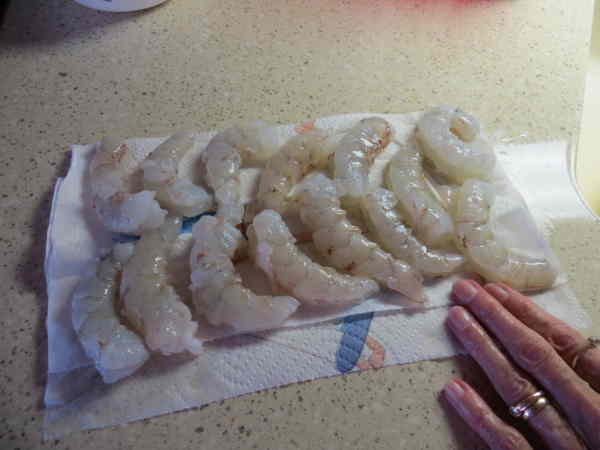 Linda lovingly washed the shrimp. Linda made up a marinade. Linda smacked her lips as she worked. Bob watched Linda and smiled.
Later it was off to find an ATM machine to get out some pesos. We have used this bank on other trips to Puerto Penasco, but today the ATM instructions were only in Spanish and it wanted to decline our card.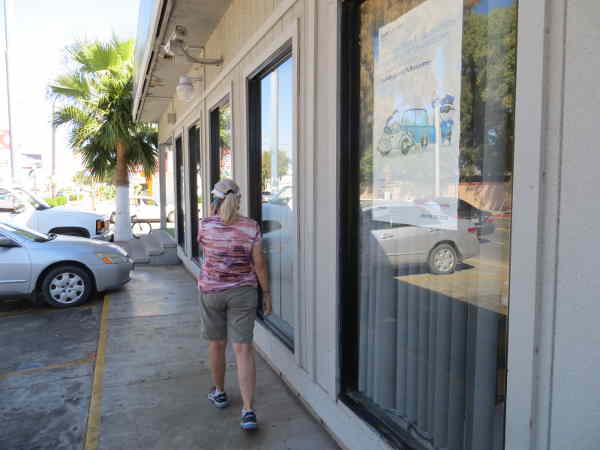 Then I asked Linda if she had called our bank and set up the cards so we could use them in Mexico. That was when I learned this situation was my fault because I had not reminded her to do it. Several phone calls, a trip back to the coach, a trip back to the bank and none of our multiple cards would work. What made it not as bad as it might have been was the fact that two other Americans beside us at the ATM were having the exact same problem. So we decided the problem was with this Mexican bank and their ATM machines.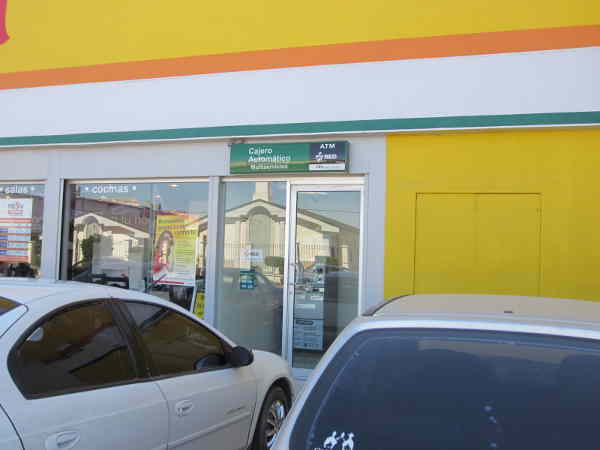 With that in mind we set off to find another ATM, and we had no problem getting money from this one. It was also much nicer than the first one, the instructions were in Spanish and English, and the transaction fee was much lower. Later, at the Super Ley grocery store we ran to the people next to us at the first ATM and learned they had also used another ATM where they had no problem. Sometimes travel outside the US can be challenging.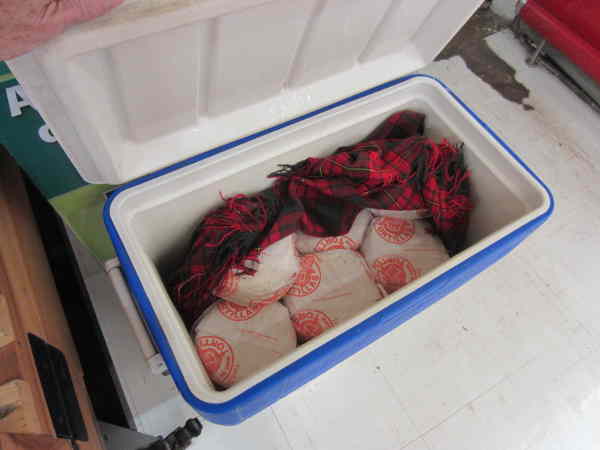 Hot corn tortillas straight from the cooler.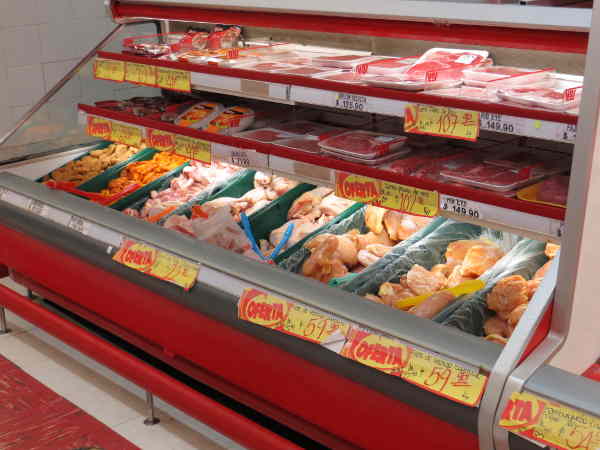 Bag your own chicken.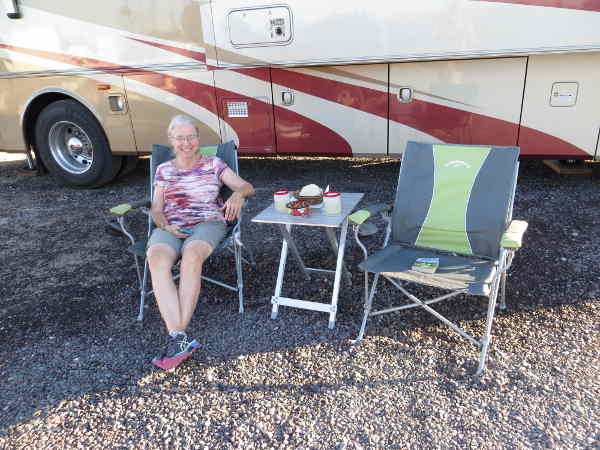 Happy Hour.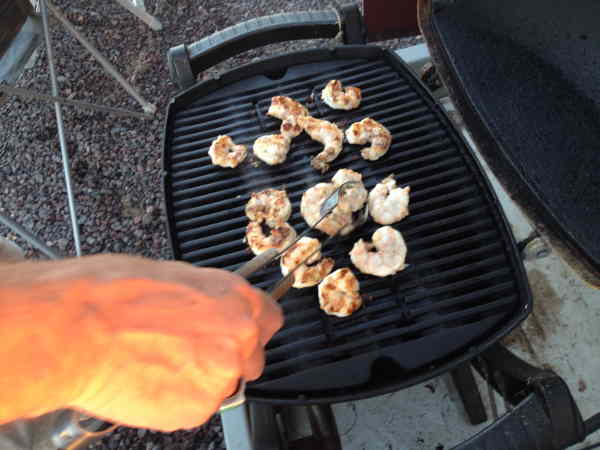 Shrimp on the barbie.
One of the reason's why we love being here. Life is not a dress rehearsal. Don't be afraid to laugh, love and retire early.
---
Saturday October 26 Puerto Penasco, Sonora, Mexico
A Beach Day
Long walk this morning, going around the RV park several times and out the entrance road and back. The timer lady was on the ball though and when the magic 40 minute mark came up, it was an angle walk directly to the coach. She walks for health, not for pleasure, but that is a good thing, especially if one doesn't like to walk.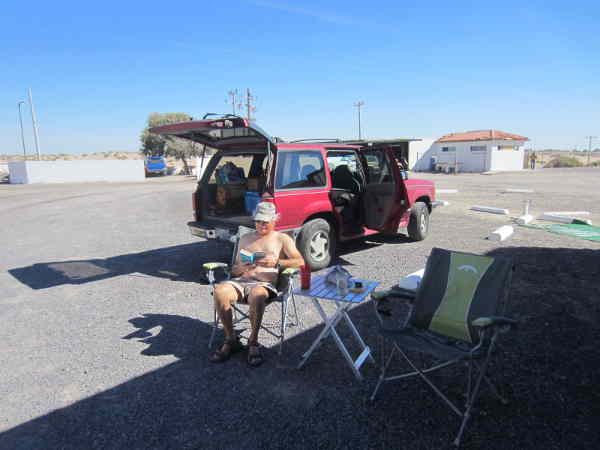 I always wear a tee shirt. Today I decided to get some sun on my pale body. Tonight my pale body resembled the color of the Explorer. As Linda was putting aloe on the coach lobster I admitted I hadn't been very smart. She emphatically agreed with me and rubbed harder. Smiling Linda.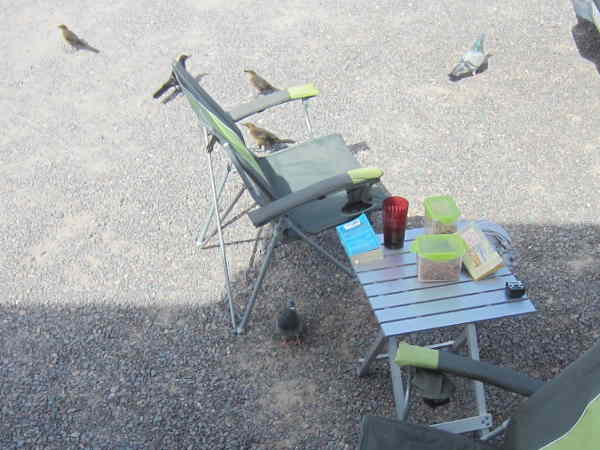 Our peanuts and almonds attracted some visitors. At least we had put the lids on. Linda tried to get a picture of them pecking at the sides of the containers, but every time she pointed the camera at them they flew down to the ground. However, they did leave a reminder of their presence on the back of my chair.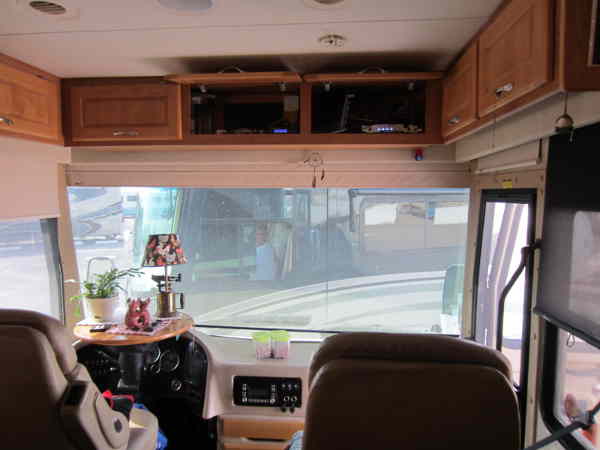 A big coach backed in directly across from us today. We are pretty much in the middle of nowhere in the park so it was a surprise they took that spot. Once they got backed in, they walked around and looked around. Soon the moved to the spot beside that one, which meant that vehicles could get by and they could reach the electrical hookup.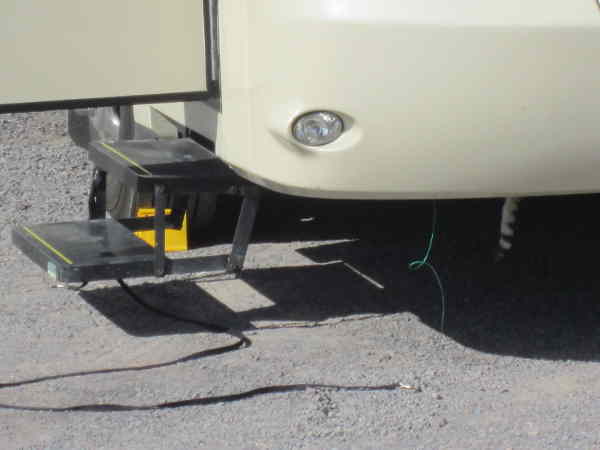 See the leash. See what is hanging down from the front of the coach. Linda is a very happy girl, she is going to be getting her cat fix.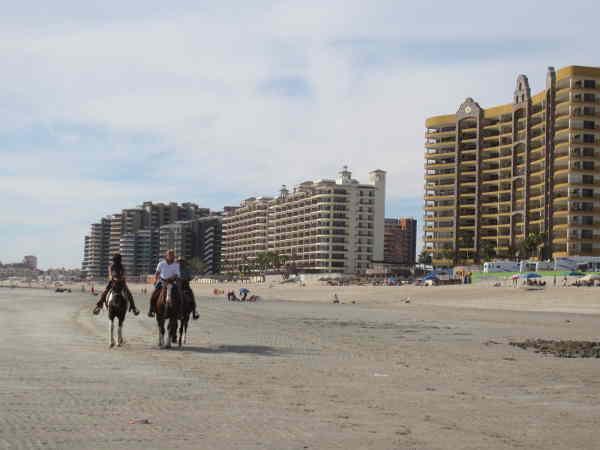 Low tide was in the afternoon, which found us taking a long walk on the beach. It being Saturday there were many more people than usual out, meaning Linda had a great time people watching. I did too, especially watching some of the ones in bathing suits.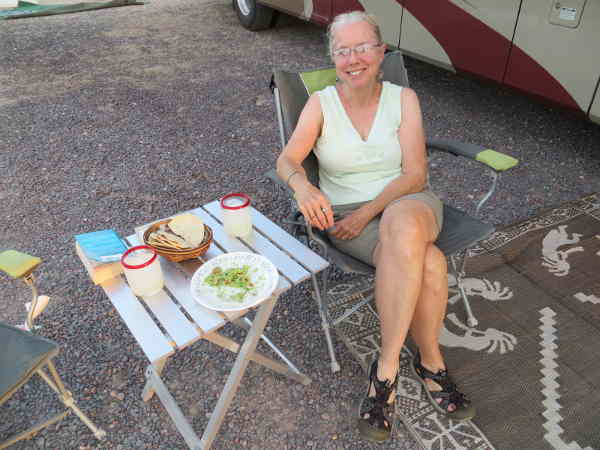 Happy Hour. Guacamole tonight. Happy Linda.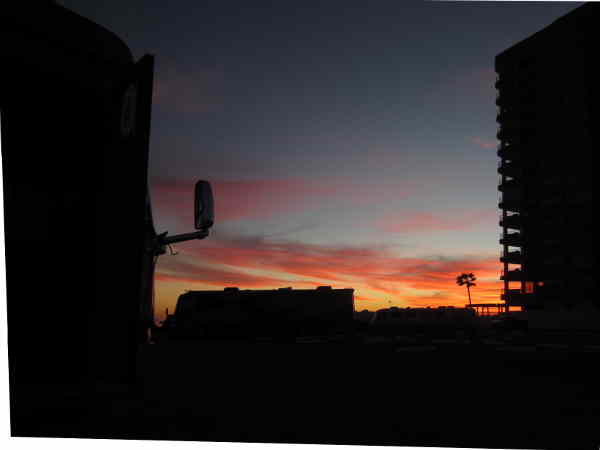 This says a lot about the Life we Live. Life is Good. Life is Very Good.
---
Sunday October 27 Puerto Penasco, Sonora, Mexico
A Sunny Day
Just to set the record straight, we are not here in Puerto Penasco to do something every day. We are here to kick back and relax after a very hectic six months of family and repairs. Just want readers to be prepared for days when the only thing that happens is a walk on the beach, sitting outside reading or not much of anything.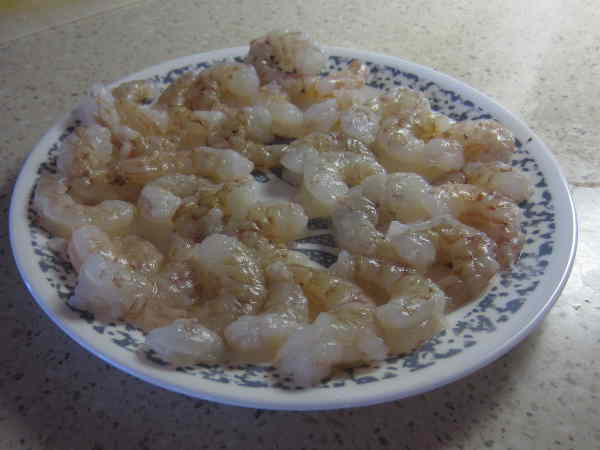 More shrimp today, this time Linda wanted the smaller shrimp so she could try an idea she had for how to fix them. Unfortunately I'll have to wait until tonight to find out what it is. I do know it will include coconut oil since I mentioned cooking them in it and the next thing I know she is telling me that gave her an idea.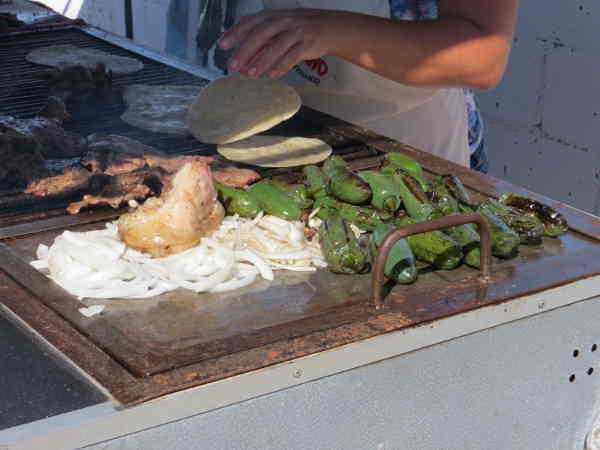 There was a craft fair and yard sale at the clubhouse in the park today. Chino's Taco cart was there and we had heard they were the best tacos in town. That's a huge hunk of fat on the onions, and each tortilla was rubbed with it. This is something that would normally have Linda running away, but not from these tacos.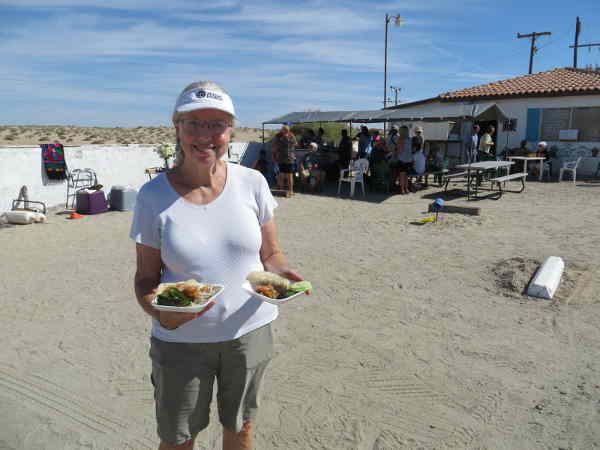 It was only 11:00 and already there was line for the tacos. We were glad we didn't wait until noon when they got really busy. We had thought we would at least wait until noon to eat them, but they looked and smelled so good that we decided that now was the time.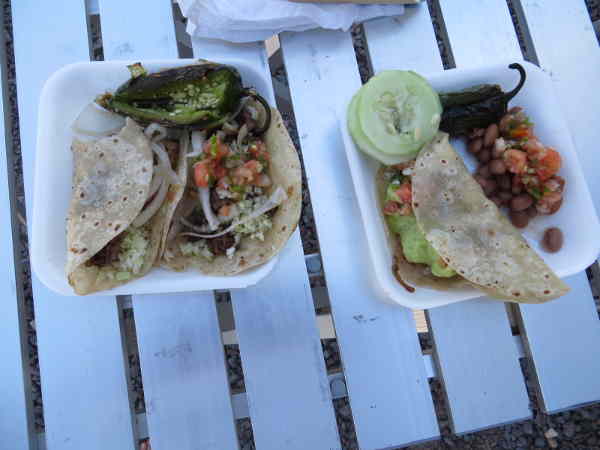 The tacos were awesome. What took the cake was Linda eating half of her grilled jalapeno. To serve they sliced the top, added a dash of salt and squeezed half of a Mexican lime in it. Wonderful!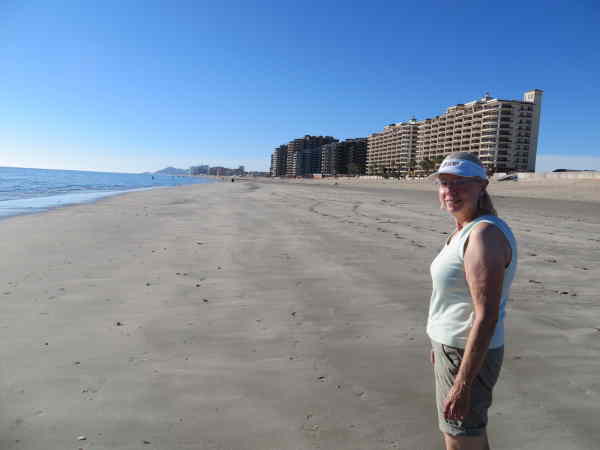 Yesterday I mentioned something about observing the female of the species on the beach. Today I want to show an awesome example of what I was talking about.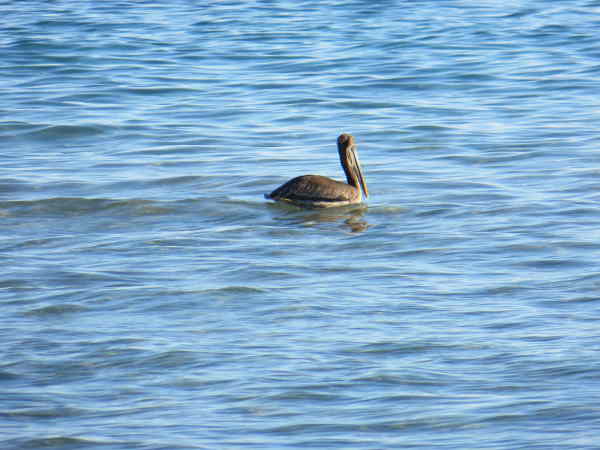 Low tide was in the late afternoon, and we again took a long walk on the beach. We had fun watching a flock if pelicans just off the shore. They are so uncoordinated as they land, flopping into the water. In the air they are grace personified. It was part of my effort to keep my eyes seaward instead of beachward today. Smart Bob.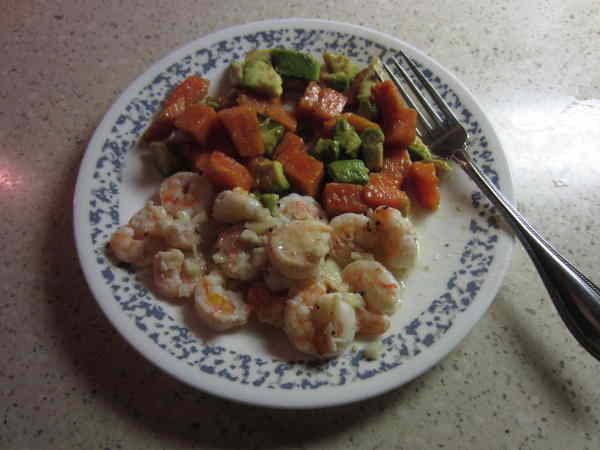 Shrimp sauteed in coconut oil with a garlic and wine reduction. Linda's idea was awesome. The papaya avocado salad was the perfect accompaniment. Life just gets better and better.
---
Monday October 28 Puerto Penasco, Sonora, Mexico
A Shopping Day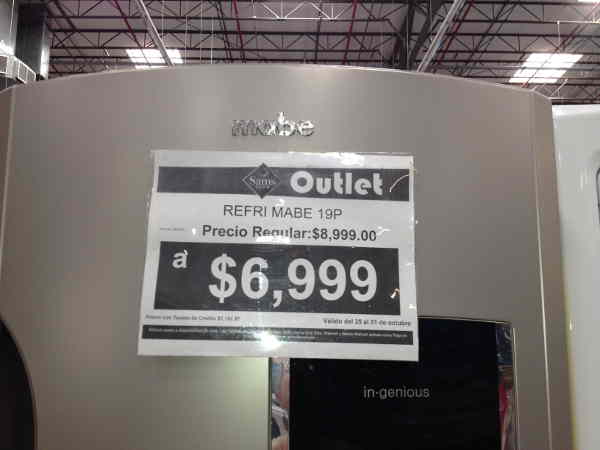 We wanted to check out the Sam's Club and the Bodega Aurrerá which is owned by Walmart. While food is less expensive than in the states, electronics and major appliances are more expensive. This 18 cu. ft. refrigerator was on sale for $543.50.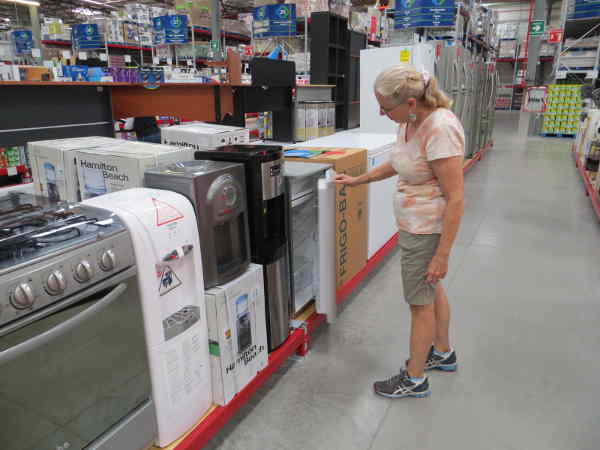 Needless to say, Linda had a great time checking everything out. Well maybe not everything, but there weren't many things she didn't look at. While we were here to buy some things if the quality and price was right, we were mainly here to see what the two stores were like. All eyes Linda.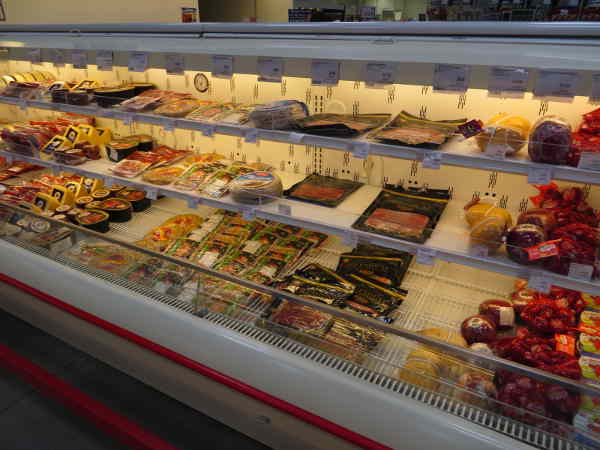 We did note that the shelves were not as packed with items as in the states. That was okay because the kinds of things on the shelves were great, such as chipotle cheese for example.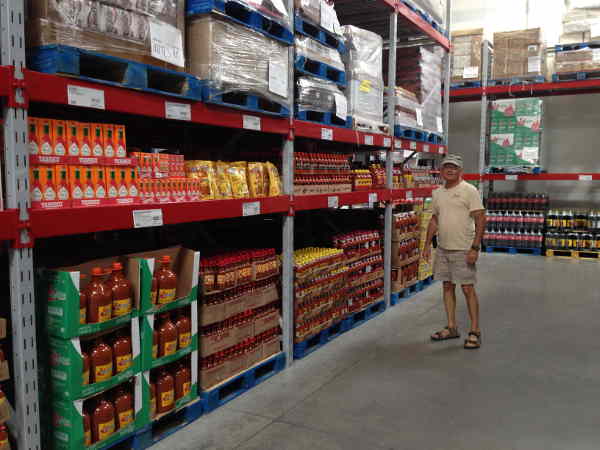 There was even Tabasco Sauce in the hot sauce section. We didn't buy anything at Sam's, but the next visit promises to be quite different.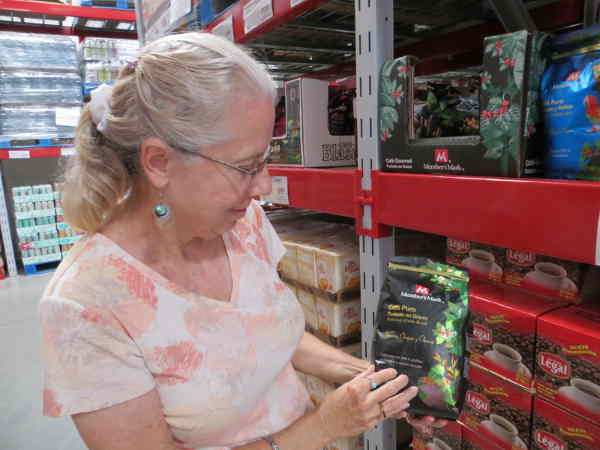 This is for our friends John and Judy who were down here with us in 2011. It may be the Sam's Club store brand, but we have finally found coffee beans!!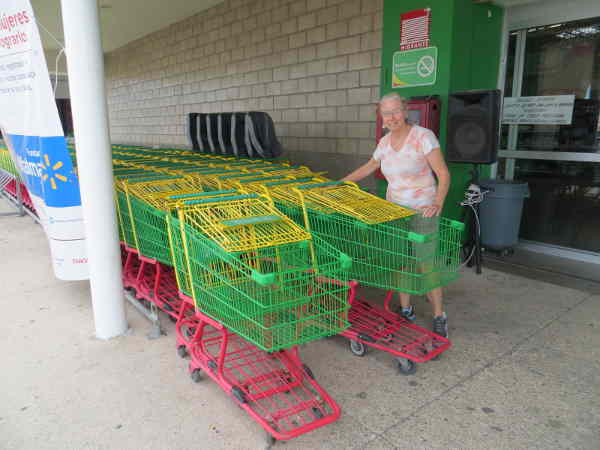 There is color everywhere, even in the shopping carts.
The inside of the Bodega Aurrerá.
The produce we bought today. The bag of limes weighed over 4 lbs. We do eat very well. The avocados would be considered jumbo size in the states. The guacamole I made for supper was as good as it gets.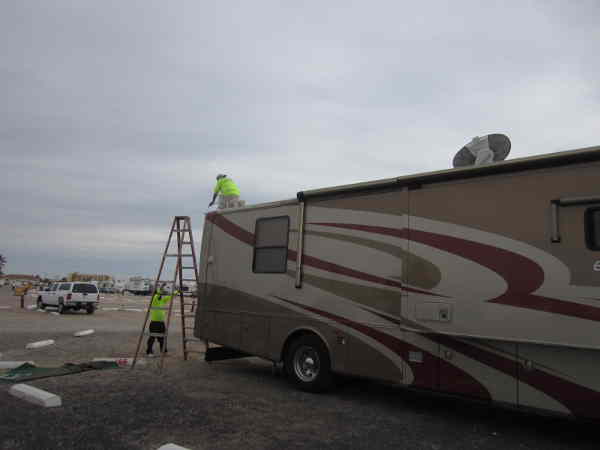 When we came back from shopping they were doing some prep work on the roof of the coach, getting ready for the painting later in the week. We are having a corner of the rear cap and the curb rear wheel area where there is some chipped paint repainted, as well as the entire roof edge where the clearcoat has been peeling.
Three times Linda walked down to the beach to take photos of the sunset. This is the last one she took. Sometimes there aren't enough words to describe a photo.
---
Tuesday October 29 Puerto Penasco, Sonora, Mexico
A Dining Day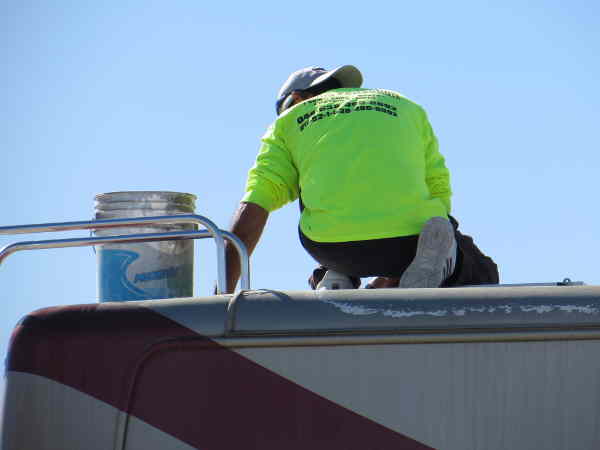 They worked on prepping the tops of the front and rear caps today, which was where the worst blistering had occurred.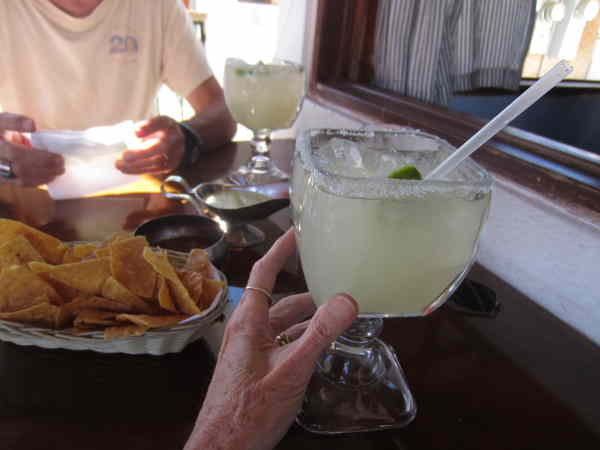 We were positively exhausted from checking on the progress on the coach repairs, so we headed down to the Malecon for lunch. As you can see, Linda knew what she wanted.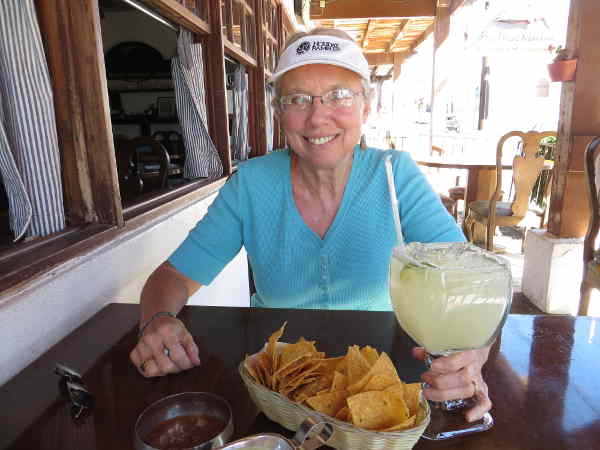 At least the chips and salsa were mine.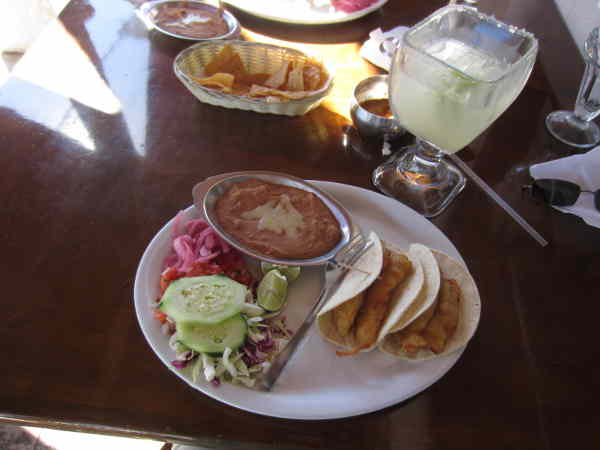 Fish tacos at the Blue Marlin. Awesome!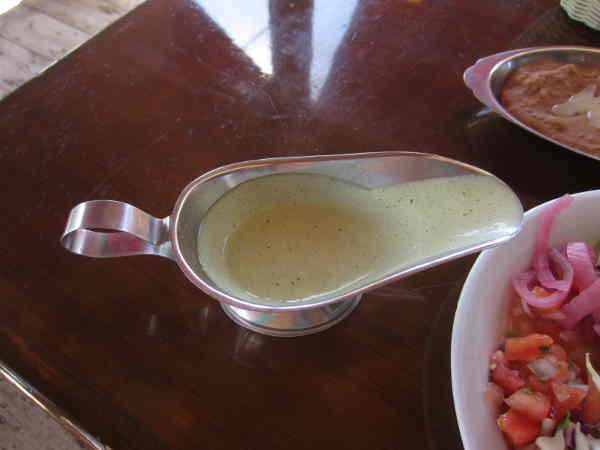 Cilantro sauce at the Blue Marlin. Linda's favorite.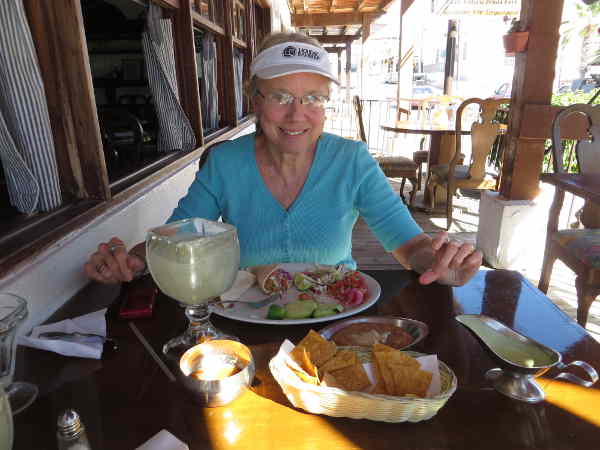 Linda guarding the cilantro sauce. Don't let the smile fool you, I know better than to try and get any. Vicious Linda. Fearful Bob.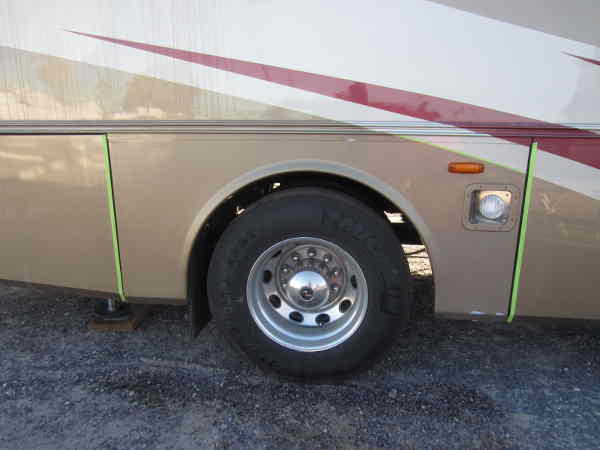 One of the side panels of the coach prepped.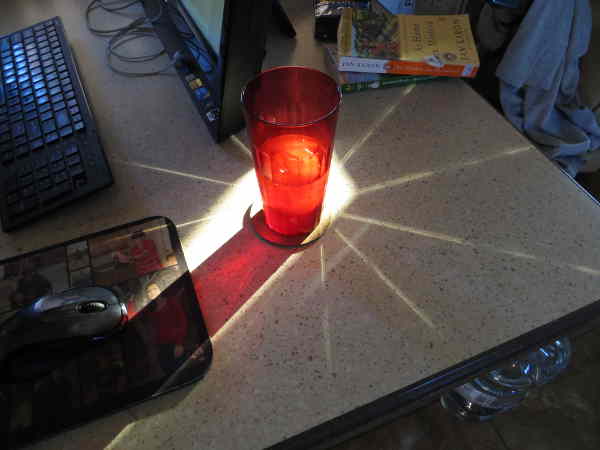 Beauty is all around us. The more we look for it, more of it we see. As Anne Frank wrote in her diary: "Think of all the beauty still left around you and be happy."
---
Wednesday October 30 Puerto Penasco, Sonora, Mexico
A Shopping Day
As part of the prep for the painting, the coach was washed this morning. $1 a foot and $6 for the roof. They have been set back at least a day because of the wind yesterday, but as we know, they do get to the job, it just may not be when they first said it would be.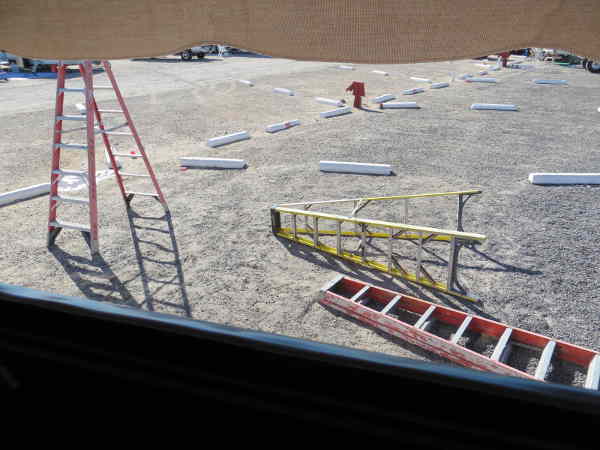 It looks like they have enough ladders to do the job.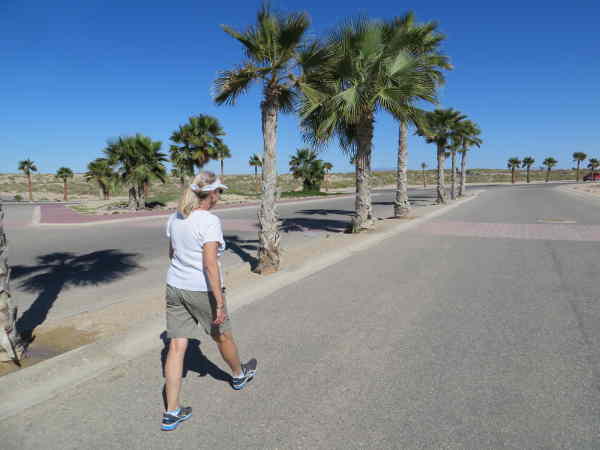 High tide is still in the morning so our walks continue to be around the RV park. Next week will be different, with a morning low tide, and it will be long morning walks on the beach. We are both looking forward to that.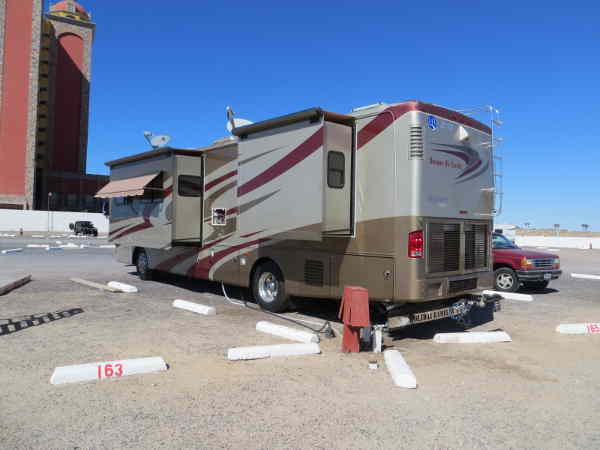 Back from our walk we noticed the refrigerator cover was missing. Linda said it first, they had taken it to get a paint color match.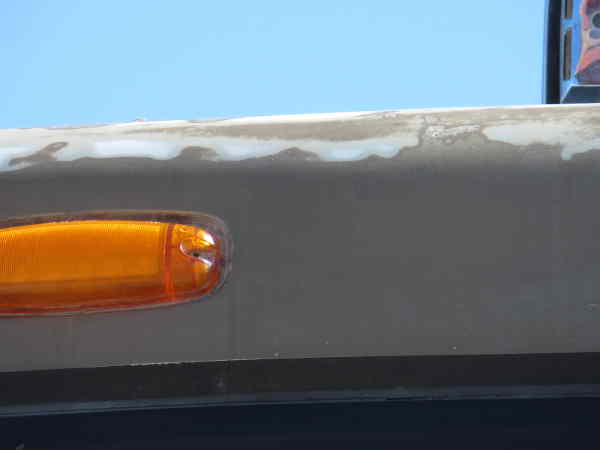 The top of the front cap ready to paint.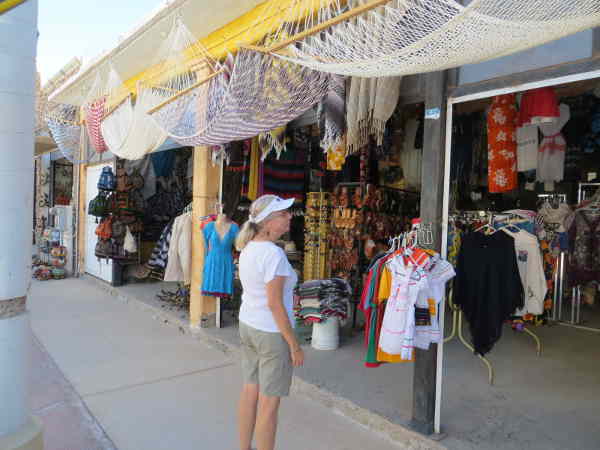 In the afternoon we drove out to the area known as Shacks 5th Avenue or Rodeo Drive. Linda informed me this was not a buying trip, just a looking at what's there trip. I guess I didn't understand that looking meant looking at everything.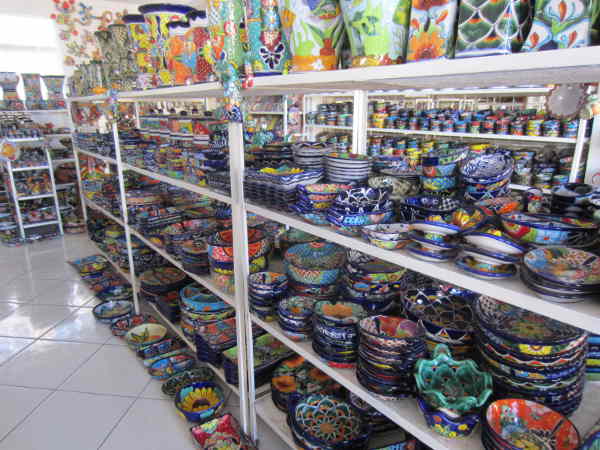 There were a couple of bowls Linda was looking for. There are many bowls to look at to find the perfect one.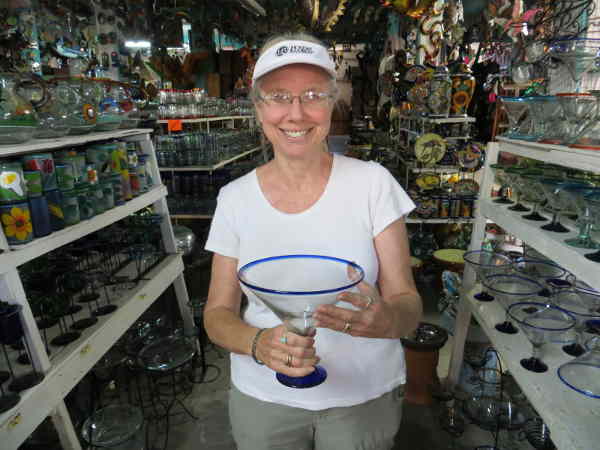 I walked around a corner and this was what I saw. No, she didn't buy it. In her words, "If I drank a margarita that big I would be sick for two days." That's a woman who knows her limitations.
This photo is for our friends, Diane and Roger. You never know what you are going to see in these stores. Herbert Spencer said it best: "Objects we ardently pursue bring little happiness when gained; most of our pleasures come from unexpected sources."
---
Thursday October 31 Puerto Penasco, Sonora, Mexico
A Fun Day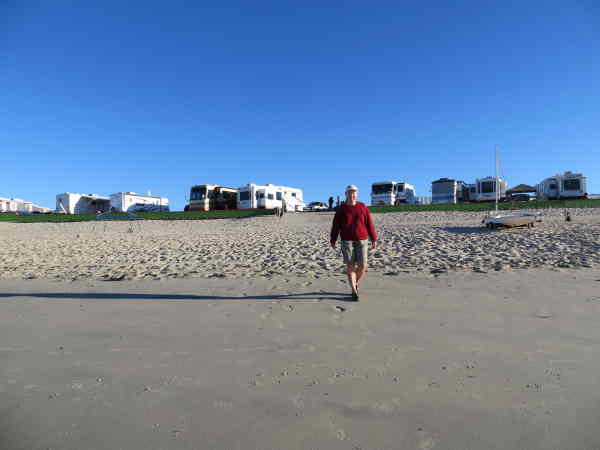 The low tide was shortly after 6 am this morning, so we took advantage of it to walk along the beach. Don't let the big smile fool you. Within seconds she was asking me to support her so she could empty the sand out of her shoes.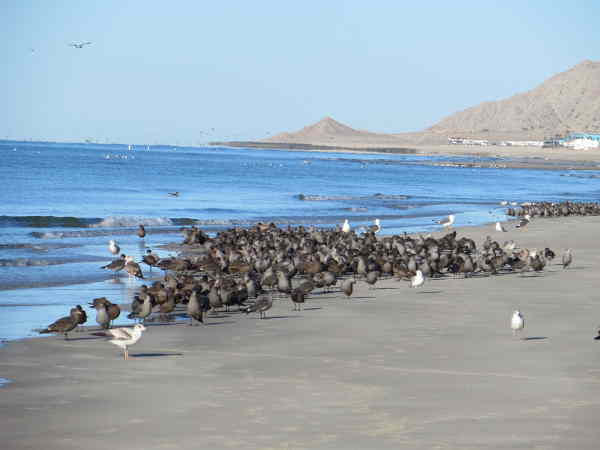 I wonder if this was breakfast flock or indigestion flock?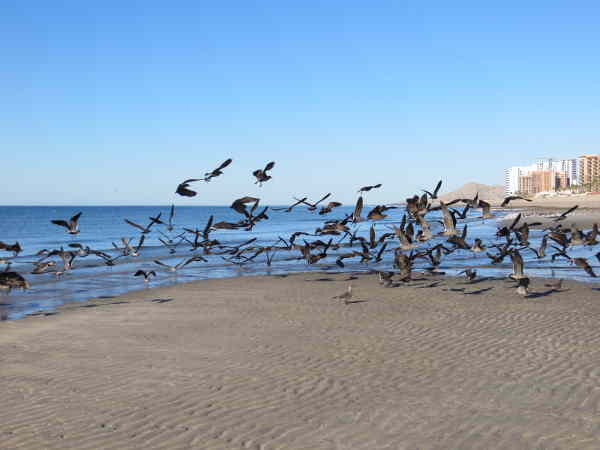 When I walked up to them to ask them that question, this was their response.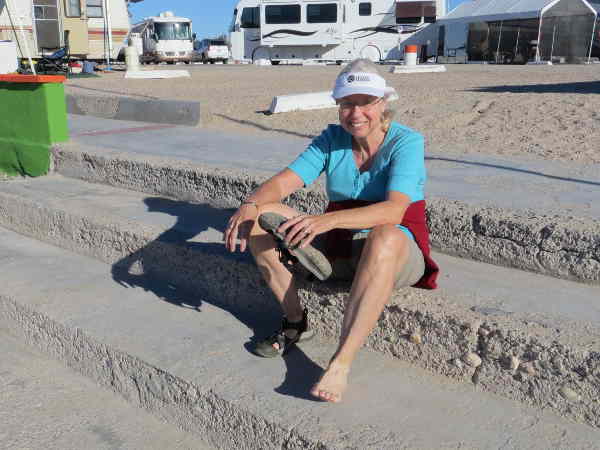 Surely she didn't think I was going to let the day go by without a photo of her with a shoe off? Did she?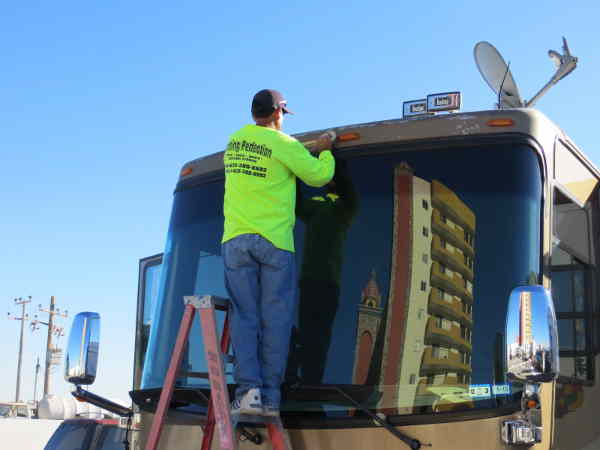 Today masking tape went on all the lights in the areas they will be painting. Like I said before, mañana means just that. No hurry, no worry.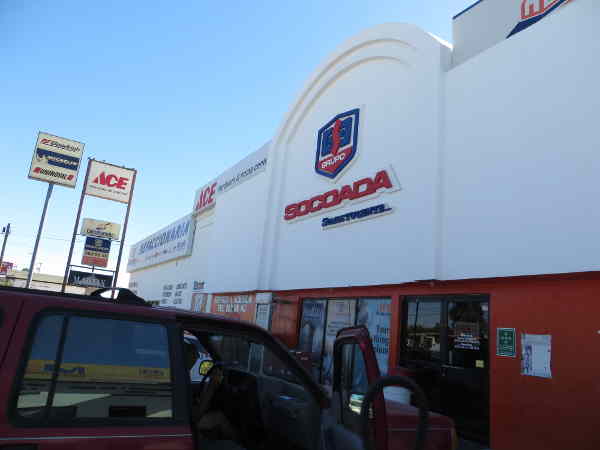 During an outing today we visited the local Ace Hardware Store. They carry the basics, but do we really need the 10 times more of everything the Ace stores carry in the US?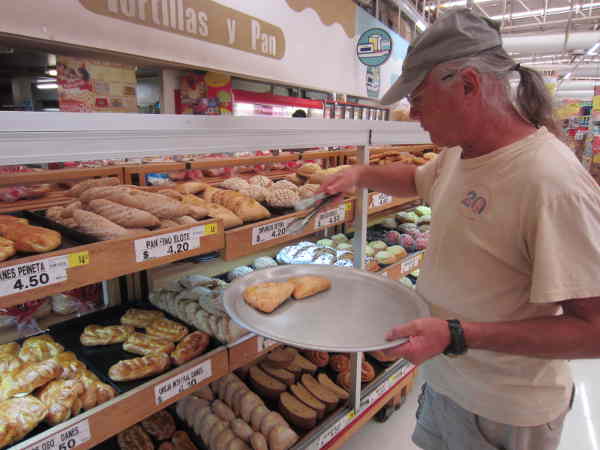 Picking out desserts at Super Ley. You take the tray and tongs, put what you want on the tray, carry it to the counter and they price and package it for you. Vanilla pudding filled, pineapple filled and almond flavored were Linda's choices. We had the almond with lunch, it wasn't as good as we remembered it, but I sure didn't notice Linda refusing to eat it. Me either for that matter. Tomorrow we will have the good stuff.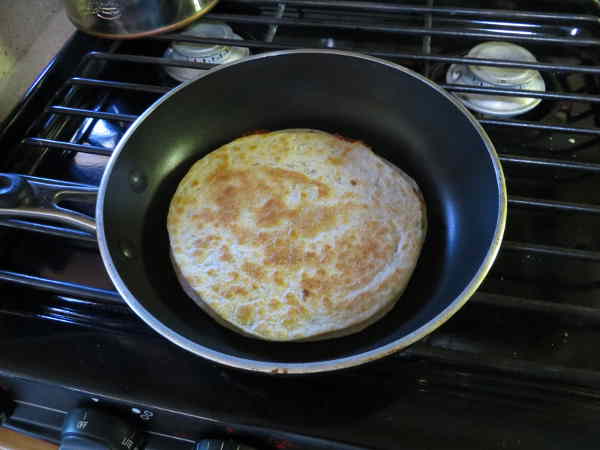 Linda started to fix a quesadilla for lunch, then had to go up to the laundry to get a rug she was washing. I was told my fate was in my hands, and I had better turn the quesadilla at the right moment, then grill the next one also. I quipped to her, "Don't worry, I'll be all over it like a blanket."
Her response was, "Sure, like a wet blanket."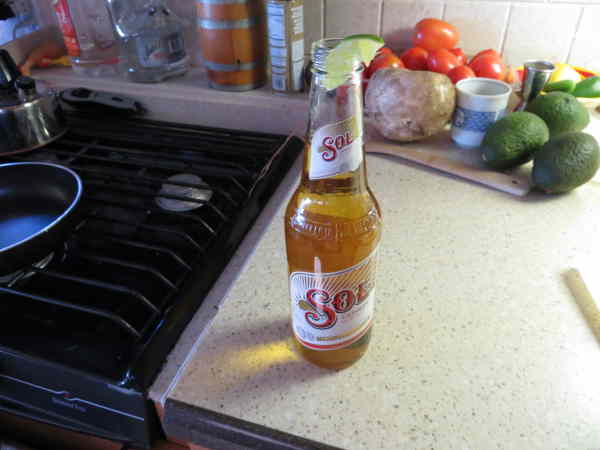 John. this one is for you!!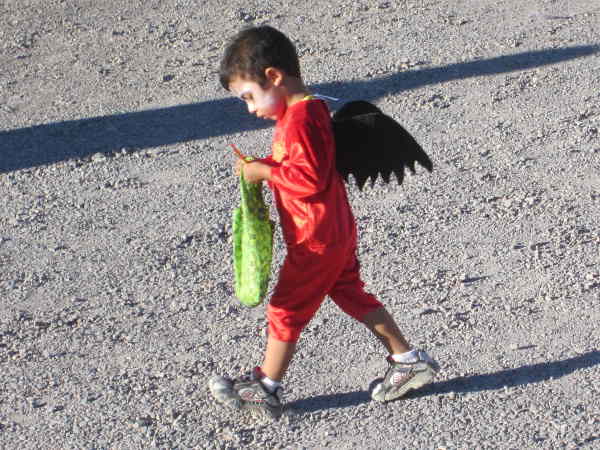 Today was Trick or Treat day at the park just like in the States. It was so cute. I like the way Mos Def, the actor and recording artist put it: "Th(e) idea of peace and love toward humanity shouldn't be nationalistic or denominational. It should be a chief concern for all mankind."
---
---