Journal Archive 1/21 - 1/31 2014
Scroll down to read the latest post
Tuesday January 21 Sacramento, CA
A Fun Day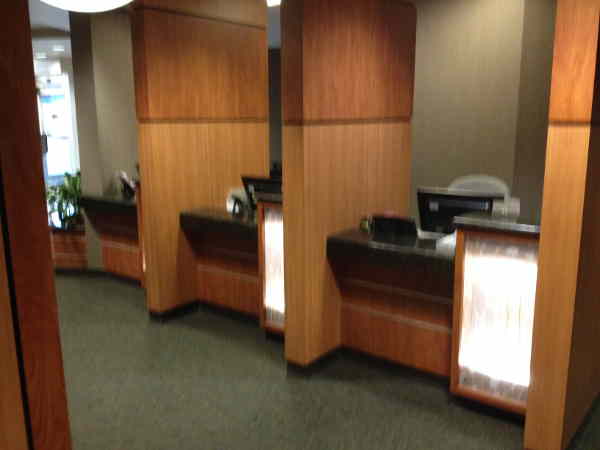 Do not attempt to adjust the picture on your monitor. I am controlling its transmission. I control the focus and have made it a soft blur, you cannot sharpen it to crystal clarity. For the next few minutes sit quietly and I will control all that you see and read. Beyond Limits of Adventure. Because We Can.
Yes, I know I've done much better in the past, but when the photo I took in the medical office early this morning before the Byrds were even ready to sing came out blurry, what else could I do. And yes, for me The Outer Limits (1960's version) was and still is, must see TV.
But returning control back to the present, the visit was for an x-ray of our son's lungs. He laughed as he came back out to the waiting area, it seems the x-ray technician's comment when she saw what his lungs looked like on the x-ray was - YUK!! In the afternoon there was visit to the doctor and he learned all was coming along just fine, it will just be a long time before he is back to normal and his lungs won't look like yuk. We are just so glad the glass is half full. Happy Mom and Dad.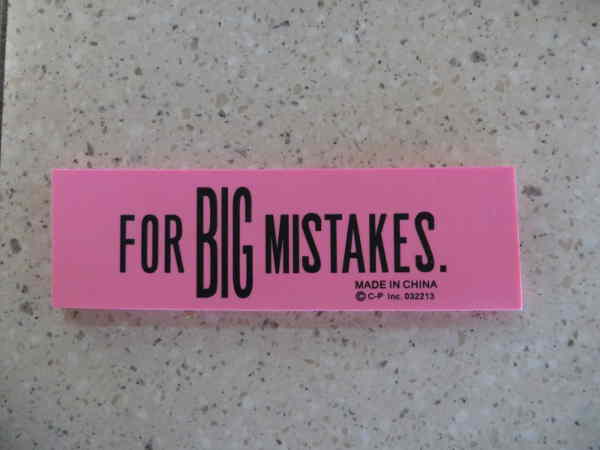 Linda took him to the afternoon doctor appointment and when they returned they brought me this giant eraser. I had texted Linda the above blurry photo when we arrived at the x-ray office this morning so she would know I had actually got him there at the right time. It seems there had been some skepticism on her part as to my ability to accomplish said task. I don't know for sure what the exact meaning of the eraser was though there was a comment about it being best to delete some photos, and take better ones before sending them. Underappreciated Bob.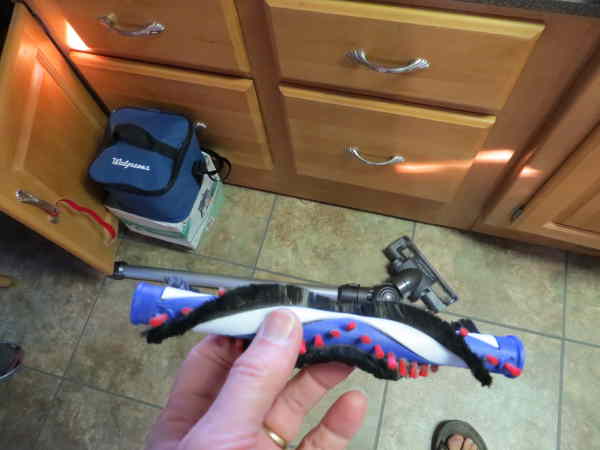 The daily Dysoning yielded the usual large amount of dirt. The powerhead also gets hair wrapped around the brush and today as Linda was picking it out I got the bright idea that something that worked as awesome as this vacuum had to be designed to be easy to clean. That was when I noticed the lock and unlock symbols on the end of the head. A twist with a quarter in the slot and a moment later the brush was in my hand. Brilliant Bob.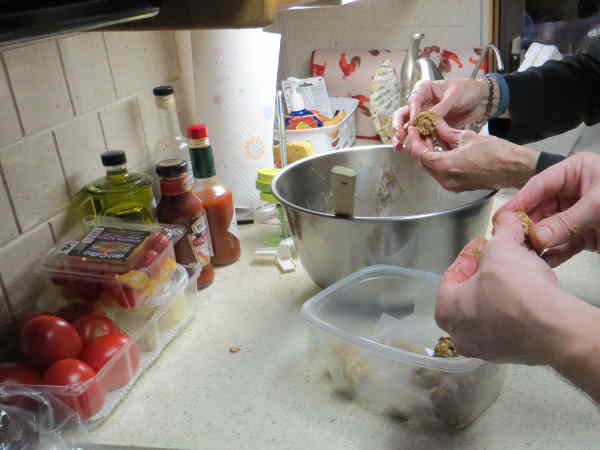 I just realized that yesterday's Daily Journal was an all Linda post and this one was turning into an all Bob post, but not any more. We now turn our attention to dessert, an area where Linda is without peer. Now she claims to be very carefully watching what she eats, something about gaining all manner of pounds when we are in Europe later this year and the need to prove space for that accumulation while maintaining her shapely figure.
I understand this is where I am supposed to say something about the extra weight being okay because there is just more of her to love. However, wanting to live beyond the moment in time when she would read those words, I will refrain from uttering any such remark. Very Smart Bob.
What they were doing was making something Linda explained as "Energy Bars". Since they are round and look like balls I could be excused for being somewhat skeptical. I did note that she was doing a great deal of quality control tasting during the time it took to make those "energy bars." I heard comments about wanting our son to know how to make them, having fun making them with him and it was good to have him up and doing something he enjoyed. Me, I just smiled and kept my mouth shut, other than the few times I substituted for her in the quality control duties that is.
I'll leave you today with the words of Russian poet and essayist Joseph Brodsky: "Cherish your human connections: your relationships with friends and family."
---
Wednesday January 22 Sacramento, CA
An Illuminating Day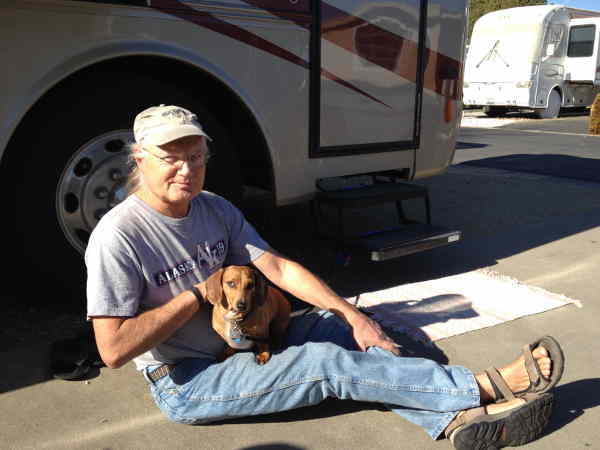 We had a visitor today and she is a real sweetie. Our daughter has been keeping our son's dog and she brought him over for a visit. As expected Snookie had an eye only for one person when she first arrived, but then after getting in some quality time with our son, it was wiggles, kisses and lap time for Linda and I. And no, it doesn't make us want to get our own dog, two fish are enough thank you.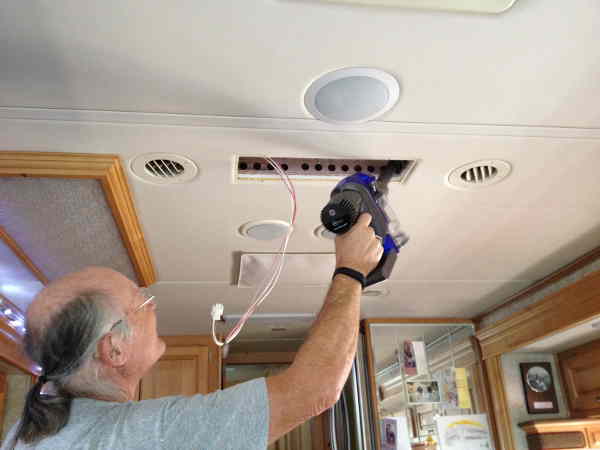 I know what it looks like but Linda did not have me Dysoning the "rafters" of the coach. For the longest time I have wanted to replace the fluorescent bulbs in the overhead fixtures with LED strip lighting. While we bought LED bulbs to use in the puck lights and the wall mounted lights in the coach, we didn't for the overhead fixtures because the cost of buying LED bulbs was prohibitive.
After reading the many posts of RVers who took the plunge and replaced the innards of their ceiling fixtures with LED strips, I decided that it must not be that hard. We like the cool white LEDs which some refer to it as having a blue tint, the same as we used for the other lights. So the other night we exercised our shopping fingers and with an assist from Amazon Prime the the free second day delivery, a package arrived this morning. What the above photo shows is me vacuuming the hole where the recessed fixture was before I removed it to install the strip lights. Linda does not like a mess on her floor and I just knew if I didn't do this cleanup right now I would track little particles all over the coach and my Life would be be heading towards being no longer spelled with a capital "L" but rather with a small "l". Cleanly Bob.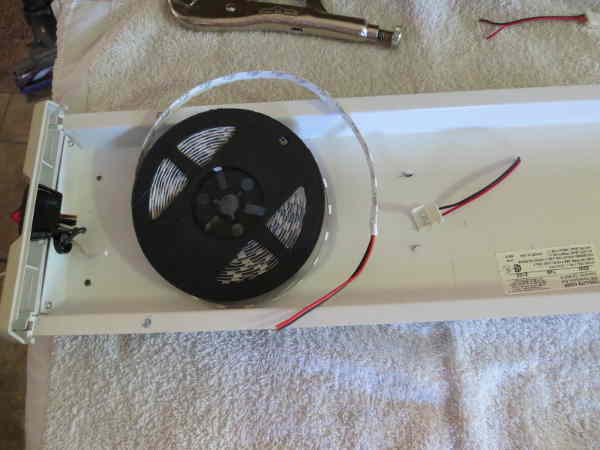 Not to bore you with a bunch of photos of the install, but let me say it far easier than I thought it would be and we sure took a lot of photos. The biggest thing is deciding which kind of strip light to buy as they come in different chip sizes and temperatures (which relates to the amount and color of the white light). Here you can see the fixture with all its innards removed and the roll of LED strip lights and a connector. The rolls come 5 meters in length and the connectors mean you don't have to solder the connections.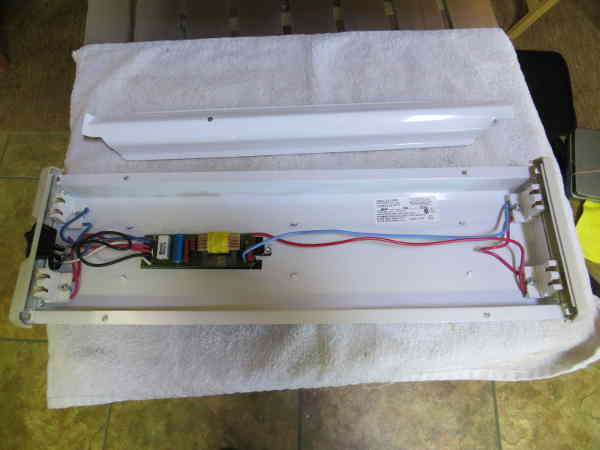 In a flashback, a photo of the fixture innards prior to removal. It was very easy as it only involved drilling out six pop rivets and then cutting two wires from the ballast. I removed the ballast and the bi-pin lampholders to have more space to place the LED strips. You have to disconnect the ballast anyway because the strips require 12 volts to operate, so it was just as easy to take everything out, which is what most people do when doing this upgrade.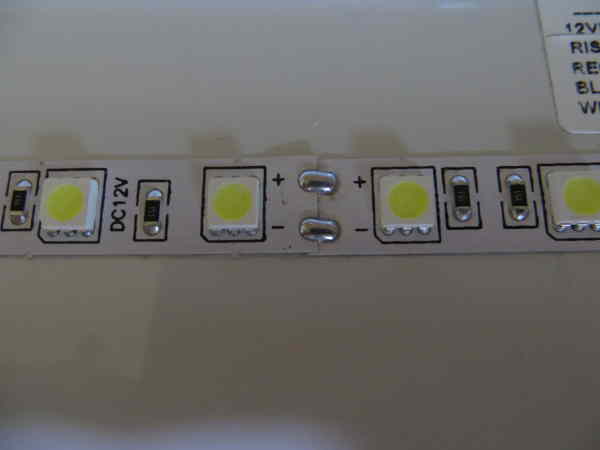 Closeup of the LED strip. It is well marked and there is a self adhesive peel and stick back. It was almost too easy to work with. It's one of those things you don't know how easy it is to do until you try it. Sheepish Bob.
The strips installed and wired in. And it worked when tested. A keen observer may notice the rows of LEDs are not in perfect harmony with one another. Linda used other words to describe how they looked, but I'll leave it to your imagination as to what they might have been. From my point of view, it is just a light and does it really matter what the inside of it looks like. Besides they were 94 and 68/100's straight. What did she expect, perfection? Ain't gonna happen babe, after all these years you should know all to well it ain't ever gonna happen. Hopeful Linda.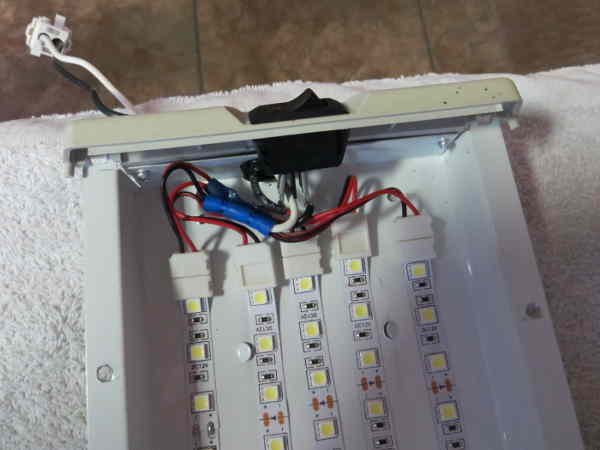 Close up of the wiring. I used insulated crimp connectors to join the wires. On the next ones I will put a piece of heat shrink tubing over the crimp connecters.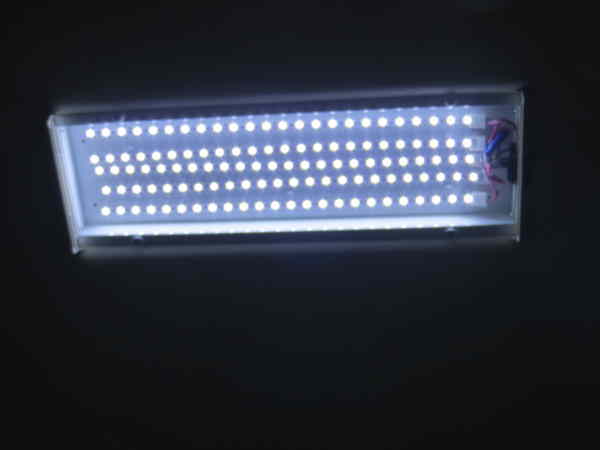 The fixture installed and the light on, with the cover off.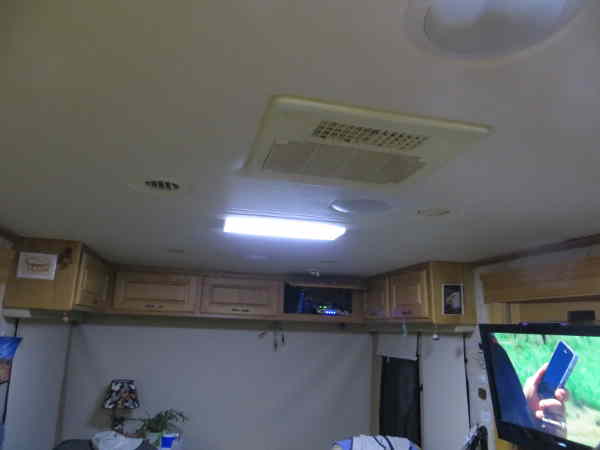 Now that the first one is done, they want all the overhead lights converted the same way. There were also suggestions for placing strip lights at other locations in the coach, i.e. the kick panel under the sink and cooktop, under the vanities above the two bathroom sinks, and also across the front of the coach under the cabinets. I can't wait to install some in the bays and on the bay door where the grill pulls out.
Another order for more rolls and connectors went in tonight to Amazon. There was also a roll of waterproof LED strip lights as part of the order. It looks like even Red is going to get his lighting upgraded. Like I said at the beginning of today's post, it was certainly "an illuminating day".
---
Thursday January 23 Sacramento, CA
A Delicious Day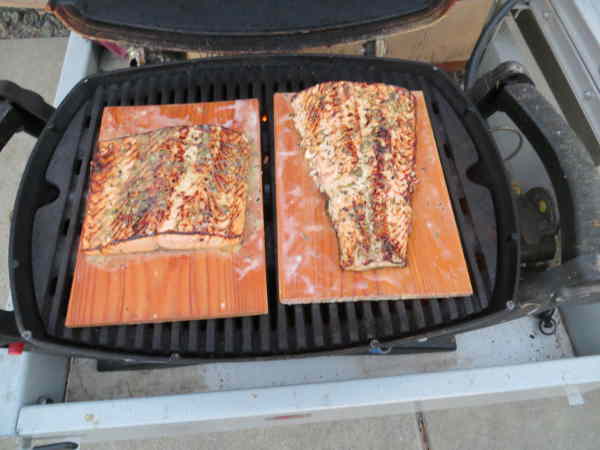 The highlight of our day today was not lighting, it was food. Our daughter had brought along some planked salmon when she visited yesterday. Fearing that it was getting too old, Linda put it at the center of the night's menu. Smart Linda.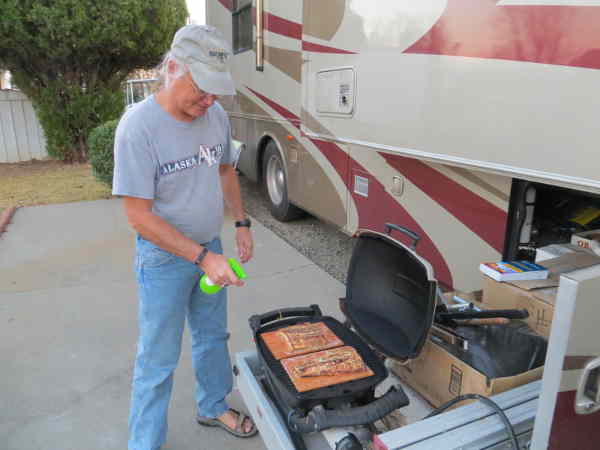 Reading the instructions for grilling the salmon Linda discovered there was a warning to keep a squirt bottle of water handy in case the plank caught on fire. That necessitated a trip to the store on her part to buy said device. As you can see, given the size of the bottle she wasn't anticipating a major fire.
I read the directions, grilled the salmon exactly as stated, and never had a flare up to extinguish. The only squirting that was done was Linda squirting me when she showed me how to use the squirt bottle. I sure am lucky to have such a wonderful wife, one who wanted to make sure I was fully trained in the art of flare extinguishment. She sure did a good job since I somehow managed to grill the salmon to perfection.
I would be remiss here if I did not mention an intolerable failure on Linda's part. I know she really tries to be the perfect soulmate, but today she was at best, an abject failure in that department. It was my dad's favorite dessert, it is something that I can never pass up, but she ignored everything about it. Today was National Pie Day and Linda did not make a pie. Devastated Bob.
As I have written in the past, not every day in the Life of a fulltimer is crammed full of wonderful experiences, some days you do very little and today was one of those days. On the other hand there are people our age who are still working because they want to. How sad it would be to look back and realize that time has run out to do those things you really wanted to do because you started doing them too late in life. I think of my Aunt Vesta who was a dairy farmer's wife. In her late 80's she said that she never got to see the places she really wanted to because the cows always came first and now she was too old to travel.
Life is not a dress rehearsal. Don't be afraid to laugh, love and retire early.
---
Friday January 24 Sacramento, CA
A Good Day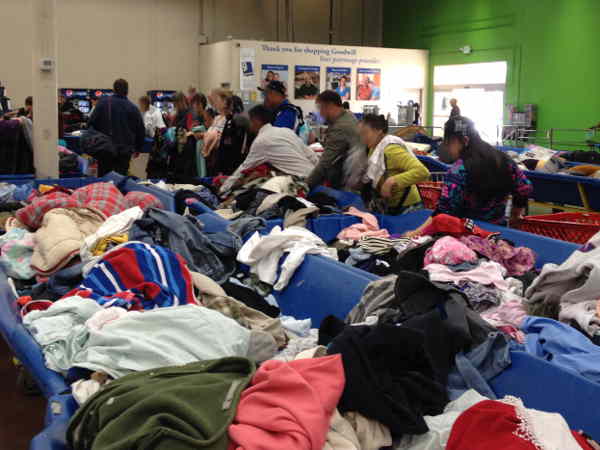 Linda was back at the Goodwill outlet store today. She had shopped there a number of times when we were here in the spring and today she worked up enough nerve to go face the wild crowds once again. Just because she didn't participate in the any of the mayhem when a new bin was brought out, didn't mean she came empty handed. I now possess the parka I will using in Sweden and Norway next summer.
I teasingly asked if it said, "Her Slave" on it. She thought for a moment and said, "I could probably get it printed on it." It might be in my best interest to rethink teasing her in the future. Worried Bob.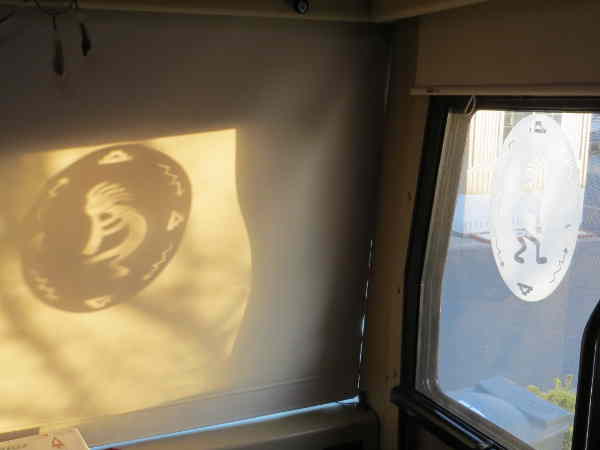 I never get tired of seeing the kokopelli on the front shade. For us it is a wonderful reminder of the awesome Life we live, even if at times we suffer a bump or two in the road. The road is not straight and true, but then, the joy of the traveling Life is the thrill of finding out what is around the next bend.
Got a package today. Got a lot of work to do in the coach. Got lights to make bright. Got a girl to make smile. Got two of seven fixtures done. Got some more to do tomorrow. Got even more to do the following day. Got smart finally. Got LED light in the coach. Got very bright light in the coach. Got sunglasses to find. Gotaroundtoit Bob.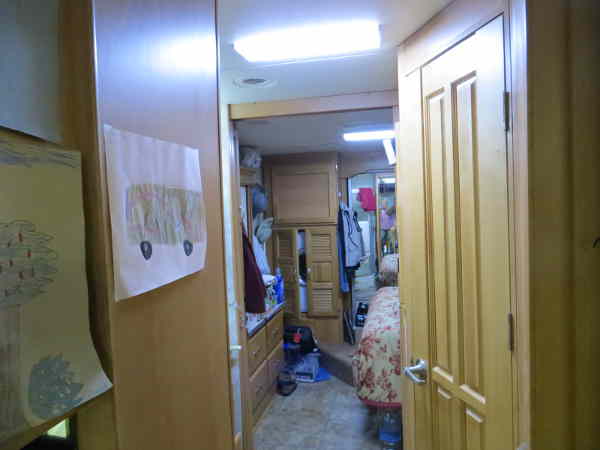 No half dozen photos today on how to change out the overhead lights. I did the bedroom and hall lights, using 5 strips in the hall and 6 strips in the bedroom. Linda can not believe what a huge difference in the amount of light it made. As she put it, "We just didn't know how dark is was in here because those were the only lights we ever had."
For the dollars invested this is the best upgrade we have ever done in the coach. Linda is already seeing other places we can put additional strips to highlight areas of the coach. If we do everything we are talking about we will have every vertical surface in the coach covered with switches to control all those lights. I can see it now. We pull into an RV park, darkness descends, someone looks over at our coach and says, "Isn't that Because-We Can?" and someone else replies, "Yes, but now they are known as Supernova."
I think back to all the forum posts I read and all the things the few, but very vocal naysayers said about overheating, poor amount of light, difficulty of installation and on and on. Just because they didn't know how to do it right and thus in their opinion anyone was a fool who tried to change over to LEDs, doesn't mean anything. This was a case of my letting my common sense take a vacation instead of just doing it.
I'll end the day with the following from Dale Carnegie in his book "How to Win Friends and Influence People" which is one of my favorites: "Any fool can criticize, condemn and complain - and most fools do."
---
Saturday January 25 Sacramento, CA
I Erred To-Day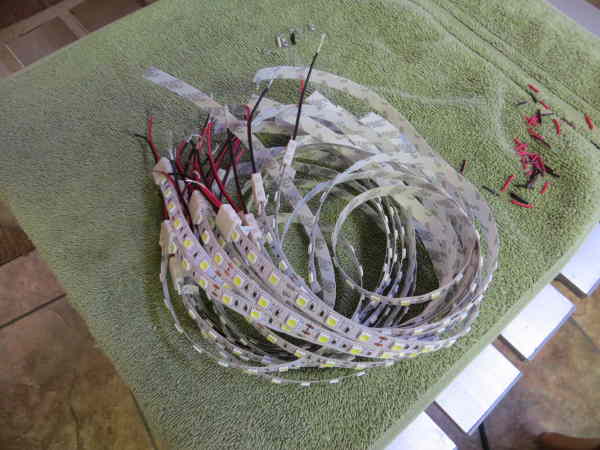 As I posted yesterday, there were quite a few lights to be changed out today. At least the organization of the process was made more efficient by cutting several rolls into the correct length then attaching the leads instead of doing each light individually from start to finish. It sure made things go faster.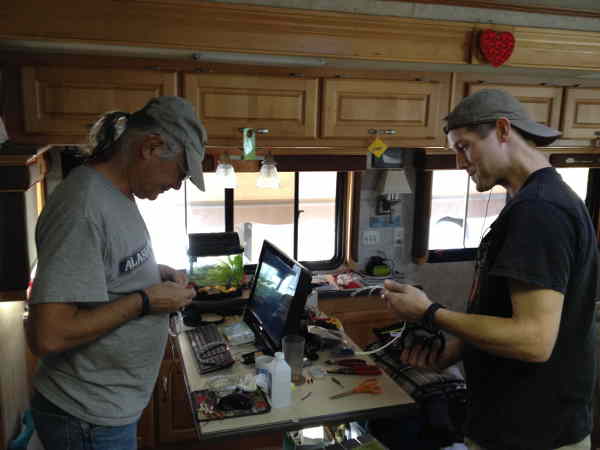 I can't even claim to have come up with that time saving idea, as it was our son's idea. Then to make it even more efficient he cut all the rolls to the correct length while I put the connectors on them. He cut all 25 strips to the correct length. I put two of the 25 connectors on wrong. Th polarity of the lights matter and the red lead was always the hot side and the black was the ground. To connect up the lights, I connect all the red leads together to the hot wire from the switch and the black wires to the white ground wire. Pretty simple stuff, or so I thought. Befuddled Bob.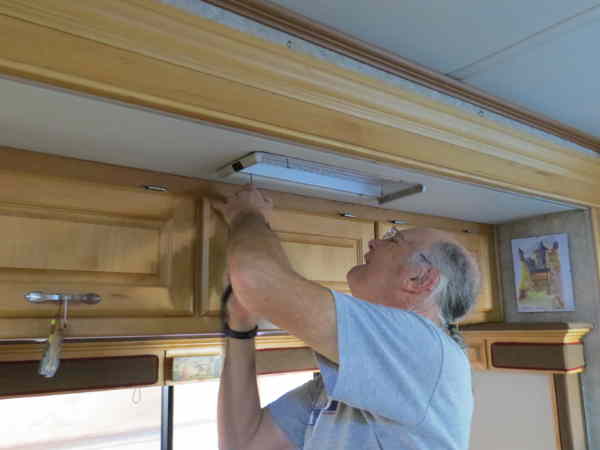 Among the lights I changed out today was the one over the loveseat. That required moving the loveseat out into the middle of the coach. All in all the installation was easy. I used five lights to make sure Linda would have enough to illuminate anything she wanted to read since that is where she sits to read. Smart Bob
Unbeknownst to me Linda took this photo while I was fastening the light to the ceiling of the slideout. I'd like to say that I work with my mouth open so that if a I were to drop a screw I could possibly catch it with my mouth. Nothing could be farther from the truth as the only thing I'd probably catch in my mouth would be a fly. Hope that doesn't ruin my image of "abject" perfection I work so hard to cultivate. Tarnished Bob.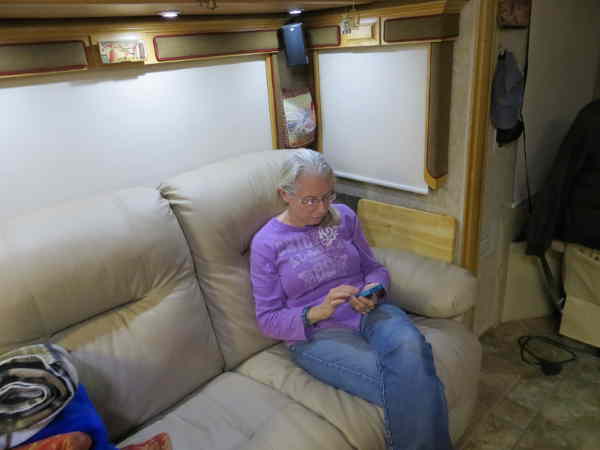 Linda doing her thing under her new light. Unfortunately the light is off. Recall the title of today's post? Well, that's what I did when I put five strips of LED's in her light. Seems it so bright it glares something terrible and she can't have it on. I sat there and sense no glare. I politely mentioned I was not cognizant of any stray light rays. I was ready to expound further on my observations when I realized there was was a very bad glare. Unfortunately it was the expression on Linda's face. So with a big smile I said I would switch the light out tomorrow for another one with fewer strips. Smart Bob. Happy Linda.
I was also excited about the light over the sink. From day one that has been more a dark hole that a sink. Going all out I put 6 strips in that light. After Linda finished washing the dishes she smiled and said the bright light made far easier to work at the sink. My chest was puffing out when she added, "And it shows every speck of dirt." What can I say, I like light, lots of light. Guess she'll either just have to get better at cleaning the sink and counter or learn to live with it.
Sure Bob, in your dreams. In your dreams. Looks like I will have the job on keeping the sink and counter spotless from now on. I know there is a verse in the Bible about, Let there be light, but I don't think there was anything about man cleaning the sink.
I see the lights, I see the brighty lights
They're light and white and bright.
Oh every single crumb and spot shows there
Yes you want to make me to clean the sink.

Oh, Linda dear, a looky here look here,
There's no crumb there.
I see spotless and shine oh oh and how clean it is
Oh oh oh oh - where did I put the cleanser.
I see the lights I see the lights.
What can I say, it's been a while since I have done one of these and I know for sure that Claudine Clark has nothing to fear. Wonder if her sink is as clean as ours? Linda commented to me after reading yesterday's post that it looks like I have too much time on my hands. Wonder what she'll say after reading this.
---
Sunday January 26 Sacramento, CA
A Very Busy Day of Rest Day
Took a vacation from modifying lights today and spent the entire day working on this year's trip to Europe, so no photos. Reservations made, requests made, guide books read, website after website visited, multiple travel forums read, and requests for lodging availability made, it was that kind of day. We know the general area in Germany where we want to spend the week after our Norway cruise ends, so it was also time to do some major research into the German states of Sachsen, Sachsen-Anhalt and Thüringen. They are in the former East Germany so they are not nearly as heavily visited by Americans as places in the form West Germany.
For example, I discovered there is a very neat museum in Zwickau, the town where the infamous East German auto, the Trabant was manufactured. Those are the kinds of things we like to do, plus they now have english language audio guides you can rent to use as walk through the museum. As of now it looks like we might spend part of the week in Leipzig which is a good city for day trip rail connections, then at midweek move north towards Magdeburg which can also be used as a day trip center to visit towns in that area. We absolutely love the cuisine of Saxony, so regardless of what we see, we know we are going to eat very, very well. Potatoes and pork, thee in thy many incarnations we will savor. I like how Linda puts it: they just know how to cook pork and potatoes.
We are definitely not the 10 cities in 14 days type of travelers, even though we may spend time in 10 different places in the 14 days via day trips. Nothing like sitting back and relaxing at an outdoor cafe watching all the tourists rush by as they try to take in another site before the day is over. Then we can head to the train station, enjoy a relaxing ride back to city where we are staying while they jump in their cars and try and find a room for the night.
That is not to say that cars are unnecessary, because they certainly are depending on where one wants to travel. We see this week as a vacation from our vacation, even though the previous three weeks will have consisted of a Rick Steves Scandinavian tour and the Hurtigruten Norway coastal cruise. What can I say, sometimes one just has to tough it out then kick back and relax. And in a way that is what we did today after several days of modifying lights, just kicked back and relaxed. Life is good.
---
---