Journal Archive 3/11 - 3/20 2014
Scroll down to read the latest post
Sunday March 16 Visalia, CA
A Travel Day
We finally left Sacramento this morning and are slowly heading toward Rio Grande Valley and thus it is time to get back to posting.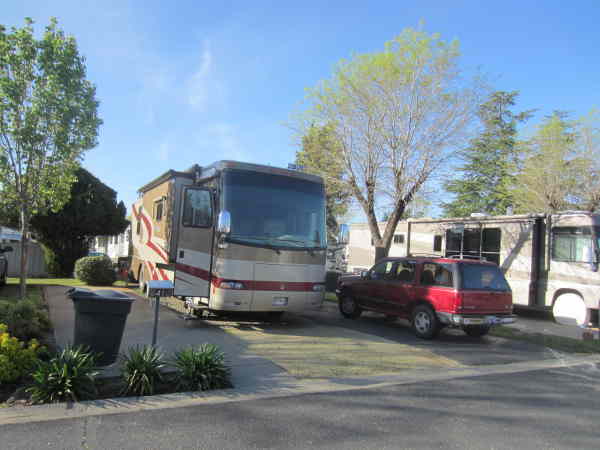 We had arrived shortly before Christmas, paying for two weeks for above site and expecting to leave in time to be in Quartzsite to attend the New Christy Minstrels concert and then spend time with several RV groups we have stayed with in the past. Little did me know how greatlyour plans would change. It has been almost three months since we arrived, but now things are at a point where we can leave knowing that things were back to the new normal, a far better normal than when we arrived.
We'd like to tell you about this RV park, but as everyone who stays here says, "This is one of the hidden secrets of Sacramento", so we won't. I will say it is centrally located for us, is very reasonably priced and if you can live with its over 55 age and minimum one week stay requirements, it is truly a hidden gem. Since we want them to have spaces available when we visit in the future, we, along with everyone else who stays there will say no more. Devious Bob.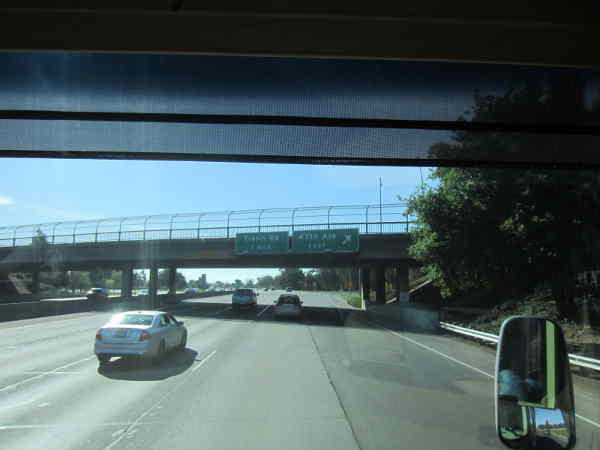 Just to prove that we really did leave Sacramento. Note the coach's mirror on the left side of the photo.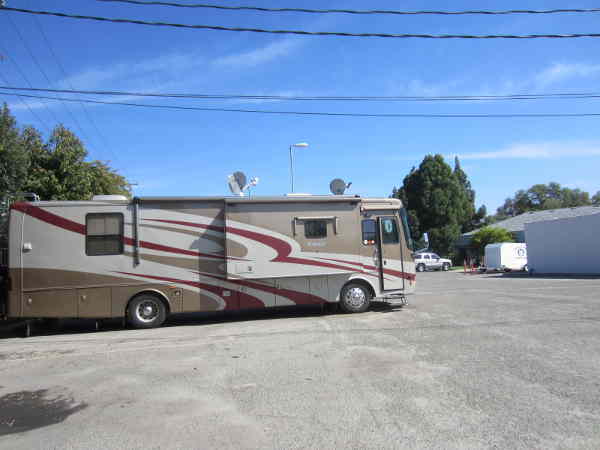 About 170 miles down the road, Hwy 99 being the road, we arrived at our stopping point for the next two nights, the Elks Club in Visalia. Yes I can be a real wuss, not being able to drive very far that first day out after setting in one place for a while. The bottom line is that we don't have to be anywhere on a certain date so we can travel at our own chosen speed. And not only that, but we are going to be here for two nights. The rest of the story is that there are high wind warnings posted for the Mojave area tomorrow, that being our next stopping point. 50 mph wind gusts? I don't think we will be driving in them. Smart Bob.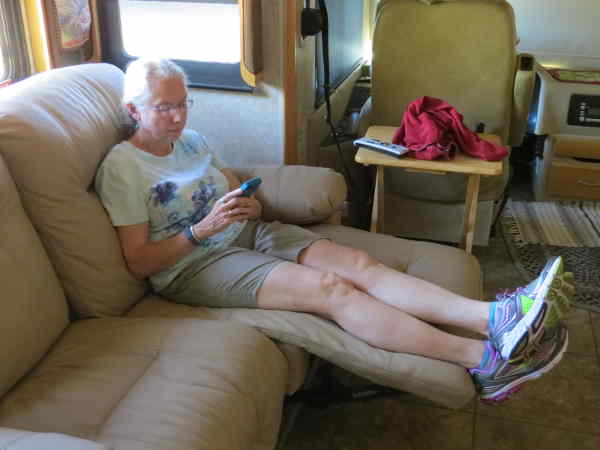 Once we arrived we relaxed, and not without reason. First, when we were hooking up to leave Sacramento, the lights on the Explorer would not work. Linda came to the rescue remembering we had contact cleaner. A quick spray and everything was working as it should. Then during the drive south we discovered the fuel gauge in the coach was stuck on full. We usually go about 450 to 500 miles between fuel stops, so no problem today as we were leaving with the tank full. Hopefully it is a simple problem with the ground and I can fix it tomorrow. Otherwise we will watch our mileage.
I want to leave you with a brief synopsis of why we ended staying for three months rather than two weeks. Two adult unmarried children and a grandchild, each of them hospitalized twice during our stay. Two of them in extremely critical condition, one of them a single breath away from dying. Two of those stays were over 10 days with bills over $100,000.
I won't go into details. Still, our oldest grandson had been ill for months, his condition worsening by the day as he wasted away (and he was not the most critical of the three). Our daughter was almost beside herself, Linda staying at the hospital with them. Various treatments had been tried, but nothing was working. Our daughter was a real fan of the TV show, House M.D., and she told Linda that what she needed was for House to appear and come up with the treatment that would work.
It was only hours later that the hospital's version of House appeared. He was an on call specialist who was only called in for the most difficult cases, and his word when it can to treatment was God. It only took 24 hours from the time he examined our grandson and prescribed a regimen of treatment until improvements were noted. And on that note I will end this post.
---
Monday March 17 Visalia, CA
A Great Day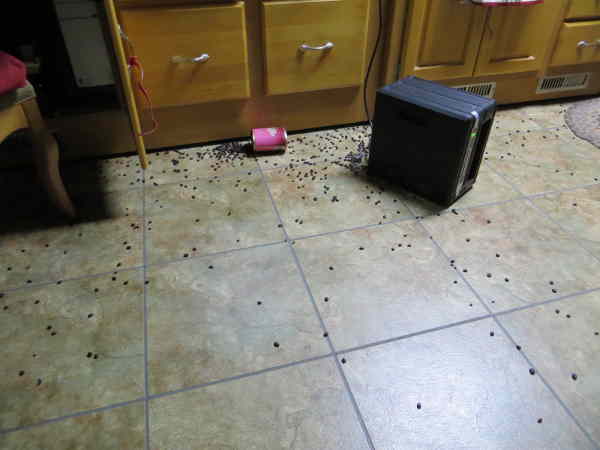 Every morning my first words to Linda always bring a huge smile to her face. This morning after she answered "Yes", I set about making my usual response. Unfortunately it didn't turn out to be the same as usual. The lid on the coffee can stuck, my hard pull to loosen it did more than loosen it, the lid came off and meanwhile the can which was held in my other had struck the edge of the counter and fell out of my grasp. I can only label this one: Clumsy Bob.
Before I started to clean up the beans, which had managed to fly into every corner of the front of the coach, I asked her if she wanted me to save the beans. I was rewarded with another big smile and a soft, "No." Nice Linda.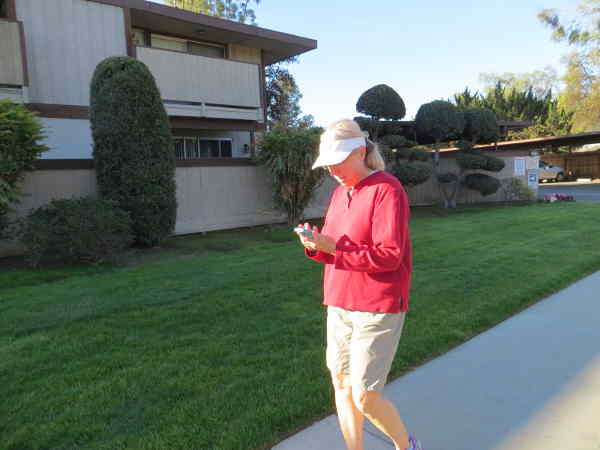 It's been a while since I posted one of these. As far as the walk went, I had to empty rocks out of my Tevas on four different occasions to Linda's once. I may never live this morning down and I know who is going to make sure I don't. Just wait, the next time she gets a rock in her shoe there are going to photos all over the Internet.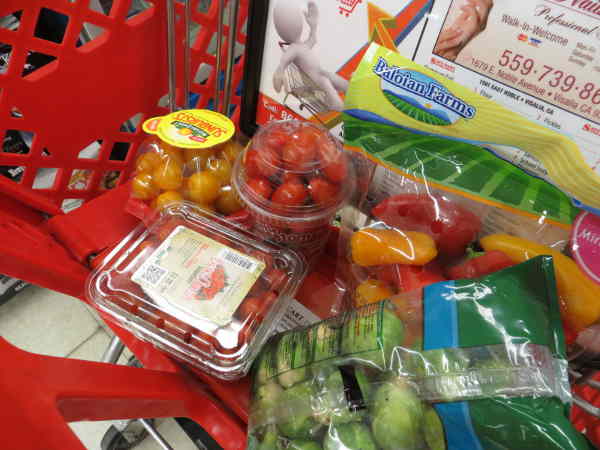 Since we will be boondocking in the desert in a few days, first in Quartzsite followed by Imperial Dam, she who maintains the shopping lists wanted to make them disappear. Our first stop however, was at the post office to mail an ebay package. She has this nack for finding books, pamphlets, etc that she can sell for 10 to 30 times what she pays for them. Another one went in the mail this morning. Before you get to excited about this, her usual purchase price is 25 to 50 cents. She has fun doing it and it gives her a little fun money.
Back to the photo, while we shopped I had mentioned that she needed to make sure she bought some of the small tomatoes she eats like candy. Waiting in line to check out I could see she had a hard time deciding which kind to buy. I guess I should be glad they didn't have more kinds. Tomato worm Linda.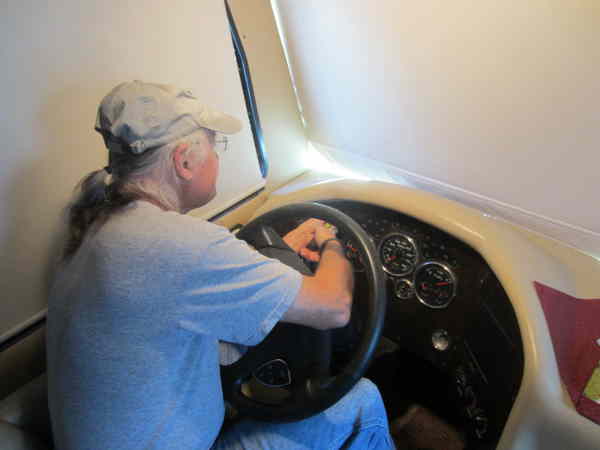 With time on our hands, I tackled the problem of the wayward fuel gauge. Trying the obvious first, I took out the 12 screws that held the dashboard in place.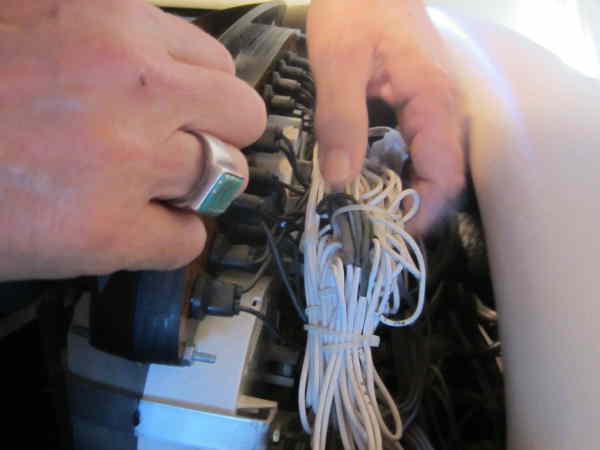 Nothing ventured nothing gained. Unfortunately it wasn't a loose connection. And the photo doesn't begin to do justice to the unreal mass of wires that are there. It took longer to remove and replace the screws than it did to check the connection.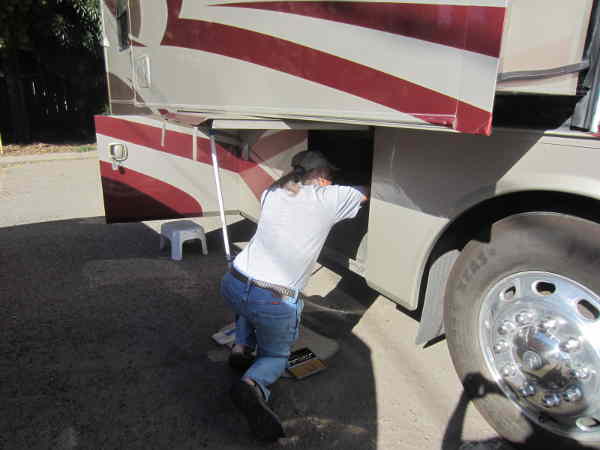 Next was to check out the connections on the top of the fuel tank. There are access doors on each side of the fuel tank and of course the one I opened first was the wrong side. The screws holding it closed were so rusty they broke off when I tried to remove them, and I ended up putting a couple of zip ties on to temporarily hold the the panel closed. Then I couldn't break the screws loose on the other side, plus we couldn't find the rust buster spray and I was running out of gas myself. We called it a day. We can easily drive with it the way it is and who knows, as Linda said, the float may just be stuck and a good bump in the road may break it loose. Optimistic Linda.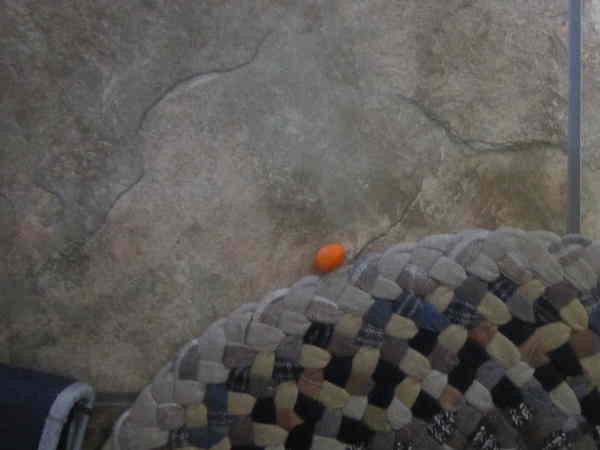 This one is for our son. While recovering from his extremely critical illness, he spent a month with us in the coach. He enjoyed eating peanut m&m's and Linda supplied him with large bags of them. The first time we stopped yesterday we heard a noise and Linda looked down to see an m&m rolling down the floor of the coach to come to a rest against the rug that is between our seats. We realized it was his his way of wishing us safe travels. We love you Rich.
---
Tuesday March 18 Mojave, CA
A Travel Day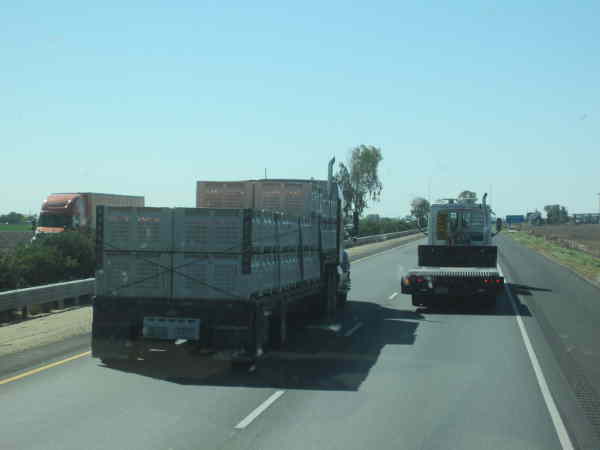 Still trying to get back into writing mode. Another travel day, this time to Mojave, which was not a long day but it was busy on Hwy 99. The road is lined with fields growing things that people eat or drink. Linda had to take a photo of this truck loaded with oranges that passed us. In fact almost everyone passed us by as we we took it nice and slow, meaning we traveled at the speed limit.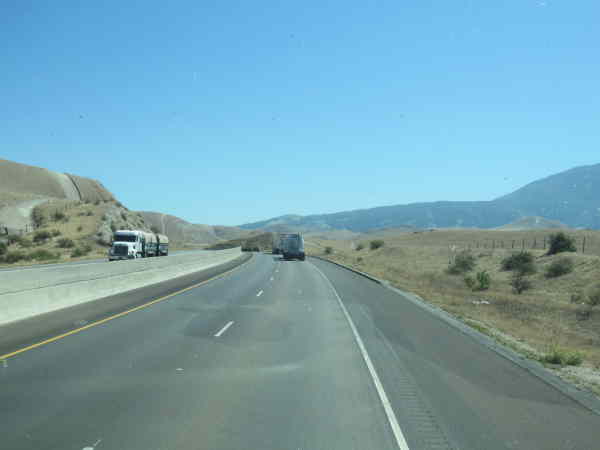 Once through Bakersfield it was up and over the Tehachapis. We lucked out as traffic was spread out enough we were able to maintain a speed of 55 mph even while passing a number of truck going much slower due to the upgrade. I couldn't understand why Linda kept such a firm grip on the grab bar by her seat, but at least she didn't say anything about my driving, which means I did good.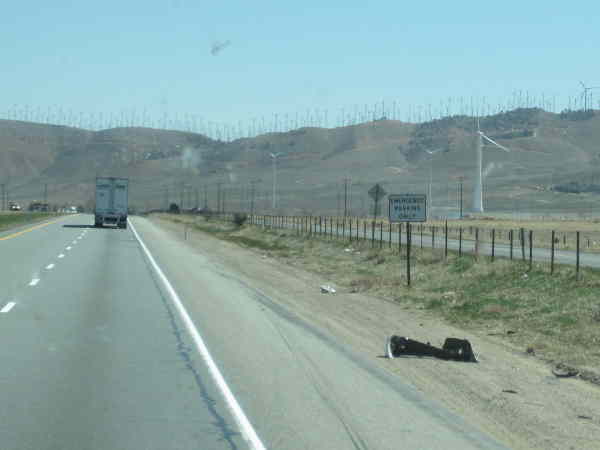 The summit ridge in sight. We had waited out the high winds of yesterday and it was downright calm today, or as calm as it can get up here.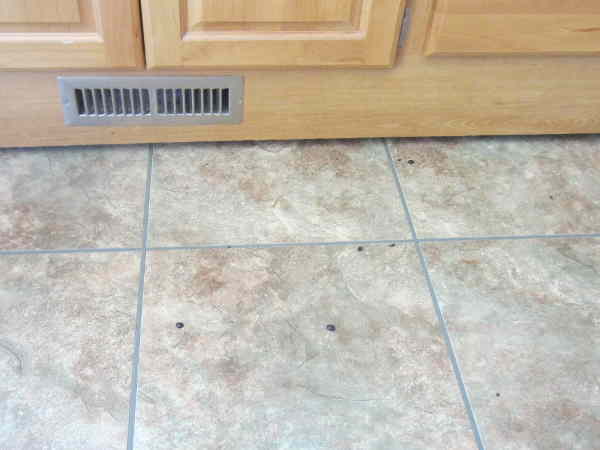 When Linda put the passenger side slide out look what appeared. I was outside hooking up the utilities so I didn't get to see her reaction. What can I say, I tried to clean them all up the morning I spilled the beans. Hopeless Bob.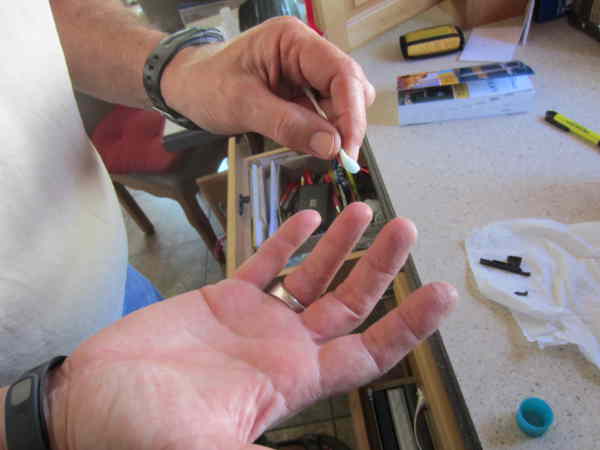 Guess what, you really can glue your fingers together with super glue. In fact you can glue the plastic part you are holding until the glue dries to your fingers. Note the lack of skin on my finger tip. The best part was that Linda's first reaction wasn't concern for my immobilized appendages, it was whether or not I spilled any super glue on the counter top, because if I did she was going to have to clean it off right then or it would eat a hole in the countertop. At least that was what I was told. Looks as if I have been doing pretty good living up to the worse part of the for better or worse in our marriage vows. Poor Bob
I forgot to use photo yesterday. There is a group of lemon trees near the Elks Lodge and every time we stop here Linda picks some lemons to make fresh lemonade. As far as a caption for this photo, I'll let you readers supply your own, though I know what mine would be. Smiling Bob.
---
Wednesday March 19 Needles, CA
Another Travel Day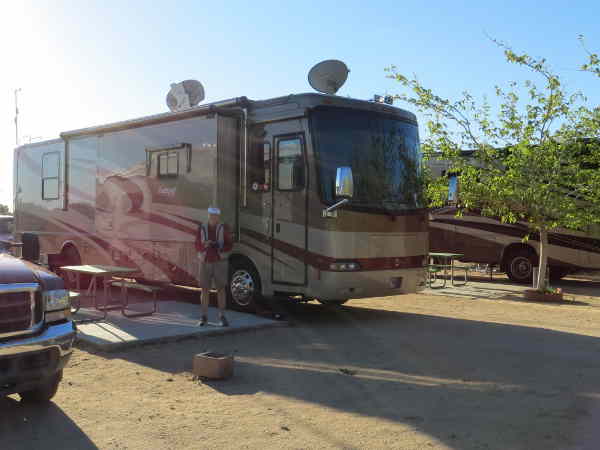 Getting ready for our morning walk. Not ever ever having walked here before we just headed off down the road.
Not much out here but peace and quiet. What more could we ask for. It was so nice we ended up walking for a longer time than normal, by seven seconds. Guess you could say we know our limits. It was quite a contrast to our morning walks in Sacramento where we walked on residential streets lined with houses. The joys of travel.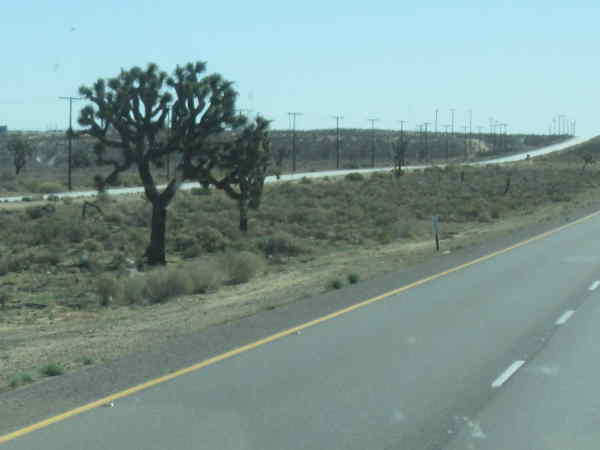 Linda always has to take a photo of a Joshua tree. Bob always posts her photo. Good Bob.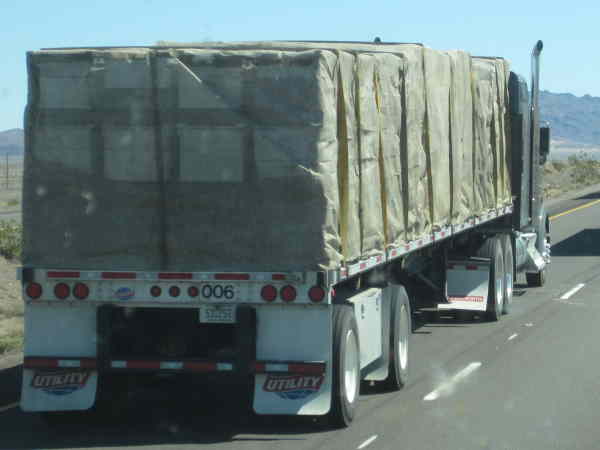 This truck comes around us and Linda is pointing to it and saying, "Bees, it's a truckload of bees." Next thing I know she is furiously digging out her camera and taking photos. This one is followed by another truck with the same reaction from Linda. Maybe I should dress up like a bee sometime. That would probably be the time she'd get out a can of wasp and hornet spray.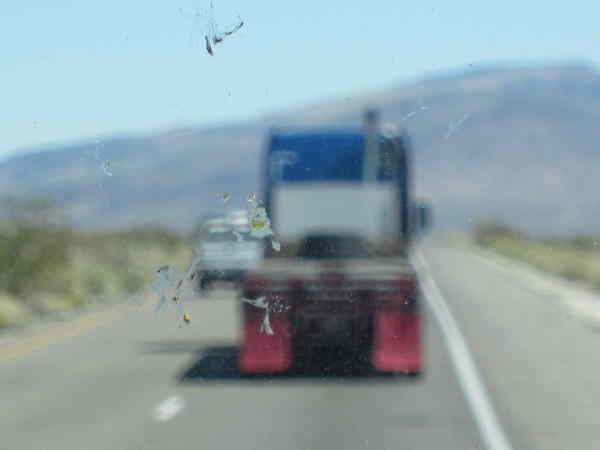 Another fabulous photo by Linda. I know of no one who can take better photos on bug splats on the windshield. Actually, she was trying to take a photo of the truck because it had a satellite dish mounted on it. Then again, I don't think I married her for her photographic ability, it must have been for something. Treading on thin ice Bob.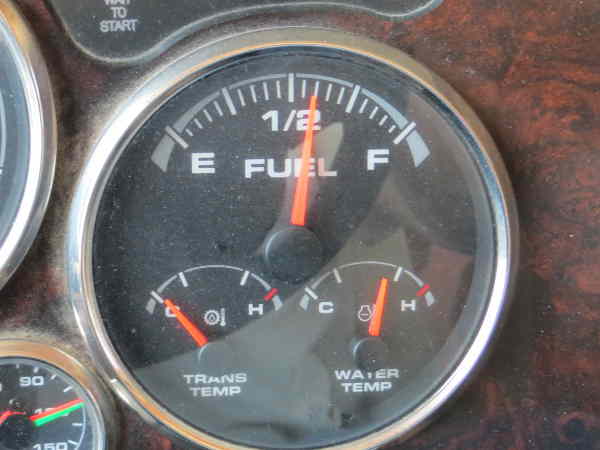 Just like Linda said, if we drive on a rough road the fuel gauge just might start working again. We did and it did. Thank you I-40. Now I remember why I married her, it was her beauty and brains. Lucky Bob.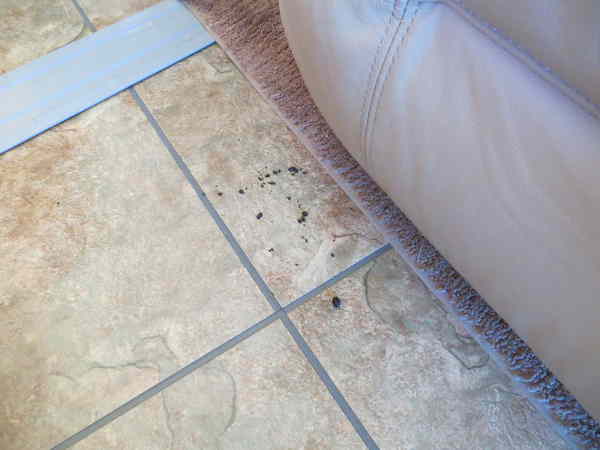 Two more coffee beans appeared when the slide went out this afternoon. At least there were two beans before I managed to step on one and smash it. I quickly discovered that I would certainly never ever do that again.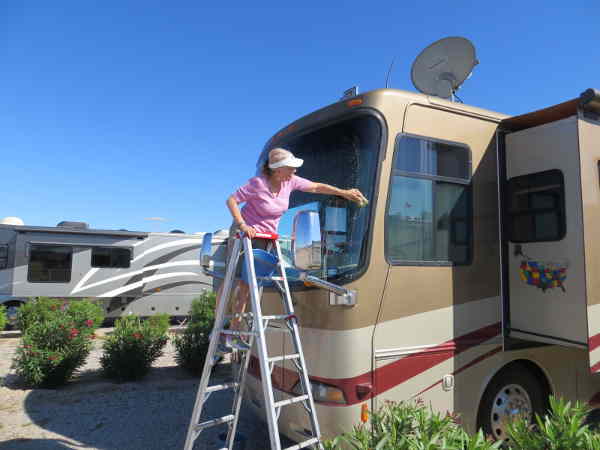 I had the reverse Tom Sawyer stunt pulled on me. Linda started washing the coach windshield. I made a comment about how she was doing it. I ended up washing the windshield. Some days are like that.
---
Thursday March 20 Quartzsite, AZ
Still Another Travel Day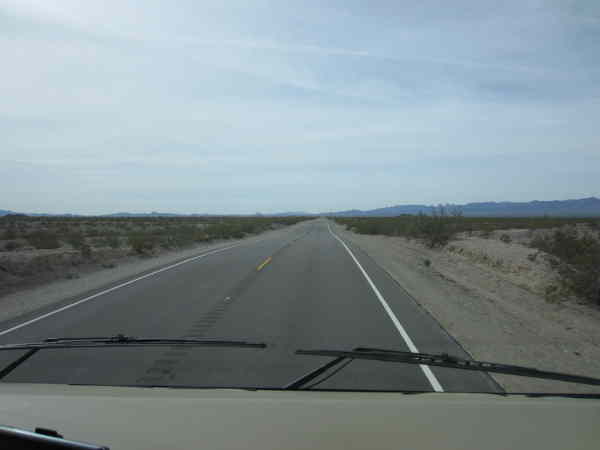 No Interstate driving today, just a whole lot of scenery like this.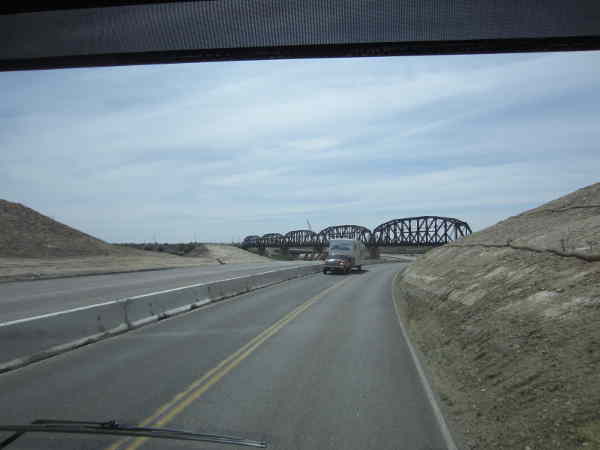 The spring snowbird migration to the north is on. We drove 100 miles and counted over 120 RV's coming towards us. The population of Oregon, Washington and British Columbia is swelling.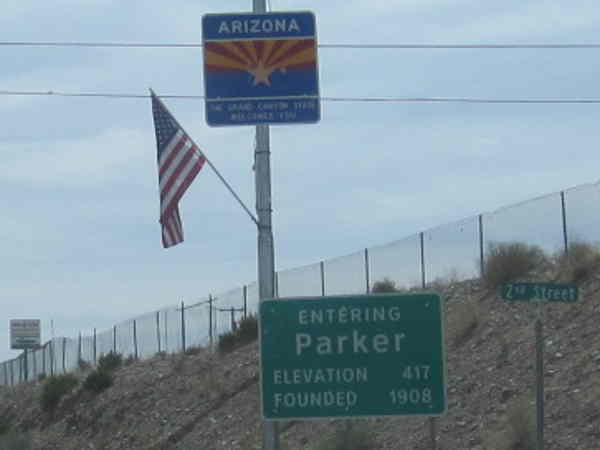 Linda got her camera out well before the bridge to Parker muttering something about not missing the Arizona sign this time. She didn't, even though it was mounted high up on a streetlight pole. Good Linda.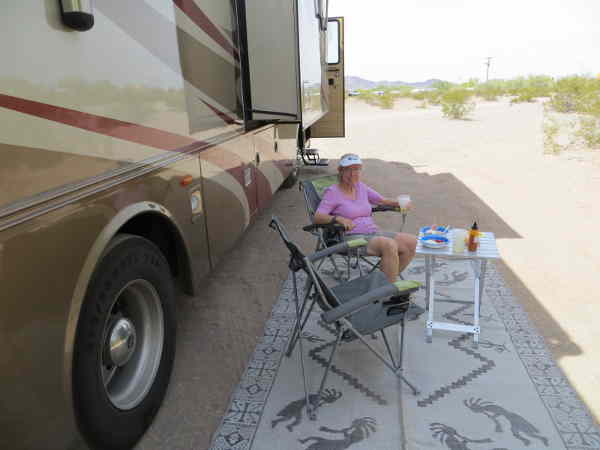 Lunch in the shade beside the coach at La Posa North in Quartzsite. This is one of our all time favorite places, but it sure isn't a favorite place for everyone. That's okay though as it it means more space for us. Also at this time of the year it is definitely not a bustling beehive of activity as most of the vendors and the RVers are gone.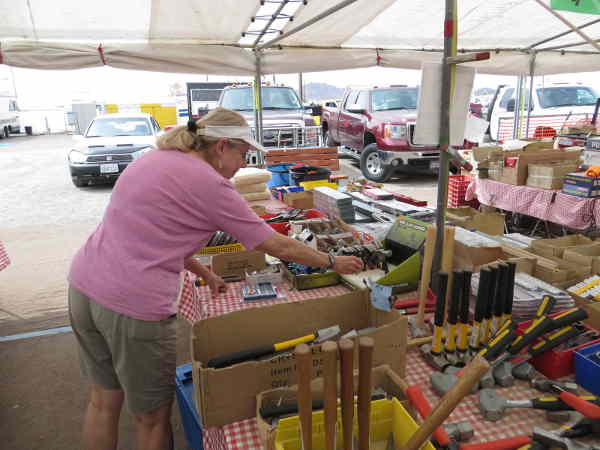 Why we stopped here, so Linda could do some buying at KB Tools. Well I might of bought a thing or two also, but she was like a kid in a candy store. She didn't buy this short handled hammer, but she sure liked it, saying that was all of the hammer handle she ever uses anyway. I tried to explain to her about length of handle, leverage and force but she was having none of it. So much for my attempt at a lesson of a concept in physics. Maybe Linda majored in cheerleading and homecoming court when she was in school? No that's not true, she majored in: Getting your man to do what you want him to do. Yes Dear Bob.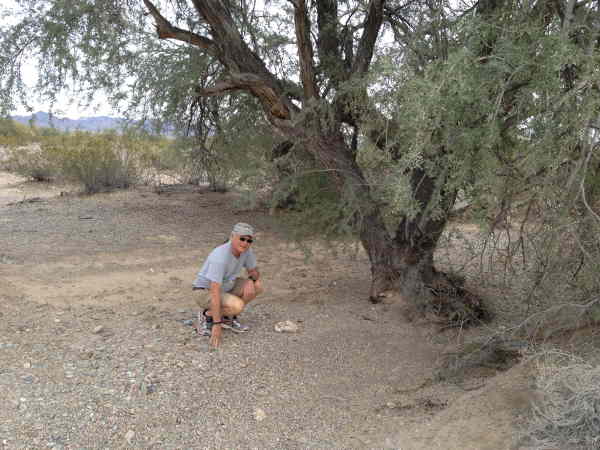 In the late afternoon we took a walk over to the dumpsters (it's a Quartzsite thing), then on the way back we detoured to the site of the final resting place of Red the First, our original Betta who met his end while we were at Quartzsite some years ago. The large rock marks the site. The large rock was one Linda found during our walk and wanted to take back to Retama so we would have a reminder of Q. You can guess who was nominated to carry it. Without a doubt she got an A+ in her major at school.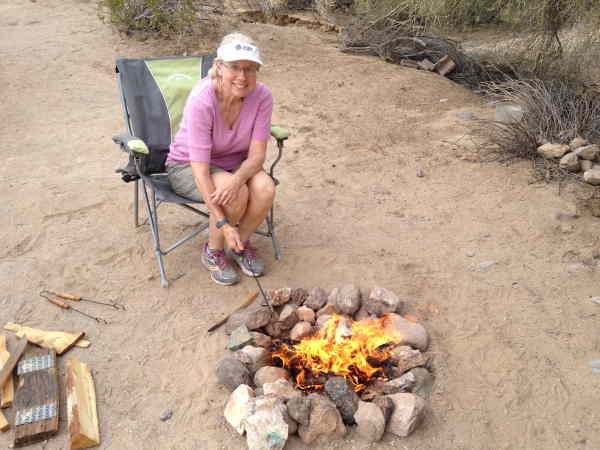 Pyro mom doing her thing. Very Happy Linda.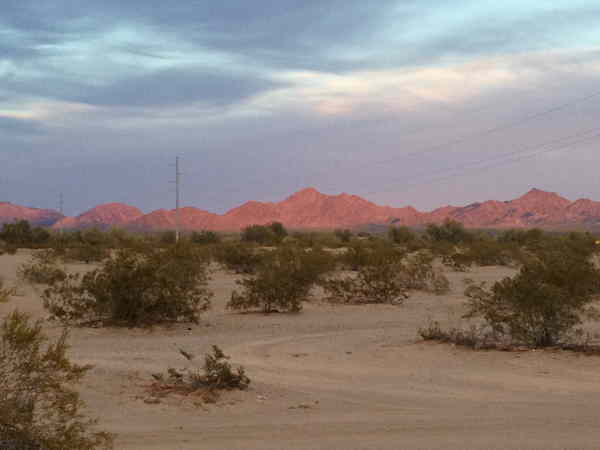 As the sun set, the mountains behind us turned red. This is a very special place for us. The wind, the heat, the low humidity, it was 6% at sunset, the dust, the grit on the floors, counters, and anywhere else, what can we say, we love it. Quartzsite is not a place, it is an experience. And I have never figured out how people can say they don't want to experience something that they have never experienced. Better to do it and say you don't like it than stick your head in the sand and say how bad it is.
As Abraham Lincoln so aptly put it: "Most folks are as happy as they make up their minds to be."
---
---