Journal Archive 4/1 - 4/10 2014
Scroll down to read the latest post
Tuesday April 1 Gila Bend, AZ
A Fill in the Blanks Day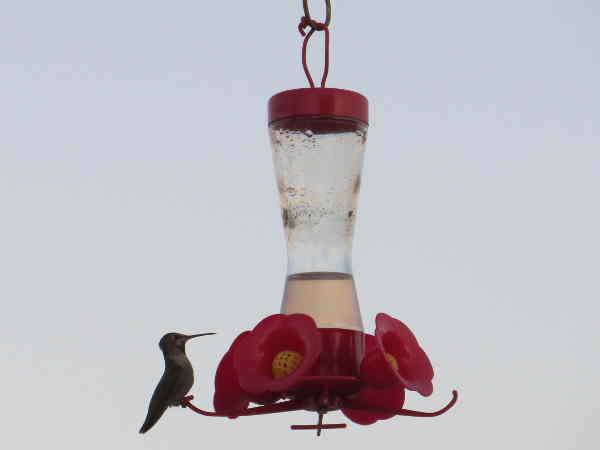 There we were living the Life we wanted, enjoying the solitude of the desert. We even had visitors coming regularly to the hummingbird feeder.
Linda had her evening fire, Life was as good as it gets. The next day was to be our last at Imperial Dam, then we would be heading towards Texas.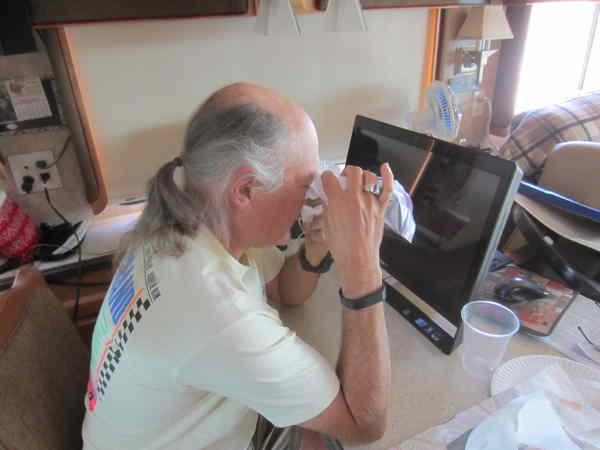 I was bending down to tie my shoes so we could go on our morning walk when I felt my nose start to drip. The problem was it wasn't what I expected, it was blood dripping from my nose. It's literally been decades since I last had a nose bleed and the problem was it was rather severe. A check of Google, squeezing the nose and applying ice to the bridge of the nose and after about an hour it stopped. Linda did some research and discovered the extremely dry air here, the humidity was at 6%, can lead to this type of episode.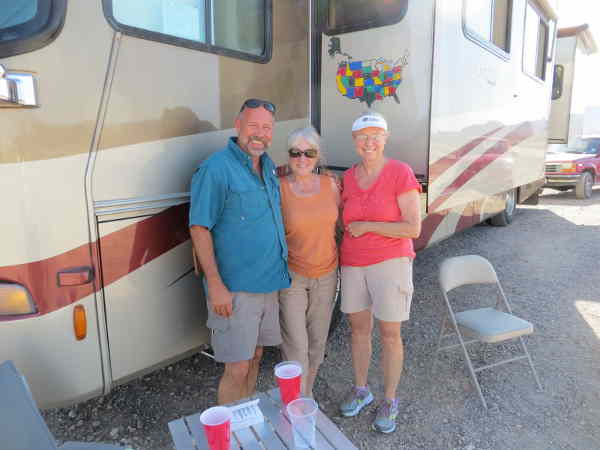 That afternoon out friends, Brenda and Mike stopped by for a visit and later we started to make our final preparations for leaving in the morning. One of the things I had to do was to lower the solar panels, so up on the roof I went. As I bent down to loosen the first knob, the blood came pouring out of my nose once again. I pinched it off as best I could and working one handed, while occasionally spitting out mouthfulls of blood, I managed to get all the panels down and locked in travel mode. As for the rest, I'll just say that if you ever have to try coming down the ladder from the roof of an RV using only one hand, you know what I faced. As Linda put, "Sometimes you just have to let the blood flow."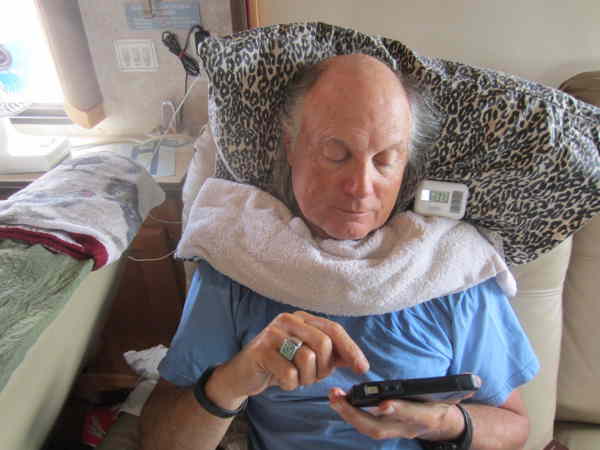 Again it took about an hour to staunch the flow, and consequently we decided that rather than leave in the morning, we would stay another day to give my nose a chance to heal. I was very careful to never bend over, and spent the majority of the day sitting in the loveseat with a damp towel in front of me. Linda had decided that was the best way we had of increasing the humidity of the air I was breathing. To monitor it she placed a humidity meter on the towel. She never had the chance to work in the medical field, but she would have done fantastic if she would have. Of course, had she done that she would have gone to school somewhere else and then we would never have met. Lucky Bob.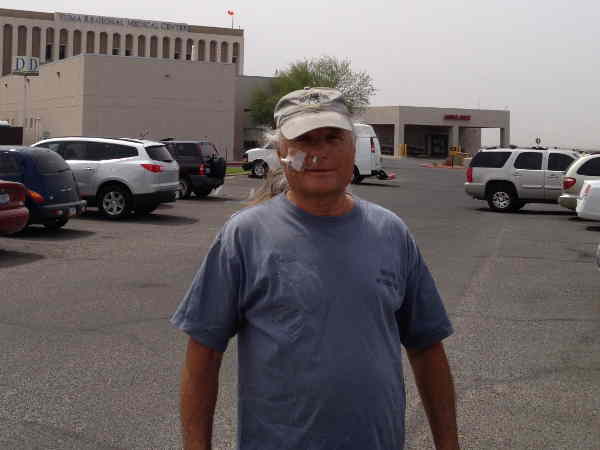 The next morning, as we were starting our preparations to leave, I sat down, bent over and looked down to find my clothes were saturated with blood that was literally pouring out of my nose. Ten hours later we were back home from the emergency room in Yuma and I had a water filled balloon in my nose. Three days later we returned and it was removed. All those nights, and to this day, I have been sleeping in the loveseat making sure my head is always elevated.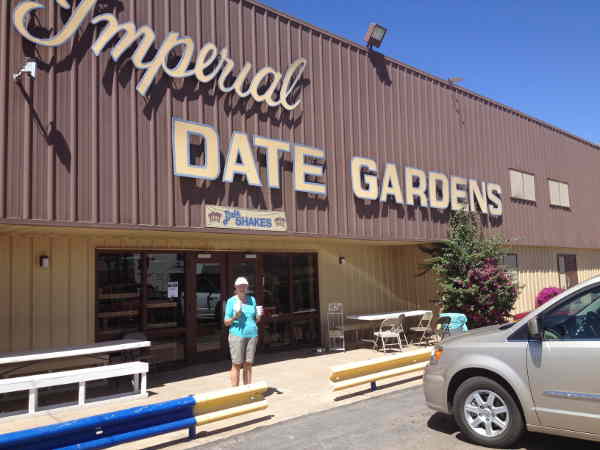 Yesterday we went back down the Yuma to get my medical records and stopped at Imperial Date Gardens for our traditional date shake. Life was now returning to normal.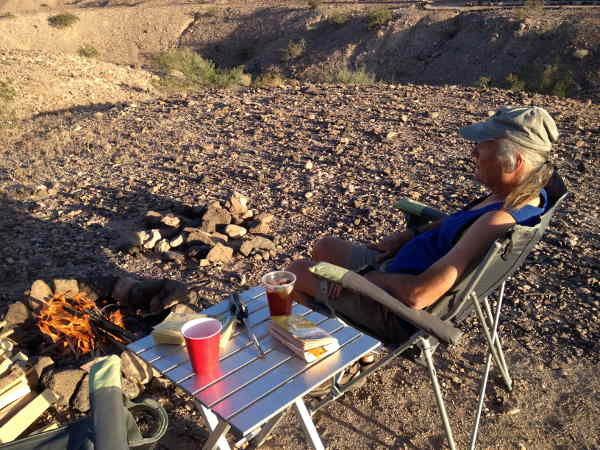 Our last night in the desert and Linda not only split all the remaining wood, she tended the fire to the point she got all of it burned. She had vowed on our arrival that it would all get burned before we left and she was true to her word. Happy Linda.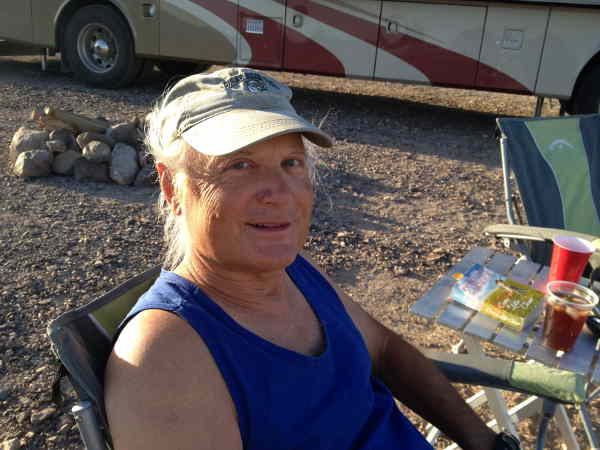 Linda took a series of photos to document what I looked like as I went through my "ordeal", but there is no way I am going to post them. I really don't like looking at them myself and it is me I am looking at. This one is far better as it shows what a difference just a few days and proper medical attention can make.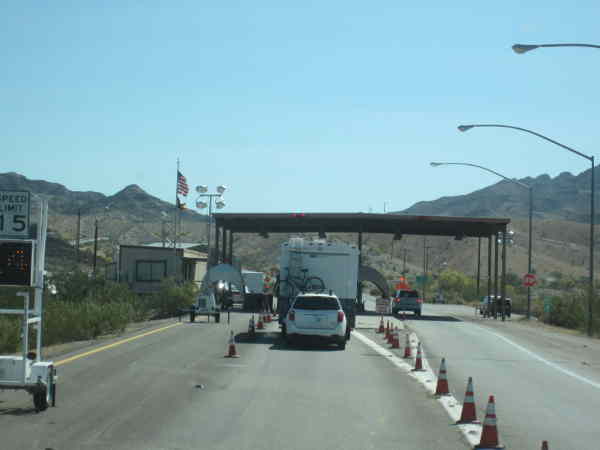 Today found us making the 120 or so mile drive from Imperial Dam to Gila Bend. I hadn't done anything since last Tuesday except sit around. Linda drove to Yuma every time we went and I just helped her with the route. She was really proud of herself for driving there, especially under the stress of that first trip to the emergency room, then a day later going down by herself for some things. Tomorrow, if all goes well, we plan to drive to Pancho Villa State Park and stay there for the weekend as it is another of those most favorite places of ours.
I will end this post with something we learned. I have taken an 81 mg aspirin tablet every day for years since it is recommended for us older people. For far longer I have taken a garlic capsule. My mom had the same problems with hip pains I used to suffer from and she had discovered that garlic relieved the pain. Low and behold it work the same for me and for at least 20 years I had taken garlic every day and been hip pain free. Imagine my surprise when I learned at the emergency room that garlic is normally taken for high blood pressure and it likely contributed along with the aspirin to the degree of bleeding I was having. You learn something new everyday. And since that first nosebleed I have had no aspirin, garlic or alcohol. That is not going to be a permanent situation, but for now, I will error of the side of less likely to cause bleeding.
Life is Good, but always remember, Life is not a dress rehearsal. Don't be afraid to laugh, love and retire early.
---
---