Journal Archive 6/21 - 6/30 2014
Scroll down to read the latest post
Saturday June 21 Mission, TX
An About Time Day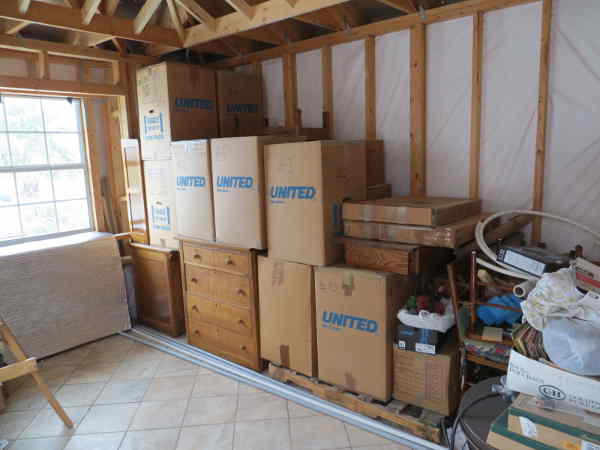 No I haven't forgotten how to write, and yes, we are both just fine. In April we arrived back in Mission and have been here ever since. Above is what our unfinished coach house looked like after we emptied it of the outdoor items.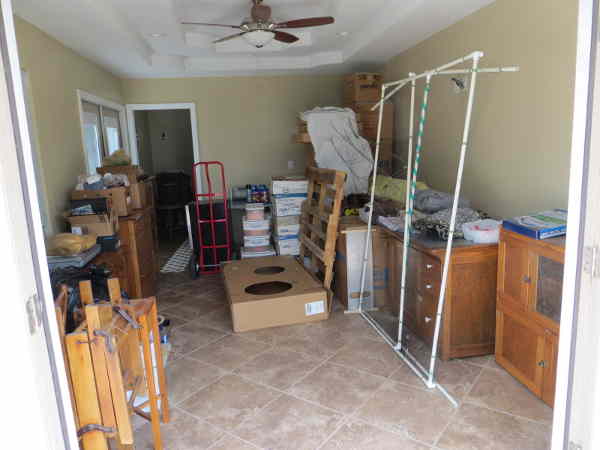 We needed to completely clear out the inside of our coach house we could work at finishing it and our next door neighbors came to our rescue and let us store our inside things in their coach house while they spent the summer in their native Canada.
It took a while to move everything over, but it fit nicely, even with their items. I admit to being puzzled for a while at one item that was in their coach house, but at last I figured out what it was. That's the rectangular object in the center with the two holes. It's a Canadian port-a-potty. Obviously the small hole is the lady's side and the large hole is the men's side. Those astute Canadians know that men always manage to wet down the seat, so they make the hole big enough so there is no possibility of a male miss.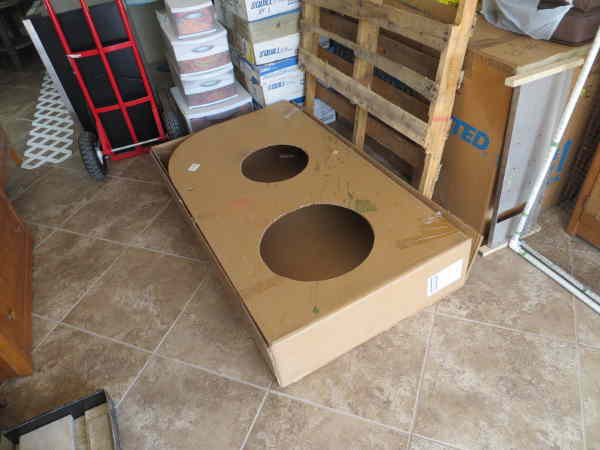 A closeup so you can see the details in case the little woman wants you to make one for your own place. Note the cutout in the corner that makes it easy to lift the lid to preform cleanout duties. Isn't Canadian cleverness an unbelievable thing to behold. And after reading the last two paragraphs you are probably wishing I had continued to not write.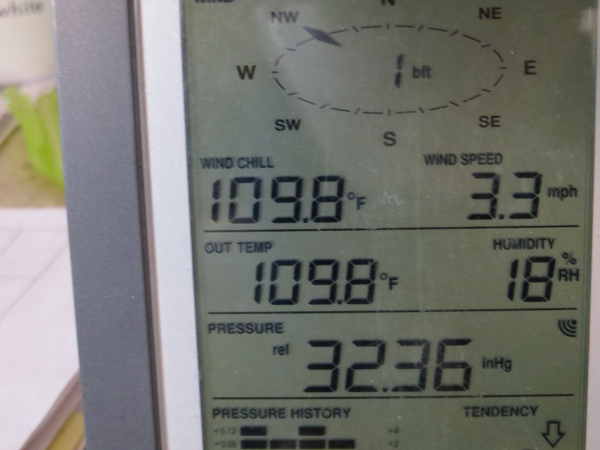 Took this photo some time ago, and while it isn't this hot everyday, it often surpasses 100°. It was so miserable in the coach house that we were getting very little done, then Linda came up with the idea of having the air conditioner installed. That did the trick, and much progress has been made.Smart Bob for marrying such a brilliant woman.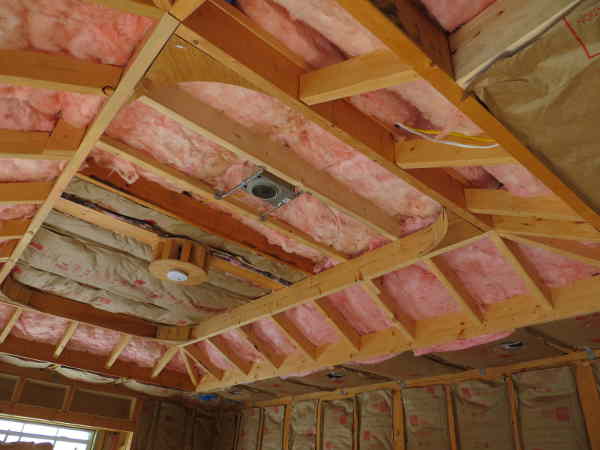 No, there are not going to be multiple photos of the coach house and our progress posted each day. The key thing here is to look up, as in up toward the ceiling, or at least where the ceiling will someday be. For the past week we have been installing insulation. The walls were easy, the ceiling not so much. The problem wasn't reaching overhead all the time, though it was definitely a challenge. No, the problem was that I would climb the ladder and not pay attention to what was overhead. The insulation being soft, but the rafters being hard. Up the ladder I would go, Linda saying, "Watch out for the..." at which point there would be the sound of my head once again meeting rafter.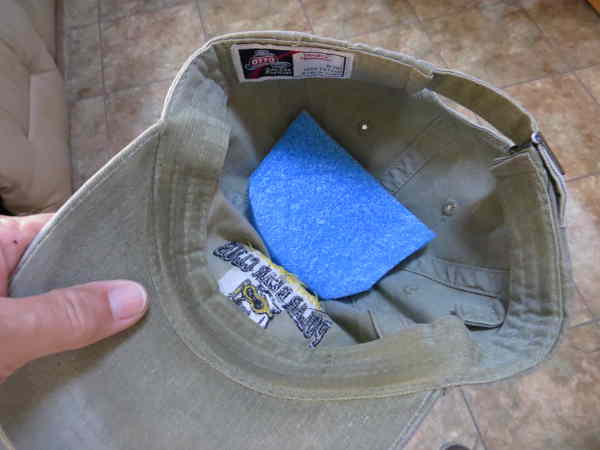 Leave it to to the beautiful, brainy babe know as Linda to come up with the perfect solution. She cut a piece of dense foam to fit inside the top of my hat and that solved the problem of Bob using his head when he should have been using his brain. Smart Linda. Who knows, maybe she has some Canadian blood coursing through her veins. Lucky Bob.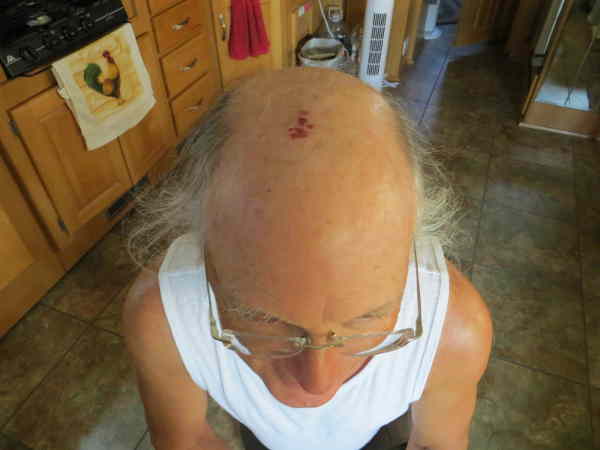 A slightly damaged head photo. The best part was when I asked Linda to take the photo. She kept moving around, looking through the camera but not taking a photo. Finally I asked her what was wrong. "There is too much glare," was her answer. I never did figure out whether that was good or bad.
Life is Good, but always remember, Life is not a dress rehearsal. Don't be afraid to laugh, love and retire early.
---
Monday June 23 Mission, TX
A Healthy Day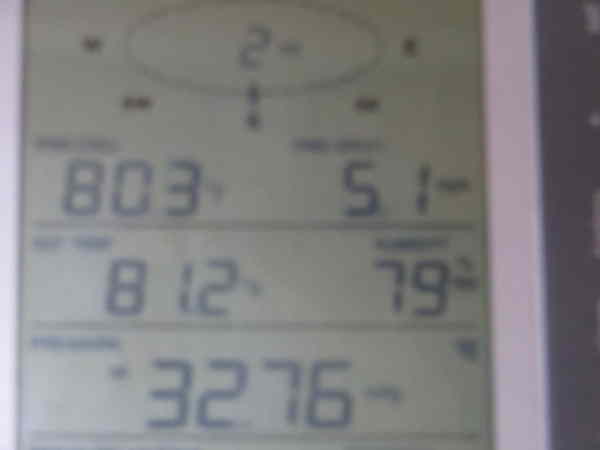 No I haven't forgotten how to take photos, just how to take photos that are in focus. This is why we walk very early in the morning, leaving the coach before 7am. By 8 o'clock it is already 80° and the humidity is just about as high. While Linda doesn't like the fact she sweats and sweats, she does like the fact she loses about a half pound from the start of our walk to when we get back.
About six weeks ago we had our annual checkups. All was good, but it made us realize that we had allowed our bulges to bulge and weights to become more weighty over the past year. Interestingly enough since then we made no big changes in what we eat, with a couple of exceptions. For us the largest change was simply portion control. We have merely been eating less and wonder of wonders, both of us have been slowly but steadily losing weight. No magic diet pills, no special diet foods, just less of what we normally eat. Maybe I should write a book and title it something like - The New Magic Diet Method That Really Works.
In case you are interested, the photo is of my lunch. A small bowl, half the size of a cereal bowl, filled with homemade frijoles topped with homemade fresh salsa. I do add a few shakes of habanera hot sauce to give it a little more zip, but even without it, it is really good. Been eating this for the last month and it keeps me full until dinner time. I would never have thought that possible, but it is. Needless to say Linda has something different as she and beans have a, shall we say, combative relationship.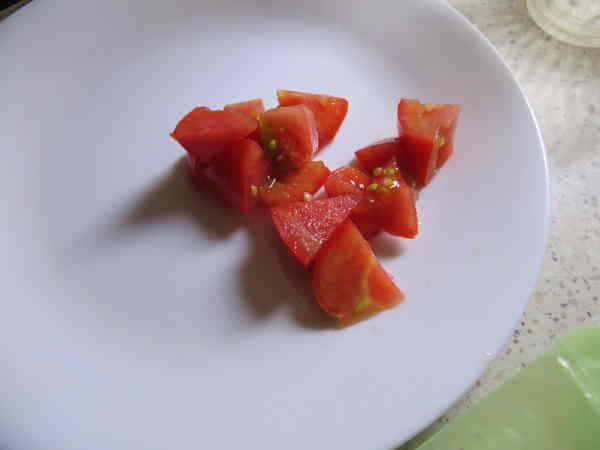 Linda has a tomato plant growing in a container out back. Linda has luscious red ripe tomatoes. Linda is a very happy girl. Linda occasionally lets Bob have small portion of a fresh tomato from her plant. Bob is happy to have these "crumbs" from Linda's table. Bob is happy to be back writing. Now if Bob could just remember to take photos throughout the day he would have more to write about.
I'll leave you with this from baseball great Ernie Banks. You must try to generate happiness within yourself. If you aren't happy in one place, chances are you won't be happy anyplace.
---
---