Journal Archive 7/1 - 7/10 2014
Scroll down to read the latest post
Monday July 7 Mission, TX
A Good Day
Okay, back to writing for real this time. Two weeks from today we leave for Europe and I want to write while we are there to document our travels, so it is time to write myself back into shape.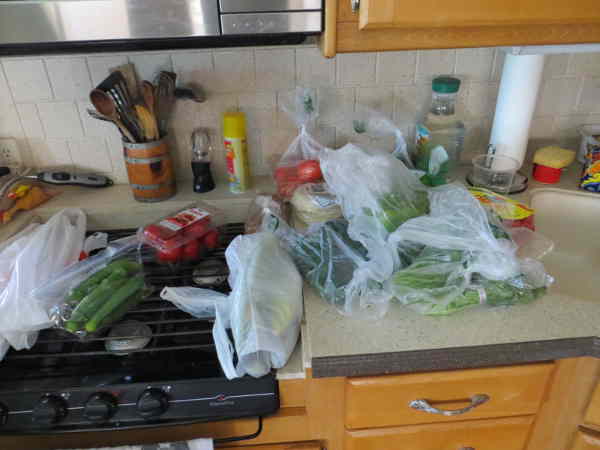 Shopping day today, buying all the fixing for our nightly tacos. Anaheim peppers, poblano peppers, jalapeno peppers, cilantro, corn tortillas, along with corn on the cob and Mexican sour cream. Oh, and how could I leave out Linda's limes for her nightly gin and tonic. Almost Bad Bob.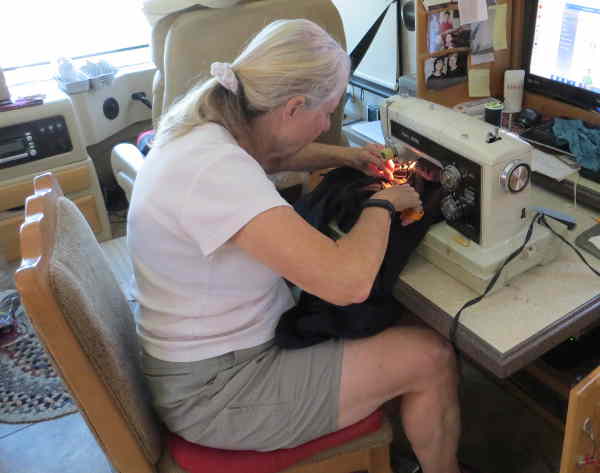 Linda doing a little seamstress work in preparation of the trip. I asked what she was doing and was informed she was reinforcing several seams in the pair of slacks she was taking to wear on the trip. Exhibiting an uncanny sense of when to keep my mouth tightly closed, I did not inquire as to why she felt it necessary to do this. Smart Bob.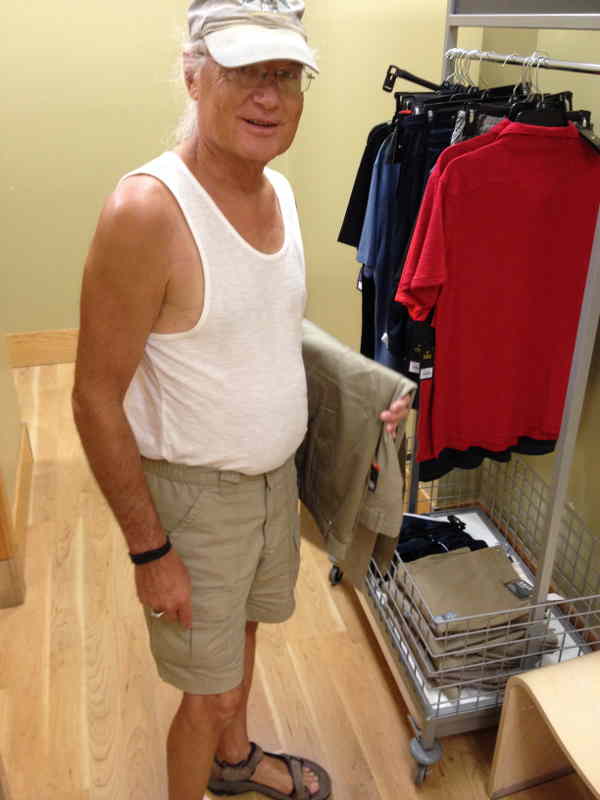 Shopping for a pair of pants for me to wear on our trip. Linda had to laugh, claiming I was worse than a woman shopping for shoes. So maybe I did try on over a dozen pairs, a number of them two or even three times as I narrowed it down to "the" pair. I will be wearing them almost every day for three months, and not only that, as past trips have proven, my waistline will expanded as the weeks roll by. Better to have them a little sloppy around the waist now with the belt keeping them up than popping the button and having to have the zipper only partially zipped as we near the time to return to the states. Not saying that has actually happened the past, but....
Each day is for living, so remember: Life is not a dress rehearsal. Don't be afraid to laugh, love and retire early.
---
Tuesday July 8 Mission, TX
A This and That Day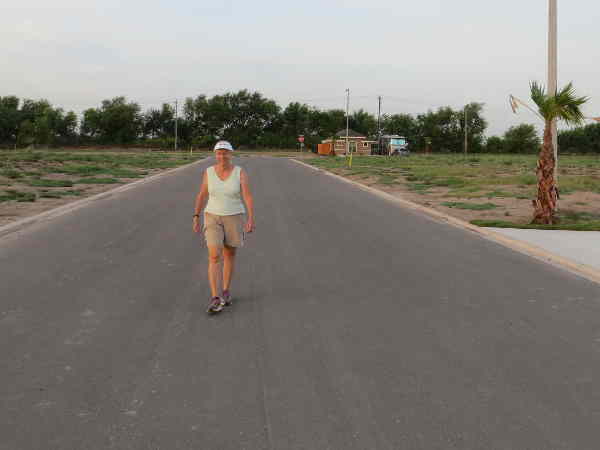 A happy girl doing her thing. We have really tried to keep up with our morning walks, and except for a stretch where we were trying to work inside the coach house very early every morning to beat the heat, we have succeeded. The payoff comes every morning when Linda steps on the scales and announces her weight, a number that is almost always lower than the one from the previous day. We know we will gain it all back during our European travels, but that is okay since we will starting from a lower number. See just how much planning goes into spending three months traveling in Europe.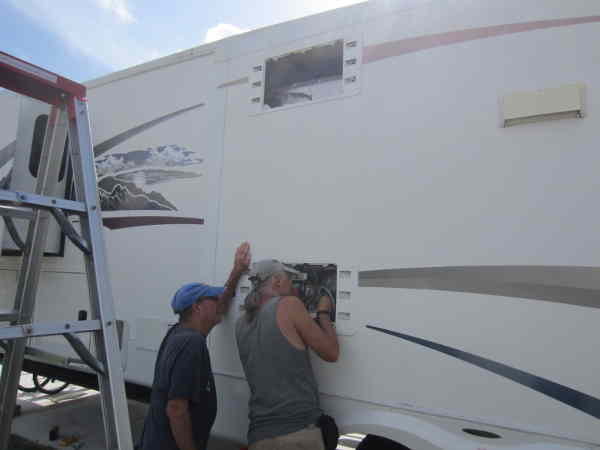 Our neighbor, Tim was having trouble with his refrigerator staying cold enough in the summer heat. A little research and he bought two cooling fans to hopefully solve the problem. The other problem was with the installation of said fans. When Tim asked me to help him with the installation I was glad to be his assistant. Turned out his real name was "Tom Sawyer Tim" and when we were done he said I had done a real good job and if I ever needed his assistance again, he would be glad to help. Smiling Tim.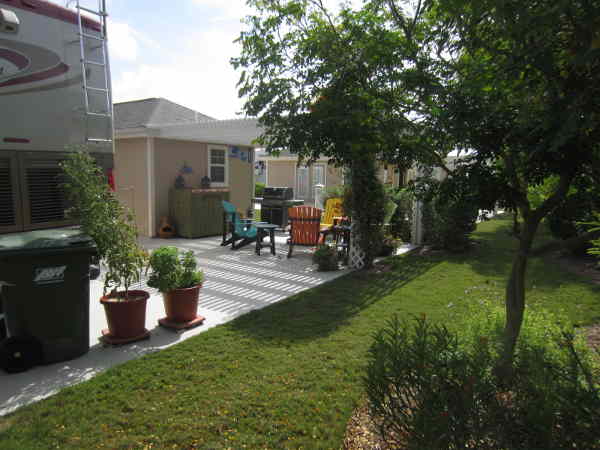 Linda took several photos of our back yard area saying I should post one. Good Bob.
More things to take to Europe. I fear that Linda's withdrawal from Amazon Prime when we depart for Europe may cause her to experience severe problems. I never know whether she is happy just to receive packages or happy to get what is in them. Maybe she is happy for both, which would explain the million watt smile she always has at these moments. I did note that she got a pretty blouse while I got shoe insoles.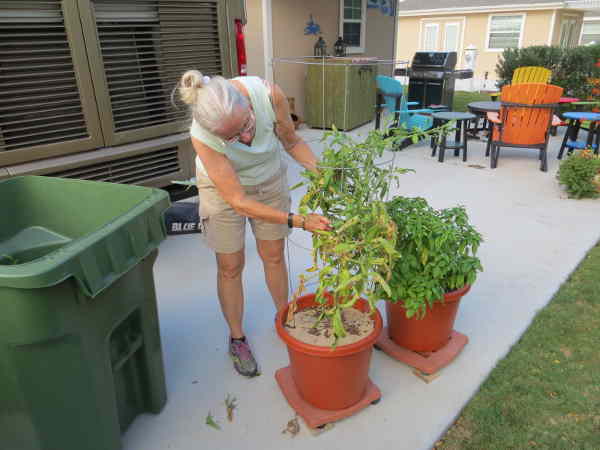 For the past 6 weeks Linda has been enjoying fresh tomatoes from her plant. Today it was time to consign it to the trash can, the last of the tomatoes picked and on the kitchen counter. They get picked before they ripen fully because at the first hint of red our feathered friends visit them and show they enjoy fresh tomatoes every bit as much as Linda. I've often overheard her muttering something about the birds not getting this one or that one as she would pick them as they began to turn yellow. Devious Linda. Happy Linda.
Andy Rooney had the following to say about tomatoes: The federal government has sponsored research that has produced a tomato that is perfect in every respect, except that you can't eat it.
I can assure you that based on that criteria, Linda's tomatoes would never be acceptable to the government.
---
Wednesday July 9 Mission, TX
Another Good Day
A little showing off before our morning walk - new shoes. I never wear leather shoes, I do wear trainers when we walk, but the rest of the time I wear my Tevas. This trip to Europe we will be doing several things that require closed toed shoes (don't wear Keen's, tried to once, never will again). The problem was that not only did I need a pair of shoes, I also wanted a certain look.
The perfect solution to that would be to buy a pair in Germany as the footwear I have bought there has fit me perfectly and I love the European styles. Not going to be in Germany before I need them, so had to buy them here. Found a pair of Skechers that were close enough to what I wanted and have been wearing them around the coach. Today was bite the bullet day, and with the new insoles cut to size and inserted, I wore them on my walk. Absolutely no problems, couldn't even tell the difference between the ones I normally wear and these. To say I am pleased with them is putting it mildly. Just one more thing off our to-do list before we leave. Very Happy Bob.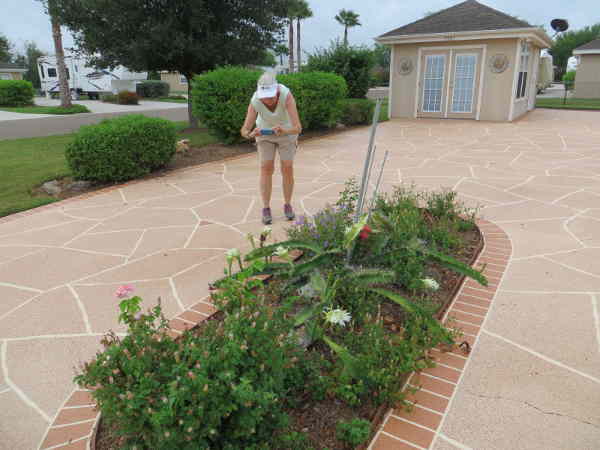 Some things never change. A photo of Linda taking a photo of flowers. For all their thorns, cactus can have some very pretty blooms. These aren't quite out yet, or they bloomed in the night and and are now closing up. Whatever it was Linda wasn't going to pass up the opportunity to get a photo. And neither was I.
Happy day. We have had some problems finding someone (which is a gigantic under statement) to drywall, tape, float, texture and paint the walls and ceiling of the coach house, but it looks like we have found someone who can not only do the job, but who can do a very good job for a fair price. They are going to start tomorrow morning, which means we can put everything back in the coach house before we leave for Europe and not have to take it out to have the drywalling and/or painting done when we return. Extremely excited Bob and Linda.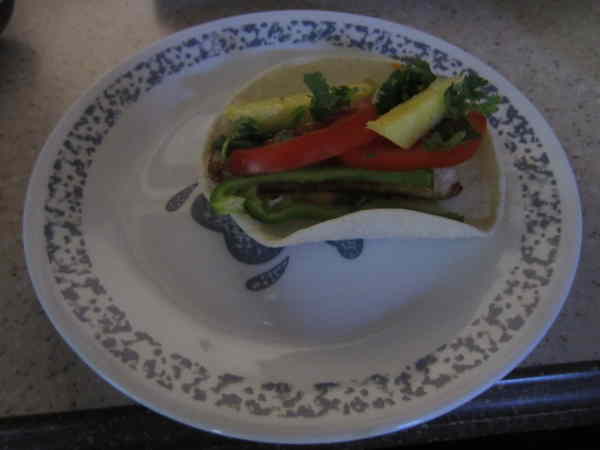 Yes, it is time for a food photo. Our evening meal a number of times each week, fish tacos. This one is taco building and photo by Linda. Mine are similar but have jalapenos and hot sauce added.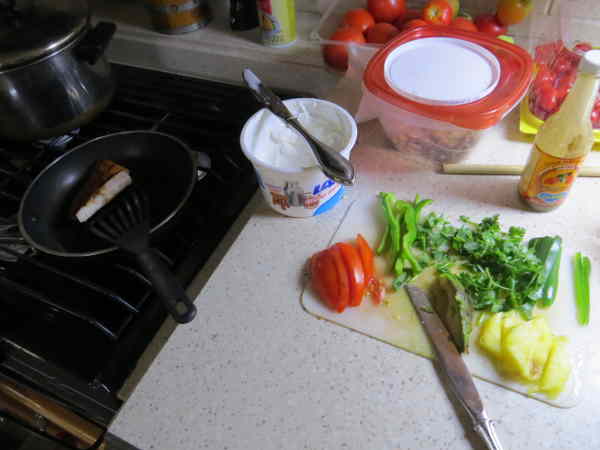 Unbelievably easy to fix, just cut up some veggies, etc., cook the fish with Mexican seasonings outside on the side burner of the Weber to keep the smell out of the house, and heat the tortillas in the microwave. A tasty healthy meal in minutes with virtually no cleanup. Going to miss it when we head off to Europe where a completely different culinary experience awaits us.
Then there's the way comedian Dennis Miller put it: You've got bad eating habits if you use a grocery cart in 7-Eleven.
---
Thursday July 10 Mission, TX
A Rainy Day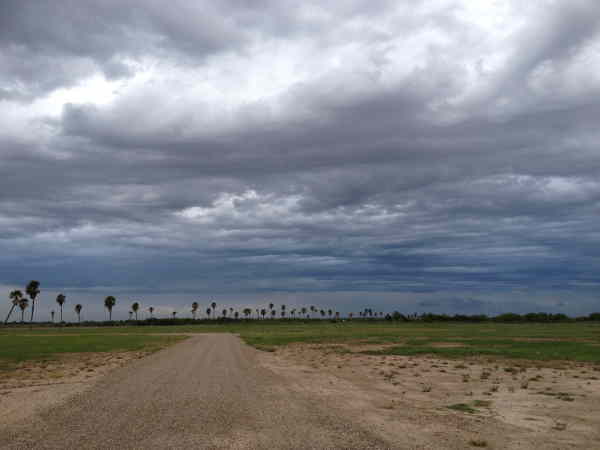 The forecast called for an 80% chance of thunderstorms today. It looked like maybe it was right as the sky in the east was forecasting a 100% chance of thunderstorms as we left on our walk. Fortunately the storms held off until after we had returned to the coach, then the forecast really came true. The nice thing was that the rain, we had over an inch for the day, made it very easy to pull the weeds in our lawn. It wasn't exactly making a silk purse out of a sow's ear, but Linda definitely likes the look of the lawn and that is more than good enough for me. Sore but happy Bob.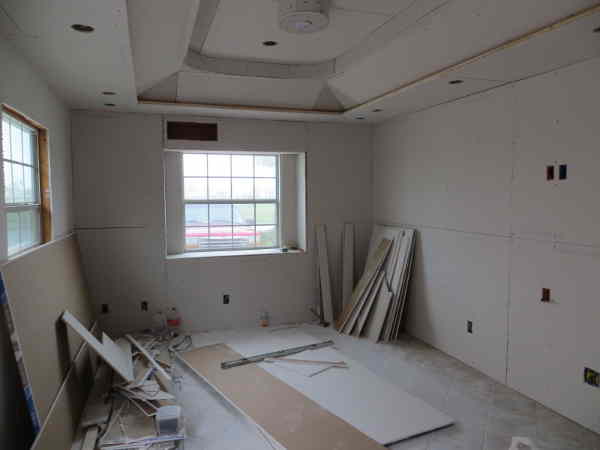 This is part of the reason why I wasn't posting. It would have been nothing but photos of the inside of the coach house every day. This one I don't mind because the drywall is actually going up.
I like the look of the ceiling, design by Bob.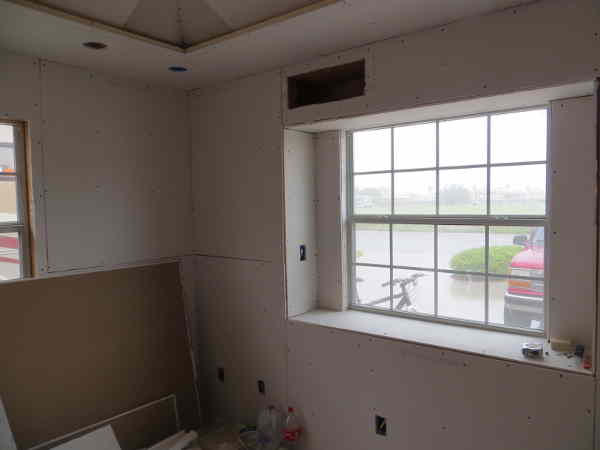 Linda is excited about all the possibilities there are to do things with the front window.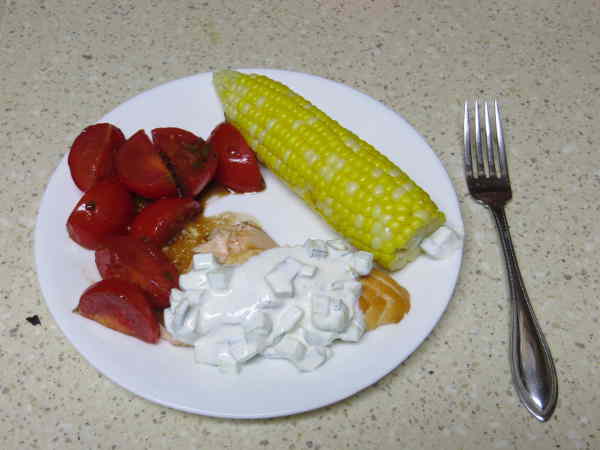 Photo just to prove that we do not eat fish tacos every night. Some nights we eat just fish. I'd like to think of it as training for when we are in Scandinavia. The boat trip we are taking up the west coast of Norway supposedly has fish virtually every meal, with reindeer thrown in every once in a while for a change, something that Linda is not exactly excited about. I tell her that if she doesn't want to eat those meals, it's okay, it will just cause her to lose weight and look and even better than she now. She mutters something about starving to death and I just smile. Smart Bob.
---
---