Journal Archive 10/21 - 10/31 2014
Scroll down to read the latest post
Tuesday October 21 Mission, TX
The First Day Back
We're back, and I'm back to posting here once again. We got back to the coach shortly before seven last evening thanks to our neighbor Tim who picked us up at the McAllen Airport. Then had tuna salad on crackers for supper and managed to stay awake until a few minutes past nine. But even though we had been up for some 23 hours, we were both awake several times in the night, still were able to stay in bed until 6:30.
We had virtually no jet lag on the trip over and the trip back was looking to be the same. Linda had read about a homeopathy remedy called No Jet Lag, and Amazon Prime being our friend, that was what we chewed on every two hours during the flights, if we were awake that is, traveling both ways. While we normally don't suffer too badly from jet lag, the difference in how refreshed we felt was amazing. Call it believing they work so they do, but whatever the reason, we will definitely be taking them again on our next trip.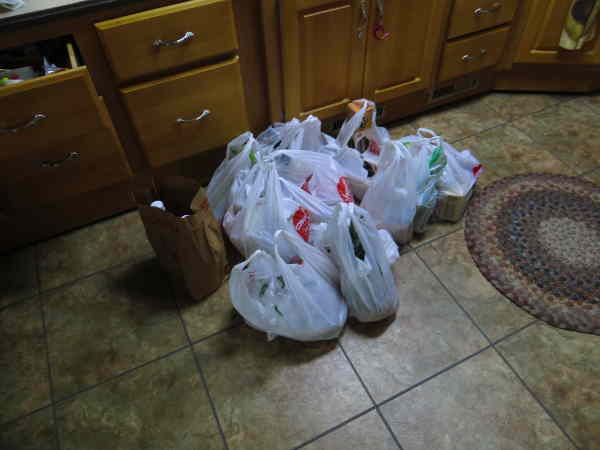 So, if we were in such good spirits what did we do today? Well first we had oatmeal cooked in water for breakfast. Quite a come down from the full English breakfasts we had been eating, but with the refrigerator emptied out and turned off during our trip, that was what it was. As to why didn't we just go out to a restaurant? Think about it. We've been eating restaurant meals for three months. Besides, to us, with a few exceptions, even a poor restaurant meal in Europe is better than a good restaurant meal in the US.
So now we come to the photo. After breakfast, and the wrath of Linda getting a few things straightened out with an insurance policy that was due in a couple of days, it was off to the store to resupply the frig. Linda had made a list, I had added to the list, we picked up a few things that weren't on the list and still managed to miss several things we needed.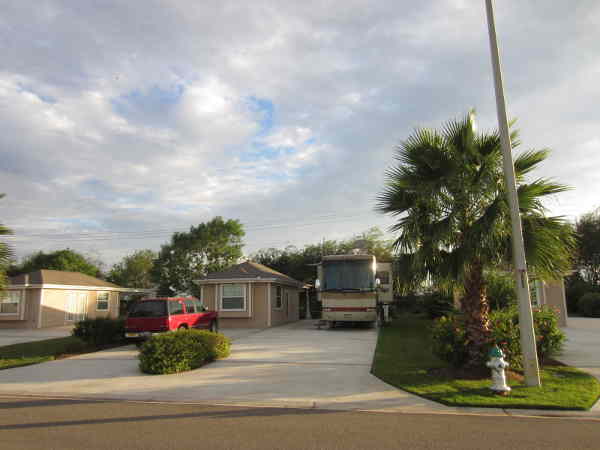 Isn't it always great to be back home? It isn't what the normal person lives in, it doesn't go very far on a gallon of diesel, but to us it's home. And were we ever surprised at how big it was when we put the slides out. Living in hotel rooms for so long can make anything look big in comparison. And doubly so when they are European sized hotel rooms.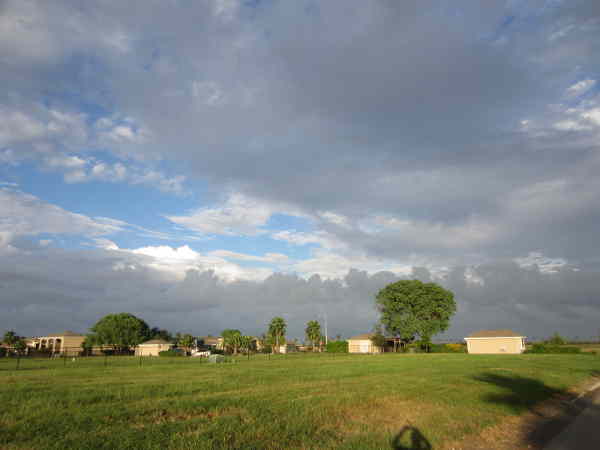 Today was just like being in England, as it rained three or four times during the day. On second thought maybe it wasn't exactly like being in England since it was in the 80's. Still, it is great weather and we will take the heat any day over the cooler temperatures in England. It really is great to be back home, but even so, we are already talking about what we want to do on our next trip to Europe. And you can bet that if it is still playing, we will be going to see The Play That Went Wrong, and more than once. It really was that good. Sorry that I keep talking about it, but it really, truly, absolutely was the funniest thing we have ever seen.
A brief note about my writing. Usually when we sit somewhere for a while I go on one of what I call "a writing hiatus". This time I will do my best to keep writing, even if it just about whatever I did during the day that got me into trouble, or what Linda said to me when I did the stupid thing that got me into trouble. The great thing about traveling in Europe was that I didn't have time to write about all the dumb things I did that brought the anger of the family grizzly down upon me. But for long time readers, suffice it to know that I got in just as much trouble over there as I do here in the good old USA.
I'll leave you with a quote from actor, poet, musician, photographer and painter Viggo Mortensen that puts what we have done the last three months in perspective. "Life is short and the older you get, the more you feel it. Indeed, the shorter it is. People lose their capacity to walk, run, travel, think, and experience life. I realize how important it is to use the time I have." How true that is.
---
Wednesday October 22 Mission, TX
What was the Best Part of the Trip?
Three months is a long time to spend traveling around Europe, and during that time we had many wonderful experiences. Below is an attempt to list those which really stood out.
When the restaurant we were eating at in Stockholm flooded during a rainstorm
Enjoying our nightly drinks on the deck of a three mast sailing ship in Stockholm harbor
Experiencing the jaw dropping awesomeness at seeing the Vasa
Linda's, "spirits from the past" moment, at the Oslo Viking Ship Museum
Midnight in the Troll Fjord
King crab feast at the Russian border
The chair lifts in Germany and the fun we had at the top
Tangermünde and the cow tail beer meal
The dark bar and the East Prussian meals in Berlin
Nighttime tour of the Reichstag
Sunday night with the locals in an Oberwesel wine bar
The Winningen Wine Fest
Terrace lunch overlooking the Mosel in Beilstein
The meals with pork in Germany
Sitting on a bench by the pond at the Rodin Museum
The beach and museum at Arromanches in Normandy
Maisy Battery and the meal in Grandcamp-Maisy
Attending the early morning service on Mont Saint-Michel
A romantic evening on the island facing Amboise
Early morning looking out the window of our room in Vaison-la-Romaine and visualizing the ancient Roman's on the street in front of us.
Our two gites in Brittany and the reflections in the rivers
The noon meals overlooking harbors along the Cotes d'Amor
Carnac and its multitude of megaliths
Having lunch by the fire at the George Inn in Lycock
Seven plays in 3 1/2 days in London
The nearly one million poppies in the Tower of London moat
And saving the best for last, The Play That Went Wrong, the funniest experience we have ever had.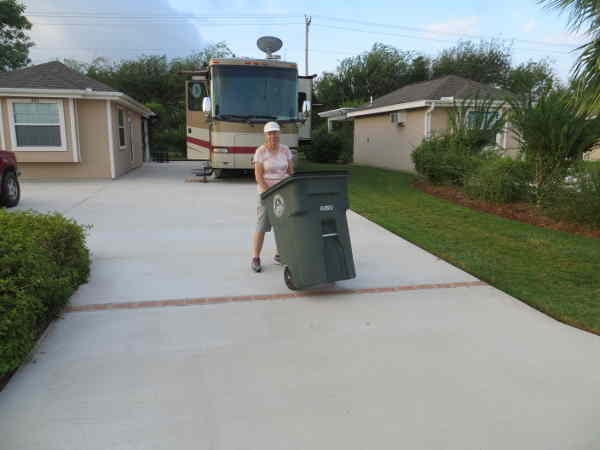 We have a new trash can. Linda wanted to be the first to wheel it out to the curb. Linda wheeled it out to the curb. Bob said,"Since you wheeled it out, it's now your job on trash day." What Linda said isn't suitable even for mature audiences. Bob will be taking the trash out to the curb in the future. Bob, the yes dear man.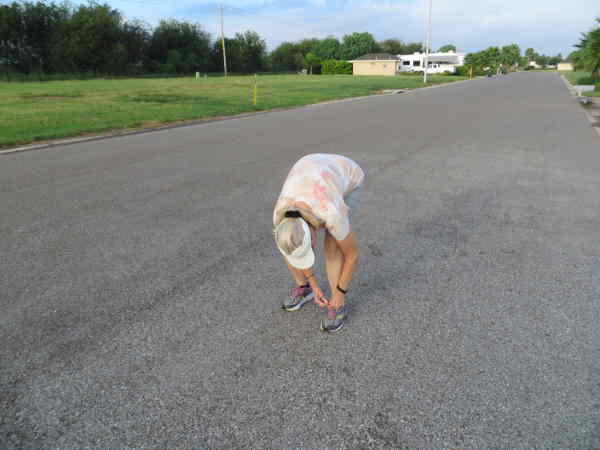 If she is going to be like that to me. then I'll just post a "footie photo" of her. We hadn't even made it to the end our street before she was tying a shoe lace. Truth be told, later in the walk she discovered the liner of her shoe had split and that was what was causing her foot to hurt. Poor Linda.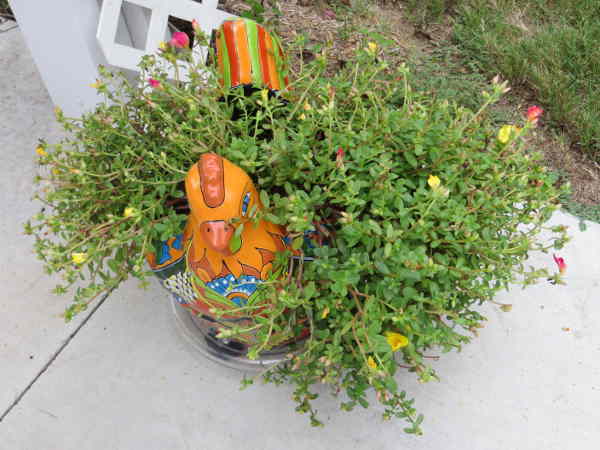 Our neighbors, Roger and Diane, had been plant sitting while we were in Europe, but Linda was missing her chicken. I can report it was safely transported and placed exactly how and where she designated by her faithful man servant. Poor Bob.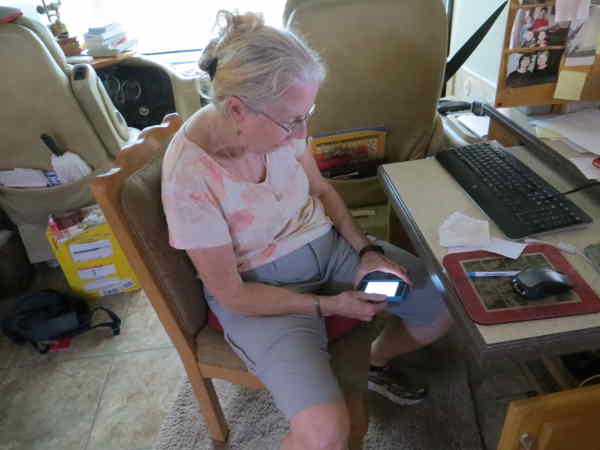 She went three months without her iPhone. She spent a good bit of time getting reacquainted with it. She was a happy girl, which makes Bob a happy boy, at least when he keeps his mouth shut.
I'll end the day with the last two lines from Thomas Moore's poem Sovereign Woman.
Disguise our bondage as we will,
'Tis woman, woman, rules us still.
---
Thursday October 23 Mission, TX
What was the Cost of the Trip?
The answer to that question is not what you might think. What we are talking about is the cost in miles and pounds. Linda has repeatedly told me over the years that she only has so many steps and don't try to get her to exceed them. So just how many steps did we take while we were on the trip?
Sorry, but I don't have a precise answer. Yes, we wore our fitbits and recorded the readings, but just the miles each day, not the steps. However, being a smart person, after all I did marry Linda, miles can be converted to steps with the right knowledge. Knowing the total miles, 440.2, and our average stride length, 28.6 inches, and with a little math, it would appear that we each took approximately 975,212 steps during the trip. Wow, we're talking almost a million steps here! That's an average of just under 11,000 steps a day. It's no wonder Linda wore out one of the custom shoe inner soles she wears. And if you have traveled in Europe you know many of those steps were also going up and down steps.
And now we come to the pounds part. Not the pounds as in English Pounds, though we did manage to spend our share of them, rather in pounds of weight gained during the trip. Before I give out the numbers I need to relate what Linda said when I stepped off the scales our first morning back in the States.
Her words were: "What do you mean, how did it happen? You ate every piece of bread they served at every meal. You wiped your plate clean most of the time after eating everything on it. And you almost always ordered dessert, and not just any dessert, but the ones loaded with sugar."
And now to the numbers. We were gone for 91 days. During that time Linda gained exactly 5 pounds. Meanwhile I was gaining 17.4 pounds. Now you can see why I asked her how I could have possibly gained more than three times as much weight as she did. I guess the answer is simply that the food over there is so good that I just couldn't help myself. Looking at the bright side, I've got two years to lose weight before we go back over and I can once again eat to my hearts content. Stuffed, but happy, Bob.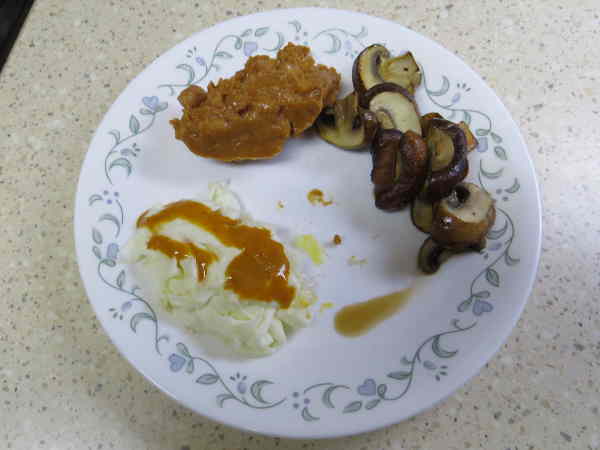 Suffering withdrawal from those full English breakfasts we were eating. No potatoes, no broiled tomato, no sausage link, no slice of ham or six slices of toast with butter and jelly, just egg whites with some hot sauce, homemade beans and sauteed mushrooms. Still, it was very good, and I kept up my European way of eating by wiping the plate clean. Thinner Bob.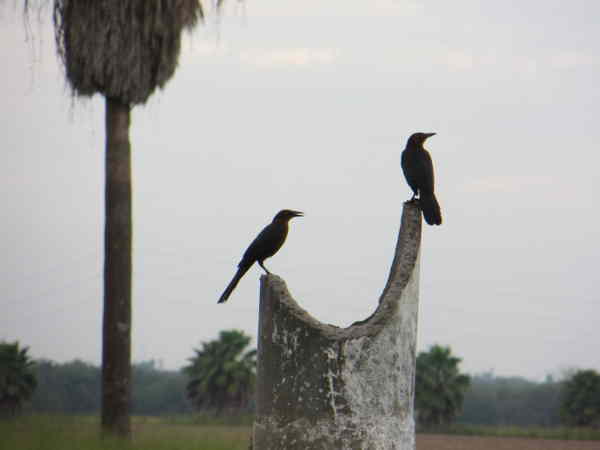 Each morning that we have been back, all three of them, we have taken a walk. Linda has been pointing out all the squashed toads on the roads, as well as the wooly worms, coyotes, butterflies and birds she sees. What a woman. How many wives care enough to point out to their husband all the toads with their guts squished out that they see. Did I marry well or what? The answer to the "what' being the key. Lucky Bob.
During the walk, but between squished toads, I was informed that the Mexican Flame vine, the one growing up the pergola, was to be trimmed today. Not having anything definite planned for the day, that sounded like a good plan. Back at the coach she told me to get the ladder out and she would do the trimming.
That being the kind of order that a subservient husband can relate to, I quickly got the ladder out, poured a cup of coffee and watched the little woman start trimming. Unfortunately it wasn't long before the error of my ways became apparent. In hindsight I should have disappeared into the bowels of the coach, out of sight out of mind.
I guess sitting there, with cup of coffee in hand while telling her that she was missing some vines wasn't the smartest thing to do. Actually I found that the patio made a good surface for the ladder and it didn't wobble at all as I trimmed the vines. Afterward she told me I did a good job, as I wondered how her trimming the Mexican Flame turned into me trimming the Mexican Flame. Puzzled Bob.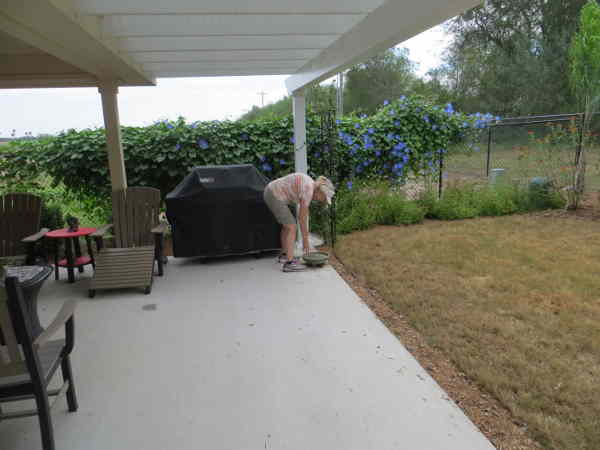 With time on her hands while I trimmed the vines, Linda realized she had left one of her planter dishes down at the Norris Nursery, the establishment that had been plant sitting for us while we were in Europe. Watching how Linda ogled Diane's morning glory plants, I think there will soon be morning glory seeds sprouting inside the coach. (Linda had tried to grow morning glories this spring when we were here but the backyard bunny decided there were just too good to pass up and ate all of them.) Something tells me I will be building morning glory cages in the not too distant future.
And today's parting words are: Open your eyes, look within. Are you satisfied with the life you're living? Bob Marley, the late, great singer, song writer and musician.
---
---