Journal Archive 6/1 - 6/10 2015
Scroll down to read the latest post
Monday June 1 Livingston, TX
We Were Off ToDay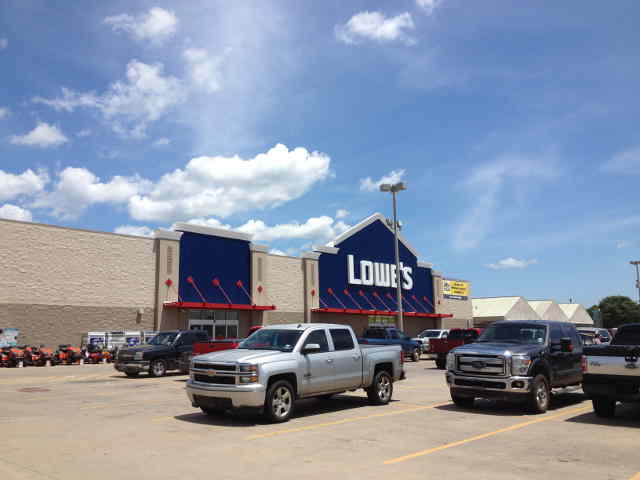 Two days on, one day off, and with this being our off day not much worthwhile happened, though we did go into town shopping. Plus I got involved in another project in the evening and didn't write, then this morning (Tuesday) we started at 7 AM so I didn't write this morning either. So that is my excuse for not having a post up as has recently become the norm after months of not writing. Feeling Guilty Bob.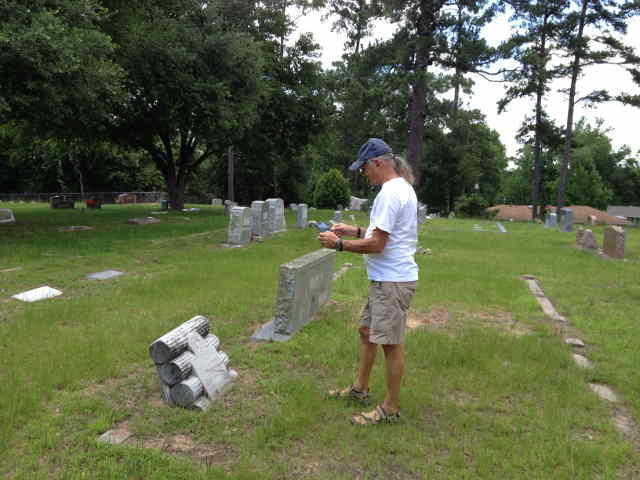 Our new hobby, taking photos of cemetery markers and not posting them to Find a Grave, instead posting them to a new site called Billion Graves. It still gets us out into cemeteries, something we enjoy very much, but with a different emphasis, not that we won't continue to post photos on Find a Grave when there are requests for photos at the cemetery we are visiting. More on this later as I am trying to get this post up while we are on our afternoon break so I don't have to write two posts after we get off tonight at 7 PM. Busy Bob.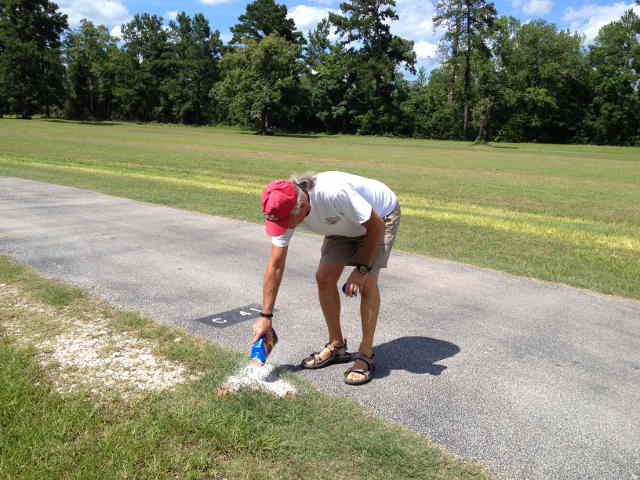 The reason we were shopping at Lowes. Bob the fire ant exterminator.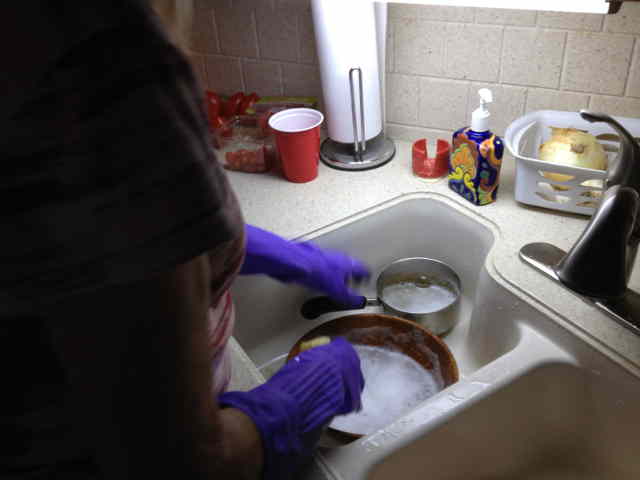 Linda doing her imitation of me washing the dishes in the Care Center. Not really. I just thought it was cute that she was wearing gloves similar to the ones we wore when doing the dishes at the Care Center as she was doing our dishes in the coach last night. We did dishes because we ate at home rather than in the dining room yesterday. The reason was the really, really ugly revelation when we both stepped on the scales this morning. Can you believe it, we've been here for just a few days and I have already gained 4, yes FOUR, pounds. Triple yikes in extra helpings. Bob the Dieter.
---
Tuesday June 2 Livingston, TX
Our First Work Day
Sunday we were washing dishes, today I was wiping down tables. But there is more to the day, and that is the rest of the story. Since what we are doing is different from our normal Life, over the next few days I'll spend some time telling about our routine here at Care. Our day started at 7AM when we took over for the next 24 hours. We unlocked the doors and recorded those who came for breakfast. Checked whether they were eating lunch and/or dinner, fielded phone calls from those who called to let us know their meal plans and called those who didn't call us. That way everyone has been checked on in the morning, making sure they are okay.
Another job was to wipe down the tables and chairs after breakfast and spot vacuum the carpet where needed, which is around any table where someone ate. The running joke is the biggest mess is always found at the table where the volunteers eat. Not to let out any secrets but that is oftentimes where the biggest mess was the last time we volunteered here. Disclaimer: Linda and I didn't eat breakfast in the dining room. I do own up to making a mess at lunch and diner though.
At 10 we rolled silverware into a napkin. Remembering the last time we did this, Linda allowed me some leeway in my rolling method and I was able to pretty much keep up with her. Finally she pulled a badly wrapped set out of the bin, held it up and asked aloud to no one in particular, "I wonder who wrapped this one?" This first occurrence of that question had me smiling and saying, "I don't know, but it sure wasn't me." The next time she asked that question I replied, "I'm sorry I messed up again. I'll try to do better." Smart Bob.
At 10:30 we were off until 11:15 when it was time to start keeping track of who was coming in for lunch. Then we both gained some more weight eating lunch, leaving shortly after one o'clock for our afternoon break. We walked around the park, hoping to keep our daily weight gain to a more tolerable level, then while I hurriedly wrote yesterday's Daily Journal, Linda spent time doing some online genealogy research. Then at 3:15 we walked back over to Care Center.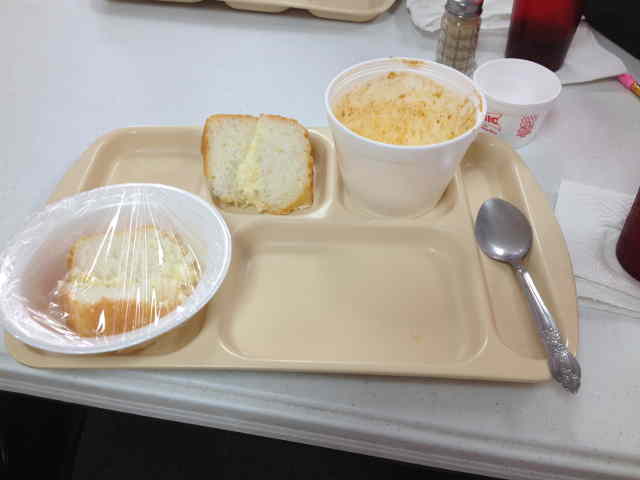 Dinner. I really didn't ask for two desserts, but since I ended up with them I ate them. One of the residents who gets two desserts with their meal had a doctor's appointment. They were very late getting back and they had some food restrictions placed on them. We had a meal made up for them and when they couldn't eat it, me, being the magnanimous individual that I am, volunteered to see that the meal didn't go to waste. Bob, The Ultimate Okay Guy.
I'll skip the afternoon and evening chores we had, saving those for a later post. Suffice it to say that we weren't finished until nearly 9:30. But that really wouldn't be the end of our shift, as the phones are forwarded to us overnight and if any resident needs help during the night we provide that. Actually, it isn't nearly as bad as it sounds, but we have to be ready to respond just in case.
Today we end with a quote from U.S. Senator John Hoeven. "Caring for our seniors is perhaps the greatest responsibility we have. Those who walked before us have given so much and made possible the life we all enjoy."
---
Wednesday June 3 Livingston, TX
Our First Float Day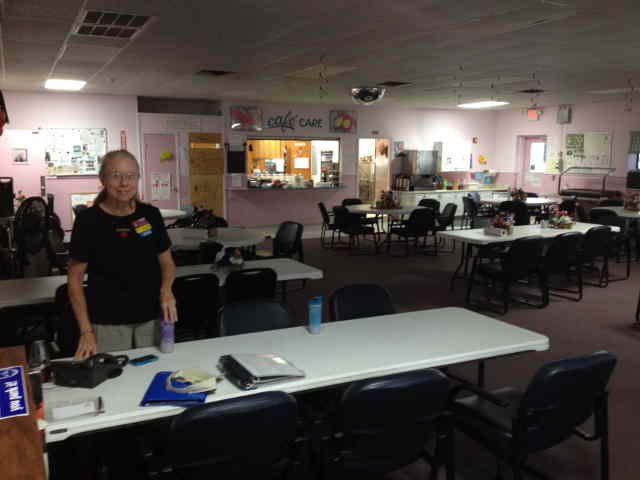 The dawn is breaking, it's early morn, the cafe is waiting, Babe, we've go to go. Okay, so maybe it's not up to my usual standard, but we did make it through the night without a phone call, or at least I thought we did. Which was why I was surprised when not long after Linda appeared in the front of the coach this morning she asked me if I had heard the siren in the night.
That was the moment panic set in BIG TIME. We were on call all night. Did the phone ring and I didn't even wake up. Was an ambulance called and I wasn't even aware of it? Score one for Linda. No calls had come in and what she was referring to was an ambulance that was out on Hwy 146 in the night, heading towards the south. Let me tell you she really had me going there for a moment. Need to put that one down in my book for a turn about is fair play moment someday. Naw, I couldn't do that to Linda. Long Nosed Bob.
As far as the above photo, we were in the dining room at 6:50, maybe not exactly o'dark thirty, but close enough. In a few minutes we would turn everything over to Sue and David who would be taking the next 24 hour shift, at which time we would have another 10 hours of doing a few things, and also being available to fill in should the need arise. It really sounds far worse that it is, and depending on how many volunteers are available in a month it can be quite different. Different meaning much easier. Think winter easy, summer a little more intense, but still as gratifying.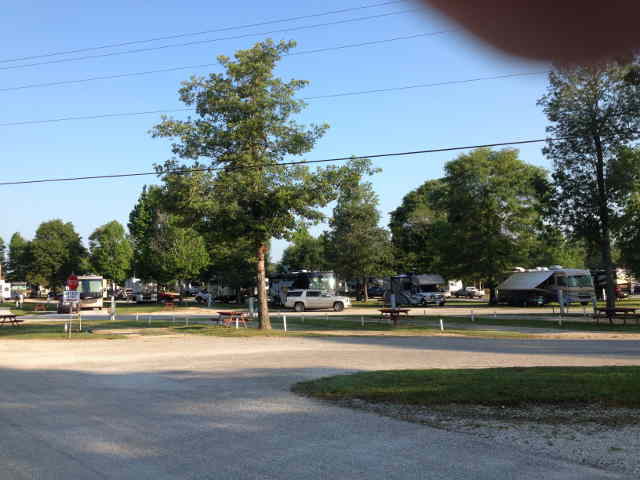 So it is an RV park. Seen one seen them all. This one is different. This one is home. Yes, we have an RV lot in Retama where we have spent several winters, but Rainbow's End in Livingston, Texas is really home for us. It is hard to describe, but whenever we we are here it just feels right. At Retama we have good friends and fun times, walk around and every thing is the same by way of HOA rules. Here there is an intangible something, a feeling that is hard to put into words. Maybe it is the trees, maybe it is the flowers, maybe it something that simply can't be put into words, but many, many years in the future when the days of travel are over and the only wheels that turn are on our walkers or wheelchairs, it is likely that here is where we will be, enjoying the trees and the flowers.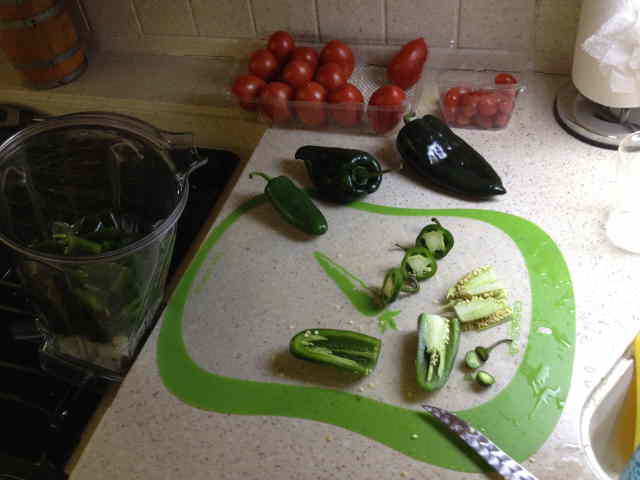 Roughly every other day I make a batch of fresh salsa. The garlic, onions, cilantro, tomatillos and serranos are already in the Vitamix, but the jalapenos, pablanos, tomatoes, salt and vinegar are yet to be added. It is hot, but only momentary with no residual. I make my own chips by microwaving white corn tortillas, then breaking them into pieces to scoop up the salsa. And while I go through about 80 tortillas a week, I must say they are many, many times better than salt drenched Fritos or the like that one can buy. Linda likes the ones I make so well I have trouble keeping them for her as she likes to use them to eat her homemade almond butter. What can I say. When you are good you are good, and I am beyond good. It least in my my own mind, that is. Definitely Delusional Bob.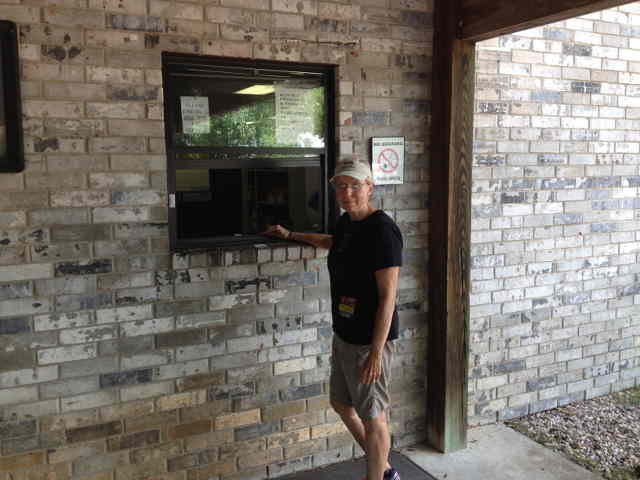 Long time readers may recall my stories about how Linda was deprived of getting the mail from the mailbox as young girl. That lead to her needing to always be the one to get the mail throughout our married Life and today was another of those seventh heaven days for Linda as you can see. I'd say that is a mighty casual pose for someone so excited as she was waiting at that window. Sometimes Life is far to good to express with mere words.
This is the only chance at Life any of us ever get. Let us Live every minute of it to its fullest.
---
Thursday June 4 Livingston, TX
An Off Day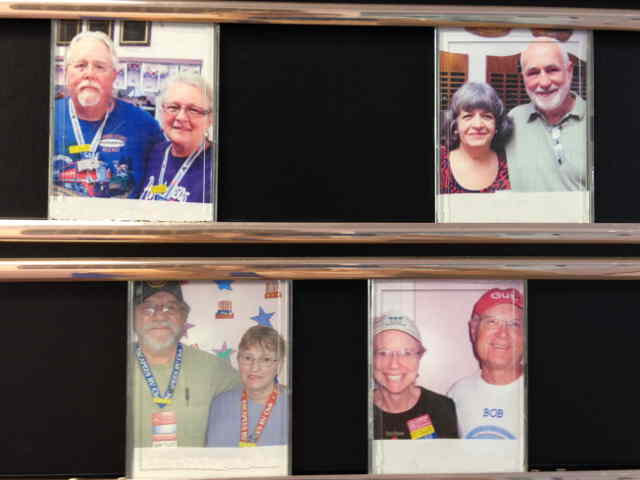 Wonder if the idea for posting the volunteer's photos was copied from the photos often seen in the post offices?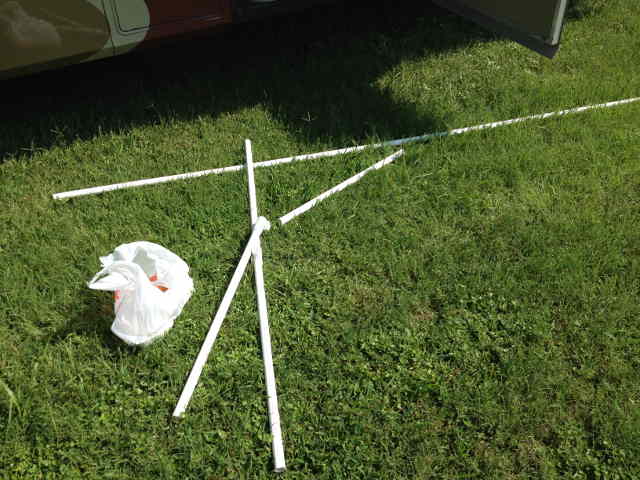 The before photo of the device I rigged up to prop up the drivers side front slide cover so the condensation from the air conditioner wouldn't pool on it. It is really nifty and looks great. Unfortunately I was so excited about trying it out that I neglected to take a photo of it. Linda was really nice about it. At least I think she was if I remember correctly. And you'll get to see what it looks like when I take it down before we leave the Care Center. That is if I can remember to take of photo of it. Sharp as a Hammer Bob.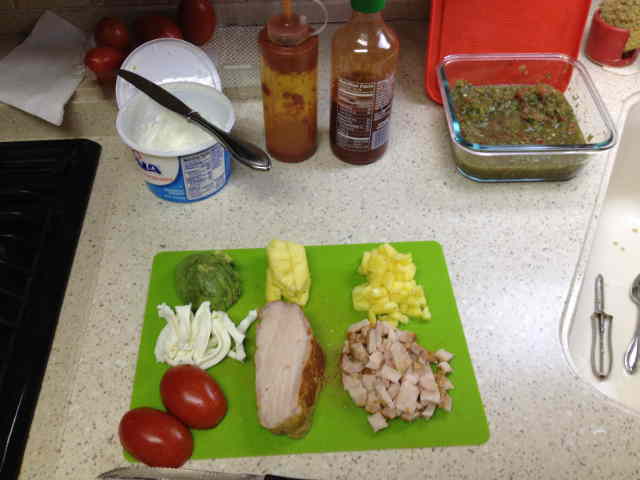 Dinner, the only thing missing is our tortillas. Linda made me feel really good when she commented that this was as good a meal as she had had in months. Then I thought about what she had just said. Most nights I fix dinner, so was she telling me most of the time the meal was okay, but tonight it good. Or was she saying that this one was above and beyond? I'll go with the latter because of the smoked pork loin. All I can do is brag on it. It has the same flavor and texture as smoked ham without the salt or sugar. I would never have believed a few handfuls of wood chips in a grill could result in something that tasted so good. Linda also pointed out that an essential step seems to be freezing it, as it makes it far more juicy and tender than when we ate it right after it was smoked. That sounds like something we will have to experiment more with in the future.
---
Friday June 5 Livingston, TX
An On Call Day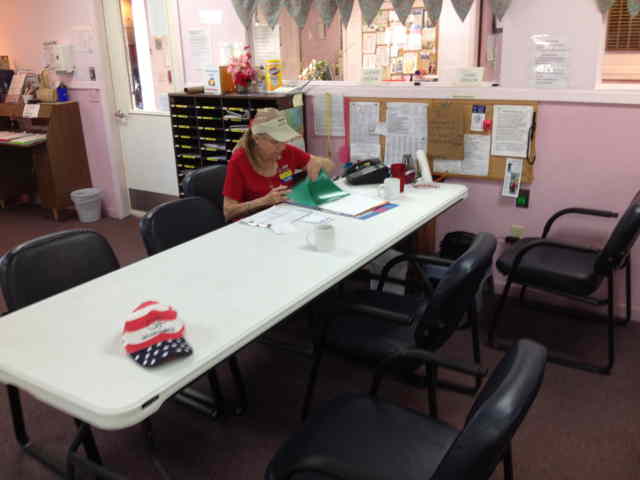 Escapees Care volunteer doing her paperwork. There is no doubt that Linda really likes volunteering here. That woman sure does enjoy doing paperwork. Lucky Bob.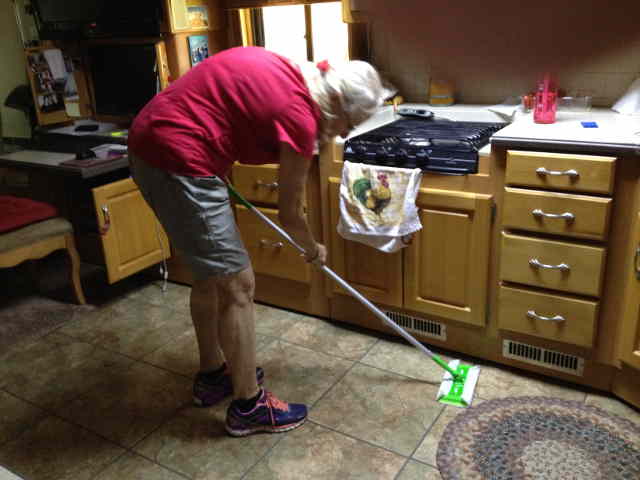 Linda mopping the floor of the coach. That woman sure does enjoy doing housework. Lucky Bob.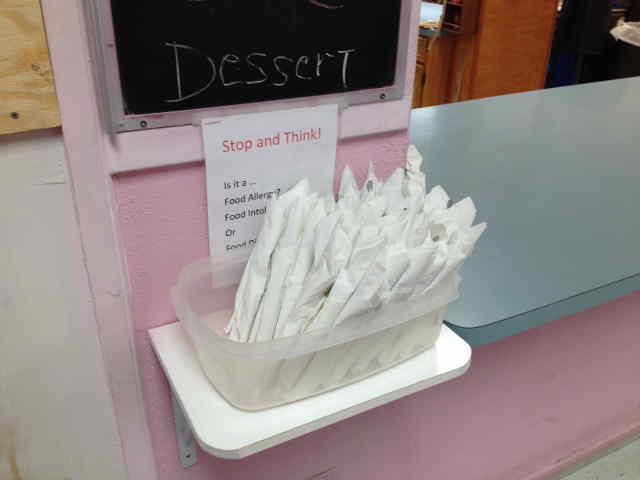 Maybe, just maybe when you saw this photo you thought this one would say, Linda sure does like wrapping the eating utensils. Lucky Bob. While thinking that Bob had gotten out of the wrapping business. But that is not the case because I can now wrap just as fast as Linda. No, the sharp eyed observer would have noticed the sign, the one written on the blackboard if they had stopped and thought about it. But did they get the correct answer to what I was going to write? I'll not keep you in suspense any longer. I would have written: Sign on the wall of the dining room. That Bob sure does love his desserts. Lucky Bob. Aka Fat Bob.
I'll let you in on a secret about this photo if you won't tell Linda. The size of the dessert is actually distorted. That is a scoop and a half of banana coconut creme filling with a half scoop of chocolate pudding on top. If I go through the line at the very end of the serving time I can get a little extra sometimes. That is extra as in extra dessert. Plump Bob.
I'll end the day with a very appropriate quote from actress Rachel Boston. "My 93-year-old grandma is a beautiful example of healthy living. She laughs a lot and always says, 'Just be yourself!' She also eats dessert every single day."
---
Saturday June 6 Livingston, TX
Another Good Day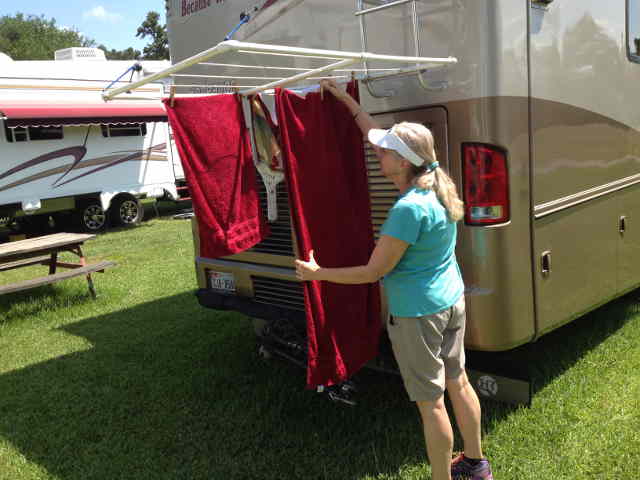 "I'm going to need you to get the drying rack out." Groan, moan, groan, moan. "It can't be that hard can it?" Big sigh, another big sigh. We did eventually get it out from where I had it fastened at the top of the driver side front bay. And while it may not have been exactly as difficult as I had signaling Linda it might be, neither was all that easy. Okay, so I exaggerate a tiny little bit, maybe a lot, alright I admit it, but so what if I exaggerated a whole lot as to how hard it was, because in the end Linda was a very happy young lady. The very best part is that our pillow cases are going to be outdoor fresh tonight, one of Life's little pleasures.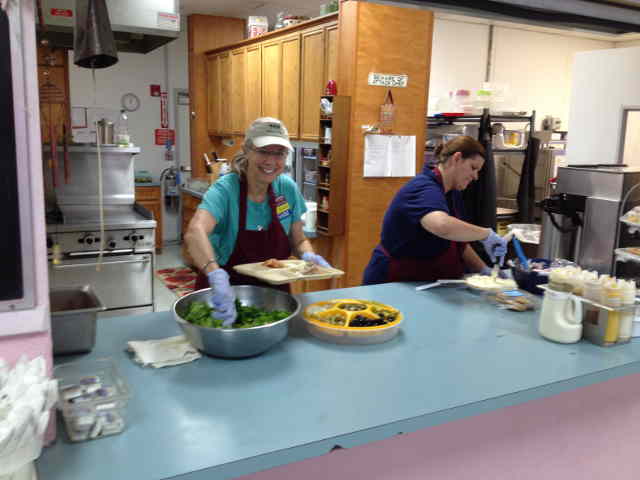 Shannon, our Saturday night cook, made an absolutely killer squash quiche for the evening meal. Our thoughts when we read that the meal was going to squash quiche were less than ecstatic. Then we remembered Shannon's soup last Sunday night and decided to take a chance. Lucky me, there was extra and I had a second piece. Happy Bob.
About the photo. Linda served up my salad and I noted that she made sure to put a little extra on my tray. Then she served me the peach cream pie that was dessert. The photo shows Shannon slicing it. So, when Linda goes to get my piece out, she cuts in half the already small slice in pan. It makes me think the big smile on her face in the photo was because she already knew what she going to do when it came to the pie. Devious Linda.
I looked at the microscopic appearing slice of pie on my tray, looked at Linda and she laughed. I thought she was going to give me the other half, but she turned and started to put salad on the next person's tray. Rising to the occasion, I walked over to the salad bar and piled blueberries and fresh strawberries over that slice, burying it. Deprive me of my dessert will she. Sweet Toothed Bob.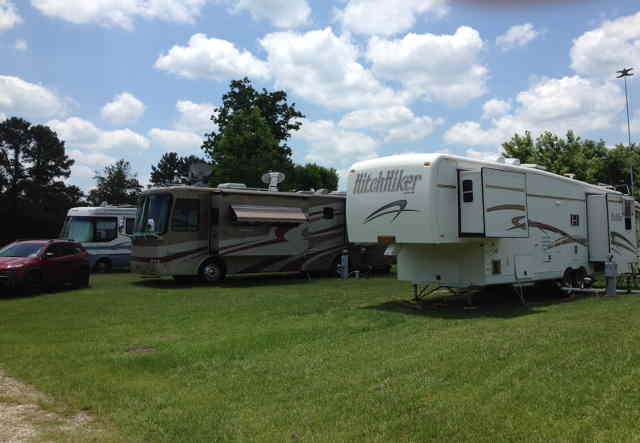 Our site on volunteer row. The area under the coach is gravel with grass all around. Good 50 amp power, great tasting water and a sewer hookup. For our lifestyle it is about as good as it gets considering there are no trees around.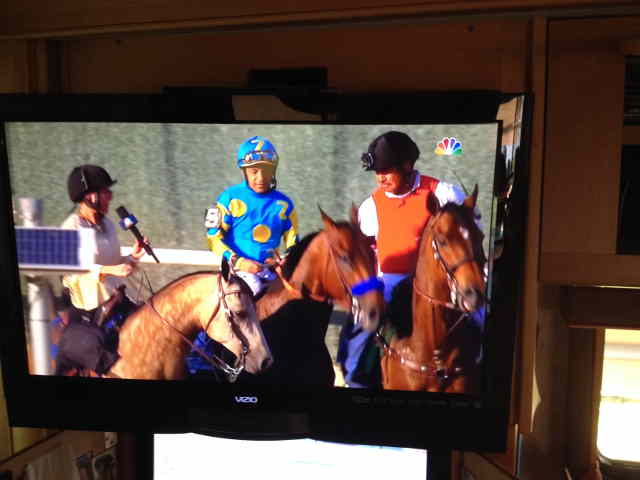 Another major horse race on TV. As usual we each picked the horse we thought would win. Linda said she wanted the American whatever its name was horse. My pick came in third, which for me was fantastic. Linda's horse won. Some day I will beat her. At least that is what I say every time we do this. Maybe next year. Optimistic Bob.
Since this has been a Daily Journal full of ways that Linda bested me, I have to end with this photo. We took a resident into Livingston this evening and the return drive took us to this corner. This is the infamous corner where Linda managed to dump our corelle dishes out of the cupboard when she took her driving test a few years ago. Just goes to show you she isn't perfect after all. Just about perfect but not quite. I on the other hand.... Let's just say it goes without saying. Humble Bob.
---
Sunday June 7 Livingston, TX
Another Off Work Day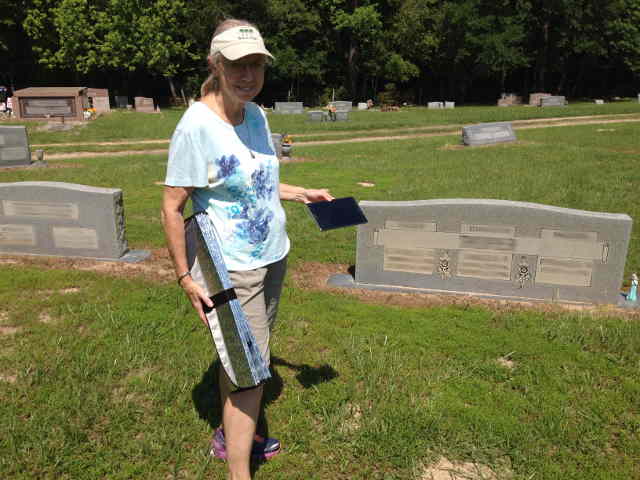 Among the things we did today was to take some additional photographs of headstones for the Billion Graves project. As you can see, my lovely young assistant is ready for anything I might need, Samsung Tab to take photos and a sun shield to cast a shadow on the marker if needed. Most people use an iPhone or iPad to take the pictures as the Billion Graves app works very well with them. Since our Tabs both have a gps chip, we can use them, and their larger size makes taking the photos much easier.
I only took 44 photos but that was enough for the week as I also transcribe what ever is written on each marker. Some people just take photos and others prefer to transcribe. Being new at this I plan to do both, at least until I realize how much easier it is to just take photos and let someone else do the transcribing. As for taking photos, let me just say that we, that is Linda and he who makes it difficult for her to hold the sunshade in the right position, have yet to come to an understanding as to the best way to work together.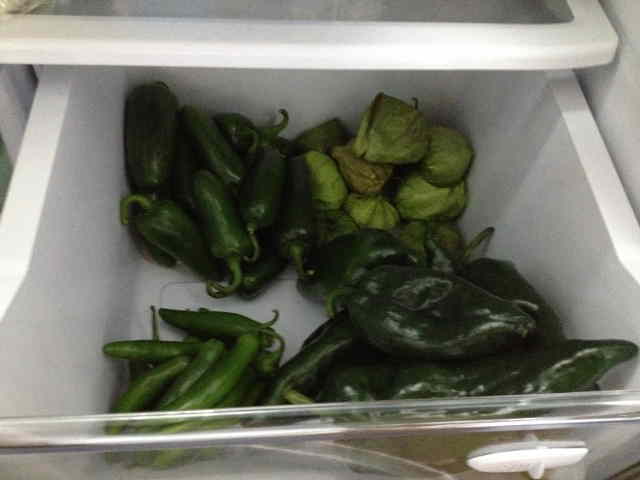 Ready for making my salsa for the week.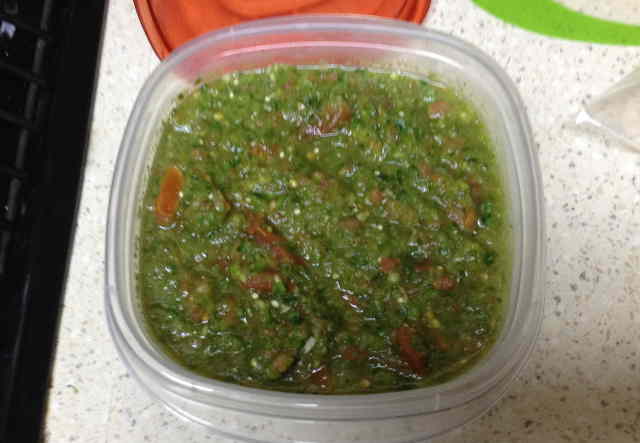 Looks and tastes great, though the taste part has to wait until tomorrow as it needs time for the flavors to meld together. I also made a batch of Linda's salsa but I couldn't understand why there was so much in the batch. Linda was nice. She merely noted that I hadn't cooked it down. Since I make a batch of my own every other day, but only make hers about every 30 days I guess I could be forgiven. Repentant Bob.
---
Monday June 8 Livingston, TX
A Long Day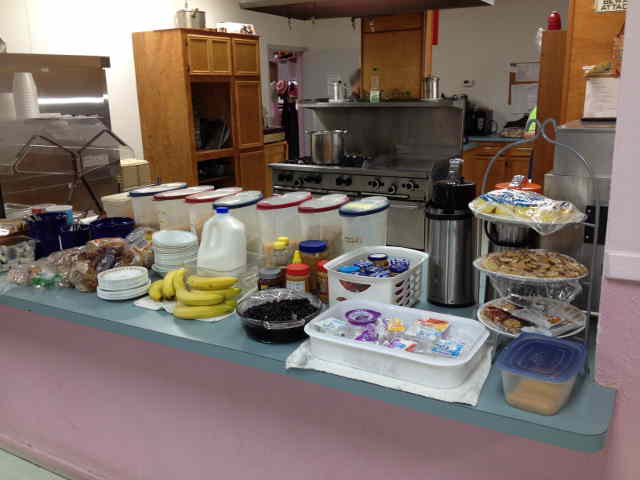 Five days a week this is breakfast at the Care Center.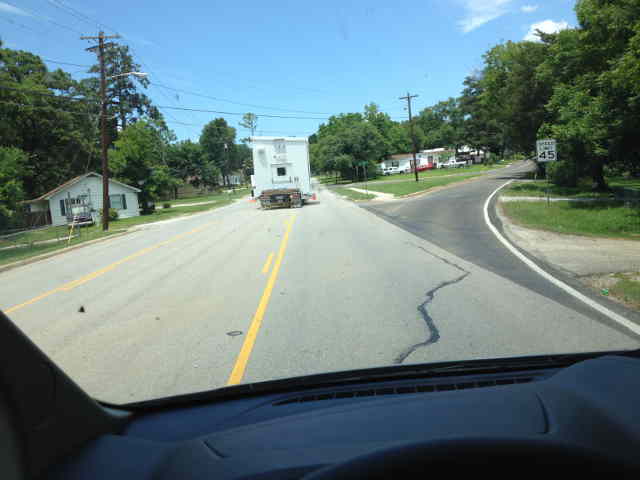 This afternoon I had to drive up north of Livingston to pick up one of our residents who was at a convalescent center. I didn't get to far into the drive before I found myself behind this. Arriving to pick up my passenger I had evidence of what took me so long to get there. Smart Bob.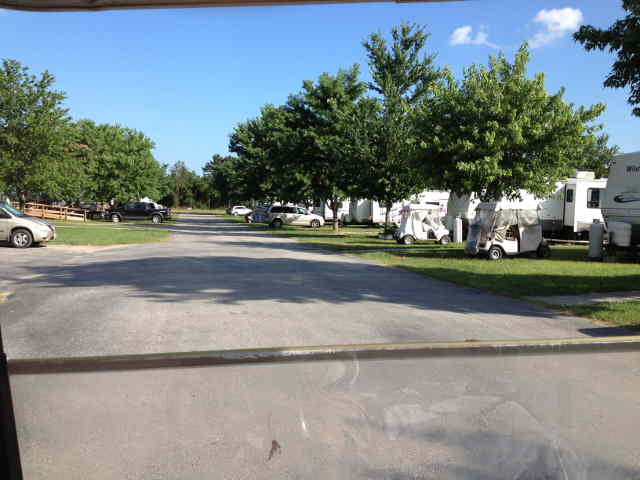 Driving the golf cart around to the back of the building tonight I realized I haven't post a photo of where the residents live. This is one of the streets. I think pleasant is is the perfect word to describe what it like staying here.
I'll leave you with this quote from the ancient Greek philosopher Epicurus. "It is impossible to live a pleasant life without living wisely and well and justly. And it is impossible to live wisely and well and justly without living a pleasant life."
---
Tuesday June 9 Livingston, TX
A Busy Day
Will probably only be writing every other day or so because our days are pretty much the same over and over and I want to respect the privacy of the residents and most of what happens during the day involves them. That coupled with the fact I have been on my best behavior these days has led to a dearth of writing material. We shall see what happens, who knows, I may turn over an old leaf which means there will plenty to write about, much to Linda's regret. Nice Bob, at least for the time being.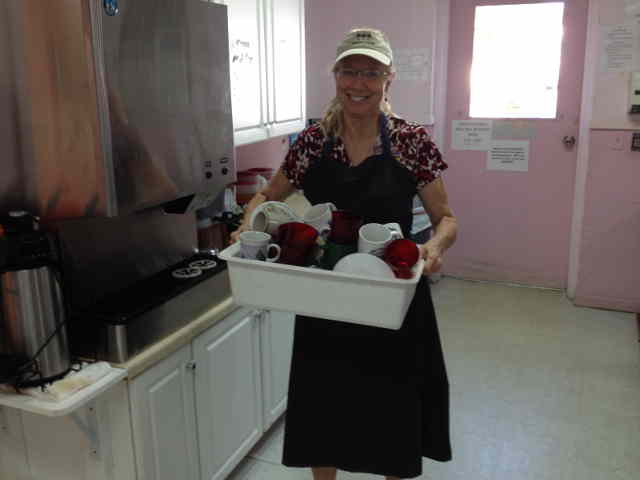 I spent the day driving residents into Livingston and back. Leaving on another trip a came upon this. Love that smile.
No smile here. If she is so good at this why does she sometimes ask me to do the dishes in the coach? I would think she would want to show me how well I did in selecting a wife and always wash our dishes. Puzzled Bob.
However good a catch as a husband I might be, never underestimate my ability to get in trouble. I was waiting while a resident I had taken to Livingston was being taken care of when a text message arrived. It read: "You left the coach locked" Instantly I sent back "very sorry". Back came four definitely not smiley, smiley faces. Not knowing what they are called I'll label them grimace, growl, tears and barred teeth.
I texted back that not only had I forgotten to leave her the key, I could only figure out how to open the driver and passenger door of the van I took, not the side or rear door. To make it even worse I had given her the key to the coach when we first went to the Care Center before 7 this morning, then "borrowed" it when I had to go back to coach to get something, forgetting to return it to her. After I returned from Livingston two things happened. First, Linda had a key to the coach, and second, I never took that van again the rest of the day. Partial Doghouse Bob.
---
Wednesday June 10 Livingston, TX
An Off Day
Yesterday I had very indirectly intimated that I possibly, maybe, perhaps, just might not write every day. As you can tell this is not one of those non-writing days. Non-writers Block Bob.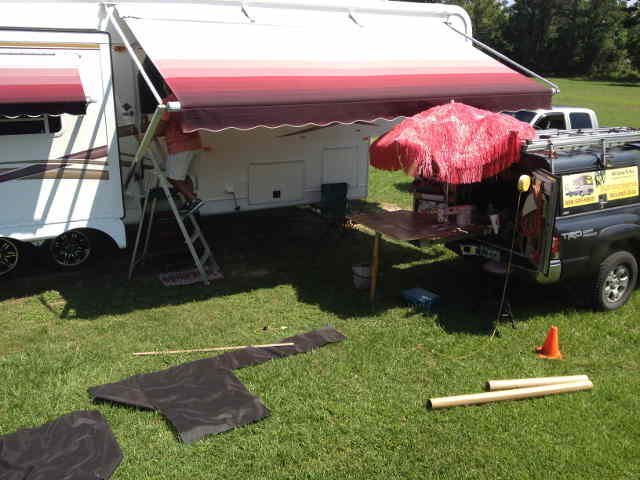 Big doings next door at Glen and Jamie's site. I'll skip the fact they were getting sun shades installed on their 5th wheel and comment on Ms. Snoops A. Lot who was busy looking out the windows of our coach giving me a moment by moment description of what was taking place next door. I have to say the woman I married has more than made up for her childhood when she lived so far out in the middle of nowhere that she was deprived of being able to watch any neighbors.
On a more personal note her commentary brought back memories for me. In a former life I was challenged to come up with a way of adding revenue to the company I was working for. The result was a very successful industrial sewing operation I built from the ground up. Hard as it was, I resisted the opportunity to walk over next door and talk about sewing shade cloth. Of course you would never have caught me dead with the fu-fu umbrella he was using for shade. Not me, I erected a blue tarp shade cover that flew away at the first strong wind. Not So Perfect Bob. (But please don't tell Linda I said that as I have her believing I am truly Mr. Perfect and she couldn't have done better.)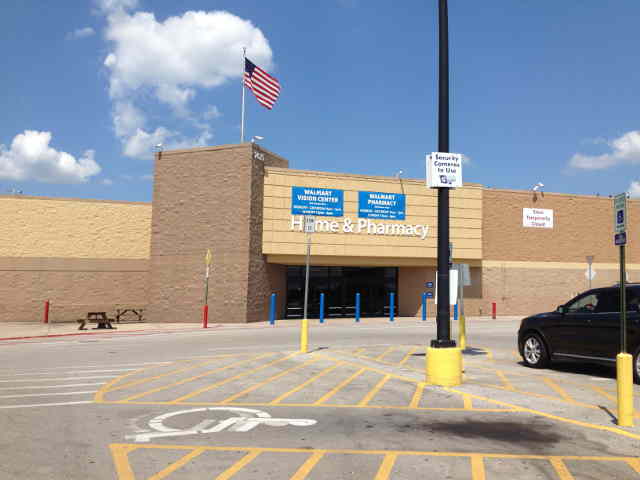 A trip to a closed WalMart to get glasses for she who can't see three inches in front of her without her glasses. Note to Bob: In your next life make sure to check out the teeth and eyesight of the nubile young maiden who catches your eye. What you save on dentist and optometrist bills will make you life much easier. Love Blind Bob.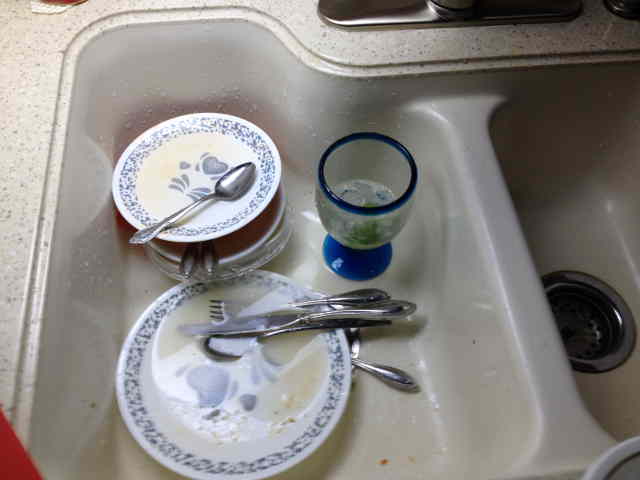 It was just a few hours ago I was writing about the big smile on Linda's face as she carried a pan of dirty dishes into the Care Center kitchen where she would wash them. So why was it that tonight, when, after I had fixed dinner and she had said it was awesome, that when I mentioned her doing the dishes why did she say, "You're standing in front of sink, get busy." Even worse is the fact that I did just as she said. He Who Obeys When She Commands, Bob.
Wow, what a great idea!! If I could clone myself I could make a fortune selling Bob copies to the women of the world. Husbands for sale, well trained and quick to obey. With my luck Linda would take my new found millions and find a guy who raised chickens to replace me.
Maybe I could change her mind by quoting novelist Chuck Palahniuk: "Sticking feathers up your butt does not make you a chicken." On the other hand I'd probably be better off just keeping my mouth shut.
Until tomorrow - Remember: Life is not a dress rehearsal. Don't be afraid to laugh, love and retire early.
---
---