Journal Archive 1/1 - 1/10 2015
Scroll down to read the latest post
Sunday January 10, 2016
A Recapping December Day
As I mentioned on the new homepage article I posted today, the latest reincarnation of the Daily Journal commences with this post. It is a catch up post that covers a portion of the time between when we departed Fiji on the 13th and the end of December. Hopefully readers that wanted to, followed along with our daily posts on Blogger during our trip to Australia, New Zealand and Fiji. If missed them and what to see them, look here. The dates were October 9, 2015 through January 7, 2016. I know those weren't exactly the days of the trip, but it just goes to prove that not all blog postings go as planned. A link to our Blogger site is here.
My big assumption here is that anyone still checks this site to see if anything thing has been written and if they do, they care to read it. For those few diehards that are still out there, I'll do my best to keep up my reputation the best tradition of Good Bob, Bad Bob. Providing whatever remains of my reputation hasn't turned to rust. And with that, as the old saying goes: I'll pick up my pen and try to find my keyboard.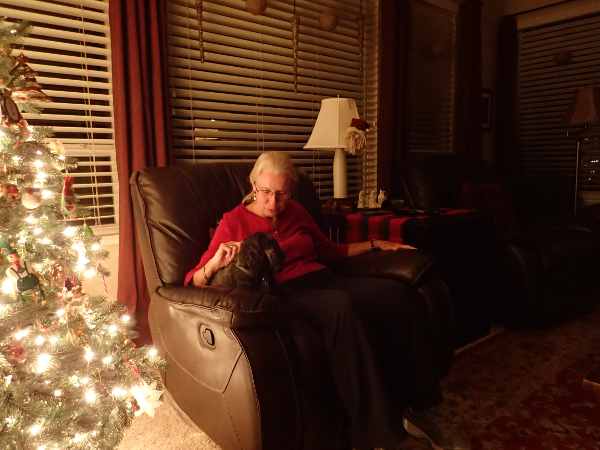 On the 13th we flew from Fiji to our daughter's in the Sacramento area, changing planes in LA. Though the Fiji to LA flight was 10 hours long and then had a connecting flight to Sacramento, we crossed the International Dateline, meaning we arrived in Sacramento hours before we left Fiji. As this photo of Linda shows, our bodies were saying it was definitely later that the what the clock was showing. Tired but Happy Linda.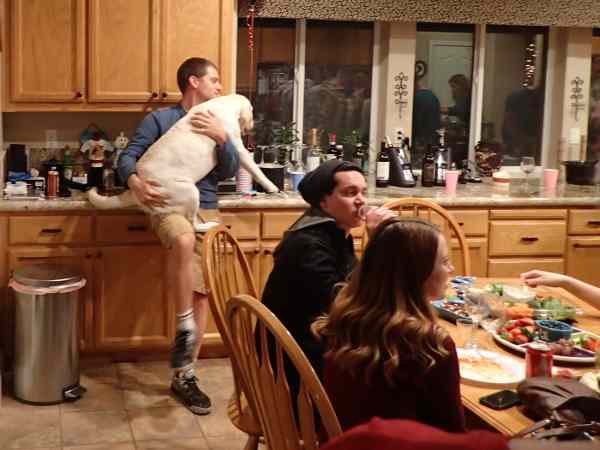 At an open house our daughter's neighbors where having that evening. It reminded us of why we so loved our lab. He also thought he was a lap dog.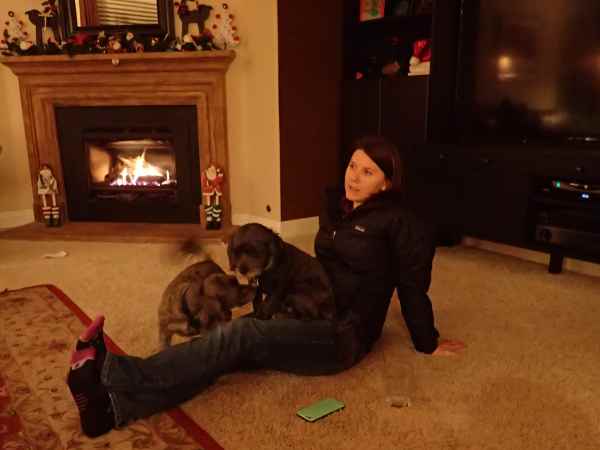 One of our daughter's dogs knows what a lap dog is. The other one thinks it is a big dog and acts like one. Their names are Kona and No!Cooper.
Why we only watched what our granddaughters watched and listened to what they listened to. You could say our granddaughters have excellent taste in entertainment and we have awesome granddaughters.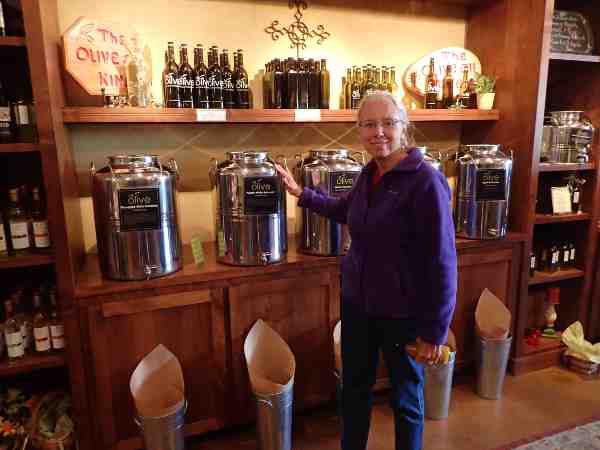 Happy Linda picking out some of her Christmas presents from our daughter, specialty olive oil and basalmic vinegars. Happy Bob because he knows he will get to have them on salads in the future.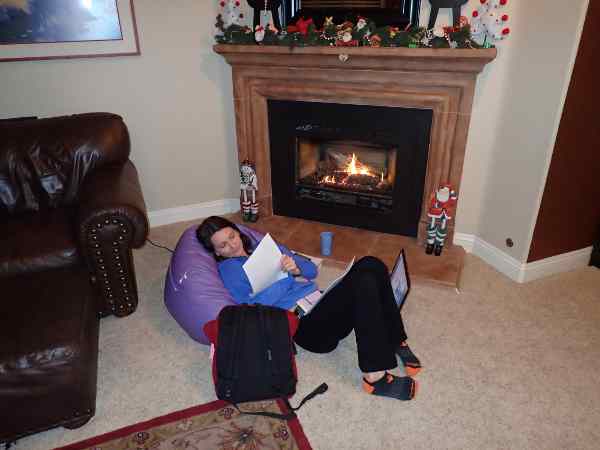 Our granddaughter Abby studying for finals.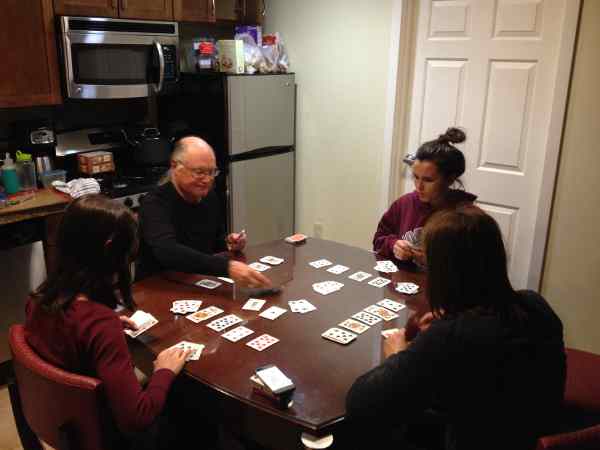 Teaching our granddaughters how to the play the family card game, pounce. I played it with my grandfather and parents, and it is the girls turn. Their mother and I took no pity on the poor learners. I learned, then taught her, in pounce you take no prisoners, winning is everything.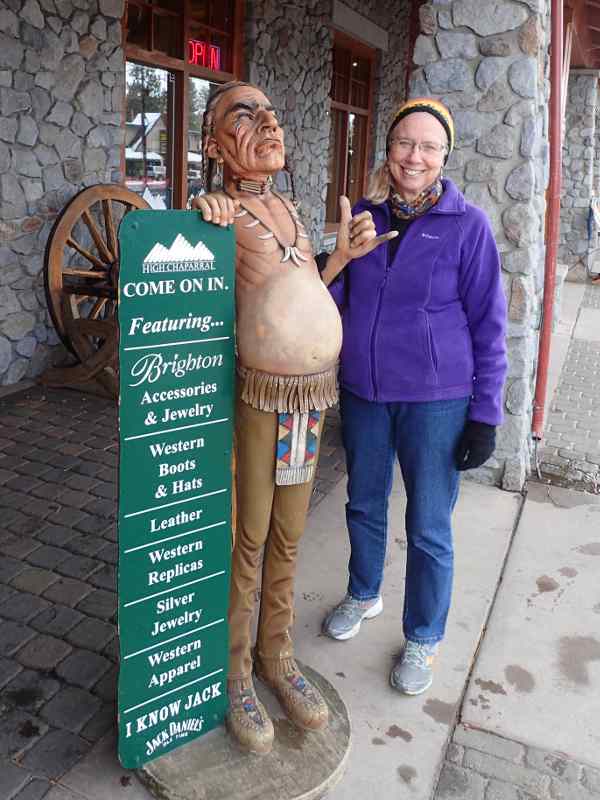 Linda had a major laugh when walked by this clothing store indian during a weekend visit to Lake Tahoe. She claimed it bore a strong resemblance to me. It wasn't bald so I couldn't figure out what she was referring to. Looking at the photo i think I have figured it out. Blind Bob.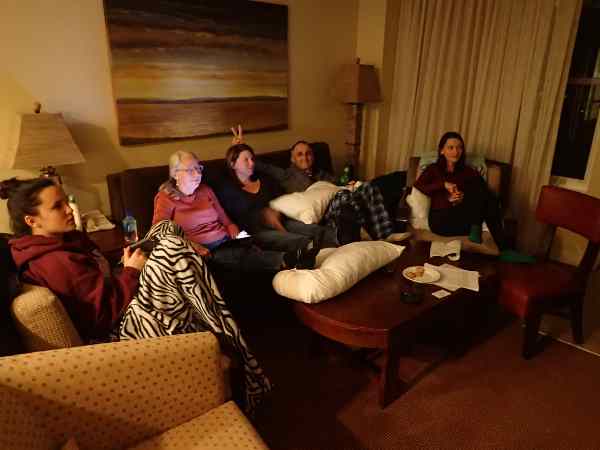 During the weekend we watched all the Star Wars movies getting ready to see The Force Awakens.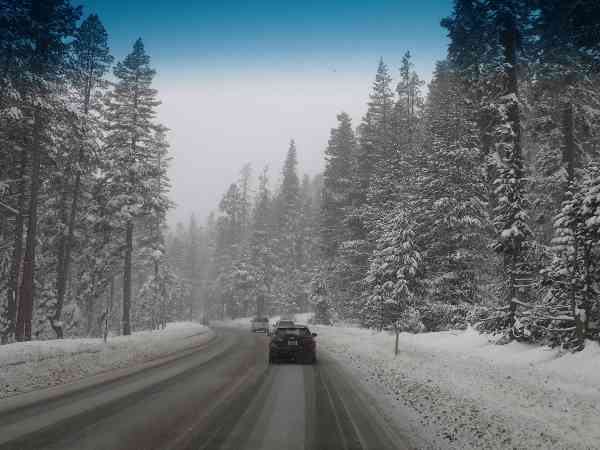 Why we go up to Tahoe in the winter. I'll end this here and try to finish up the holiday's in just one more post. Lots of family photos here, but this year family was extra especially important.
---
---