Journal Archive 6/1 - 6/10 2016
Scroll down to read the latest post
Wednesday June 1, 2016
A Catch Up Day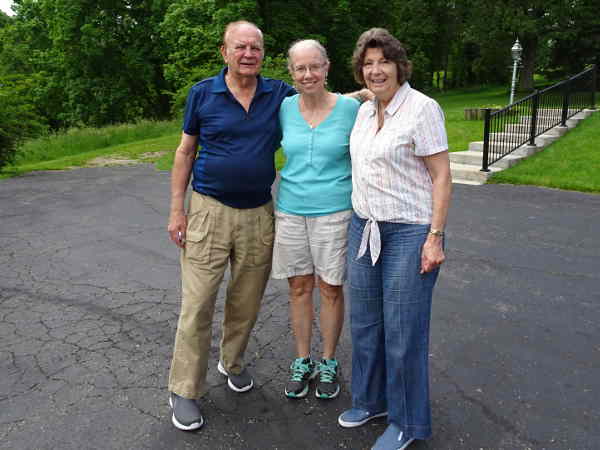 Well I've done it again, fallen way behind in my posting of the daily Journal. I guess that would make me a Bad Bob, and even though it's a tough job, somebody's gotta do it. I'm sure Linda would be first in line saying, yep, he's a bad Bob. But on to the task at hand. We are currently in Ohio, in the area where Linda grew up. What a pleasant surprise we had when we arrived at her cousin Ralph's to learn that Ralph's sister, Lois, was there visiting at the same time. I guess you could say that Linda was having more reunions than she thought she was going to have. Punster Bob.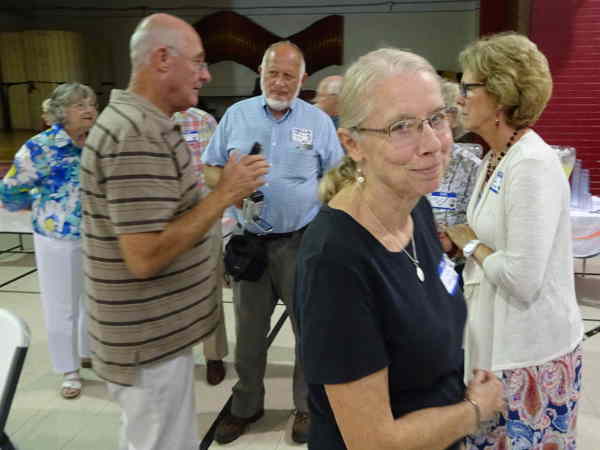 I can't imagine what I did to deserve this look, after all, she did inform me that my job was to take as many photos as I possibly could, which was exactly what I was doing. I guess there's much more to answering her commands than simply saying "how high". About to be Decked, Bob.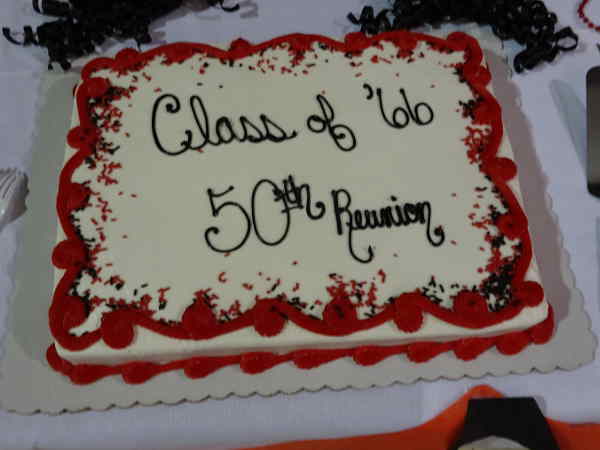 I didn't want to get ahead of myself with this post so I'll catch up to where I just was right now. The reason we are back in southeastern Ohio is, drumroll please, SheWhoTellsMeWhatToDo, is here for her High School Reunion. Knowing how smart the readers of this blog are, I won't even have to tell you which reunion it is.
There were actually two events to the reunion, first a luncheon get-together for just her class, followed by an evening Alumni Association Banquet where all the classes of her school gathered together. Her class was actually the last class to ever graduate from that school as it was incorporated into another school district the next year, which makes her class the youngest of all of the people at the alumni gathering. Being so young they needed energy, and as you can see there was lots of food to keep their energy up. The elderly gray-haired classmate next to Linda was her next door neighbor when she was growing up, living on the farm next to hers. I had to marvel at how much older than Linda many of her classmates were. Just a little something to get me back in Linda's good graces. Smart Bob.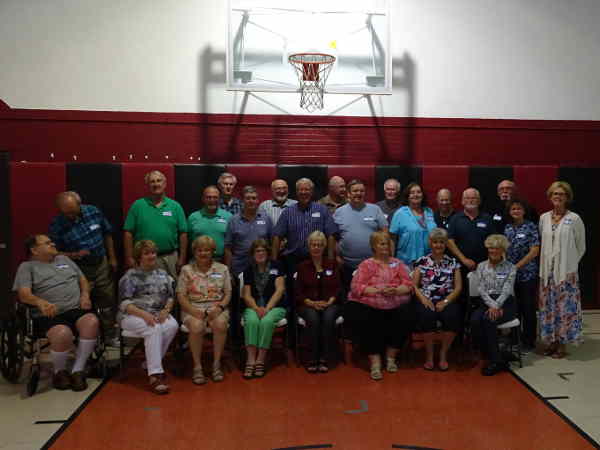 I have to say one thing, her class was no different than my class. I must have taken at least 20 photos of them all lined up, and not once was everyone looking forward towards the throng of photographers.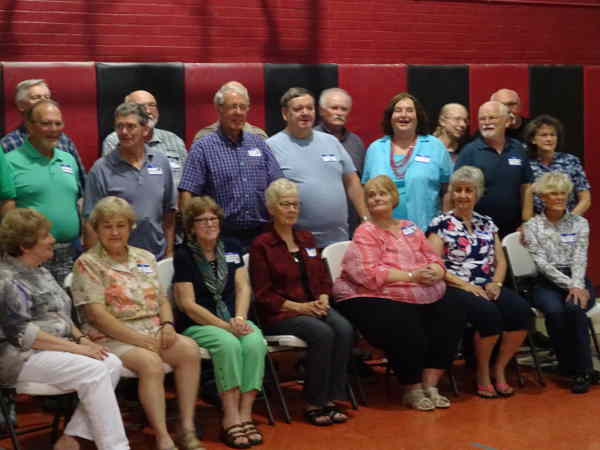 See what I mean.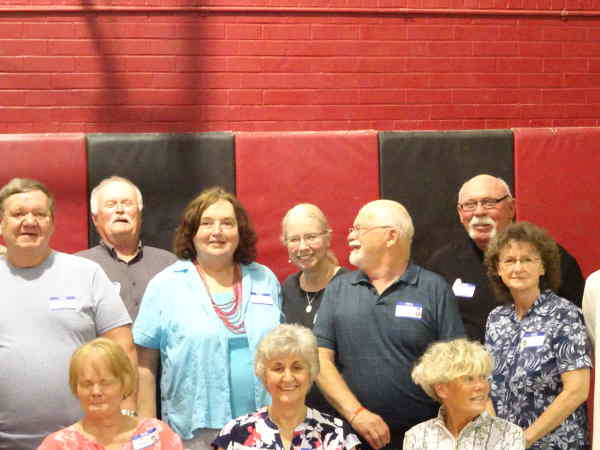 It's a wonder any of them were able to graduate. Fifty years later and only a few of them can still follow directions. At least it would appear there are a few well trained wives in the group. Really Bad Bob.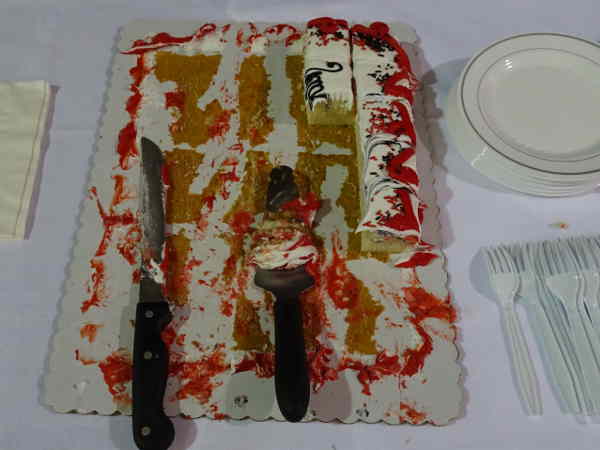 One thing they had no trouble doing was obliterating the cake.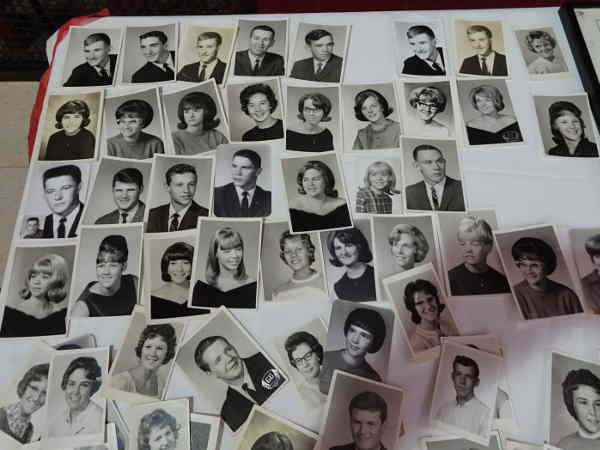 Being such a nice guy I'll not make a comment about mug shots, that's because the great-looking girl in the fifth photo over from either end in the second row down is my fantastic wife. Lucky Bob, And How!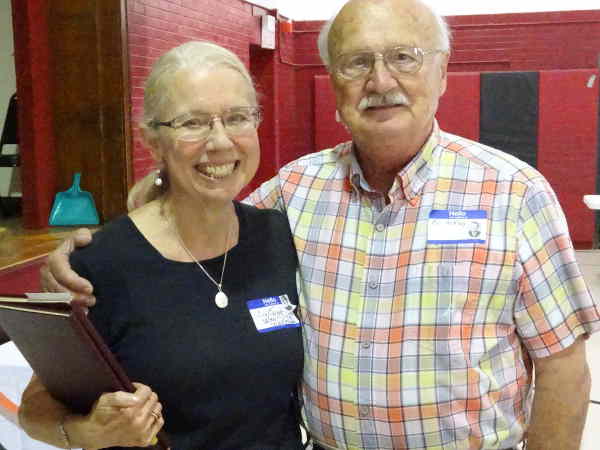 The smiling couple were not classmates, neither were they girlfriend boyfriend. That is Linda with her high school history teacher, Mr. Ackley. Many times, girls don't have an appreciation for history but that was not the case with Linda and many of her classmates thanks to a most wonderful and inspiring history teacher. To this day she can describe how he spent three class periods, one for each day of the battle of Gettysburg. At the time she had no idea her great-grandfather had fought in that battle. It must have been serendipity at work.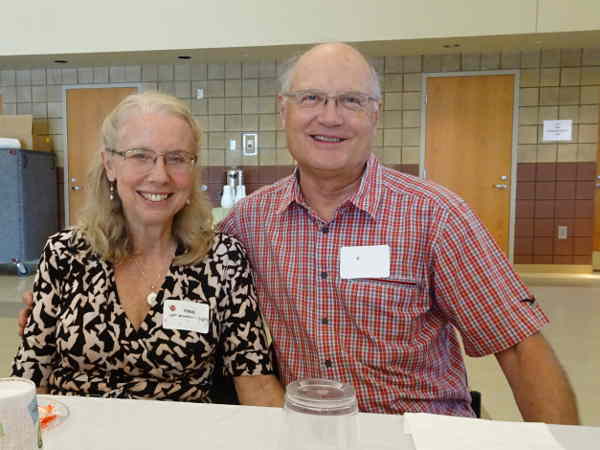 Schoolgirl with her grandfather.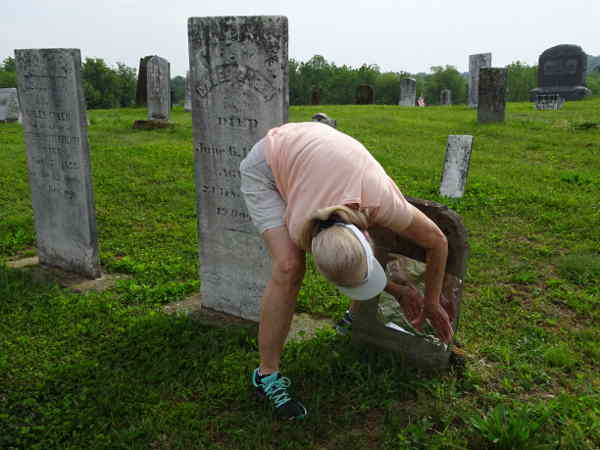 Lest you wonder what we've been doing, staying here for over a week, it was cemetery after cemetery with Linda's ancestors having beckoned us. Here she is using a thin sheet of aluminum foil to decipher the writing on a very badly worn marker. By pressing the aluminum foil onto and into the surface of the marker it makes a copy of the stone. It is one of those things that has to be seen to be appreciated, and it is the best non-intrusive method we have found.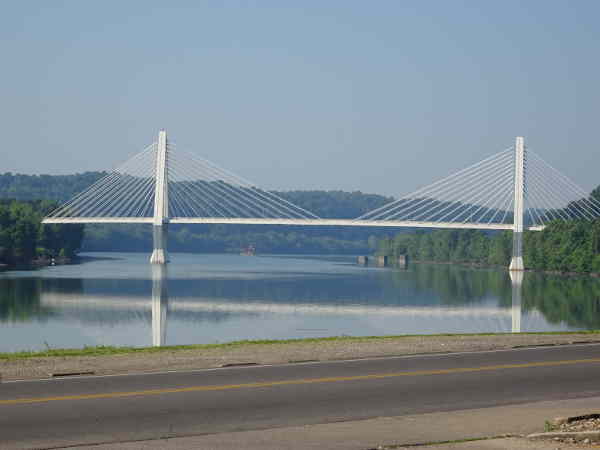 I can remember as a boy being impressed by the Ohio River. Times change, new bridges are built, but the boy is still impressed by the Ohio River.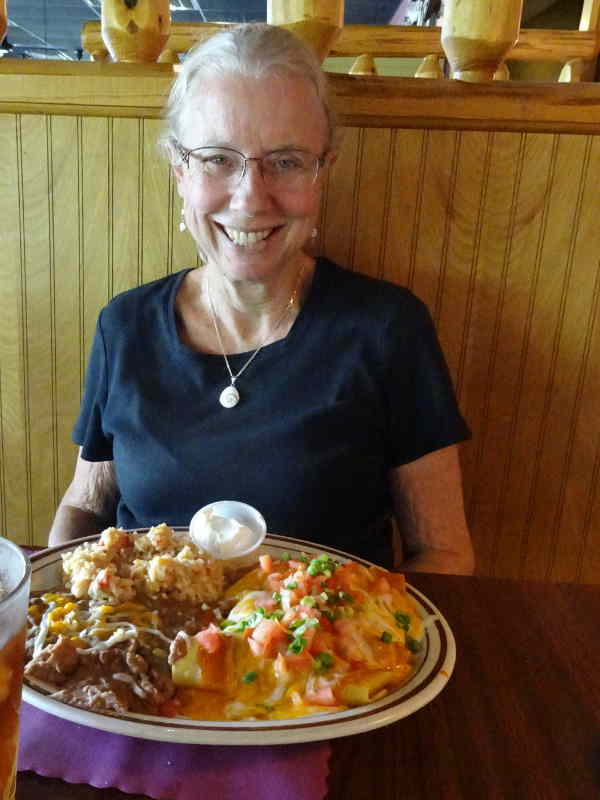 When we're not climbing about in old cemeteries looking for stones and markers, we are in libraries and other places looking for information that will lead us to more old cemeteries, stones and markers. When can I say, genealogy for us is not just a hobby, it's a passion. And putting that much into it can make a girl a little bit more than merely hungry as can be seen. Lest you get the wrong impression we both took home twice as much as we ate. But was it ever great Mexican food. I'm not going to say I'll be able to keep the daily Journal up to date but I do hope to do better in the future than i have been doing.
---
---