­
Where We've Stayed in Sandy, Utah
Ardell Brown's Quail Run RV Park, which is adjacent to Ardel Brown's RV dealership in the Salt Lake City suburb of Sandy. Located about 12 miles south of the Temple Square area it is a park that is located on the side of a hill over looking the Salt Lake Valley.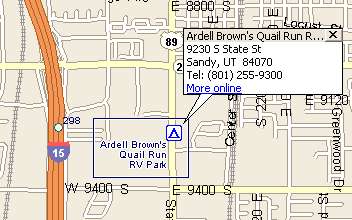 All the sites are pull through's that have full hookups. There is a concrete pad to park on and a grass strip on each side of the pad. The down side is that while adequate stapace is provided, that is all that it is. By the time you and ypiur neaighbor get your slides out there is very little room between RV's. They also have trees planted between the sites and there were only a limited number on sites where you could extend your awning. The length of the sites are also a tad short for most rigs. Not taht any body had trouble with the length of their RV, it's just that where does your tow vehicle or toad go. The people towing the big 5th wheels had to park their tow vehicles around the outside perimeter wherever they could find room. At one time this was probably a state of the art park, but the size of the RV's have out grown the size of the spaces.
As you can see from the photo below, the only way we could park the Explorer was sideways behind the coach. You can also see the tree that prevented us from putting out the awning. Because of it's location close in to town, there were also a number of workers who lived in an RV in the park, yet the sites were well kept. Speaking of well kept, they run the lawn sprinklers everynight and if you have things you don't want to get wet, don't leave them out like we did, smile.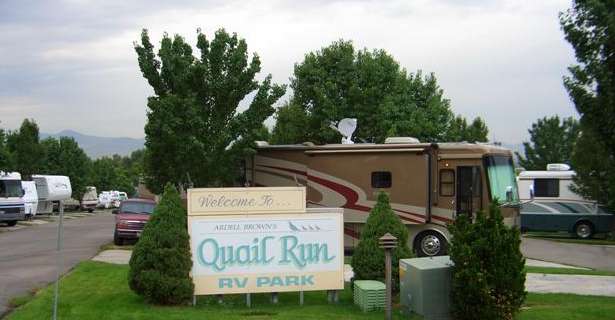 The interior roads are fairly tight, but we didn't see anyone having trouble getting into their site.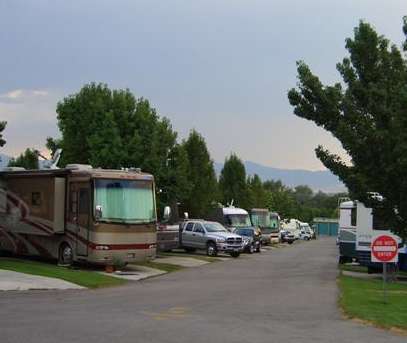 One of the nice things about this park is the ability to get downtown via TRAX, which is the rapid transit system. There is a station less than a mile away which we walked to every morning to go into town. It really made it easy and with the cost of parking and gas, it was actually cheaper than driving. We stayed here for a week in late August and would definitely stay here again the next time we are in Salt Lake doing genoalogy research at the Family History Center.
­
---